---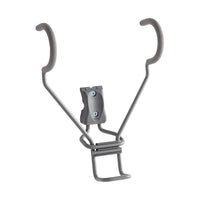 Organise with Elfa. Made especially for bikes, the Elfa Utility Horizontal Bike Hook is flexible and durable for storing your bike securely. It is attached to a safety top track or you can also directly attach it to a wall stud.
Features:
Colour: Grey
Made from Epoxy-bonded steel for durability
Elfa provides 10 years manufacturer's guarantee
Weight Capacity: 22.5kg
Size:
23.7 x 31.5 x 16.4 cm
To maintain Elfa's exceptionally high standard of quality, some orders containing oversize components (including wall bands and top tracks) or bulk quantities of some components may not be eligible for national shipping. Please contact us to learn more.