I've had the pleasure of using both Wall Control pegboards and Gladiator GearTrack in my personal garage.
After spending countless hours tinkering with tools and streamlining my garage storage, I've decided to share my experiences, insights, and comparisons of these two popular systems with you.
So, grab a cup of your favorite brew, pull up a chair, and join me as I compare Wall Control pegboards and Gladiator GearTrack. We'll cover the highs, lows, and everything in between to help you make the most informed decision for your garage makeover.
Let's dive in!
---
Overview: Gladiator GearTrack\GearWall
Let's dive a bit deeper into the Gladiator GearTrack system.
First of all, GearTrack and GearWall are both garage storage solutions offered by Gladiator GarageWorks. They're similar, but are aimed at different areas of your garage. 
They're both made from high-quality, durable PVC plastics designed to withstand heavy loads and the demands of a garage environment. The channels are easy to clean and won't rust or deteriorate over time.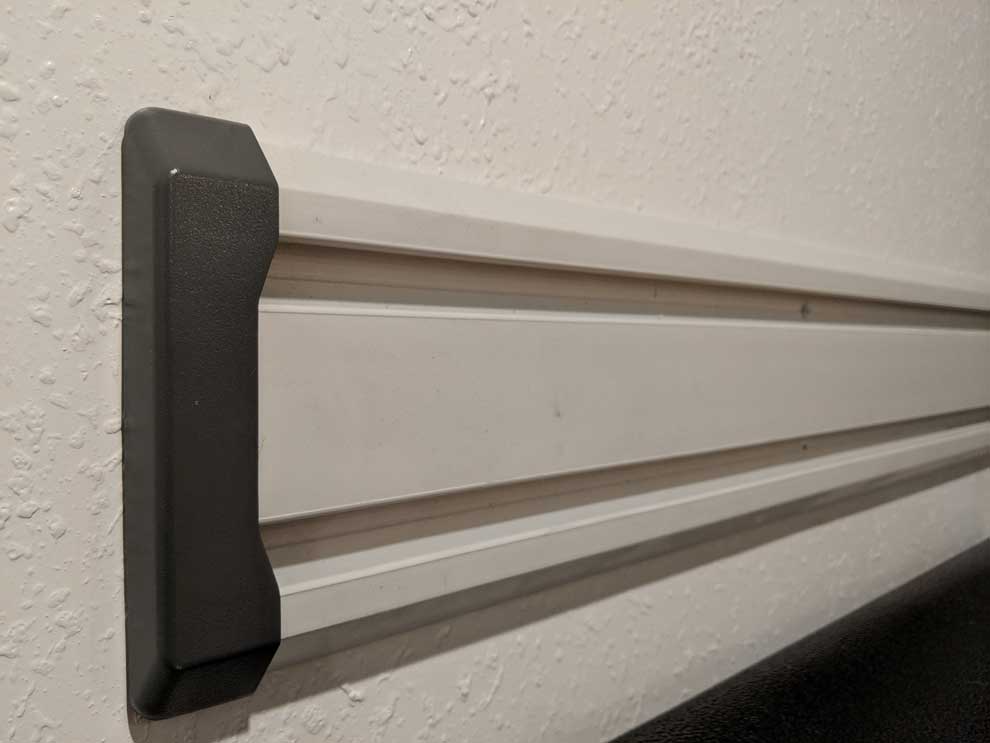 However, there are some differences between the two systems. 
GearTrack consists of individual tracks, allowing for a more flexible layout. GearTrack's modular design works better for smaller areas or those who prefer a cleaner look. 
GearWall has larger panels, like slatwall, for more storage space. It's ideal for those who need to maximize their storage.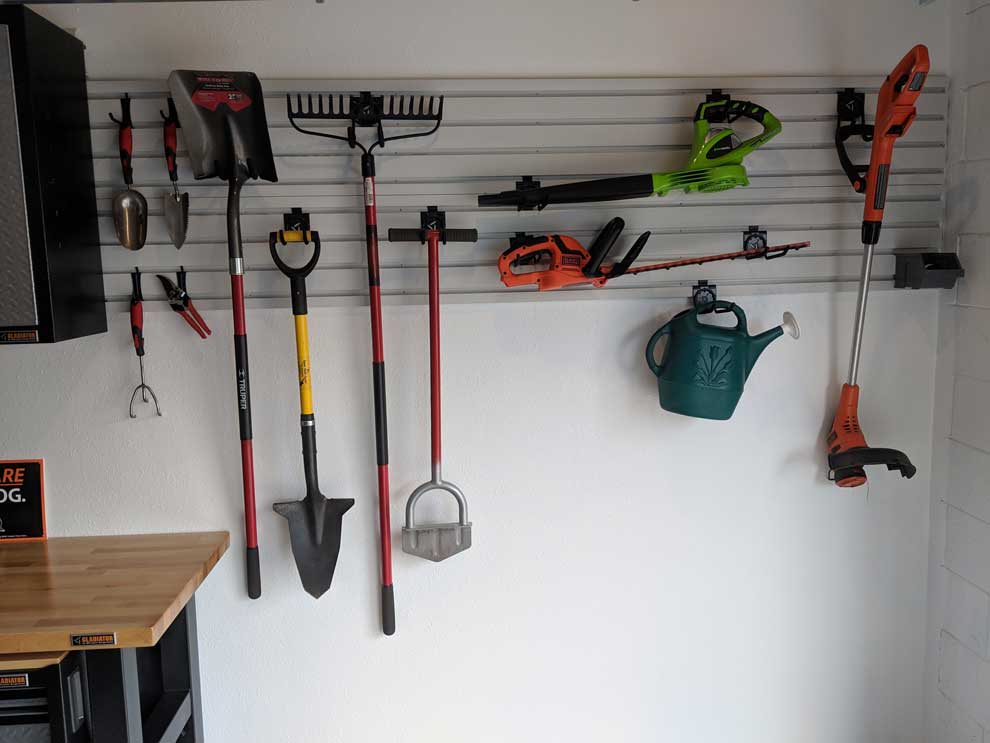 GearTrack channels are easier and quicker to install than GearWall panels, which may require more time and effort. 
Both systems are super versatile, thanks to their modular design. 
You can arrange the tracks horizontally in a long row, stacked vertically, or a combination of both to create a unique solution that works for your garage. 
Both systems work with Gladiator GarageWorks' hooks, baskets, and accessories, making it easy to create a custom storage solution. 
Some of the popular accessories include:
Utility hooks: Great for hanging cords, hoses, and other bulky items.
Twin hooks: Ideal for holding things like shovels, rakes, and brooms.
Tool hooks: Perfect for small tools such as hammers, wrenches, and screwdrivers.
Small item bins: Handy for storing screws, nuts, bolts, and other small items.
Wire baskets: Useful for holding spray cans, cleaning supplies, and other mid-sized items.
Bike hooks: Designed to store bicycles off the ground, saving floor space.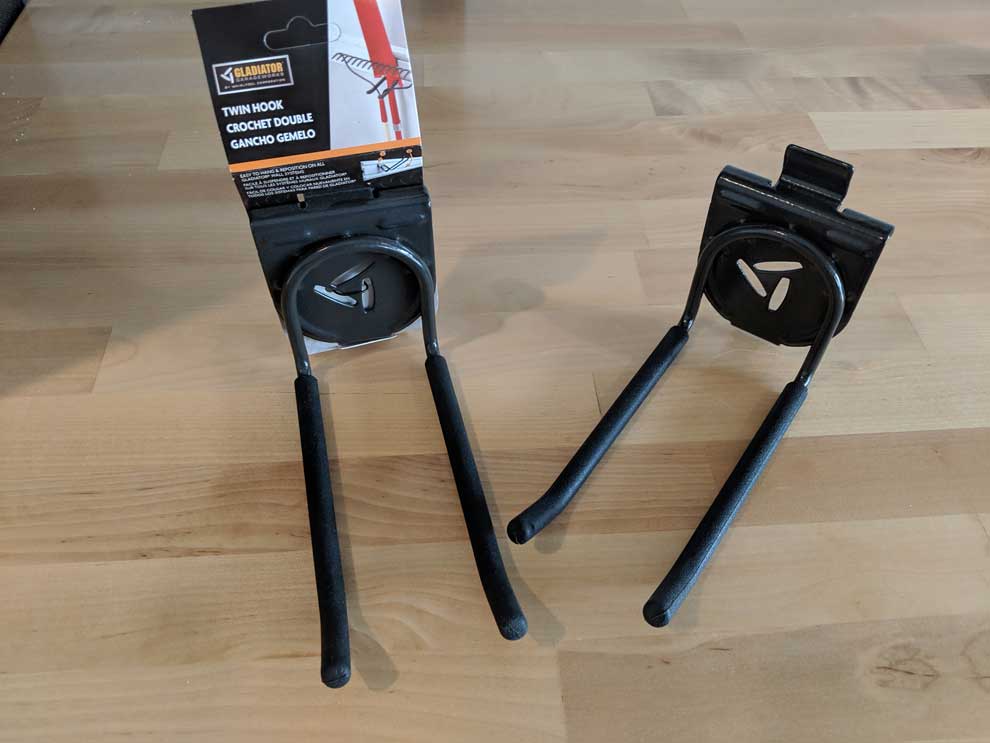 ---
Overview: Wall Control Pegboard
Wall Control's metal pegboard panels are an excellent alternative to traditional wood or fiberboard pegboards.
All of Wall Control's pegboards are made in the USA from a sturdy, all-steel construction. These panels won't warp, fray, or crack like wood or fiberboard pegboards. 
Wall Control panels are available in various sizes and colors, allowing you to mix and match them to create a great-looking storage solution that fits your space. 
Each steel panel is powder-coated or galvanized, making it rust-resistant, so your garage will look great for a long time to come.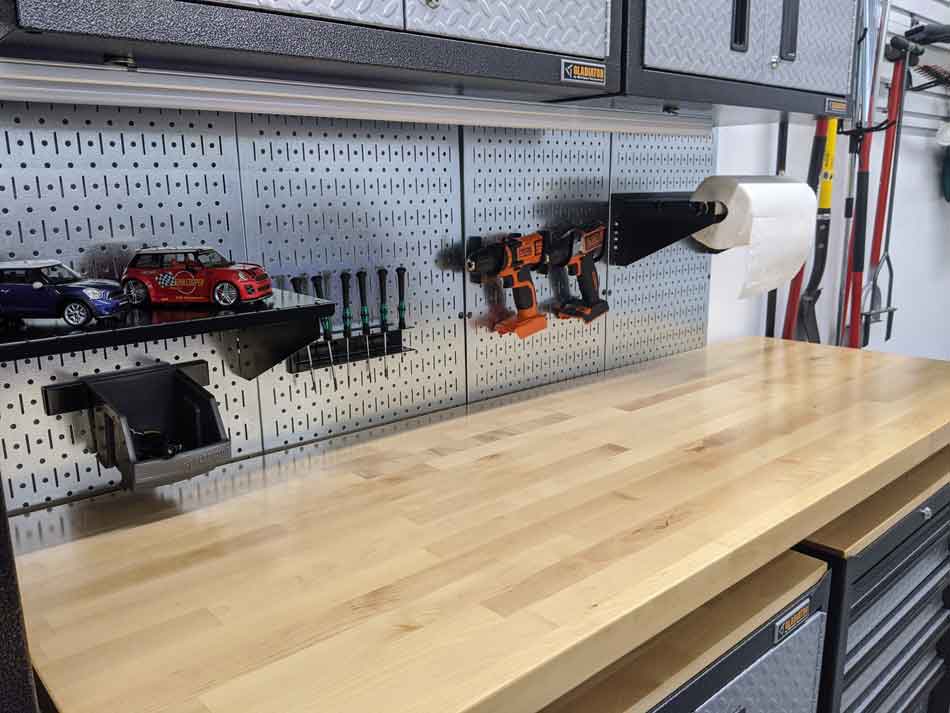 The panels have a unique design that features round peg holes and slots. This dual system allows you to use standard pegboard hooks and Wall Control's slotted hooks and accessories. 
This opens up a wider range of storage possibilities, allowing you to tailor your wall organization to your needs.
Some popular Wall Control accessories include:
Standard hooks: Great for hanging small tools like hammers, pliers, and wrenches.
Slotted hooks: Ideal for holding heavier items securely in place.
Shelves: Provide additional storage space for boxes and other bulky items.
Screwdriver holders: Keep your screwdrivers organized and easy to access.
Magnetic strips: Perfect for holding metal tools, screws, and other small items.
Bins and trays: Excellent for organizing small parts like screws, nuts, and bolts.
Paper towel holder: Great for keeping cleanup supplies close at hand. 
---
Wall Control vs. Gladiator GearTrack: Appearance & Customization
GearTrack channels have a sleek and modern design, with a neutral gray color that blends well with most garage and workshop interiors. The PVC material has a smooth finish, making it easy to clean and maintain. 
The system can be customized with various hooks, baskets, and accessories that fit into the GearTrack channels. Each accessory is black with a hammered-granite metal finish. 
Wall Control pegboards have a more industrial and classic look, featuring a grid of holes that accommodate various hooks, brackets, and shelves. 
The all-steel construction gives the panels a sturdy and robust appearance. Wall Control pegboards are available in multiple colors with a powder-coated finish: black, white, beige, gray, blue, red, orange, yellow, green, pink, and purple.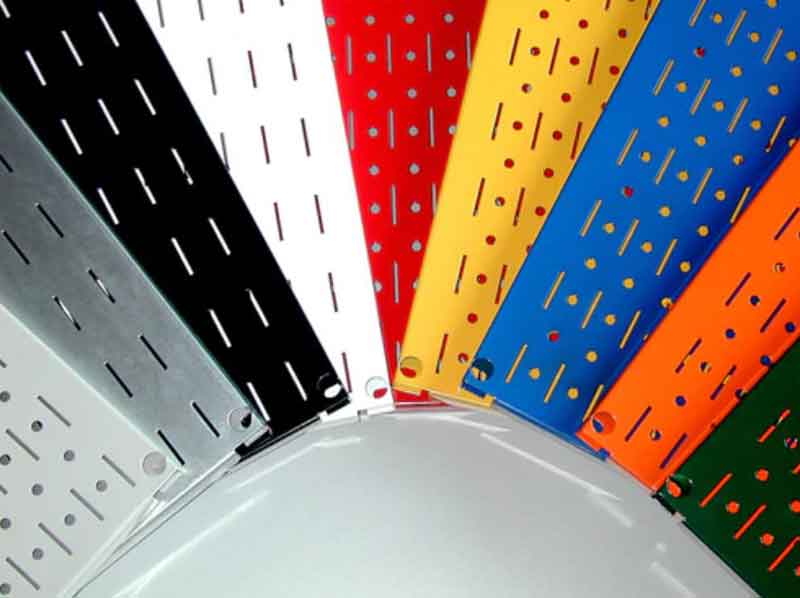 This allows users to match or complement their garage decor.
GearTrack offers a variety of accessories designed specifically for their system, which can be easily added or removed as needed. This enables users to create a personalized and well-organized storage solution that suits their needs.
This ensures that GearTrack can accommodate a variety of items, from small hand tools to large rakes or shovels, making it an extremely versatile storage solution. 
Similarly, Wall Control offers an extensive range of hooks, brackets, shelves, and other accessories. Accessories are available in black, red, blue, and white. 
These can be easily inserted and rearranged within the pegboard holes, and it's simple to update or modify the layout as needed. 
This high level of customization allows users to design a storage solution tailored to their unique requirements, and it's simple to update or modify the layout as needed.
Both GearTrack and Wall Control storage systems offer distinct and appealing visual characteristics. 
GearTrack channels have a modern, streamlined appearance, with a smooth finish and neutral gray color. Wall Control pegboards feature a more industrial and classic look, with a grid of holes and all-steel construction. They are available in multiple colors to suit different preferences. 
Both systems offer a high level of customization, enabling users to create organized and personalized storage solutions that cater to their specific needs.
---
Wall Control vs. Gladiator GearTrack: Quality
Let's dive deeper into the material and durability aspects of both GearTrack and Wall Control storage systems:
GearTrack is made from high-quality PVC (Polyvinyl Chloride) material designed to handle the weight of various tools and equipment without buckling or warping. 
PVC is a strong, versatile plastic known for its durability and resistance to chemicals, moisture, and impact. Additionally, PVC is not prone to rust, making it suitable for garage and workshop environments where moisture and humidity may be present.
Wall Control features an all-steel construction, giving it a significant advantage in strength and durability. It is more resilient to scratches, dents, and other potential damage that may occur during regular use. 
This ensures that Wall Control pegboards are extremely durable and resistant to warping, fraying, or cracking. Additionally, the painted metal Wall Control panels are powder-coated, which adds an extra layer of protection against rust and corrosion.
---
Wall Control vs. Gladiator GearTrack: Warranty
Gladiator GearTrack and GearWall panels, and Wall Control pegboards have a limited lifetime warranty.
There are, of course, exceptions to those warranties, and neither covers product failures due to incorrect installation.
Here's the text of each warranty so you can compare them:
Wall Control Warranty
All Wall Control metal pegboard products are backed by a Limited Lifetime Warranty which protects against product failure and manufacturing defects, if installed and used correctly. We have engineered our metal pegboard products to last a lifetime and have backed that claim up by offering this warranty. 

If your Wall Control metal pegboard were to ever fail, just send it back and we'll replace it!

Excludes Normal Wear and Tear.
Excludes Cosmetics and Aesthetics.
Is Void if Panels or Products were improperly installed or used incorrectly (i.e. Not per Included Instructions).
Only Includes "Metal Pegboard Products" manufactured by Wall Control.
Excludes Plastic Hanging Bins, Plastic Tip-Out Bins, Plastic Bin Drawers, Rubber O-Rings, and any other Non-Metal based Products.
Limited Lifetime Warranty is Non-Transferable and only applies to the original purchaser of the "Metal Pegboard Product".
Original Proof of Purchase is required for all warranty claims.
Gladiator Warranty
For the life of the product, when the GearWall Accessories are used and maintained according to instructions attached to or furnished with the product, Gladiator® GarageWorks will pay for repair or replacement of the GearWall Accessories due to defective materials or
workmanship.
---
Wrapping It Up
To wrap things up, both GearTrack and Wall Control systems are excellent garage storage solutions. In fact, I use both in my garage but in different areas. 
Here's how they compare based on some critical factors:
Material and Durability: GearTrack is made from PVC and designed as a track system. It's pretty sturdy and can handle heavy loads. Wall Control's all-steel construction makes it more durable and resistant to warping, fraying, or cracking.
Installation: GearTrack requires attaching horizontal tracks to your wall studs, with the option to add more tracks for additional storage. Wall Control involves attaching pegboard panels to your wall studs. You can combine multiple panels for a customized layout.
Versatility & Customization: GearTrack offers a range of hooks, shelves, and baskets. Each can be easily repositioned along the track. It's more suitable for larger items and tools, occupying more horizontal space. Wall Control boasts a dual peg and slot system that accommodates both standard pegboard hooks and slotted accessories. It optimizes vertical storage, which is ideal for organizing smaller items and tools with limited horizontal space requirements.
Appearance: GearTrack presents a clean, streamlined look, with tracks available in a limited range of colors. Wall Control offers a variety of panel sizes and colors, allowing for a better looking, custom storage solution.
Accessories: GearTrack has a good selection of hooks, baskets, and shelves specifically designed for the track system. Wall Control provides a wider range of accessories, including hooks, shelves, bins, trays, and magnetic strips that accommodate various shapes and sizes.
Both GearTrack and Wall Control have their own advantages. GearTrack offers an easily adjustable, streamlined, track-based system to handle heavy loads. Wall Control provides a durable, all-steel pegboard system that accommodates various accessories and optimizes vertical storage. 
Which one you choose will ultimately depend on what you want to store, how much available space you have, and your personal preference for looks and design.
The post Wall Control vs. Gladiator GearTrack: A Side-By-Side Analysis appeared first on Garage Transformed.