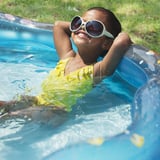 When I was a kid, we didn't have cell phones or tablets, and during the summer months we would happily leave our televisions to sit unwatched for days inside our sweltering houses. With school out, all of the neighborhood kids would wake up every morning with the sun, slurp down a bowl of cereal, and get straight outside to ride bikes until the streetlights came on - it was the good life. If you want the same type of blissfully free outdoor summer experience for your kids, ditch the screens and instill in your little ones the benefits of a slow Summer filled with outdoor activities and lots and lots of ice cream.
Read through for the ultimate nostalgic Summer bucket list that you need to complete with your kids.
The Ultimate Summer Bucket List For Kids
Have a picnic.
Watch a sunset at the beach.
Fly a kite.
Camp in the backyard.
Stargaze.
Play tag with friends.
Run through sprinklers.
Eat too many popsicles.
Plant flowers or vegetables.
Make and sell lemonade on your front lawn.
Have an underwater tea party in the pool.
Paint pet rocks.
Ride your bike from sunrise to sunset.
Watch fireworks.
Go across the lawn on a Slip 'N Slide for hours.
Swing at the park until you're out of breath with giggles.
Have a water balloon fight.
Go mini golfing.
Get ice cream from the neighborhood truck (a lot).
Play in the rain.
Catch fireflies in a jar.
Collect seashells.
Wash cars by hand.
Blow bubbles.
Build a sand castle at the beach.
Eat watermelon slices that look like smiles.
Roast marshmallows over a real fire and make s'mores.
Play Marco Polo in the pool.
Go on a nature walk.
Make ice cream in a bag.
Make wishes on dandelions.
Print a copy of the bucket list below!