Pienza is a charming small town located at the heart of Tuscany, only 50 Km away from Siena. It's a popular destination for a day trip, both among locals and visitors. That's because it's located in the most picturesque area of the famous hilly Tuscan countryside (the so-called Val d'Orcia), and it's also rich in historical buildings and churches.
Unlike many other Tuscan towns, Pienza has no Roman, Etruscan, or Medieval pieces of heritage. That's because it did not exist (at least in its modern shape) until 1459! Actually, it was all about an ambitious renovation project started by Pope Pio II, who wanted to build an "ideal city" embodying Renaissance principles and aesthetics.
Pope Pio II, whose real name was Enea Silvio Piccolomini, was born in Corsignano, a humble rural village in the countryside. He decided to offer his birthplace a huge makeover and convert it into a modern town!
He wanted one of the most famous architects of that time to take charge of the project, and Bernardo "Rossellino" Gambarelli managed to build a new city from scratch in only 5 years!
Other than being a town rich in architectural masterpieces, Pienza is internationally famous for its pecorino cheese, which is one of the best gastronomic specialties of Tuscany.
Here's a list of what you can see and do in Pienza:
Disclaimer: This post contains affiliate links. This means that should you click on certain links and then subsequently purchase a product, I will receive a small commission.
19 Things to do in Pienza, Tuscany
Have a stroll in the old town
Pienza's old town was added to UNESCO's World Heritage List in 1996 because it represents the ideal Renaissance city. It was conceived according to Renaissance aesthetics, and its squares, streets, and buildings still show what life was like back then (at least for the noble people!). Pienza is elegant and charming, and an evening stroll makes its old town even more picturesque.
Stop in Pio II Square
The heart of Pienza is this trapezoidal square, which was dedicated to the city founder: Piccolomini Pope. Its beautiful decorations and its buildings make it one of a kind and the best starting point to explore Pienza. Here you can find the main public buildings of the old town: the Cathedral, Piccolomini Palace, Borgia Palace, the City Hall, the Presbytery, and Ammannati Palace.
Enter the Cathedral
The Cathedral is dedicated to Santa Maria Assunta, and the Pope had a very precise idea about how it had to look. He asked Rossellino to study the German Hellekirchen, the Gothic churches, and the ones designed by Leon Battista Alberti (another famous architect who had been the main promoter of Renaissance urbanism). Inside, you can see many works of art and a remarkable altarpiece.
Visit Piccolomini Palace
It was the Pope's summer residence, and it stands right on Pio II Square. It was the model for all the Renaissance palaces that were later built in Italy, so its façade and structure might look familiar. The Piccolomini family lived there until 1962, and it's now open to visitors.
There are also several cultural events taking place in the courtyard during summer. The highlight of this visit is the beautiful roof garden offering an amazing view of the countryside.
Visit the Diocesan Museum
Inside the elegant Borgia Palace, you can visit this sacred art museum featuring some precious medieval works of art. The museum also displays the original liturgical ornaments that Pope Pio II donated to the Cathedral when it was inaugurated in the 15th century.
Stop in front of the City Hall.
Its Renaissance-style arcades are typical of that time, as well as its towers. If you take a closer look, you'll notice that the bell tower is higher than the other brick tower: that was intended as a symbol of the supremacy of the religious power over the political one! You can also visit the boardroom, which is beautifully decorated with some original frescoes. The City Hall still houses the administrative offices of Pienza.
Discover Gonzaga Simonelli Palace
It was the residence of the Gonzaga Simonelli family, and it has a roof garden that's lesser-known than the Piccolomini's one, but it's equally impressive and scenic.
Have a romantic stroll along the "Love Alleys."
Italian couples love this corner of Pienza: 4 narrow alleyways located in the old town and bearing some evocative names like Kiss Street, Luck Street, Love Street, and Dark Street. The most popular one is Kiss Street, which ends on a panoramic terrace making it the perfect location to watch the sunset! In the past, local lovers used to secretly meet there to get some privacy.
Reach Pieve di Corsignano
Just outside Pienza, you'll find a picturesque old church in the countryside which is dedicated to the Saints Vito and Modesto. It's easily accessible from the old town through an easy trail, and it's really scenic thanks to its old brick walls and the surrounding scenery. In front of the church, there is a large lawn inviting you to stop for a while and enjoy some nature.
Taste some Pecorino cheese.
You cannot visit Pienza without tasting its famous pecorino cheese! There are several dairies nearby, and you can easily arrange a visit, a tasting, or some shopping! The most popular dairies/shops are Caseificio Pienza Solp, Fattoria Buca Nuova, and Caseificio di Mario.
Reach the Chapel of the Virgin of Vitaleta
If you're up for a bike ride (or you have a car!), reach this small chapel surrounded by fields and cypress trees. Legged has it that it was built on the exact spot where a little girl met the Virgin Mary a long time ago. It's a perfect location for a picnic in nature!
Enjoy a wine tour
Tuscany rhymes with wine, and you cannot miss a guided tour taking you to the best wineries scattered throughout the countryside! If you want to also visit Pienza, take this one starting from Florence: Val D'Orcia: Cheese and Wine Tasting Tour from Florence.
Take plenty of Insta-friendly pictures.
The best place to take your pictures of Pienza is the so-called "panoramic walk" running along the ancient walls. The best belvedere in town is located on Casello Street, where you can also spot the Amiata Mount in the distance.
Have a day trip to Monticchiello.
Monticchiello is only 10 km from Pienza, and you can easily reach it by bike. It's a lovely medieval village perched on top of a hill and surrounded by its ancient walls. It's not so popular among tourists, so it's really quiet and peaceful. If you're planning to visit Tuscany in the summer, don't miss the "Teatro Povero," which is a local event where every citizen takes part in a collective theatrical performance!
Visit the cloister of the Monastery of S. Francis.
It dates back to the 14th century, and it's a great example of elegant yet simple Franciscan architecture. On its walls, you can still see some original frescoes representing the life of the Saint, and it's a quiet place full of spirituality. The cloister is now part of a hotel, but it's open to visitors!
Spot the set of "The Gladiator" movie.
If you're a movie lover, don't miss two places that were used as a set for a couple of scenes of "The Gladiator" movie. The first one is close to Pieve di Corsignano, and it's an avenue lined with cypress trees. The other one is a farmhouse located close to San Quirico D'Orcia.
Enjoy a day trip to Montalcino.
Montalcino is located 23 Km away from Pienza, and it deserves a visit thanks to its fortress overlooking the town and its famous Brunello wine!
Take a day trip to Montepulciano.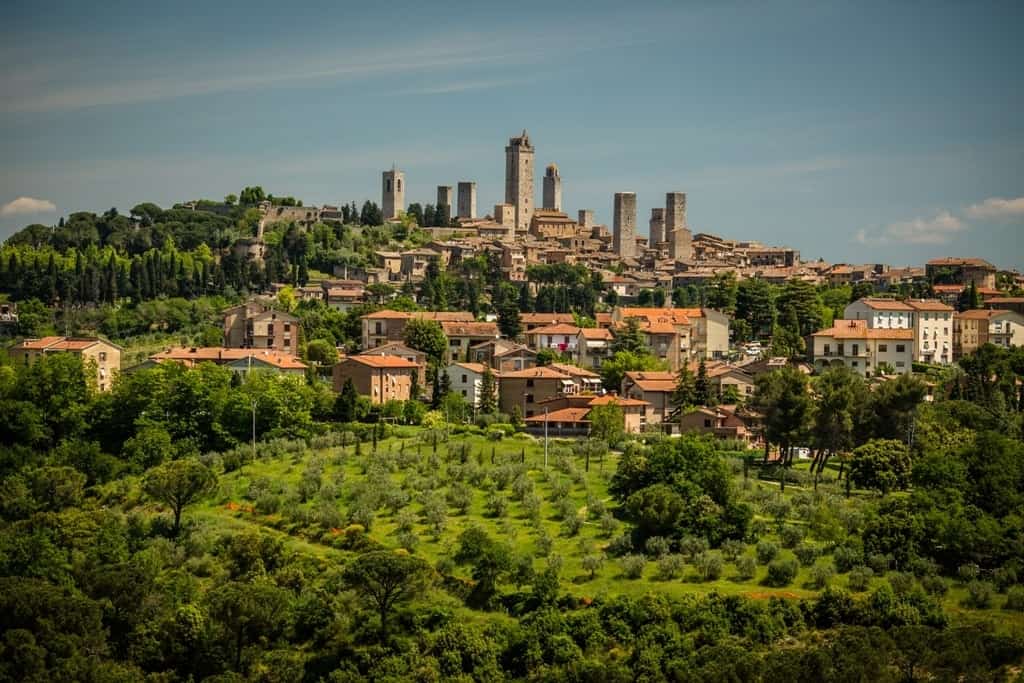 Only 15 Km away from Pienza, another location is worth a stop: the iconic Montepulciano, a spa town and the place where the famous homonymous Nobile Montepulciano wine has been produced for centuries. It's so close to Pienza that it's the perfect place to spend a night out, especially in summer when you cannot miss the local Jazz and Wine Festival!
Attend the typical cheese festival.
Locally known as "Festa del Cacio" ("cacio" means "cheese" in the Tuscan dialect), this popular event takes place between late August and early September. Other than for its typical food stalls and the costumed characters, it's famous for an old tradition named "Cheese Game."
A pole is erected in the main square, and the participants have to throw a wheel of pecorino as close as possible to the pole. It might not sound that difficult, but the participants have to lie on the ground to throw the piece of cheese! There's a specific tournament for adults and one for young people!
The post Things to Do in Pienza, Tuscany appeared first on travelpassionate.com.