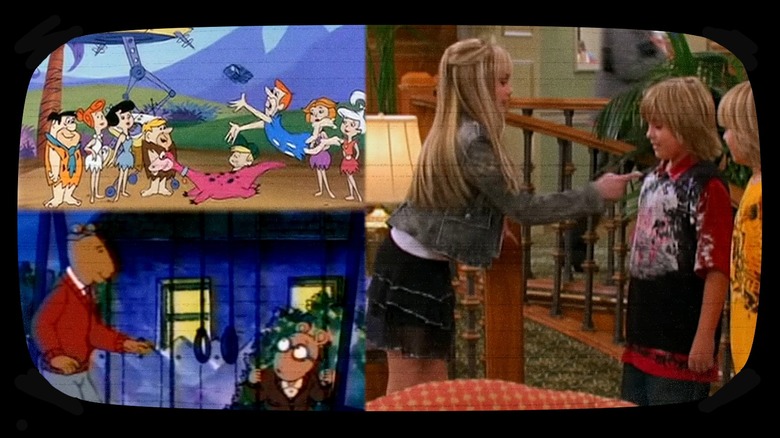 Television crossovers craft a universe wherein fictional worlds converge. Characters roam to unfamiliar territories, sometimes far away from the fold of their shows. Some crossovers transcend genres or networks, and others stay within more familiar neighborhoods. Crossovers existed for centuries in literature and decades in comic books before entering the world of television.
Beyond technical crossovers, miniature universes are formed simply by one show spinning off from another. Norman Lear's "All in the Family" led to "The Jeffersons" and "Maude," which led to "Good Times," with several more shows tied together in that extended television family. "The Mary Tyler Moore Show" birthed the main characters of three spin-offs -- "Rhoda," "Phyllis," and "Lou Grant" -- and is linked to all the other shows produced or distributed by MTM Enterprises. Without "Perfect Strangers" on ABC's TGIF, we wouldn't have its spin-off, "Family Matters," a show linked to "Full House," "Step by Step," and "Boy Meets World" through Steve Urkel's friendships.
I love the nesting dolls of television and the theories that come with crossovers. From the '50s to the 2000s, these are ten of the best crossover events in television history.
I Love Lucy: Lucy And Superman (1957)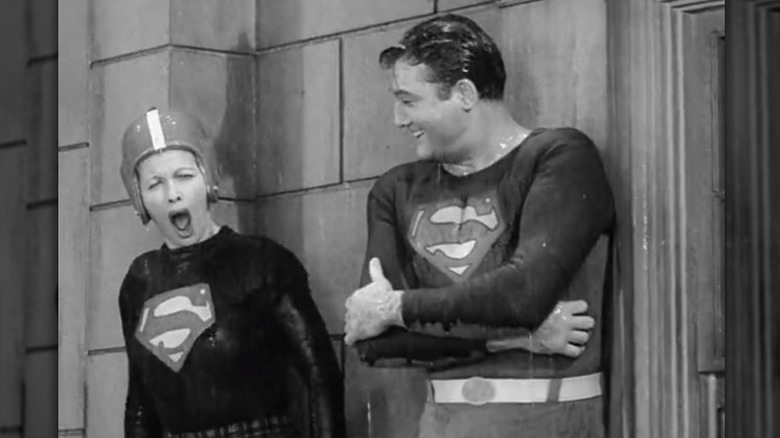 In season 6 of "I Love Lucy," Lucy becomes frustrated that Little Ricky's (Keith Thibodeaux) birthday party has some competition from another classmate's party. To convince the other kid's mother to change party dates, Lucy claims that Superman (George Reeves) is coming to their party. She's hoping Ricky will use his connections to secure Superman, but the heroic star is unavailable. Naturally, Lucy decides to take over as Superman, thinking no one will notice that it's her. The well-meaning mom is about to swoop in from the apartment ledge when she sees that the real Superman made it. He eventually helps her back in from the rain, teasing Lucy for her little stunt.
"Lucy and Superman" made history on January 14, 1957, as it's believed to be the first crossover on television. Reeves' show, "Adventures of Superman," was the comic book character's first TV series. Sadly, Reeves died by suicide a couple of years after this appearance, per the Los Angeles Times.
When asked to name his favorite episode of "I Love Lucy," Thibodeaux told Fox News: "The Superman episode with George Reeves was a big one for me... He was my hero in real life... It was like two different worlds colliding. But it was a great treat to have him on. He was just an amazing guy. I could tell that he really loved kids in real life, too."
If you or anyone you know is having suicidal thoughts, please call the National Suicide Prevention Lifeline​ by dialing 988 or by calling 1-800-273-TALK (8255)​.
The Beverly Hillbillies: The Thanksgiving Spirit (1968)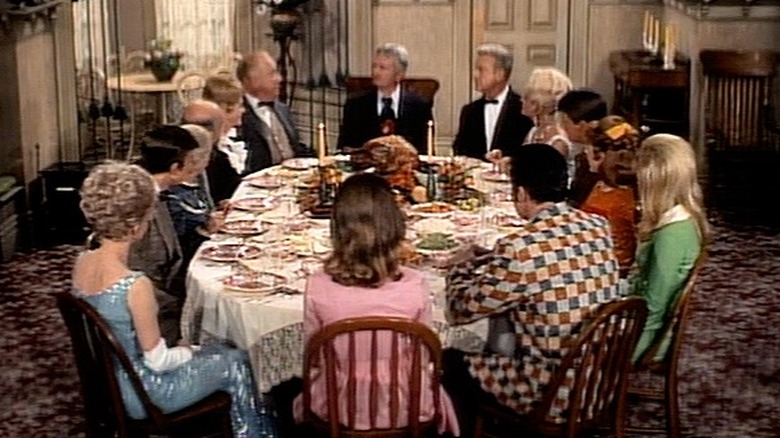 "The more, the merrier" is a good mantra for crossovers. "The Thanksgiving Spirit," in the seventh season of "The Beverly Hillbillies," takes the Clampetts to Hooterville, where they stay at the Shady Rest Hotel from "Petticoat Junction" and "Green Acres." Jethro Bodine (Buddy Ebsen) is looking for some local women to be in his movie and takes a liking to Billie Jo (Meredith MacRae) and Bobbie Jo Bradley (Lori Saunders). Farmhand Eb (Tom Lester) becomes enamored with Elly May Clampett (Donna Douglas) and wants to be involved in showbusiness. This is Oliver Douglas' (Eddie Albert) and Lisa's (Eva Gabor) only appearance on "The Beverly Hillbillies." Although they don't have any lines, it's special to see them join in for the Thanksgiving meal.
Jay Sommers created "Green Acres," and the show's executive producer Paul Henning created "The Beverly Hillbillies" and "Petticoat Junction" and helped craft those two theme songs. His daughter, Linda Kaye Henning, played Betty Jo Bradley in "Petticoat Junction" and appeared on his other shows. After Betty Jo marries Steve (Mike Minor) and has a baby, Granny (Irene Ryan) from "The Beverly Hillbillies" visits, then references that episode in the Thanksgiving story. In this universe, it wasn't uncommon for stars to cross between these shows.
A couple of years later, the rural purge was underway on network television. "CBS canceled every show with a tree," "Green Acres" actor Pat Buttram reportedly said (via the Los Angeles Times).
That's So Suite Life Of Hannah Montana (2006)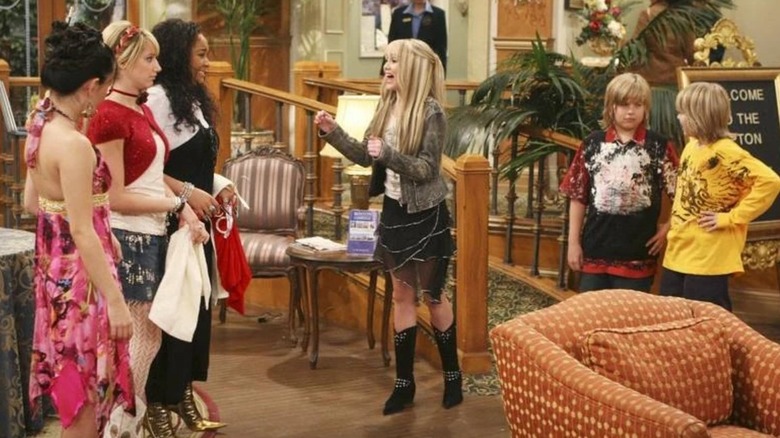 Disney Channel embarked on a crossover special for the first time in 2006. "That's So Suite Life of Hannah Montana" is technically an episode of "The Suite Life of Zack & Cody." However, the crossover event comprised three series: "That's So Raven," "Suite Life," and "Hannah Montana." On her show, Raven Baxter (Raven-Symoné) first interacts with Zack (Dylan Sprouse), Cody (Cole Sprouse), and Mr. Moseby (Phill Lewis) at The Tipton Hotel. Eventually, "The Suite Life of Zach & Cody" mainstays Maddie (Ashley Tisdale) and London (Brenda Song) join in on the mayhem. Hannah Montana (Miley Cyrus) appears before ending the crossover with an episode of her series -- creating one epic story for the Disney Channel universe.
During the crossover event, Raven becomes focused on her fashion internship. After botching the photographer's and models' travel arrangements, the psychic teen leaves San Francisco for Boston. Naturally, Raven crafts a wild solution to her problems. She dresses up as the photographer and has Zack and Cody masquerade as models. Raven befriends Maddie and fangirls over London, who wears one of Raven's designs. Hannah Montana (Miley Cyrus) loves the dress and wants one, too. Admittedly, the crossover energy fades on "Hannah Montana," where the pop star leaves the Tipton.
Still, it was mind-blowing for kids to see all these characters meet. Notably, the channel has continued the crossover tradition, including 2009's "Wizards on Deck with Hannah Montana."
Arthur: Arthur Meets Mister Rogers (1997)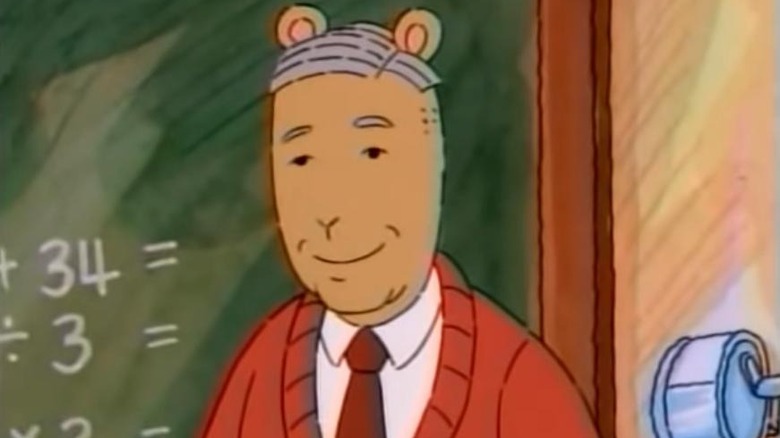 "Arthur" is my favorite animated show of all time -- I read Marc Brown's books, saw the live show when it came to town, and watched the series on PBS every day. Kids tuning in to see their beloved animated aardvark saw a range of all-star guests, including Yo-Yo Ma and Joshua Redman, the Backstreet Boys, Michelle Kwan, Alex Trebek, and more. But one of the most impactful guest stars had to be Mister Rogers. "Mister Rogers' Neighborhood" was on PBS for over three decades, overlapping in the '90s with "Arthur."
"Arthur Meets Mister Rogers" follows Arthur Read (voiced by Michael Yarmush) becoming embarrassed when Mister Rogers stays at his home. Arthur is excited to tell his friends about his guest, but he changes his mind when he learns that they're too old for his show. Mister Rogers picks up on Arthur's feelings and has a sweet talk with him on the swing set. "You know, if I'm feeling mad or sad or glad about something, I try to tell somebody about it," Mister Rogers tells Arthur. He adds, "Real friends don't make fun of real friends." Great advice!
By the end of the episode, Mister Rogers speaks to Arthur's class and everyone appreciates the television legend. Even Binky Barnes (Bruce Dinsmore) is starstruck. Only through the magic of animation could a real man -- a leader in children's television -- enter a fictional universe and so effectively share positive messages with kids.
Step By Step: The Dance (1991)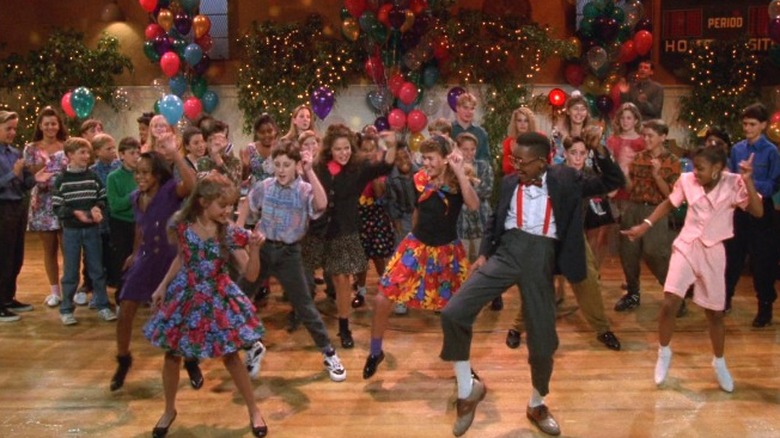 In the '90s, the TGIF programming block on ABC was a hot spot for television crossovers. One of my favorites is a "Full House" episode where Steve Urkel (Jaleel White) from "Family Matters" cheers on Stephanie Tanner (Jodie Sweetin) as she begins wearing glasses in the "Stephanie Gets Framed" episode. In September 1991, Urkel worked his magic on "Step by Step." This blended family series begins with step-siblings adjusting to life under one roof after Carol Foster (Suzanne Somers) marries Frank Lambert (Patrick Duffy). Like he helped Stephanie on "Full House," Urkel helps little sister Al Lambert (Christine Lakin) on "Step by Step."
In this episode, Al's date to the school dance rejects her, so Urkel takes her instead. "When you fall off the bicycle of life, ya gotta get back on and keep ringing your bell," he tells Al. Bringing Urkel to the dance gives Al's confidence a boost, and the boy who dumped her realizes what he's missing. However, the night wouldn't be complete without a crowd favorite: "Do the Urkel." White is unmatched in this nerdy rap number. He performed the song and dance months earlier on a "Family Matters" episode. Good dance moves travel fast!
I turn to TGIF for feel-good moments, and this episode is one of them. It's hard to match this joyful night in '90s sitcom history. Urkel returned to "Step by Step" in 1997 for a brief cameo after this series and "Family Matters" moved to CBS.
St. Elsewhere: Cheers (1985)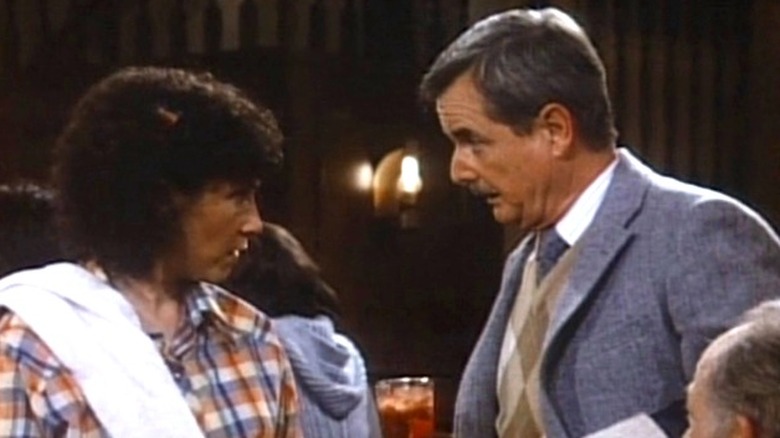 "Cheers" and "St. Elsewhere" take place in Boston, so it makes sense that the season 3 finale of "St. Elsewhere" takes place at the Cheers bar. This crossover features three "St. Elsewhere" doctors -- Westphall (Ed Flanders), Auschlander (Norman Lloyd), and Craig (William Daniels). They interact with "Cheers" regulars Norm Peterson (George Wendt) and Cliff Clavin (John Ratzenberger), and waitress Carla Tortelli (Rhea Perlman). 
Episode co-writer John Masius shared on "Cheers" writer Ken Levine's blog, "[W]e thought it would be fun to write a scene where the three friends met for a drink after work...Something we had never done...We thought why not the cheers bar?" The pregnant Carla roasts Drs. Westphall and Auschlander when she learns they work at St. Eligius. "I was forced to have my kid in that mortician's delight!" Carla exclaims, referencing a season 2 episode). The doctors have a lot to discuss: Craig will be operating on Auschlander's wife, and Dr. Westphall reveals a big decision. Norm talks with Dr. Auschlander about their business dealings, and Cliff solicits the doctors for medical advice. While it's disorienting to see a single camera on Wendt as he arrives at the bar, this visual disruption makes the blending of a sitcom world and a medical drama more intriguing.
Warning: This episode contains graphic depictions of violence and the resulting surgery, so viewers beware. Also, any fan of crossovers should look into the Tommy Westphall Universe Hypothesis, though it contains spoilers for the finale of "St. Elsewhere!" 
The Fresh Prince Of Bel-Air: I, Done: Part 2 (1996)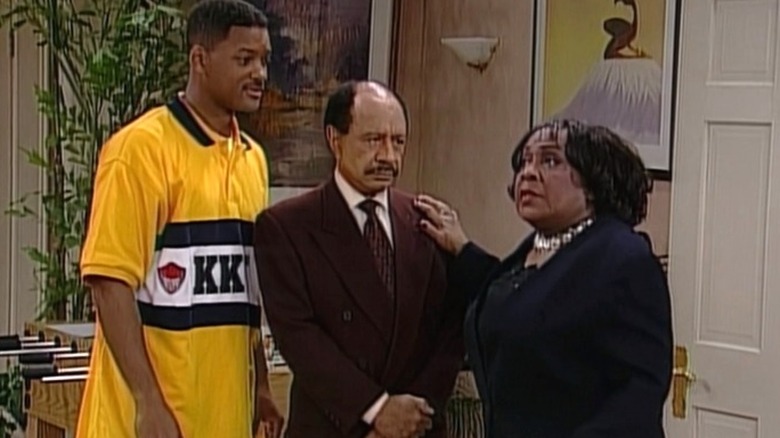 In the series finale of "The Fresh Prince of Bel-Air," Uncle Phil (James Avery) sells the family's mansion. Since he doesn't have a new home yet, Will Smith tries to stall the sale, resulting in two series crossing over into this one. Arnold from "Diff'rent Strokes" and his father (Conrad Bain) look at the house. Then, George Jefferson (Sherman Hemsley) and Louise Jefferson (Isabel Sanford) from "The Jeffersons" stop by with their maid, Florence (Marla Gibbs). The Jeffersons decide to purchase the swanky pad, and we get one last round of Alfonso Ribeiro's signature dance, "The Carlton," before the new owners arrive. This wasn't the first time "The Jeffersons" entered "Fresh Prince" territory. Though Hemsley was cast as a judge for a few earlier episodes, he and Sanford reprised their "Jeffersons" characters in a season 5 "Fresh Prince" episode, fighting with Will and his fiancee at a couple's counseling session. 
When asked about the abrupt cancellation of "The Jeffersons," Sanford told Archive of American Television, "The other sitcoms, they had a closing show -- 'Mary Tyler Moore,' 'M*A*S*H' -- and the others that were playing along with us at the same time. They all...had a closure. I thought we should at least have that respect. We had been running as long as they had." Showcasing Hemsley and Sanford makes the "Fresh Prince" finale special. While it doesn't replace the finale Sanford wished "The Jeffersons" had, it's fascinating to see these characters here!
The Jetsons Meet The Flintstones (1987)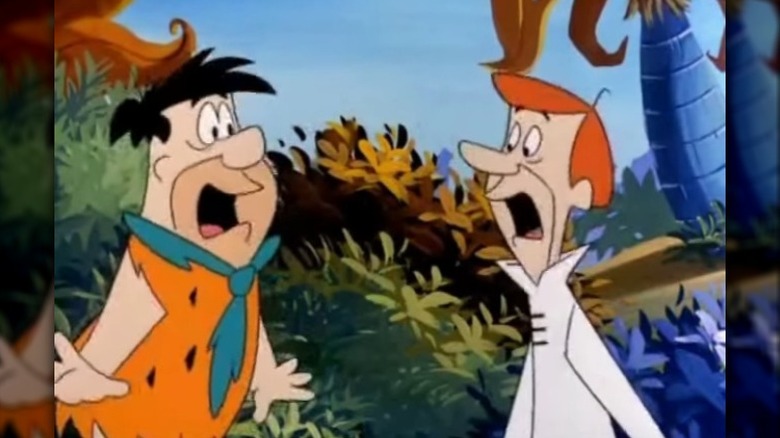 In 1987, Hanna-Barbera's most famous animated families joined forces in their "Superstars 10" syndicated anthology series: "The Jetsons" and "The Flintstones." Though the special premiered over two decades after the original "Flintstones" and "Jetsons" shows, the series made an '80s comeback -- living on through Saturday morning cartoons. 
"The Jetsons Meet the Flintstones" sets up Fred Flintstone (Henry Corden) and George Jetson (George O'Hanlon) in their separate worlds, the Stone Age and the future, respectively. In the special, Fred and Barney Rubble (Mel Blanc) are fired. However, they conceal this from their wives, Betty (Julie McWhirter) and Wilma (Jean Vander Pyl). Meanwhile, George, Jane (Penny Singleton), Elroy (Daws Butler), and Judy (Janet Waldo) fire up Elroy's time machine to travel further into the future. However, they accidentally go way back in time. It's cute hearing George and Fred call one another friend and it's fitting that these icons should interact and live within each other's lives.
When the Flintstones are accidentally beamed into the Jetsons' world and break the time machine, the Jetsons must fend for themselves in Bedrock. Jane adjusts to the lack of modern conveniences, Judy has a budding romance with a Bedrock star, and little Elroy thrives in prehistoric lawn care. As the Jetsons become disillusioned with Bedrock, Fred brings a Stone Age touch to Mr. Spacely's (Mel Blanc) business. There's hardly a better way to observe the mind-bending time travel capabilities within the Hanna-Barbera universe than by watching this special.
Sister, Sister: Child's Play (1997)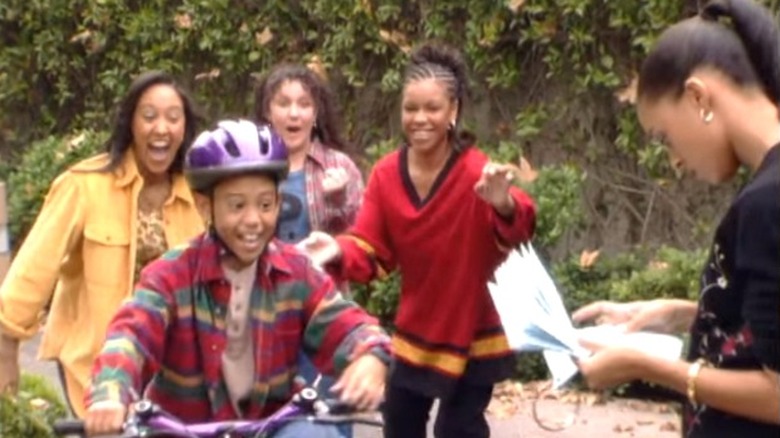 For two seasons of "Sister, Sister" Tia and Tamera Mowry were a part of ABC's TGIF block before moving to The WB for four more seasons. Tons of exciting stars interacted with the twins, including Kenan Thompson and Kel Mitchell, Mary-Kate and Ashley Olsen, and Boyz II Men. Tahj Mowry, their real-life brother, guest-starred as T.J. Henderson, his character from "Smart Guy."
Ray (Tim Reid) and Lisa (Jackée Harry) hire a tutoring service for Tia and Tamera to prepare for their SATs. Instead of a hunky older guy at the door, young T.J. greets the twins and their friends Diavian (Alexis Fields) and Dot (Senta Moses). Ray makes the meta-comment, "I'm sure T.J.'s a real smart guy, but I think the girls would be comfortable with an older tutor." T.J. pretends he never had a proper childhood so that the girls will relax before their standardized tests. Tia would rather read her flashcards, but the others love helping T.J. ride a bike and play games. He even gets his clients to take him to Buck E. Duck -- a pretty clever Chuck E. Cheese parody.
This episode captures the evolution of "Sister, Sister." Tamera and Tia are finishing high school, staying in their separate bedrooms, and giving away their old toys. They even have a remixed, more mature theme song by this point in the series. There's a touching moment when Tia says, "Hey Tamera, you know, the only thing that would have made being a kid more fun, would have been having you there," since they were separated at birth. Tamera answers, "I'm here now, so let's make the most of it."
NBC's Blackout Thursday (1994)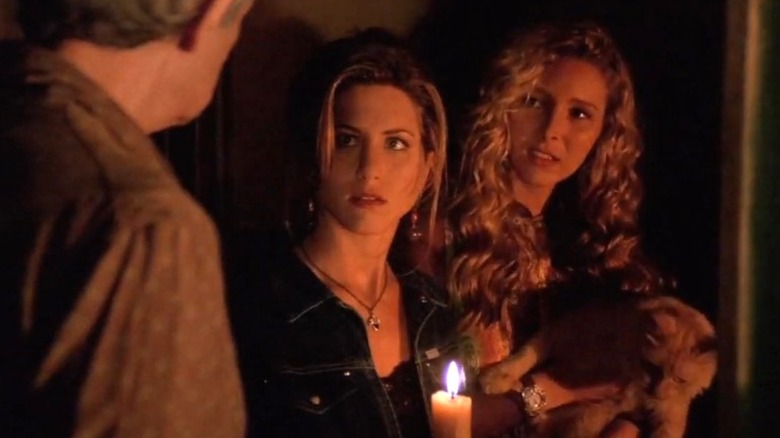 The lights went out on NBC's sitcoms on November 3, 1994, creating a crossover stunt called "Blackout Thursday." The worlds of "Mad About You," "Friends," and "Madmen of the People" are connected that night by one electrical problem in New York City.
Paul Buchman (Paul Reiser) and Jamie (Helen Hunt) argue over their television setup on "Mad About You." Paul's cousin, Ira (John Pankow), helps Jamie reset everyone's stolen cable after a technician cuts it off. Unfortunately, the two of them cause a power outage that ripples throughout New York. Al Roker even appears to report from NBC. On "Friends," the power goes out while Phoebe (Lisa Kudrow, also Phoebe's sister Ursula on "Mad About You") prepares to give a performance at Central Perk. Meanwhile, Chandler Bing (Matthew Perry) is at the ATM. The power goes out and Chandler realizes he's not alone. Model Jill Goodacre is also in the "vestibule," as she and Chandler call it. Chandler calls Monica (Courteney Cox), who is keeping watch by candlelight with their roommates at their apartment. Finally, the Dabney Coleman sitcom "Madmen of the People" finds its star in jail for looting on his birthday amidst the outage.
In a segment advertising the crossover, "Entertainment Tonight" noted, "Themed shows are a great ploy to help jazz up the upcoming rating season, which, not coincidentally, begins tomorrow." No blackout on "Seinfeld," though. "He's uptown, we're downtown. Different generator," Paul Reiser said with a wink. 
Read this next: 12 Underrated Sitcoms That You Should Check Out
The post The Best Crossover Episodes In TV History appeared first on /Film.