Owning a Sprinter van can be a great way to explore the world, but customizing it to your liking can take it to the next level in terms of comfort and storage space.
When I was designing my third Sprinter, I knew I wanted to maximize my gear storage, while making my spare tire more accessible.
This is where Owl Vans came in – offering innovative and sleek van accessories for Sprinter van owners looking to enhance their van life experience. From functional add-ons such as roof racks and outside storage to ladders and more, Owl Vans can help transform your Sprinter van into a personalized adventure vehicle.
With a focus on durability, lightweight design, and functionality, Owl Vans has become a trusted Sprinter van accessories brand, and you've likely spotted their gear on vans at trailhead parking lots. In this blog post, we'll dive into the Owl Vans accessories I have on my van and how they can elevate and enhance your own camper van's design.
Owl Vans gifted the gear for my new van. As always, all opinions and recommendations are my own, and we only share products we truly love and think you will too.
---
Owl Vans Ladder + Tire Carrier
On Sprinter vans, the spare tire is typically carried underneath the van which is a very inconvenient place to have it if you were to get a flat tire on an uneven dirt road or muddy road.
Instead of having to precariously crawl under your van, Owl Vans Ladder + Tire Carrier allows you to store your spare on the back door of your van, providing easy and immediate access. Having your spare mounted on the back also allows you to carry a full-size spare tire, which is especially important if you plan to do any off-roading in your van.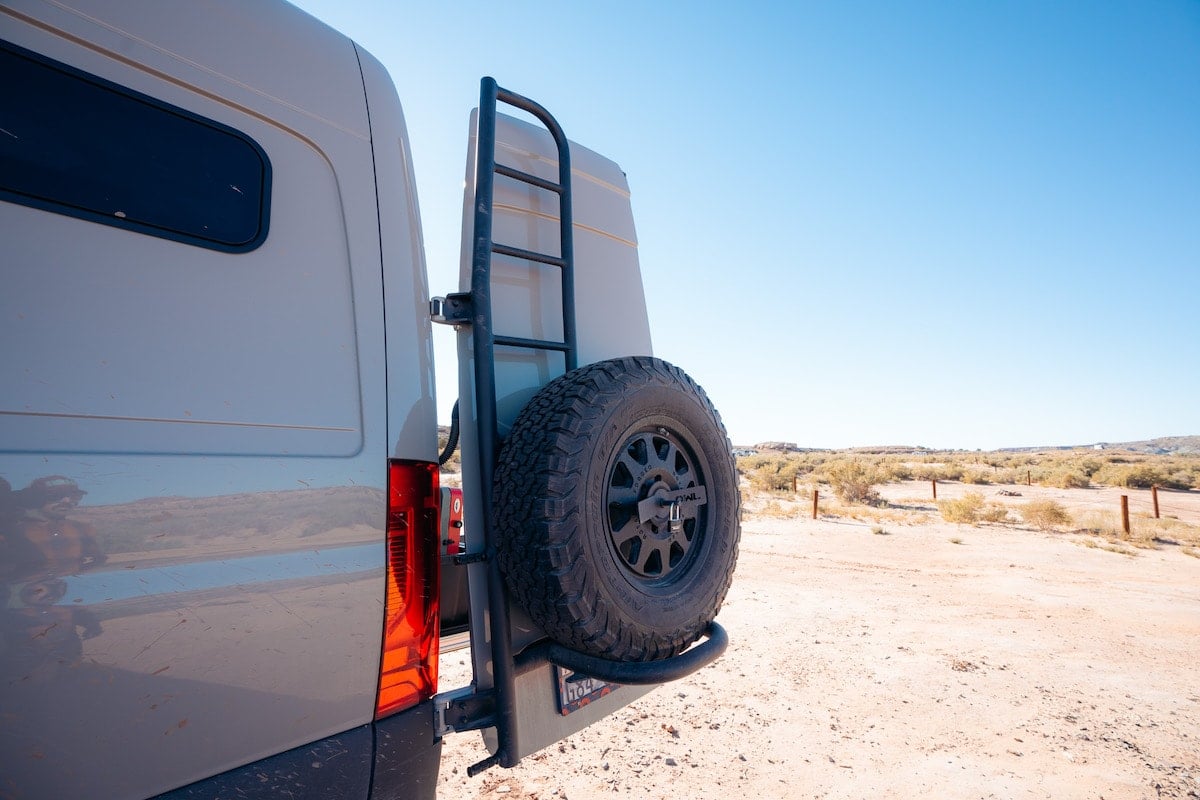 The tire is situated low enough that an average height person like myself (I'm 5'5″) should be able to get it off the back of the van without any issues. You can also add a Rotopax diesel canister to the outside of the spare tire if you want to carry extra fuel. With the spare tire mounted, this adds 16″ to the back of the van, so it doesn't add significant length to your van. With the spare tire being more easily accessible, I recommend throwing a lock on the rack to prevent anyone from stealing your spare tire.
The Owl Vans Sprinter spare tire rack is combined with a ladder that provides roof access. This means you don't have to choose between a ladder or a spare tire on your back door. It's made of bendable aluminum alloy which is stronger and more lightweight than other van ladders on the market.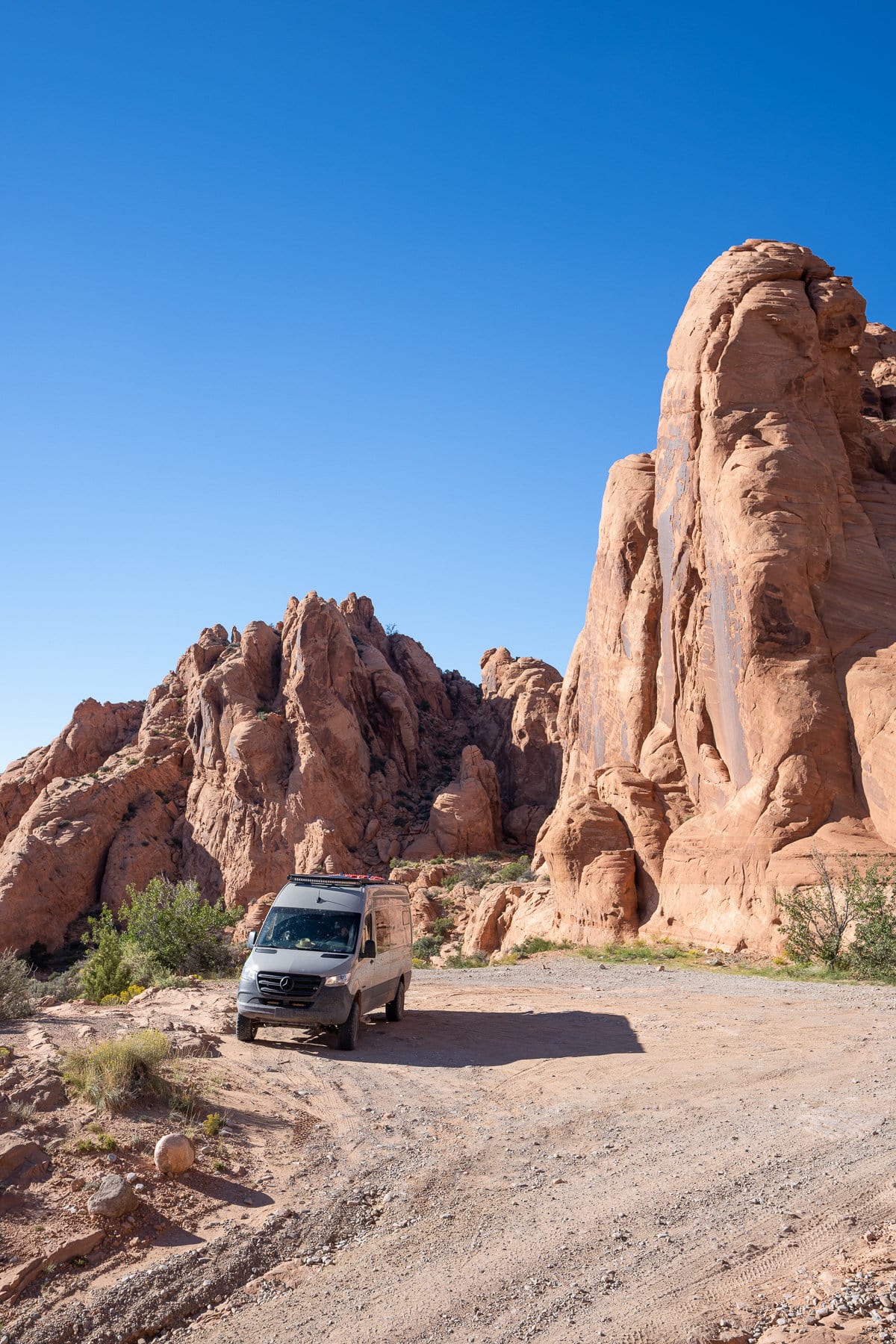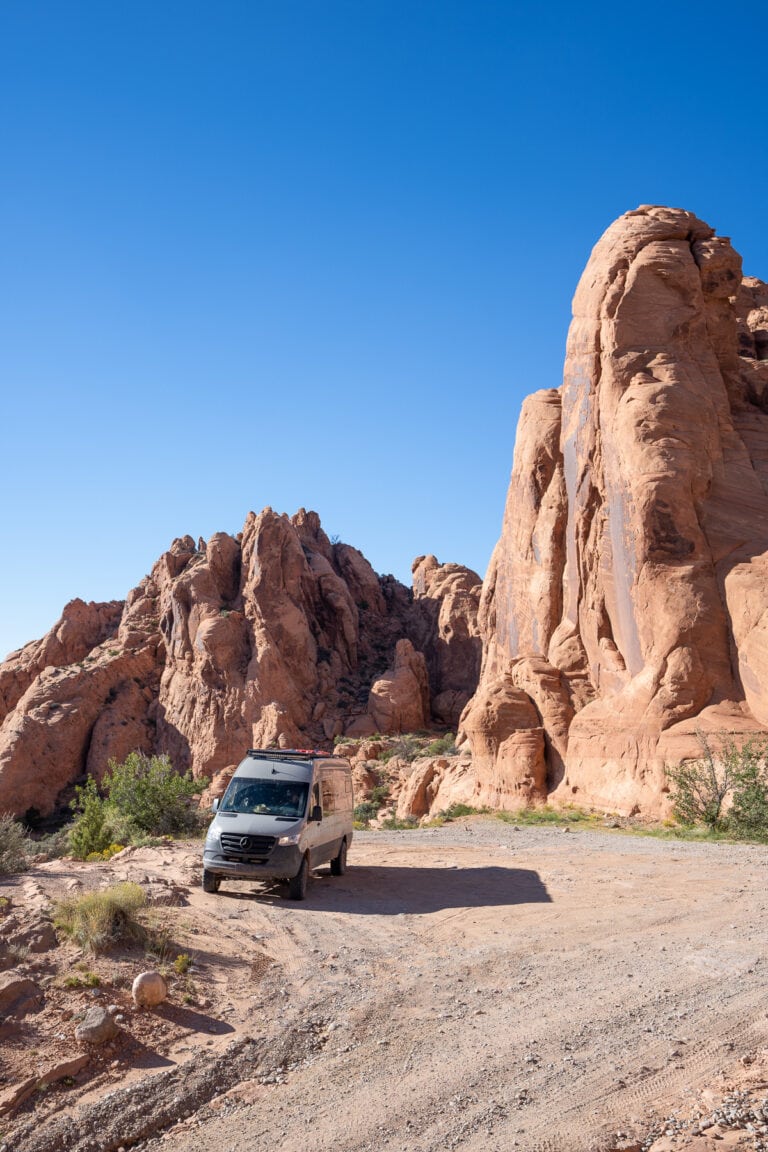 Start your van life journey
Learn how to do van life with our free van life email series
We'll teach you everything you need to know about converting and living in a van
The first ladder peg is a little hard to reach from the ground if you don't have a rear step, but there are plenty of places to grab on to hoist yourself up to that first step. People who are shorter or who have short legs might have a little trouble with this though.
When I first tried climbing up the ladder, I felt like I needed to be a little more careful than a standard ladder since the steps are much smaller, but once you get used to it, it's very easy to climb up. I was able to climb up there 25 weeks pregnant, no problem

If you want to see the ladder in action, check out this video I posted on Instagram.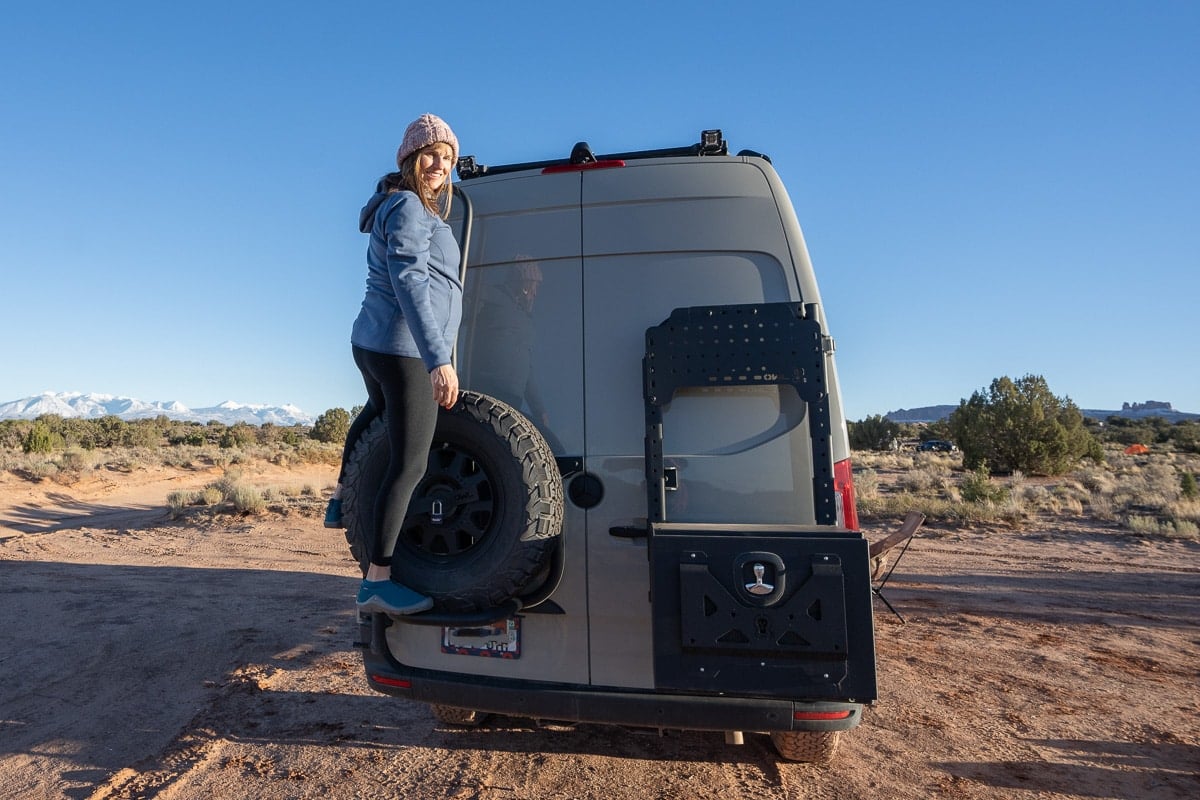 ---
B2 Carrier and Mini Sherpa
When I was designing my 3rd Sprinter Van, I wanted a storage box to carry gear that doesn't need to be inside the van – ie tools, our water hose, jumper cables, etc. I was drawn to Owl Vans Sprinter Van accessories because the Owl Vans carrier opens with the back doors so you never have to swing the carrier out of the way first. It makes accessing things in the back of the van very easy.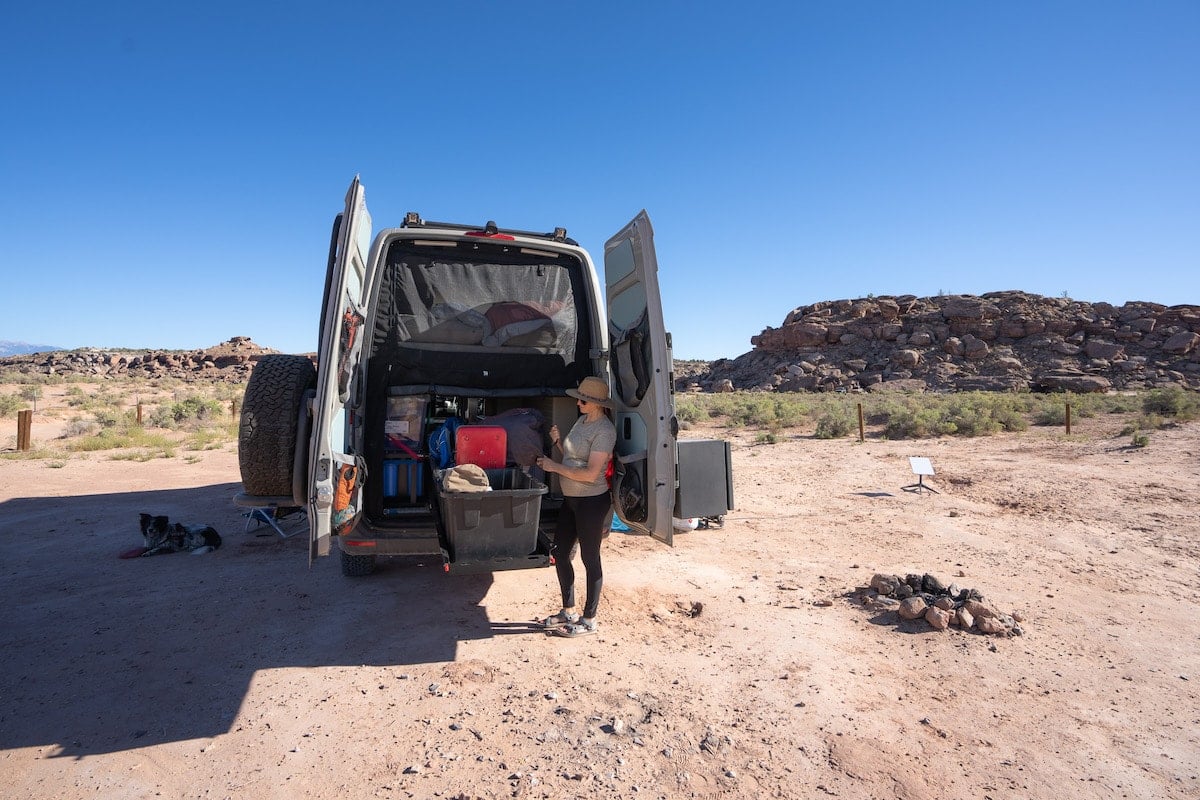 B2 Carrier
I chose the B2 Bike Carrier which is a lightweight, modular carrier that you can mount a variety of Owl Vans accessories to. I've paired mine with the Mini Sherpa Plate and the Medium Expedition Box. Made with TIG welded aluminum, this carrier is sturdy and extremely durable.
The main feature of the B2 is the ability to mount bikes, including e-bikes, on the back of your van. With a total weight capacity of 150 pounds, this is one of the only racks of the market that can handle the weight of e-bikes while still allowing you to freely open and close your back doors.
In the photo below, the bike rack would be mounted on top of the cylindrical tubes which can fit 2 bikes side by side.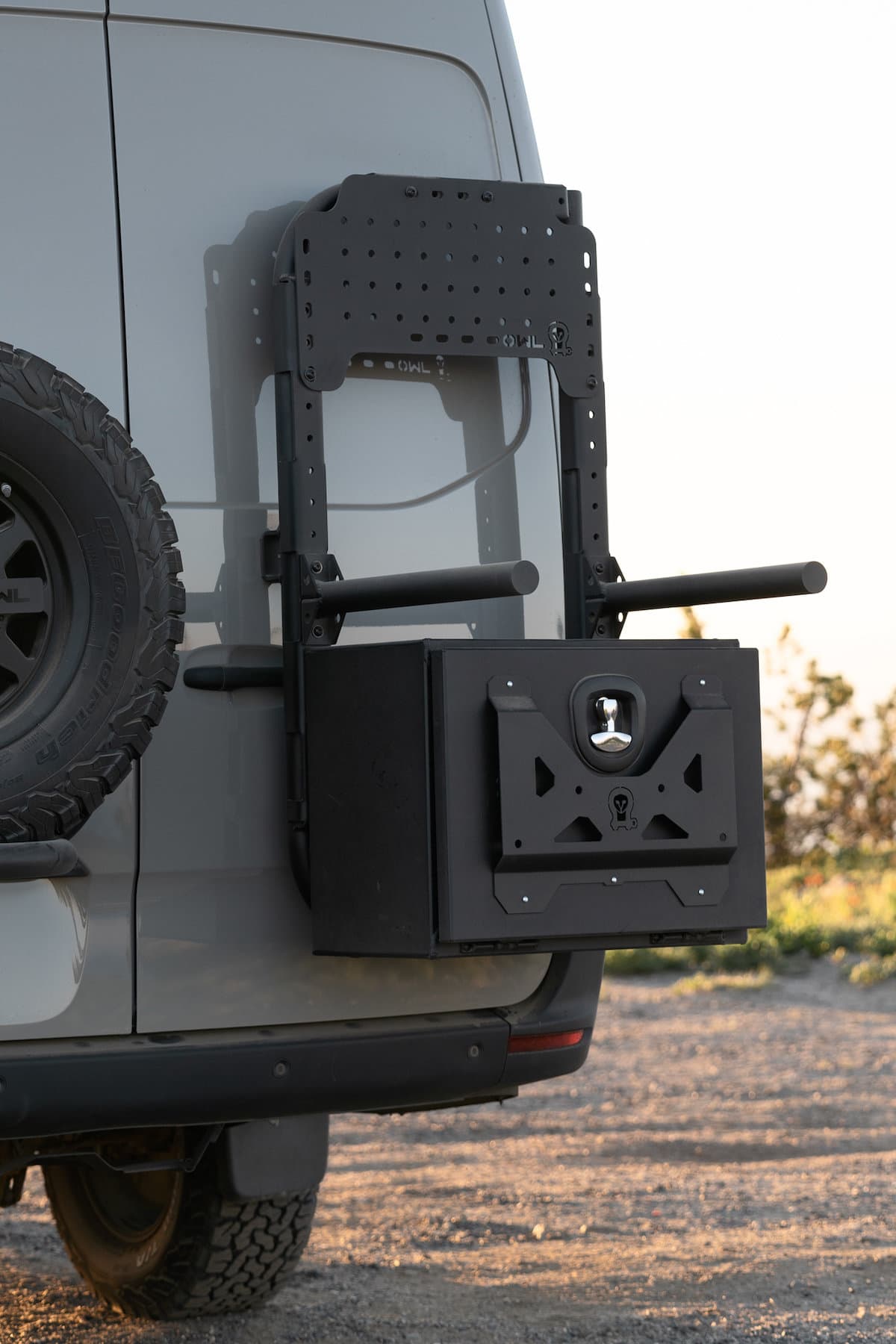 Mounting bikes does require the separate purchase of 1up Bike Trays. Being modular, the B2 allows you to choose how high you want to mount your bikes. You can mount them low on the B2 for easy access or higher so you can pair it with a storage box.
Since I was pregnant when we got this van, we haven't used the B2 to mount our e-mountain bikes yet. I will say I'm a little hesitant to travel long-term with our e-bikes on the outside of the van since I'm afraid they will get stolen or damaged from weather or excessive dust. When we do decide to mount the bikes on the back of the van, I'll probably want to throw some sort of cover on them to protect from the elements and make sure the bikes were insured. For weekend trips or for transporting bikes to and from trailheads, I think the Owl Vans B2 is an amazing solution.
When switching to winter sports, Owl Vans also sells a ski locker that mounts to the B2 which helps keep the inside of your van dry while protecting your skis from dirt and road debris. This is especially useful for those of you who have Flares on your Sprinter Van and sleep sideways. For this style of van floor plan, skis are often to long to fit underneath the bed, making the Owl Vans ski locker an excellent solution.
One other thing to be aware of with the B2 is that it may interfere with the backup camera sensor. We have a 2021 4×4 170″ Sprinter and whenever we put the van in reverse, it triggers the backup sensor to sound the alarm as if we are going to back into something.
Mini-Sherpa
If you won't be carrying bikes on your Owl Vans B2, you can use the Owl Vans Mini-Sherpa modular mounting plate to mount a variety of gear like a DMOS Shovel, a Rotopax for extra fuel, MaxTrax recovery boards, or whatever else you want to carry.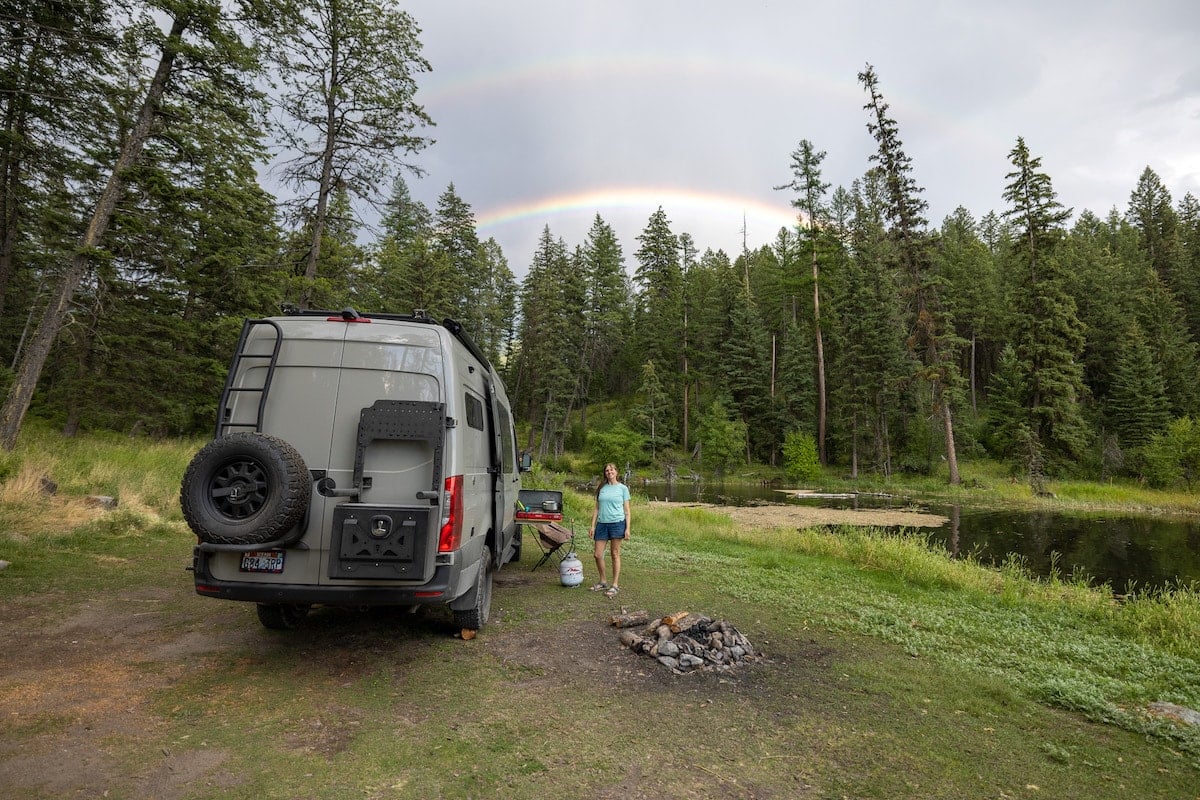 Do keep in mind that the spacing of the holes on the Mini-Sherpa are uniform, so depending on what you want to mount, you may have to drill a hole or two in your Mini-Sherpa. We found that to be the case when we went to mount a Rotopax and the spacing on the Mini-Sherpa didn't match up with the spacing of our Rotopax mount. Unfortunately, winter (and our baby) arrived before we had a chance to drill holes to mount our Rotopax or any other accessories, but it's on our to-do list before we hit the road this summer.
If you don't plan to carry heavy e-bikes and the idea of drilling holes in your brand new gear is intimidating, you might consider the Owl Vans Sherpa Cargo System instead of the B2/Mini-Sherpa. The Sherpa Cargo System has more flexibility built in due to a variety of spacing of the mounting holes. The downside, however is that the total weight capacity of the Sherpa Cargo Carrier is 100 pounds, so 50 pounds less than the B2 Carrier.
---
Medium Expedition Box
On the bottom of our B2 carrier, we have the Owl Vans Medium Expedition Box which – similar to the ladder + tire combo – adds 15″ inches to the back of the van. I really love this box as it allows us to store things like our hose, shower hookup, tools, jumper cables, and other gear that we really don't need to access from inside the van.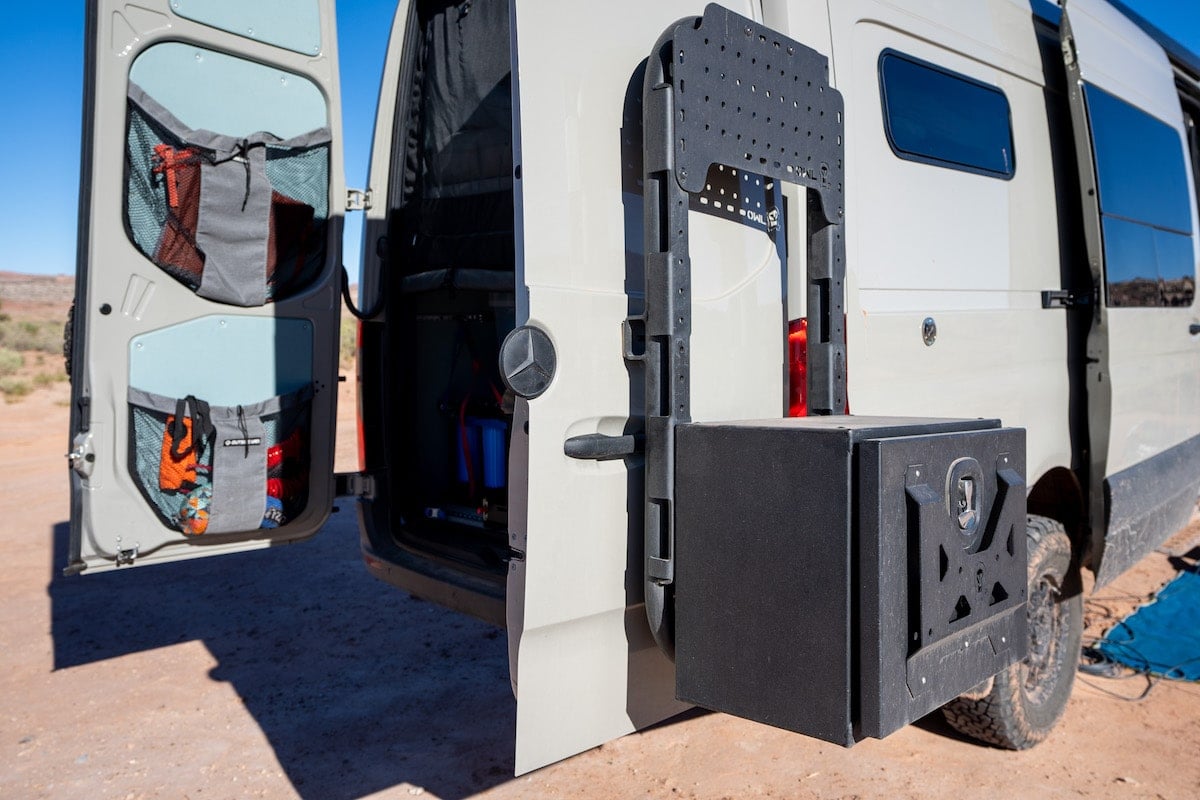 The box is made of a special gauge of aluminum and has TIG welded seams, allowing the box to be both ultra-rugged and lightweight. It can hold up to 60 pounds of gear and can be mounted to either the Sherpa Cargo Carrier or the B2 Carrier that we have. If you want more storage space, there's a large size box available.
The box comes with a lock and key so you can secure whatever is inside the box without having to buy an extra lock. The box is all-weather and has been put to the test here in Utah this winter where we've had a ton of snow.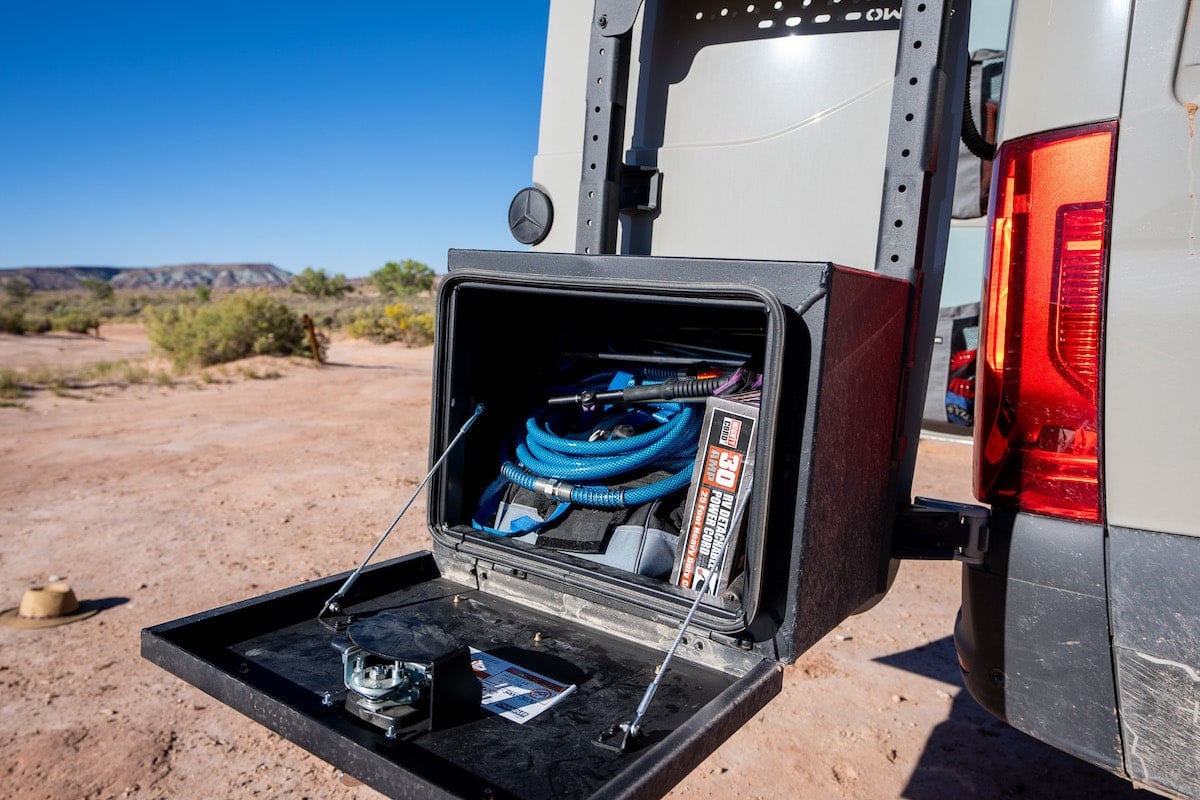 Overall this box has proved to be super handy and just the right size for carrying the gear I mentioned.
---
Other Popular Owl Vans Accessories
In addition to the Owl Vans accessories I have, Owl also manufactures a variety of other overlanding gear to get your Sprinter van accessories dialed. Here's a few more of their most popular items they either manufacture or sell: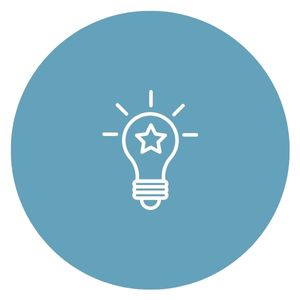 Note: The Spare Tire Ladder combo rack and the B2 require 180-degree hinges, which your van may or may not come with them. You can purchase 180-degree hinges from Owl Vans or from your local Mercedes dealer.
---
How To Install Owl Vans Accessories
All of my accessories were installed by my custom van builder, Outside Van.
If you plan to self-install, Owl Vans has step-by-step video instructions for all of their gear.
If you'd prefer to have your accessories professionally installed, check out this list of certified Owl Vans installation centers.
If you have any questions about Owl Vans products, check out their comprehensive FAQ section.
I hope this Owl Vans review helps you choose the best Sprinter van accessories for your adventure rig. If you have any questions about these products, please leave a comment below.
The post Owl Vans Sprinter Accessories Review appeared first on Bearfoot Theory.