Editor's note: You can also read this blog inSpanishandPortuguese.
I've always believed technology is a powerful enabler for businesses and communities. During the pandemic, we've seen how digital tools have helped create jobs and make economies more resilient and sustainable. This is especially true in emerging markets, where an entrepreneurial spirit and new pathways for innovation can unleash enormous economic opportunity.
At Google, we see that potential today in Latin America. Communities have been hit hard by the pandemic, and closing digital access gaps will be vital to an inclusive recovery. At the same time, according to a new report from the Economist, increased investment and a policy focus on AI technologies can unlock new opportunities, from health care and sustainable agriculture to financial services and more.
As we shared in our Digital Sprinters report, digital transformation will require investment by governments and the private sector in infrastructure, people, technological innovation and public policies. In Latin America, realizing the full potential of digital technologies could generate an annual economic impact of up to $1.37 trillion by 2030 in six of the region's largest economies, or 23% of these countries' combined GDPs.
We've been investing in Latin America over the last 17 years, and today we're announcing a five-year, $1.2 billion commitment to the region. We will focus on four areas where we believe we can best help the region to thrive: digital infrastructure, digital skills, entrepreneurship and inclusive, sustainable communities.
Investing in digital infrastructure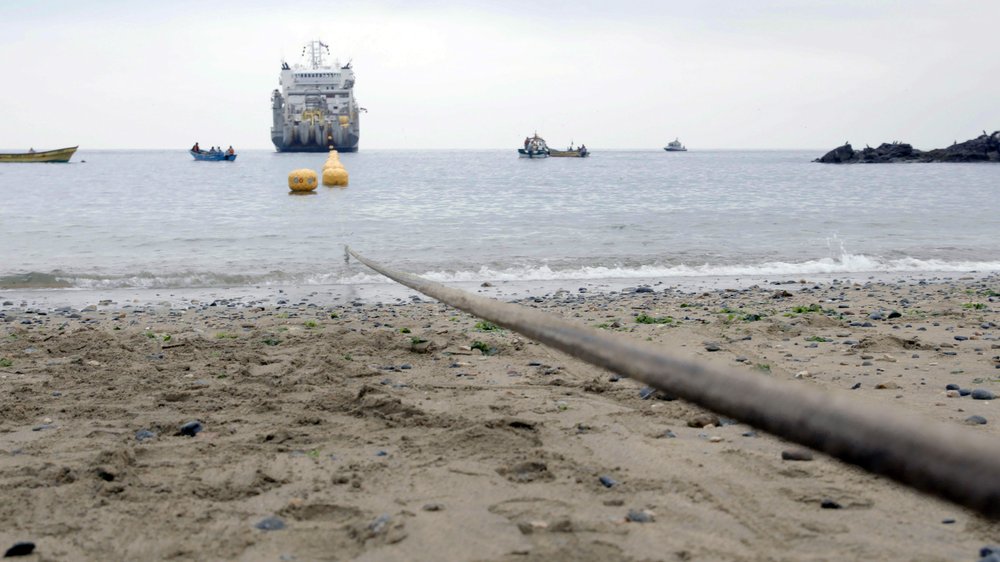 Curie landed in Valparaíso, Chile in 2019 and was the first subsea cable to connect to Chile in 19 years.
We've been investing to improve connectivity and increase Latin America's access to digital services, including Google products like Search, Gmail and YouTube, as well as Google Cloud. The Firmina subsea cable, named after Brazilian abolitionist Maria Firmina dos Reis, will be the world's largest subsea cable, capable of operating from a single power source at one end of the cable if needed. When completed in 2023, it will run from the U.S. to Argentina, with additional landings in Brazil and Uruguay. Firmina follows three other significant cable investments in Latin America — Monet, Tannat and Curie — which together bring more reliable connectivity to the region.
Our Google Cloud Regions in Santiago, Chile, and São Paulo, Brazil, are giving businesses access to compute power and services that enable them to succeed in the digital economy. For example, Tembici, a Brazilian startup that offers bike sharing services in major cities across Latin America, runs its operations on Google Cloud — supporting its regional expansion.
Looking ahead, our Cloud Regions will continue to help more organizations accelerate their digital transformation and build towards long-term growth. We will also increase our engineering footprint in Brazil. These new roles — with a focus on essential areas like privacy and security — will help us create better products for the region and the world.
Expanding opportunity through digital skills
Digital skills are key to unlocking opportunities for the next generation. Through our Grow with Google program and Google.org grantees, we've trained nearly eight million people across Latin America in digital skills since 2017.
To build on this momentum, today we're announcing that we'll provide Google Career Certificate scholarships to one million people in Latin America. This training will help people access well-paying jobs in high-growth fields.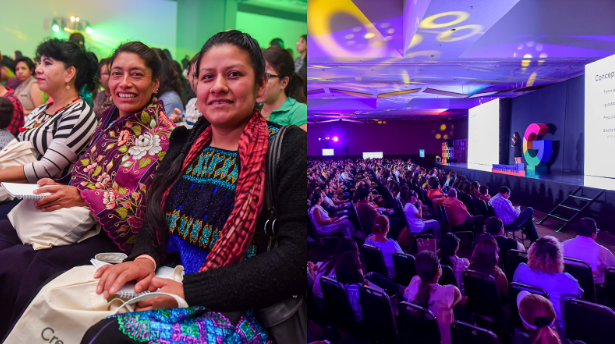 Our Grow with Google program has trained nearly eight million people in Latin American in digital skills since 2017.
Supporting startups and small businesses
There is huge momentum behind tech entrepreneurship throughout Latin America. When we opened our Google for Startups campus in Brazil in 2016, there were no "unicorns," startups valued at $1 billion or more, in the region. Today, there are 35, including 13 unicorns that have been part of Google for Startups programs. With investment, resources and training from Google for Startups, we have supported more than 450 startups in the region. These startups have gone on to raise more than $9 billion in investments, creating 25,000 jobs.
One example is Oliver Pets, an Argentinian startup that, with support from Google for Startups, was able to launch virtual veterinary care through their app and expand to Mexico and other parts of Latin America.
We're also seeing how our products and services are helping small businesses thrive in difficult times. When Fátima Álvarez, the co-founder of Mexican startup Someone Somewhere, closed her retail shops during the pandemic, she turned to digital tools like Google Workspace and Google Ads to keep her clothing business running online.
Building more inclusive and sustainable communities
Through our philanthropic arm, Google.org, we've been supporting organizations like Laboratoria in Peru, Asociación Colnodo in Colombia and Instituto Rede Mulher Empreendedora in Brazil to make sure underserved communities also benefit from digital transformation.
Today Google.org is announcing $300 million over the next five years, comprised of $50 million in cash grants and $250 million in donated ads, to support nonprofits focused on areas like sustainability and economic opportunity for women and young people. For example, a $2 million Google.org grant to Pro Mujer will help Indigenous women-led businesses in Guatemala, El Salvador and Honduras access microloans and digital skills training.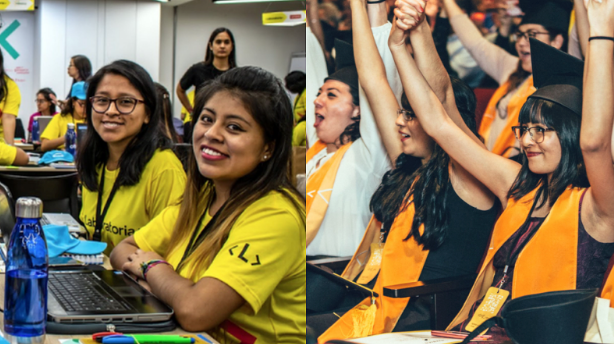 Through Google.org, we've supported Laboratoria, a nonprofit in Peru, to help women access digital skills training.
Across these commitments, we are partnering with governments, entrepreneurs and businesses to support sustainable, resilient and equitable growth. It's exciting to see Latin America emerge as a hub of innovation, and we look forward to creating even more economic opportunities for those who call it home.