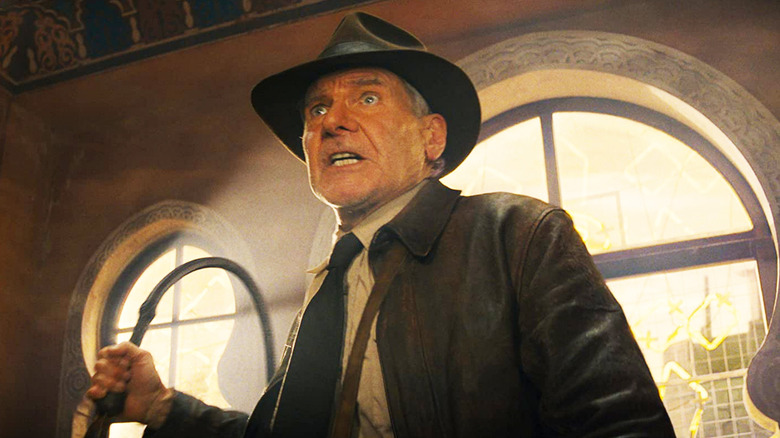 Of all the things to finally cause Indiana Jones — the man who specializes in barely escaping life-or-death situations — to falter, it was a telepathic crystal skull. 2008's "Indiana Jones And The Kingdom Of The Crystal Skull" might have made close to $800 million at the box office and received moderately positive reviews, but the film's legacy is undeniable: The fourth Indy film was a low point for the revered saga. Even Steven Spielberg, who's directed every entry in the franchise thus far, claimed he didn't like the story any more than we did and shared fans' incredulity at Indy surviving a nuclear blast by hiding in a fridge.
Much of the disappointment likely stemmed from the fact that audiences had waited 19 years for the return of Harrison Ford's globe-traveling archeologist. With a build-up like that, "Crystal Skull" was always at risk of delivering an anti-climactic experience. Still, star Harrison Ford had no hard feelings about it, and has a chance to set things right with "Indiana Jones And The Dial Of Destiny."
The fifth and likely final Indiana Jones film is set to arrive this year and looks to be a return to form for the series, bringing back the all-important Nazis for Ford's beloved hero to dispatch, much like in 1981's "Raiders Of The Lost Ark." And while this will be the first time Spielberg isn't sitting in the director's chair — "Logan" director James Mangold is helming this one — if the "Dial Of Destiny" trailer is anything to go by, we might well be in for a classic Indy adventure. In fact, that's exactly what we're in for according to "Dial Of Destiny" co-star Mads Mikkelsen.
Back To Basics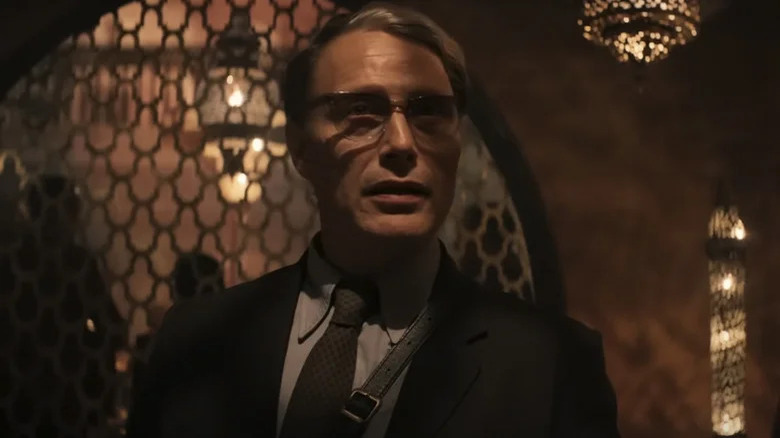 Promising some young Indy flashbacks and a distinct lack of old-age jokes, "Indiana Jones And The Dial Of Destiny" impressed with its first trailer and Super Bowl spot. It also happens to coincide with Harrison Ford's current hot streak, whereby the actor has embraced the streaming age, starring in two high-profile shows: "Yellowstone" prequel project, "1923" and Apple TV+'s "Shrinking." Both have proven to be worthwhile for Ford, who has not only seamlessly transitioned to TV after decades of sticking to the big screen but even managed to showcase his comedic side after building a reputation as one of Hollywood's most notable grumps in recent years.
That bodes well for his Indiana Jones return, especially since he's reportedly just as willing to do his own stunts as ever. He impressed "1923" director Ben Richardson, who told the New York Times, "I'm sure there are people who would prefer to have a double standing in. He did not."
Ford's "Dial Of Destiny" co-star Mads Mikkelsen, who's playing Voller, a former Nazi looking to sabotage the Apollo moon landing program, felt similarly after working with him on the upcoming film. As the "Hannibal" star told Indiewire last year, he was impressed by Ford, "not just as an actor, but physically," adding:
"I remember the first day we were shooting, it was a night shoot, then we stopped at 5 a.m. — and then he got on his mountain bike and went biking for 50 kilometers. Harrison is a monster of a man, a very nice monster."
Throughout his career, Harrison Ford has been not only willing, but eager to do his own stunts, and it's heartening to know he still has that drive to get as close to being the real Indiana Jones as possible some 40 years later.
A Return To Glory?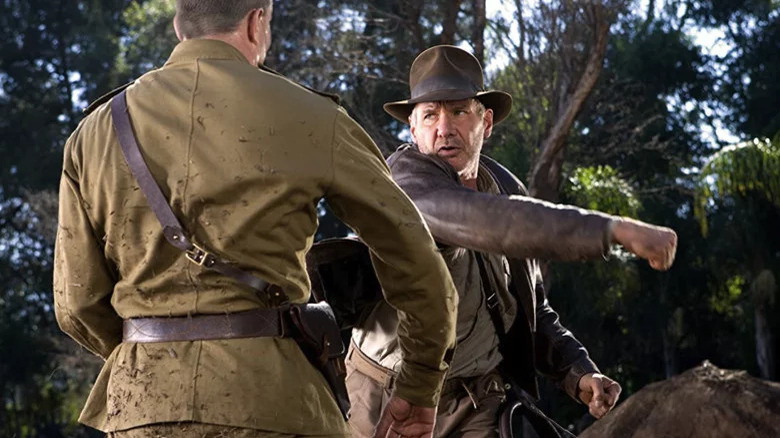 Mads Mikkelsen also seems to think "Dial Of Destiny" will indeed mark a return to greatness for the long-running franchise, telling Indiewire, "It felt like a Spielberg film, though it's obviously James making it with the same vision." That vision is, according to the actor, very close to the spirit of "Raiders Of The Lost Ark," as Mikkelsen explained:
"[Raiders] just oozed that golden period of serials from the 1940s — and that's in the fifth film as well. They're going heavily back to the first and second film and getting that original feel, the original Indy, something dense and epic."
In terms of the overall tone, it certainly sounds like James Mangold is heading in the right direction. But official details still remain scarce at this point. We know that "Indiana Jones and the Dial of Destiny" takes place, at least partially, during the Space Race and that the Nazi villains are back. There'll also be plenty of flashbacks that will juxtapose the Indiana Jones we all know and love with his modern-day self in a way that, as Mangold put it, raises questions about, "What happens to a hero built for a black-and-white world when he finds himself in one that is gray?" Which honestly doesn't sound like the "Raiders"-style fun and adventure we all want and that Mikkelsen has promised, but we'll keep an open mind.
That said, Mangold himself also confirmed that Ford was not afraid to get physical while filming, so even if the director doesn't manage to match Spielberg's early career magic, we'll at least get to see an 80-year-old Ford firing on all cylinders in the action department.
"Indiana Jones and the Dial of Destiny" is currently slated to hit theaters on June 30, 2023.
Read this next: The 14 Greatest Action Movies Of The 21st Century
The post Mads Mikkelsen Teases Indiana Jones 5 As A Return to Form For Harrison Ford (And The Franchise) appeared first on /Film.