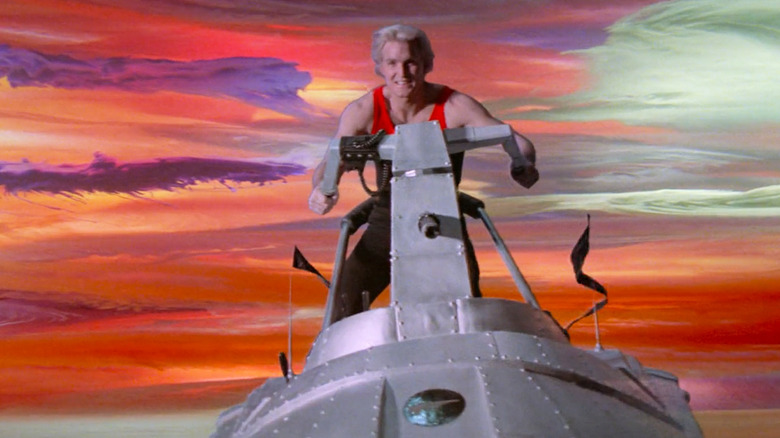 The character of Flash Gordon has had a long and rich history in pop culture lasting almost 100 years. The first appearance of the space bound all-American hero was found in a science-fiction comic strip created in 1934 by illustrator Alex Raymond and writer Don Moore. Former Olympian and actor Buster Crabbe appeared as the character in the classic Universal serials that depicted Flash Gordon's clashes with Ming the Merciless on the planet Mongo. Fondly remembered for their air of wispy nostalgia, the "Flash Gordon" serials always ended on a cliffhanger. I remember one in particular where Flash is thrown down a dark hole with no chance of escape, only to be saved by the sudden deployment of a net in the first scene of the next episode. 
That is to say, "Flash Gordon" was always a little ridiculous.
The Buster Crabbe serials have certainly left their mark on film history, but perhaps no other decade was better suited for the character than the neon-soaked corniness of the 1980s. Just like Flash himself soaring in on a hover bike with an army of Hawk Men, actor Sam Jones came out of nowhere to star in one of the most beloved cheese-fests ever committed to celluloid: 1980's "Flash Gordon." Clearly, larger-than-life producer Dino De Laurentiis -- known for films like the 1976 "King Kong" remake and "Conan the Destroyer" -- saw something in Jones that eventually landed him the role. 
For years, it was rumored Jones has beaten out Kurt Russell and Arnold Schwarzenegger to snag the role of Flash in director Mike Hodges' cult film. In truth, however, it seems the only actor he really had to beat out was himself, in a manner of speaking.
'There Were A Lot Of Non-Disclosure Agreements'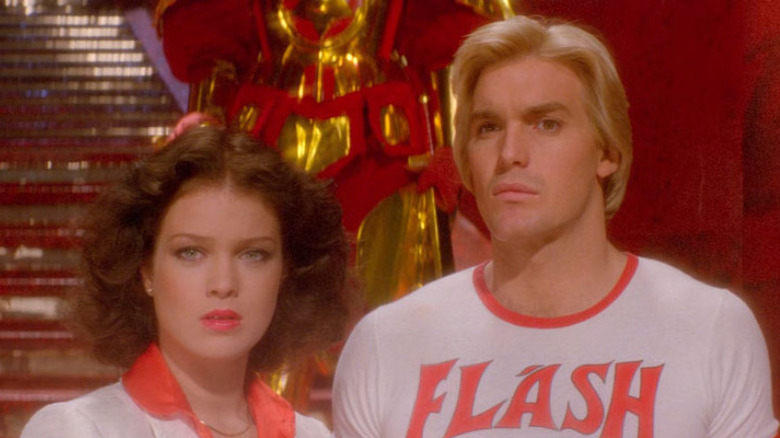 In retrospect, Sam Jones is absolutely pitch perfect in "Flash Gordon." There's a strange, seductive soap opera quality to the movie that feeds off the general zaniness going on. Jones was perfectly suited to play a himbo NFL quarterback who finds he's a planet-saving hero on Mongo. Watching the film now, it's hard to imagine anyone else in the role.
As for those casting rumors, Jones set the record straight in an interview with Zavvi celebrating the film's 40th anniversary and 4K Blu-ray release. He also divulged that the audition process was incredibly lengthy (a reality that seems slightly laughable now considering the final product):
"A lot of people said that, but Dino De Laurentiis was very confidential and there were a lot of non-disclosure agreements. As crazy as it sounds, my audition process took over eight months, and the last part of that was when he sent me to London to screen test for 30 days."
The whole ordeal sounds very clandestine and secretive, almost like De Laurentiis was recruiting a spy into a vast intelligence network instead of holding tryouts for a movie. "I was told at the time that other actors were arriving, they wouldn't mention any names, and we would enter through one door and depart through another, so nobody really saw anybody," Jones remembered.
Dino Always Went Big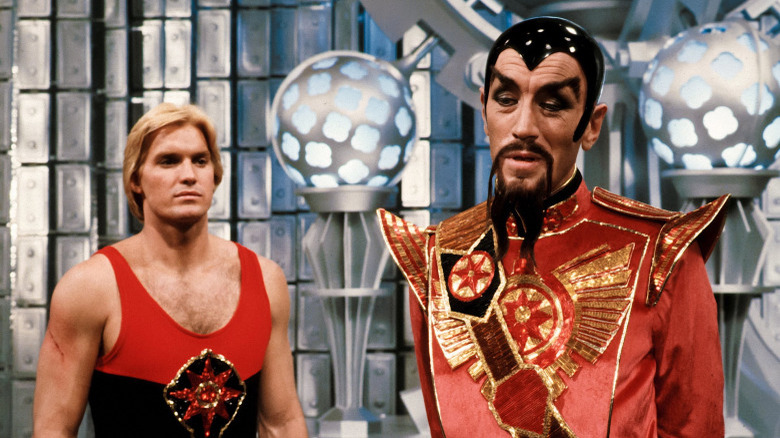 Sam Jones also recalled hearing that Dino De Laurentiis' mother-in-law saw him on a TV show (possibly Hal Needham's "Stunts Unlimited") and thought he could be the perfect Flash Gordon. After endless meetings, Jones started getting flown to London in early 1979. "We didn't have video back then so if you wanted to screen test somebody it was a huge production," he stated. "It was a film crew, and that means everything: camera department, lighting department, wardrobe, hair and make-up department."
That amount of effort and time was probably unnecessary, but Dino always went big. The Italian producer had a swagger and wasn't exactly known for his polite demeanor. Thankfully, Jones became the guy, despite Dino's tough love. "It was a big deal and we did that for 30 days until he decided that's it!" Jones explained.
Should Taika Waititi's version of "Flash Gordon" ever find its way off the ground, it will be interesting to see who nabs the role that made Jones famous (and, in some ways, vice versa).
Read this next: Sci-Fi Box Office Bombs That Deserve A Second Chance
The post It Took Almost A Year Of Auditions For Sam J. Jones To Finally Land His Flash Gordon Role appeared first on /Film.