Sign up for Kaitlyn and Lizzie's newsletter here.
Lizzie: If you've been reading this newsletter long enough, you've probably heard our idea for a podcast. (Everyone reading simultaneously closes the tab.) It's called The Amazing Race, and, in the style of the TV show The Amazing Race, it involves us racing somewhere in NYC. But, and stay with me here, the twist is: We're forced to split up and take different modes of transportation to get there. Will two subway lines be faster than a subway and a bus, or a bike ride, or a bike ride to the subway? On the way to the finish line, we'll record our thoughts on the travel experience in real time—Seat or no seat? Public sermon or no public sermon?—and pepper in relevant context about the history of the MTA or stats on the number of people who insist on exiting through the front door of the bus even though the voice is always reminding you to exit from the rear.
We'd never actually tested the structure of the podcast until last weekend, when we decided to go to the Aqueduct Racetrack in Ozone Park, Queens. Since the horses would be racing, we figured we should race too. Make it even. A race for a race, if you will.
Kaitlyn: I've never watched the TV show The Amazing Race. I don't see what it would offer me. But The Amazing Race (podcast) will make my daily travels so much more exhilarating and rewarding. (When I win them!)
To prepare for our first experiment with the show's format, I went straight to the archives. A New York Times article from September 1894 noted that a new racetrack would be opening in Queens the following day and informed all "intelligent racing men" that the place—named for its proximity to the Ridgewood Aqueduct—could be reached by "the Rockaway Branch of the Long Island Railroad." Then I went to Google: Is the LIRR faster than the subway? Answer: "Long Island Rail Road is a commuter rail service, and it is faster than the subway." Then I went to Liz and proposed our routes. I would take the Long Island Rail Road, I suggested, with an "lol" to convey that this was just me being, you know, down to clown—willfully choosing the goofier and probably losing option. She could feel free to take the more logical subway route ("haha").
Now I should explain about my outfit. After we planned our race, Lizzie and I reviewed the "Aqueduct Racetrack Rules." According to these rules, it would be "appreciated" if we wore "elegant attire," and that we not come in "abbreviated wear." So no crop tops? Or, not to be rude, no visible butt cheeks? Because I'm eager to please, I decided to wear a pair of low heels, a WASPy blue-and-white striped dress with three-quarter sleeves and some tasteful pleating, and a wide-brimmed kelly-green sun hat. I was ready for a mint julep!  
On my way out the door, Nathan took a photo of me holding up my phone displaying the time (12:00 p.m.), as well as my laptop displaying the "Today's Paper" tab on the New York Times website so that Lizzie could be assured that I was racing fair and square.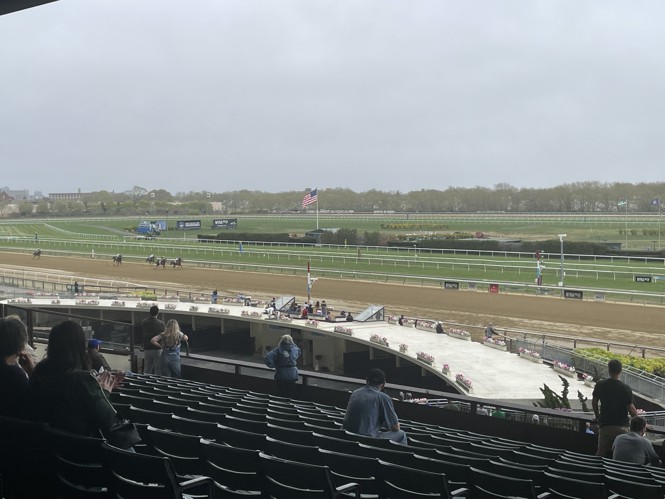 Lizzie: I was initially wearing big white pants and a white shirt, but I changed into big black pants and a black shirt because I was sure all the horse dust would stain my whites. I didn't take any photos to prove I was leaving my home when I said I was, but I promise I didn't cheat. Matt and I even stopped to get coffee after the clock had started. This added about seven minutes to our trip, so by the time we even got to the C train, we were already down 15 minutes and 19 seconds. By the time we transferred to the A, we were down 30 minutes. The thrills just keep coming! When we got to the Aqueduct, one hour and six minutes had elapsed, including the coffee break.
At this point, Kaitlyn was still pretty far away on the LIRR. This diminished the competitive aspect of our race, but gave Matt and me about 45 minutes to explore the Aqueduct before she showed up. If you've never been, it looks pretty similar to the Atlantic-Barclays DMV (assuming you've been there): Bright hospital lighting, barf-beige tile floors, and rows of plastic chairs all connected to one another facing giant TVs playing races that are also happening outside. Despite its appearance, the racetrack has its regulars. The place was packed! I've never seen so many men in one place.
Here's a Yelp review from, I assume, a regular:
Where should I start? This is the greatest place of all time. I actually hope all you losers stay away from this place so it doesn't get crowded. I usually win a couple of races but I get jinxed by my friend Paul. The kid is a born loser.
It took us a good 20 minutes to figure out how to get cash, get a voucher, and then place a bet. Matt put $5 on Warman Road (favored to win) in the second race (out of nine total that day), so we went outside to watch. An estimated 70 percent of the outdoor crowd was chain-smoking. When everyone around us started yelling, we knew the race had started, but it took us a few beats to find the horses, who were really just specks on the opposite side of the track. Then, as quickly as it had started, the race was over. Men behind us groaned. Warman Road came in last place by a significant margin. I mean, he was actually trailing behind the pack. With our first loss under our belts, it was time to go find Kaitlyn in the casino.
Kaitlyn: Man, oh man. I made a mess of it this time. To back up a bit: The Long Island Rail Road—in addition to being "faster" (sure) than the subway—is a lot more expensive. My fare from Atlantic Terminal in Brooklyn to Jamaica, Queens, was $7.75. When I got off the train, Lizzie and Matt were, as noted, already at the Aqueduct. Meanwhile I still needed to spend an additional $2.75 to take a 20-minute bus ride to someplace that would be a 15-minute walk to the Aqueduct. The bus picked me up underneath the LIRR tracks after a tense waiting period. I do like the bus but it's a fact that you never really know whether to expect it. There's no accounting for the bus. It could be anywhere. (It once ended up inside a house in my old neighborhood, so I do mean "anywhere.")
The woman seated next to me was editing a TikTok—it was a short video of herself riding the bus, viewed from slightly different camera angles, with a pink gradient overlaid on top, set to Megan Thee Stallion's "Hot Girl Summer." Because of her attention to detail, I heard the same 20-second clip of the song about 85 times in a row as she worked.
Finally, I hopped out at 109th Avenue and 108th Street and booked it to the racetrack in a misting rain. I was carrying my huge green sun hat, feeling ridiculous. Usually I would also feel horrible guilt about being so late to meet a friend, but since I was adding minutes on to Lizzie's victory I reasoned I was actually doing something nice. (She loves to win so much.)
By the time she and Matt found me wandering the roulette area, I had given up. I had yet to see one piece of signage indicating that I was, in fact, anywhere near a racetrack. "Do they have a sports book here?" I asked Matt and Liz. "Let's just put some money on the Mets and go home."
Lizzie: I guess Kaitlyn missed the giant mural outside with the horses on it. As you can imagine, the Mets were nowhere in sight, so we had to settle for betting on whatever the betting machines would allow. I'll be honest: I had no real plan going in, and I don't understand all the abbreviations, so I just clicked around until the machine accepted my voucher. Apparently, I placed two bets for $10 each: One "Pick 3," where you attempt to guess the winners of three consecutive races, and one bet for a horse named Hang Tight to "place" in Race 4. Kaitlyn and Matt also placed some bets.
From there we headed to the Aqueduct bar called Silks, and clocked almost immediately that they probably didn't have mint juleps on the menu. It felt like a convention-hall situation: some canned beers, a few handles of your classic spirits, and some cans of soda. I got a Corona, Kait got a rum and Diet Coke, and Matt got a whiskey and Diet Coke. The bartender took a "say when" approach to the mixers.
She also asked if I wanted a lime in my Corona, and I said yes, but almost instantly regretted it. I don't want to be dramatic about the bartender's lime handling, but it did make me feel like Monk. I know everyone is always touching the limes at bars—the human-flesh-to-pulp contact is just the required cost of getting some citrus in your beer. But this bartender really palmed my lime, sort of rolled it around in her bare hand, attempted to hook it onto the edge of the cup, and then just kind of gave up and chucked it directly into the beer. It felt as if she had dunked her fist in my cup and then handed it over to me. I used a coffee stirrer to fish the lime out, but if I know anything about germs—and I don't—the damage was already done.
Technically I don't think we were allowed to bring the drinks outside, but there were also No Smoking signs everywhere and no one was paying attention to those, so we did it anyway.
Kaitlyn: The only signs anyone seemed to respect were the ones that said Don't Feed the Pigeons.
My one note about Silks bar is that a bunch of men were standing around drinking and chatting in T-shirts advertising the Aqueduct Race Track. You know how you might buy a T-shirt advertising the New York Mets, or your hometown, or a favorite restaurant you went to on a vacation? They did that with the Aqueduct Race Track. I found this fascinating. As I've said before, I'm always keen to learn about a new type of guy. And who could blame these guys for being Aqueduct guys? Despite the issue with the lime-handling, the view was decent and the drinks were very reasonably priced.
Lizzie kept saying she had "voted" for whichever horse she had put money on. In Race 3, I voted for Anaconda to win, and we all thought he did. We saw him cross the finish line and we heard an announcer yell something about him. At the bet-cashing station, however, the administrator looked at me with a concerned expression, handed my slip back, and said, "This one isn't a winner."
Lizzie: I'm looking at the results now and it seems like Big Everest won; Anaconda came in second. I lost my Pick 3 (seems kind of impossible to win that one), but Hang Tight did come in second in Race 4, just like I predicted! Impressive, if you ask me, to pick exactly which horse ends up finishing in which place. Surely there would be a big prize pot. I began to dream of the money I would win. Everyone would cheer me on as the guy behind the IRS winnings counter filled up a duffel bag with bricks of cash. Maybe I could go on a trip, or even quit my job?
Cut to: Me, ready to cash in. After she scanned my betting slip, the woman behind the counter asked me if I had a dollar. I did, and I gave it to her assuming they were going to frame it next to my photo or something. Biggest Aqueduct Winners of All Time. She handed me a $20 bill. Realizing this was all I was gonna get, I slowly backed away. I won $19 dollars on a $10 bet. I won $9. But I also lost $10 on my Pick 3. So, all things considered, I'm in the negative. Ohhh, it stings!
Kaitlyn: I made back $2.50 on a $5 bet for Life and Light to show in Race 4. But sadly, I also lost $20 more on a horse named Bingo John. It just doesn't make sense when a horse with a good name does so poorly!
Once we started losing, we could really enjoy ourselves. I encouraged Lizzie to start ripping her betting slips up and throwing them on the floor like the men do. Lizzie asked Matt why some of the races were being run on the grass track and others were being run on the dirt track. He explained to her that there are different horse hooves. There are grass hooves and there are dirt hooves. And at the start of every race day, a man with a monocle looks over each thoroughbred and makes a list of which is which. If he forgets his monocle, the whole day is canceled.
He also explained about the ambulance that was following the horses as they raced, which was dusty orange and looked 40 years old. "Yeah, we got everything you need in here to repair a horse," he said, imitating the grizzled driver, who was frighteningly casual about his job and the state of his tools, but also, in some ways, obviously wise and trustworthy, as he'd likely seen it all.  
After my one rum drink, I was feeling emboldened. I wanted to see the fancy parts of the Aqueduct, which were what I had dressed for: The "Turf and Field Club," the special lounges, the Equestris Restaurant, which supposedly offers a $95 prix fixe and "breathtaking sightlines." The escalator to the third level was blocked off, but we soon found an unmonitored stairwell.  
What we saw when we got up there sent me jogging off on my own without a backward glance. I left Lizzie and Matt in one large, abandoned area, looking out a huge window at the racetrack, and went up several more flights of stairs. The wonders never ceased. Room after wood-paneled room was empty except for some old CRT TVs, tables set with white tablecloths, and lots of dust. In the "Ladies Lounge," there was still a long vanity with a row of padded chairs, but the walls were smudged and the ceiling tiles were falling off. It was like the beginning of Titanic. There were glimmers of grandeur past, but in the present it looked disgusting.  
For your information, the Aqueduct closed for renovations in 1956. Thirty-three million dollars and three years later, it came back with a whole lot of flair! According to The New Yorker, "many of the 42,437 spectators on opening day came merely to see what the place looked like." To contextualize the figure, it's a little smaller than the audience at a Taylor Swift concert and a little bigger than the max capacity of a Mets home game. And now? It was all for us.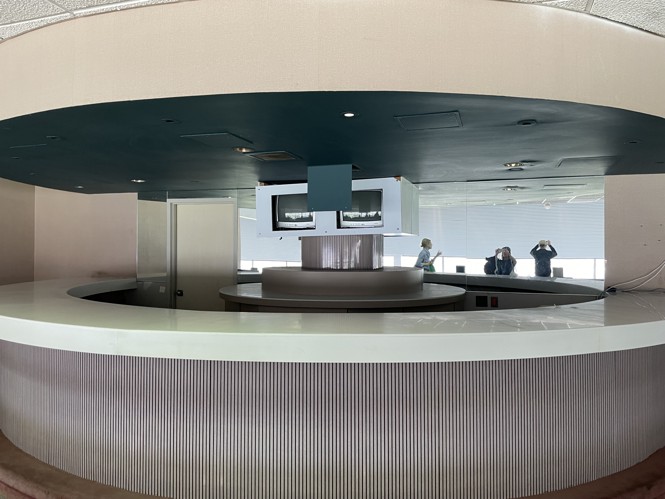 Lizzie: If you're wondering, I am clocking that Kaitlyn has now mentioned the Mets three times in a newsletter about horses. Has anyone checked if she's on their payroll?
Anyway, she really wanted me to go look at the old abandoned bathroom, so I followed the sound of her voice upstairs. We walked past a room labeled "Investigations" with posters on the walls warning readers about the dangers of counterfeit money. I stuck my head in the old Ladies Lounge. Suddenly, a man in a blue blazer, dressed more formally than anyone we had seen all day, popped up behind us and asked what we were doing. Obviously, the answer was that we were doing something we were not supposed to, but it's not like we'd had to jump a fence or anything.
"We're just exploring the different areas," Kaitlyn said.
"Yeah but this area is closed," the man said.  
Fair enough. We walked back down the stairs to find Matt, and the man kept walking, never even looking back to see if we were following him. We never saw him again.
Kaitlyn: We hustled back to the regular bleachers to watch the fifth race, which ended up being another disappointment. Then we decided to meander around the casino, back where we started. Nobody works in this casino, as far as we could tell. The blackjack dealers were big screens with sexy, animated women on them. The roulette table was a new, computerized version as well, which is too bad because I only just read thousands of words about how to cheat at regular roulette.
Stepping out of the gnarly old racetrack and into this hypermodern gambling palace was jarring. We had to get back to familiar territory and, ideally, eat something like a hamburger.
Lizzie: As we walked out into the daylight, I deeply inhaled the fresh air of the parking lot. I may have been in the red, but the skies were gray (my favorite) and we didn't need to race home to record a podcast we don't actually host.
Kaitlyn: There's just one more thing we need to tell you about this podcast …
The day after our trip to the racetrack, we Amazing Race-d again—this time to the Bronx to see Amelia. I lost because I took the 4 train while Lizzie accepted a ride in Ashley's Honda Fit. But that's not important.
The important part is that we had a pre-dinner glass of wine on the sidewalk outside of some random café, where the proprietor winked at us and refilled our glasses before they were empty. I said he was doing that thing that men sometimes do when they don't understand why you're around. They give you the old "Girls, what are you doing here?" And in this case it was nice. And at the racetrack, they were asking the same question, but maybe they were not asking as nicely. Amelia said, "You should change the name of the podcast to Girls, What Are You Doing Here?" So we did! That's what it's called now.
On Nobody Famous: Guesting, Gossiping, and Gallivanting, a collection of Famous People letters from the past five years, is available now from Zando Projects and The Atlantic.