Welcome to the latest edition of "My Path to Google," where we talk to Googlers, interns and alumni about how they got to Google, what their roles are like and how they prepared for interviews.
Today's post features Ken Zhang, a New York City-based account strategist, a member of our PRIDE at Google employee resource group and an advocate for LGBTQ+ Googlers.
What's your role at Google?
I'm the U.S. East Coast Lead of the Scaled Account Strategist cohort on the Google Customer Solutions (GCS) team. In other words, I do account management. I work with a range of clients, from some of the nation's top marketing agencies to small community businesses, to advise on ways they can grow their accounts using Google Ads. Outside of my core role, I also serve on the board for the PRIDE at Google chapter within GCS, a group for Googlers in our organization who identify as LGBTQ+ or allies.
Can you tell us a bit more about yourself?
I'm a first-generation Asian American and a member of the LGBTQ+ community. I actually grew up next to Google's Irvine campus in California — which first inspired me to want to work here! After high school, I studied economics at the University of California San Diego (UCSD) — go Tritons! At UCSD, I won a scholarship from the Prism Foundation, which uplifts LGBTQ+ Asian and Pacific Islanders by raising funds and mobilizing resources to eliminate social, economic and structural barriers to success. Through this scholarship, I met several board members who worked at Google and encouraged me to apply. During college, I also attended Out for Undergrad's Tech Conference, which is designed to inspire LGBTQ+ students to pursue ambitious careers. There, I met even more mentors who spoke highly of Google's culture, particularly the amount of LGBTQ+ Googlers in leadership positions.
What does your typical workday look like right now?
When I go to the office, my typical day starts with a bike ride to work. Once I arrive, I usually grab coffee with my coworkers before going through my inbox. The rest of my day varies depending on deadlines and client needs. This can include preparing for client calls, attending trainings on topics like the future of ads measurement, speaking to customers about potential solutions for reaching performance targets, and blocking off time for deep focus. I also try to use my lunch time to meet fellow Googlers. The amazing people I get to work with make my job feel like college again in the best ways possible.
What motivates you to log in every day?
I'm motivated to do this work because both my core role and my PRIDE at GCS role allow me to give back. My work as a Scaled Account Strategist is so rewarding because I can help small businesses grow. And I love my involvement with PRIDE at GCS because of the impact we make in our local communities and for Googlers through efforts like career mentorship programs, allyship trainings and volunteer opportunities to support LGBTQ+-owned businesses here in New York.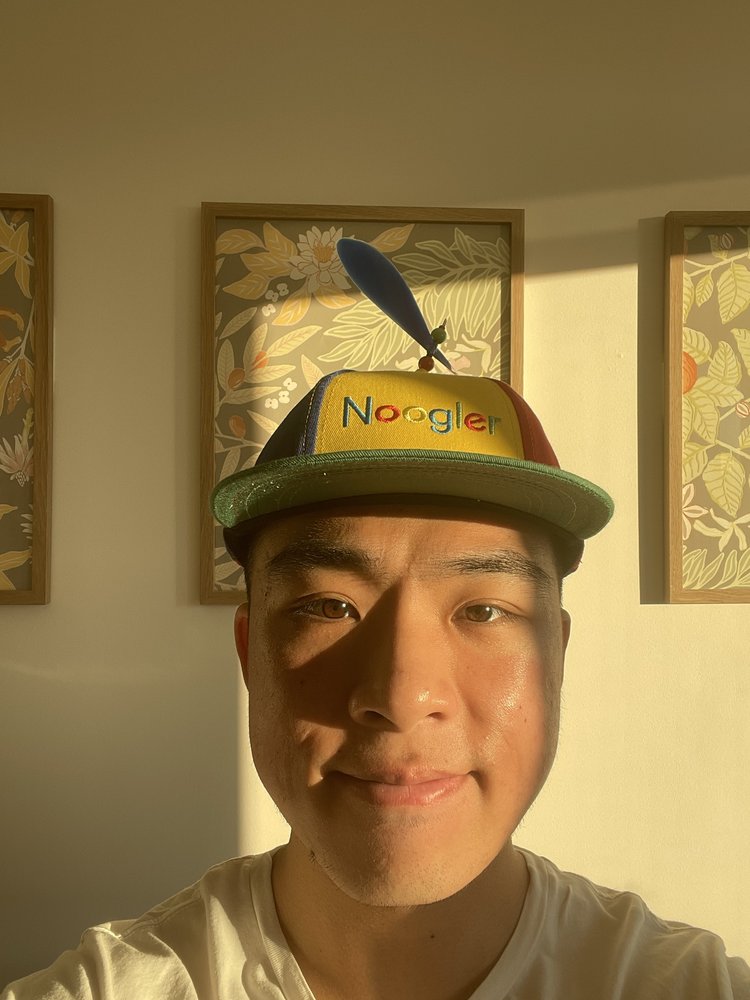 Ken during his virtual Noogler orientation.
How did the application and interview process go for you?
I interviewed and started at Google during the beginning of the pandemic, so all of my interviews were virtual. But surprisingly, that didn't affect my connection with my interviewers! I remember during my final video interview with my soon-to-be manager, he was still able to paint a beautiful and honest image of Google's culture. This made me feel connected to him and the company as a whole.
Can you tell us about the resources you used to prepare for your interview or role?
Google has some great online classes to develop skills for high-demand roles. I personally took courses on Google Ads to prepare for my interviews. They taught me the fundamentals of Google's Search, Display, Shopping and Video platforms, which helped me better frame my answers during interviews. My recruiter also spoke about the importance of using the S.T.A.R. method — the process of answering questions by highlighting the situation, task, action and result.
Any tips you'd like to share with aspiring Googlers?
Don't be afraid to be yourself! The support I've received from teammates has propelled me to do my best work. Last year, I participated in an internal panel during Pride Month and was blown away by the heartwarming messages I received from Googlers I hadn't even met. In fact, if I could go back in time and give myself one tip before applying, it'd be to get ready to meet so many new role models and make friends I deeply care about.