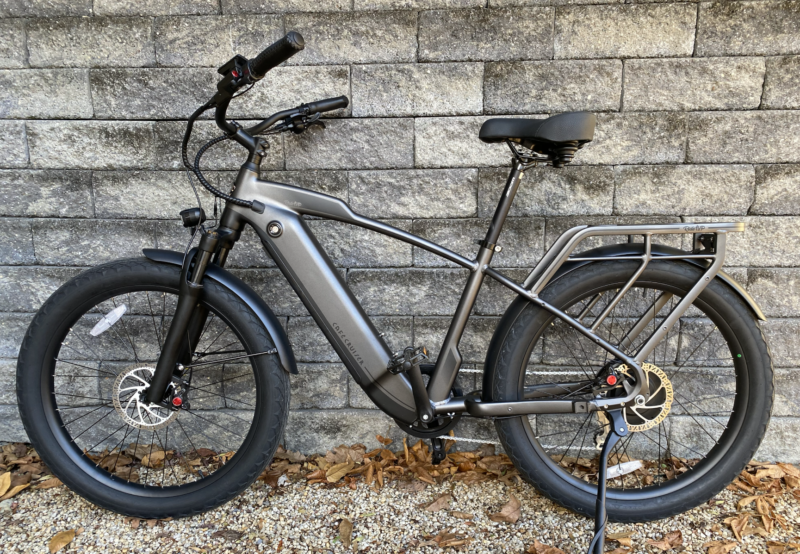 If your complete list of bicycle formats consists of road and mountain, then you may struggle to remember what a cruiser is. Think of a long, heavy frame with handlebars that sweep back in a wide curve, allowing the rider to perch nearly upright on a wide, comfy seat. Fat tires make for a cushy ride, often down a road that runs alongside a beach in a warm, sunny climate.
Based on its name and aesthetics, the Ride1Up Cafe Cruiser is meant to evoke those bikes. And it does a passable job with fat tires, sweeping handlebars, and an upright riding stance. But it also provides the pedal assist of a Class 3 e-bike, meaning it'll keep providing power until the bike hits 45 kilometers an hour (28 mph). And that makes for a ride that's decidedly not a casual cruise.
The bike
The Cafe Cruiser comes in both step-over and step-through frames; we tested the step-over version, which weighed in at about 30 kg (65 lbs). Its heavy rack is integrated into the frame, and the front fork has suspension to smooth out some bumps. There are a couple of spots where the frame is thicker for apparently aesthetic reasons; beyond that, the bike's most distinctive feature is the fact that the battery drops out of the bottom of the frame rather than slotting into place from above. This makes it somewhat harder to get it back into place if you remove it, but it allows space to put a water bottle holder on top of that tube.