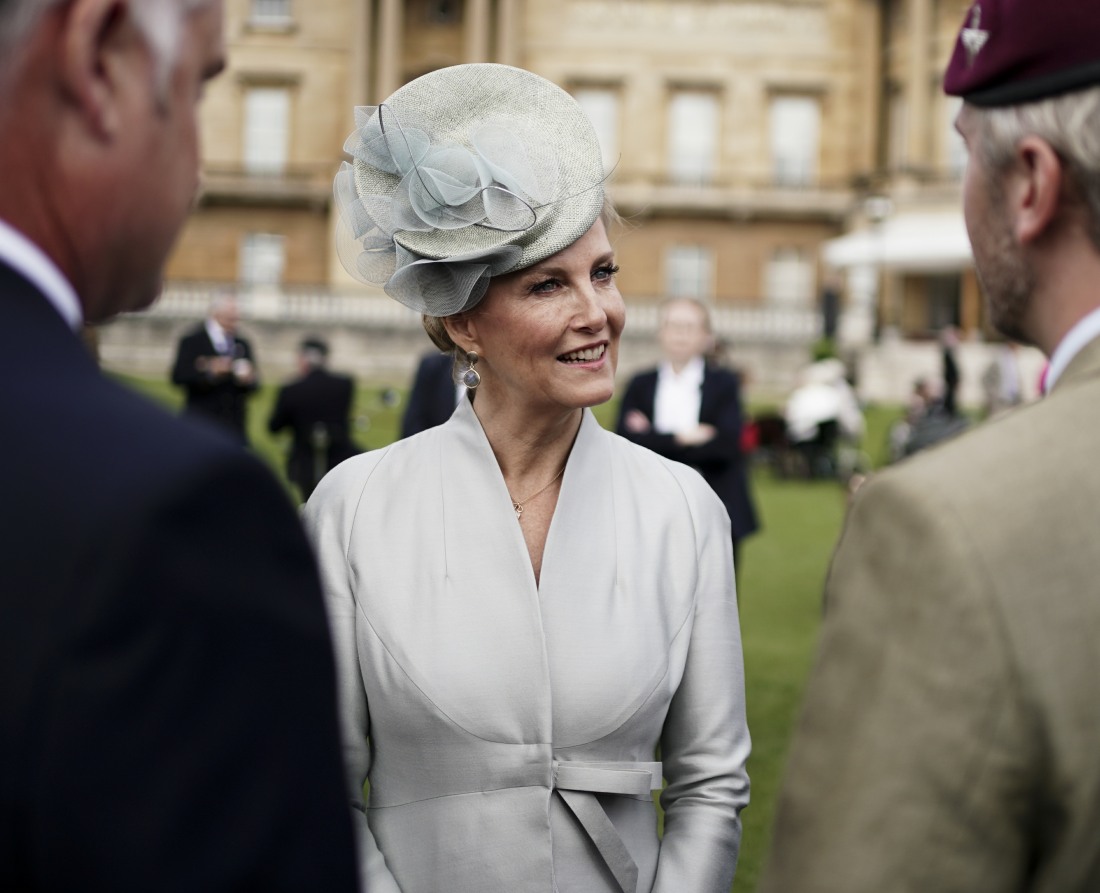 Just days after King Charles's coronation, the Duchess of Edinburgh was traveling through London with her police escort. One of the police motorcyclists was traveling at high speed (apparently, the whole motorcade was speeding) and the police motorcyclist struck an 81-year-old woman named Helen Holland. Holland was apparently thrown 40 feet from the force of the impact. She was hospitalized and in a coma for a few weeks before she passed away this week. Sophie issued two statements – one statement days after her RPO struck Holland, and one statement after Holland passed away. There's been no mention of a formal apology from Sophie or the police, nor has there been any offer to take care of funeral costs, nor Sophie meeting with the family. Sophie has just been carrying on like nothing happened, enjoying horse shows and garden parties. Well, now Helen Holland's family says that they don't blame Sophie. Convenient. I guess the check is in the mail.
The family of a pensioner mown down and killed by a police motorcycle escorting the Duchess of Edinburgh have insisted they don't blame Sophie for the tragedy – as they laid the blame squarely with police. Helen Holland, 81, clung on to life for nearly two weeks before the agonising decision was made to turn off her life support machine on Tuesday. She had suffered massive brain trauma, as well as broken bones and internal injuries, after being flung 40ft down the busy road in west London as Sophie, 58, left a garden party at Buckingham Palace.

During a visit to the scene of the tragedy, Mrs Holland's grieving son Martin sought to show his support for Sophie, as he declared: 'It's not Sophie's fault. We don't blame her – the police did it. This is not anti-royal, no way. My mother loved the royals.'

Mr Holland, a project director for a building firm, has been calling for reforms to police escorts since the horrifying collision. He said: 'It's outriders going at high speed to stop traffic at lights [before the VIP sweeps through]. They've got to think of a better way. I know the royals need to be protected but they need to do it so it doesn't endanger the public.'

The police bike hit Mrs Holland at a junction in Earl's Court in west London on the afternoon of May 10. She died on Tuesday, in a revelation that 'deeply saddened' the Duchess of Edinburgh. Today, Mrs Holland's son Martin, 57, daughter-in-law Lisa, 51, and sister Dorothy, 88, paid an emotional visit to the scene of the collision. They attached a bouquet of flowers to a lamppost by the crossing and laid a single stem in the road in memory to the beloved pensioner.

Dorothy, who Mrs Holland had been visiting before the fatal smash, said her younger sister was well aware of the risks presented by the busy three-lane route in Earl's Court, saying: 'She's been here many, many times. She knew how dangerous is was. She wasn't in any hurry. She wanted to leave early because the trains were funny that day and she didn't want to rush. She was a cautious person and very conscious of the road.'

Dorothy, who didn't want her surname to be used, revealed a police patrol car refused to take her to hospital as she struggled to hail a taxi after learning her sister was slipping away. 'I couldn't get a taxi so I flagged a police car down. I said my sister was dying and I couldn't find a taxi. He said "We're not a taxi service" and drove off. I don't blame them. He didn't know who I was and I was probably incoherent. I expect I was crying at the time. I can't remember.'

There was no contact from the Met until Wednesday this week, when an email arrived. Mr Holland is not reading it until he is with his three brothers but said the subject mentioned 'deepest sympathies'. The Duchess has offered her 'deepest condolences' to the family and is understood to be planning to speak to them privately.
The Holland family is more forgiving than me. In their shoes, I would have already met with lawyers and issued some strongly-worded statements about why the f–k does Sophie need this kind of police escort, the kind which puts the public in mortal danger. While Sophie wasn't driving, it's asinine that she hasn't shown more sympathy for the 81-year-old woman mowed down in the street by her police escort. Again, think about how the media would be reacting if one of the Sussexes' security people mowed down a senior.