Once again, this small SUV looks to be a solid choice, but it is short on pizzazz 2023 Honda CR-V
By Jeff S. Bartlett
The Honda CR-V has long been a popular choice among small SUVs, distinguished by its reputation for providing what most rational buyers prize: fuel efficiency, reliability, comfort, and space. 
The redesigned 2023 CR-V looks to build on that heritage. This generation has grown in size, with a more upright windshield, a prominent hood, and increased interior space. The base turbocharged engine carried over, and the hybrid version supposedly has improved drivability.
The infotainment system has been updated, and the standard safety gear has been expanded. The entry LX trim level has been scuttled, with the line-up now started at the better equipped EX and climbing to the new Sport Touring. 
All told, the CR-V makes a largely predictable evolution with its latest generation.
To take full measure of the CR-V, we bought an EX AWD to test, and we are in the process of hunting down a hybrid version. 
If you're a Consumer Reports member, our initial expert assessment of the Honda CR-V is available to you below. We have completed the prerequisite 2,000 break-in miles, and we have begun putting the CR-V through more than 50 tests at the CR Auto Test Center, including empirical measurements of acceleration, braking, ride, handling, fuel economy, car-seat fit, and usability. CR members will have access to the full road-test results as soon as they're available.
If you haven't signed up to be a member yet, click below and become a member to access this full article and all our exclusive ratings and reviews for each vehicle we buy and test. Joining also gives you full access to exclusive ratings for the other products our experts evaluate in several categories, including electronics and home appliances.
​Sign up for CR's Cars email newsletter to be notified when we post our latest road-test results.
What we bought: 2023 Honda CR-V EX AWD
Powertrain: 190-hp, 1.5-liter turbocharged four-cylinder, continuously variable transmission; AWD 
MSRP: $32,610
Options: Radiant red paint, $395 
Destination fee: $1,245
Total cost: $34,250
CR's Take
Considering the twin impacts of the chip shortage and spiraling gas prices, the entire automotive industry seems to be teetering upon the precipice of immense change. It's not surprising then that Honda has slipped an even better hybrid powertrain into an improved version of one of its best-selling vehicles. Honda says the redesigned CR-V, with two of its four trims offered as hybrid only, is part of its path toward a greater number of electrified models. Whether or not the manufacturer manages to sell half of its CR-V models in hybrid form—which Honda says is its goal—remains to be seen, but it has certainly made the gas-electric combo palatable to the masses.
Despite Honda's sidestep further into green territory, the new CR-V features more rugged styling, along with marketing photos—bike racks, dirt roads, etc.—that suggest the automaker is keen to horn in on the outdoorsy niche that Subaru now commands. Honda says its all-wheel-drive system is new and improved for better performance off-road. All trims even come standard with hill descent control to make driving slowly down slippery slopes easier. Just how much better it is we won't know until we drive it on slippery or steep terrain.
What We Like
Controls: These Honda-simple controls are easy to see, reach, and use. With rivals shifting to an overdependence on touchscreens, it is refreshing to have an assortment of dials, knobs, and buttons to supplement the display. Such physical controls are typically easier to use when driving. The controls are essentially identical to the latest Civic—a good thing. That said, there is a tight cluster of buttons around the gear selector, making them challenging to operate when driving. In particular, we wish the start/stop deactivation button was easier to poke while driving. 
Infotainment system function: The updated infotainment system is a nice improvement, being less fussy than in last year's model. Its incredibly simple layout and physical shortcut buttons make it easy to move back and forth between the radio, media, and phone menus. The downside is that it lacks some sophistication and features seen in rival models.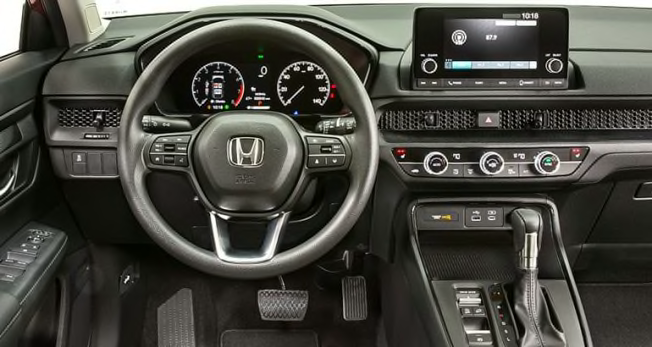 The all-new CR-V comes standard with just a 7-inch touchscreen. Note that the vents are neatly integrated.
Photo: John Powers/Consumer Reports
Fit and finish appearance: The cabin is . . . fine. The pieces fit together well. The textures are not objectionable. The two-tone seats do add personality. Otherwise, the EX cabin is all business. Arguably, there is beauty in the simplicity. It serves well, particularly with convenient storage locations. It just does so without flash.
Cargo: The CR-V cargo area has a large, wide opening and low floor. Factor in the rather square shape for the SUV's rear, and it adds up to a roomy, useful cargo section that shames some small SUVs and even approaches some midsized models. We look forward to taking detailed measurements to see how it compares. Adding function are a couple milk jug holders flanking the rear opening. These make good use of space and are a welcomed convenience when shopping. Also, there is a 12-volt power point back there, helpful for tailgating or energizing an electric cooler. The EX has a manual liftgate that is easy to open and close.
Climate: The climate system is simple to operate, with controls mounted high enough to be easy to see and reach. We particularly like the climate system dials, which have positive detents to signal changes and provide a reaffirming click when rotated. The vent outlets cleverly serve as a key styling element, with a honeycomb grille spanning the width of the dash. Rather than louvered vents sticking out of the dash like hairdryers, as is the industry norm, this hides the outlets within an attractive design. Even the vent adjustment knobs clearly point in the direction of the airflow. This approach is used on other recent Honda models with equal success. It is a great example of clever engineering. 
Access: The large doors and hip-height seats make entry easy for most drivers and rear passengers. Multiple test drivers noted access as being exceptional. The rear door swinging open at 90 degrees contributes to that.
Driving position: Once inside, the driver sits tall in the saddle—upright and square to the steering wheel. The instrument panel is snugly configured. Consequently, the driver is free to raise and lower the steering wheel for comfort, without worrying that the wheel might obscure key information on the screen—a common concern with other SUVs. 
Visibility: Outward views are quite good, aided by thin, upright windshield pillars and a boxy rear shape. The hood is significantly more pronounced with the new CR-V. One upside of that styling choice is that the driver can readily see the hood edges, a helpful aid when parking. 
Back seat room: The second row is quite spacious. Passengers won't hesitate to sit there. Headroom is decent, and legroom is generous. The floor is rather flat, making it more accommodating for a center passenger than some models. Even our taller staff members praised the back seat. There are vents on the front center console to supply heat and air conditioning, as needed. 
Ride: The suspension skews firm, and it controls motions well. The staff consensus is that it is decent for the class.
What We Don't Like
Back seat adjustment: Recline is a nice feature, but access to the release lever is awkward for passengers when seated. We found that it is best to adjust the rake of the seatback before entering the CR-V. Also, the seat folds flat, but it rises above the notably low cargo floor. This creates a significant step down to the cargo floor. This could be a non-issue, convenience, or even a nuisance, depending on what you are toting. 
Fit and finish frills: The EX cabin has few cosmetic frills. The window ledge could be more padded, the steering wheel should be wrapped in leather, and a bit of contrasting accents on the dash would add flourish. (In fairness, the previous EX didn't have a leather-wrapped wheel but had wood inlays.)
Infotainment screen: At 7 inches, the infotainment screen on the EX (and Sport) is small for an all-new vehicle. Stepping up to the EX-L or Sport Touring brings a more appropriate 9-inch screen and wireless Android Auto/Apple CarPlay.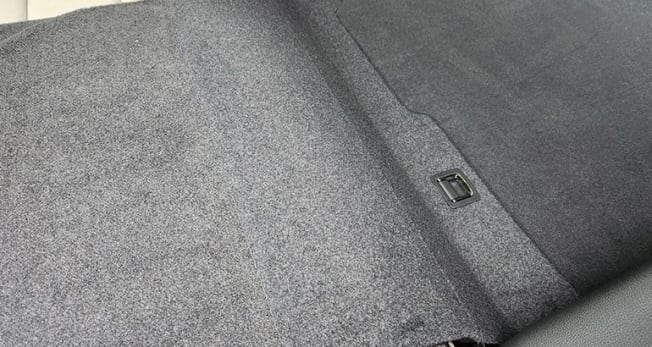 The rear seat folds flat, but there is a step separating it from the cargo floor.
Photo: Jeff Bartlett/Consumer Reports
What We'll Keep an Eye On
Front seats: The front seats are a bit firm, and the canvaslike material feels cheap. All trim levels now have just two-way lumbar adjustment, whereas even the EX previously had four-way. This is a potential concern for drivers with a sensitive back. Some wider occupants found the seat bottom and torso to be too narrow. 
Powertrain: The EX (and EX-L) uses an updated 1.5-liter, turbocharged four-cylinder engine matched to a continuously variable transmission. It produces the same 190 horsepower as last year, albeit in a slightly heavier vehicle. The CVT's gear ratio range and the final drive ratio are also the same. The engine's low-end torque, due to the turbo, masks the inherent rev-happy nature of CVTs, and this combination is unobtrusive for low-speed cruising, say around town. However, the power feels blunted when merging or passing on the highway. The team is interested to see how it measures up on the track during testing. 
Handling: The handling is taut and controlled, but it isn't inspiring like the sportier Ford Escape or Mazda CX-5. The steering effort is a bit light, but it is well-weighted and responsive for its mission.
Noise: We had rather mixed experiences with noise and will explore this further in testing. In general, the engine sound is typically smooth and suppressed, unless the small-displacement powerplant is pushed hard at wide-open throttle. There is subdued road and wind noise that enters the cabin, and it is similar to other SUVs in the class.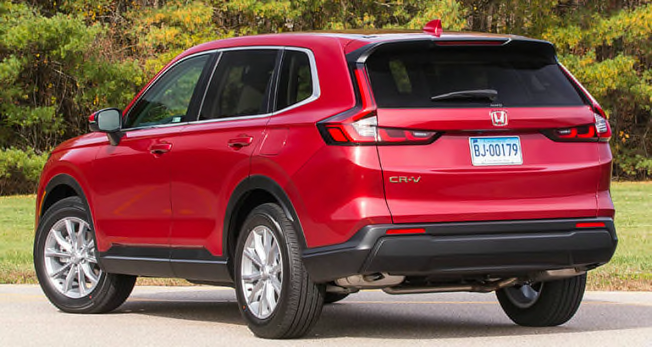 A square rear shape, large liftgate, low load floor, and cavernous space all combine to make the CR-V a capable cargo hauler.
Photo: John Powers/Consumer Reports
Safety and Driver Assistance Systems
Like all new Hondas, the 2023 CR-V comes standard with Honda Sensing, a suite of active safety and driver assistance features that includes forward collision warning (FCW), automatic emergency braking (AEB) with pedestrian detection, lane departure warning, and lane keeping assist. In addition, blind spot warning (BSW) and rear cross traffic warning (RCTW) are also standard. The new CR-V's driver assistance technology is both camera- and radar-based, and includes a driver attention monitoring system that alerts those whose eyes have wandered from the road. A rear-seat belt reminder and a rear-seat reminder system to prevent children and other occupants from being left in the car are also standard.
Taking aim at more stringent crash test standards from the Insurance Institute for Highway Safety, Honda redesigned the CR-V's basic structure to provide better crash energy deflection and occupant protection during a collision. All trims also get standard front knee and rear side-impact airbags.
Consumer Reports is an independent, nonprofit organization that works side by side with consumers to create a fairer, safer, and healthier world. CR does not endorse products or services, and does not accept advertising. Copyright © 2022, Consumer Reports, Inc.