Redesigned, larger Trax joins a crowded small SUV field chock full of compelling choices
[TAG0]
2024 Chevrolet Trax
By Mike Quincy
After taking the 2023 model year off, Chevrolet has redesigned the Trax compact SUV, bestowing upon it a slightly off-road-ready look but offering it with front-wheel drive only.
The new Trax is almost a foot longer than the previous version, making it about the size of the current Chevrolet Trailblazer. The company also says the redesigned model is 2 inches wider, and offers almost 6 more cubic feet of cargo space.
But the key selling point is the Trax's fairly low introductory cost, starting at just $21,495 (including the $1,095 destination fee). Even the highest trim has a down-to-earth price tag of about $25,000. The standard powertrain is a 137-hp, 1.2-liter three-cylinder turbo matched to a six-speed automatic transmission. This combination is EPA-rated for up to 30 mpg combined, factoring city and highway driving.
The Trax faces a growing legion of competitors, including the Honda HR-V, Hyundai Venue, Kia Seltos, Mitsubishi Outlander Sport, and Nissan Kicks. Plus, it fills a narrow niche in Chevrolet's crowded SUV lineup that includes the Bolt EUV, Trailblazer, Equinox, and Blazer, plus the larger Traverse, Tahoe, and Suburban.
But the Trax might be an attractive choice for first-time car owners, buyers living in areas where all-wheel drive isn't needed, or for someone looking for a well-equipped, low-priced car for a college kid. Certainly, General Motors is hoping you'll make tracks to your local Chevrolet dealer and find out.
If you're a Consumer Reports member, our initial expert assessment of the Chevrolet Trax is available to you below. Once we complete 2,000 break-in miles, we'll put the Trax through more than 50 tests at the CR Auto Test Center, including empirical measurements of acceleration, braking, handling, car-seat fit, and usability. CR members will have access to the full road-test results as soon as they're available.
If you haven't signed up to be a member yet, click below and become a member to access this full article and all our exclusive ratings and reviews for each vehicle we buy and test. Joining also gives you full access to exclusive ratings for the other products our experts evaluate in several categories, including electronics and home appliances.
Sign up for CR's Cars email newsletter to be notified when we post our latest road-test results.
What we bought: 2024 Chevrolet Trax 1LT
Powertrain: 137-hp, 1.2-liter turbocharged three-cylinder engine; six-speed automatic transmission; front-wheel drive
MSRP: $22,300
Major options: $650 Driver Confidence package (BSW, RCTW, adaptive cruise control); $595 LT Convenience package (heated seats, exterior mirrors, and steering wheel; keyless entry)
Destination fee: $1,095
Total cost: $24,640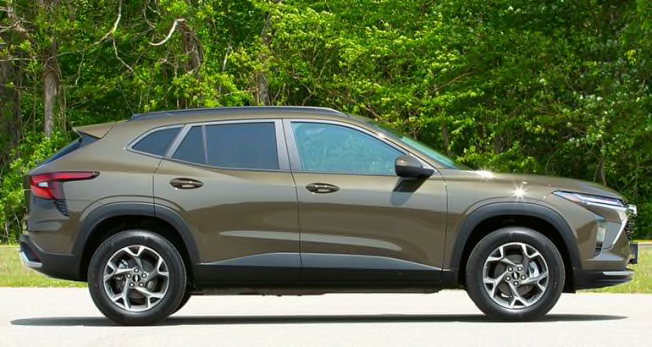 From the side, it is clear how the proportions were stretched for the 2024 Chevrolet Trax.
Photo: John Powers/Consumer Reports
CR's Take
In many ways, it's quite amazing how much vehicle consumers are getting in the new Trax for less than $25,000. Our 1LT model represents a bundle of brilliant packaging, including features most people care about, like wireless Android Auto and Apple CarPlay; heated front seats; and a heated and leather-wrapped steering wheel. But offering so much "stuff" and keeping the price low means Chevrolet had to make sacrifices elsewhere.
The engine has decent enough power, but a somewhat uneven power delivery. There's good space inside, including the roomy rear seat. However, the lack of available all-wheel drive puts it in tough company compared with the larger subcompacts, such as the Honda HR-V and Toyota Corolla Cross.
In sum, the Trax won't dazzle your friends and neighbors, it's not fast, and it isn't designed for off-roading or towing.
Potential buyers are faced with the compromises we've so far experienced vs. the Trax's tempting low price. The question is: Will the little SUV's drawbacks, such as pronounced noise, mediocre fit and finish, and a lack of driving refinement, be overlooked by buyers faced with living with this small SUV day to day? We'll have more answers once we wrap up our testing. 
What We Like
Controls: We found the controls very straightforward. We appreciated the traditional "PRNDL" gear selector lever—meaning that the sequence goes "Park," "Reverse," "Neutral," "Drive," and "Low." The climate switches are all large knobs for the temperature and fan speed, with buttons for everything else, including seat-heaters. The infotainment system has a very easy and intuitive interface, however, the volume and radio station/track advance buttons that are located behind the steering wheel take some familiarization. It's nice to see USB-A and USB-C ports front and rear at this price.  
Cargo room: The rear hatch opening is quite wide, and the flat floor when the seats are folded down creates a useful storage area. One tester managed to fit his full-suspension mountain bike in the back pretty easily with the rear seat folded down—albeit with the front wheel removed. We're impressed with the Trax's generous room considering its small footprint.
Value: The equipment levels on our $25,000 as-tested Trax put some luxury models to shame. We recently tested an $80,000 German-branded EV that didn't have a heated steering wheel, for example.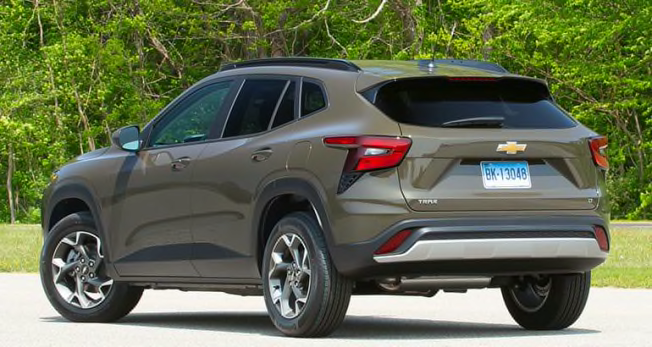 The wide liftgate makes it easy to load the cargo area with large items, such as a mountain bike.
Photo: John Powers/Consumer Reports
What We Don't Like
Noise: Most drivers found the Trax to be pretty loud. We did think that the turbo three-cylinder engine is more pleasant than the non-turbo four-cylinder engines you get in the Corolla Cross or HR-V, however. But dipping hard into the throttle, say, when attempting to merge on the highway, unleashes a torrent of noise. Once up to highway speeds, you don't really hear the engine at all because it's drowned out by elevated levels of road and tire noise.
Brake pedal feel: Some drivers found that the brake pedal was too touchy. Drivers complained that the brakes would do very little when initially pressed but then would come on too strong as you pressed further. This made it difficult to drive the Trax smoothly.
Seats and driving position: Several drivers complained about the driving position, citing the hard plastic door armrest (the one in the center is pretty hard, as well), and some center console intrusion on your right leg. At least the Trax's design offers plenty of headroom, a good view out over the hood, and a clear view of the gauges through the steering wheel. The seats, on the other hand, drew unfavorable reviews, with the following Consumer Reports auto test logbook comments: "The cushion is too short"; "The seats are too firm [and don't have] much bolstering"; and "The cushion loses under-hip support after just 30 minutes." We were dismayed that our tested LT1 version didn't come with any lumbar adjustment, but that's to be expected at this price.
Fit and finish: We realize that expecting Lexus levels of interior refinement in a Chevrolet Trax would be a mistake, but we do give GM some credit in trying to spruce things up a bit. For example, there are varied textures and patterns on some of the plastic trim and nice padded door-panel inserts for the front doors with contrasting lime-green stitching, and the yellow highlights around the dashboard air vents look unique. But we also noticed a few wide panel gaps around some of the plastic trim pieces, and we were underwhelmed with the preponderance of hard, dull plastics, and unimaginative cloth used for the seats. The door pockets have a visible mold line and a slightly rough edge, and the bin under the center armrest has a pretty flimsy-feeling lid. The bottom line here is that this is a rudimentary interior in an inexpensive model.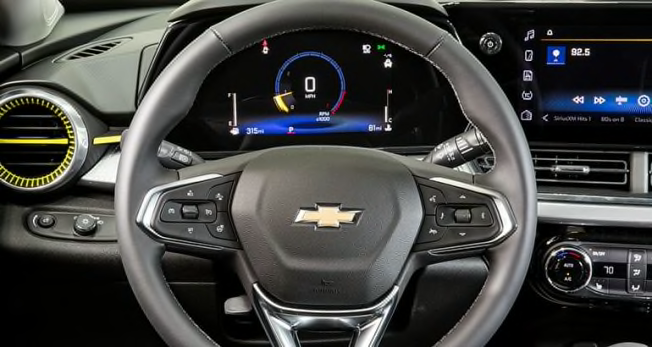 The interior of the 2024 Chevrolet Trax has visual character, but hard surfaces and some rough edges expose compromises made to achieve the low price.
Photo: John Powers/Consumer Reports
What We'll Keep an Eye On
Engine and transmission: The three-cylinder engine is pretty zippy, with a healthy initial spurt and good low-end torque. We experienced some delay when getting going again after a full stop, however, as well as some low-speed/low RPM shudder and roughness. Getting a burst of power results in a fair amount of noise. There's just enough power and responsiveness here that it makes the whole experience adequate but not dazzling.
While we appreciate the deviation from the class-norm continuously variable transmission, the six-speed transmission is a bit of letdown, with a pronounced hesitancy to downshift, causing the engine to lug along at low revs. We figure this is done to improve the SUV's fuel economy. Still, most shifts are smooth enough during moderate acceleration, but full-throttle bursts are rougher.
Ride: In most situations, the ride is unexpectedly decent. We noticed a constant firmness present, however, especially when traversing over bumps. Most impacts are well isolated with reasonable absorption that takes undulations in stride. But larger bumps can hit hard, making the suspension feel unrefined.
Handling: Overall, the Trax feels quite mundane to drive. The steering is slow and rubbery with little feedback that doesn't encourage quick inputs. It gets worse on the highway, with the Trax feeling disconnected from the road; it does little to communicate what it's doing if you hit bumps mid-corner on longer, high-speed sweeping turns. There's not much here to suggest that the little Trax wants to dance.  
Fuel economy: So far, we're observing around 28 to 32 mpg on the SUV's trip computer, but we're eager to see whether the wee three-cylinder powerplant and six gear ratios (at a time when many manufacturers use eight-, nine-, and even 10-speed transmissions) make up for its generally unrefined nature with stellar fuel economy numbers in our tests.
Connectivity: We're impressed to get wireless Android Auto and Apple CarPlay at this price. However, some drivers found that the system was occasionally slow to switch between menus, and others also experienced glitches in getting the wireless CarPlay to connect consistently and losing a phone connection mid-call.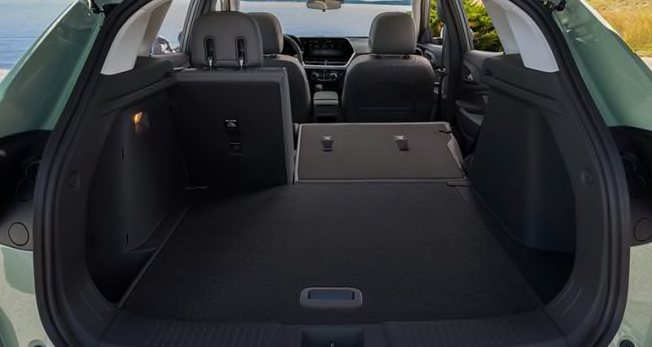 The split rear folding seat of the 2024 Chevrolet Trax.
Photo: Chevrolet
Safety and Driver Assistance Systems
All Trax trims come standard with the company's Chevy Assist Feature, which includes automatic emergency braking with pedestrian detection, lane departure warning, lane keeping assistance, and automatic high beams. Adaptive cruise control, blind spot warning, and rear cross-traffic warning are low-priced options. 
Consumer Reports is an independent, nonprofit organization that works side by side with consumers to create a fairer, safer, and healthier world. CR does not endorse products or services, and does not accept advertising. Copyright © 2023, Consumer Reports, Inc.