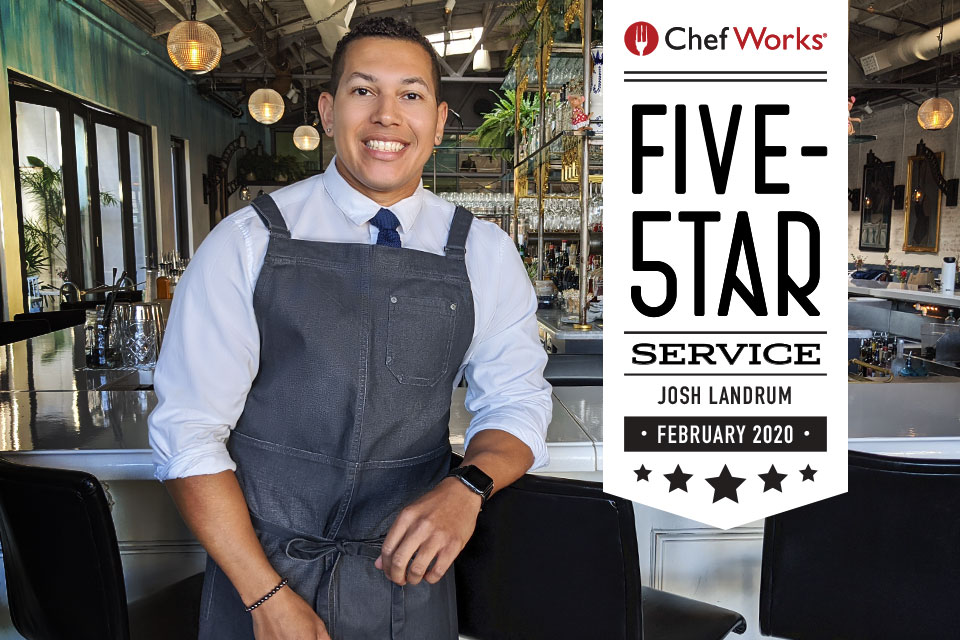 ---
Chef Works will be spotlighting someone in the front of the house each month through November as part of our Five-Star Service blog feature. In December, well vote who has the best story and dress the winning restaurant with Chef Works gear! Pictured above is Josh Landrum, photographed by Chef Works in his Galveston Chefs Cross-Back Bib Apron.To nominate a server, bartender or brand ambassador, email kgemmell@chefworks.com.
---
When a lot of 17- and 18-year olds were experimenting with alcohol in a social setting, all Josh Landrum wanted to do was learn the art of mixology.
Already steeped in the hospitality industry since age 14, Landrum couldnt wait to get behind the bar to start studying what would become his true calling. After all, he was born in Bourbon County, Kentucky. Hows that for foreshadowing?
I think weve reached a point where being an experienced bartender can be a lot like being recognized as a chef, said Landrum, 30. A bar lead is almost like being an executive chef. Youre running a full alcohol culinary program and you can make a nice career out of it.
Landrum goes way beyond slinging suds as a bar lead at Herb & Wood in San Diegos culinary-heavy Little Italy neighborhood. Its one of the concepts of celebrity chef Brian Malarkey, so there is an expectation that the bar program should match the prestige of the restaurant and chef.
We have a very food-forward cocktail menu, Landrum explained. If were having duck with persimmon hash, well create a cocktail with roasted persimmon shrub, scotch and chocolate liqueur. We use a lot of fresh and seasonal herbs. Were called Herb and Wood. Its very important to keep a similar flavor profile to the kitchen.
For really the first time in his life, Landrum feels settled. His fathers job with IBM kept the family moving around a lot so much so that he lived in nine states by the time he was 16. Sure, it was tough. But it also taught Landrum how to communicate with different types of people.
Were talking about Tucson, Ariz. to Montpelier, Vt. and everywhere in between, said Landrum. You learn to play ice hockey in one state and street hockey in another. You learn to talk to different types of people and learn how they communicate. That instilled a love of travel in me and its obviously a benefit to what I do now.
Landrum has always had a motor. His first job was as a paperboy in Vermont when he was 12. And he rode his bike 365 days a year sometimes in sub-freezing conditions at 4 a.m. to get those papers delivered. At 14 he was sweeping floors in a caf. By 16 he was serving and at 18, he got his first chance behind the bar.
The law in Vermont said you could mix drinks and serve them when youre 18, he explained. So Id be a server during the day and watch and study the bartenders. I apprenticed when I was 19 and began learning the basics. By 22 I was a bar manager.
But sitting still was never part of Landrums DNA. In search of new adventures, he drove cross-country to San Diego and started looking for a bar program where his talents and creativity could flourish.
At a lot of places, the work can get stale and stagnant, he said. When there is nothing more to learn, you get bored. But here we do a lot of R&D. We do wine tastings and learn different flavor profiles. They sent me to Tequila, Mexico, to learn about the process. We get to go into weird profiles and use obscure acids not just citrus to find ways to manipulate cocktails.
His penchant for travel and his upbringing on the road continue to serve him well.
I think your personality needs to match your skill as a bartender, he said. Customers expect a certain level of hospitality and if your personality doesnt match your cocktail skills, youre not doing your job. You want people to be comfortable. A good bartender is a big brother, a father, a marriage counselor and a friend.
I love coming into work and not knowing whats going to happen from day to day. Some nights they only want the classics. Other nights Im smoking and infusing ingredients. Working here keeps life interesting.
---
Want to read more Five-Star Service stories?
2020
2019