CRESTED BUTTE WINTER TRAVEL GUIDE
Sponsored by Travel Crested Butte
Recently I got the opportunity to explore Crested Butte, Colorado. My partner, Ryan and I had a great time getting to know this little mountain town and the people while we were there; were already looking forward to our next visit! In this Crested Butte winter travel guide, I suggest the best things to do in Crested Butte during the winter. But first, Id like to share a little bit about the town and its history.
Located in the rugged Rocky Mountains of west-central Colorado, Crested Buttes elevation is just under 8,900 feet. It was originally home to the native Ute Indians until miners settled in the area between 1860 and 1880 and began to develop the land. Coal production continued until the early 1950s when other resources became available and less expensive coal was found elsewhere.
Since then, Crested Butte has grown into a charming touristic town for year-round vacations. With some of the best skiing in the winter and the best wildflower viewing in the summer, youll have plenty of fun things to do with your friends and family. River activities, hiking, biking, climbing, festivals just to name a few!
Known as the Gateway to the Elk Mountains, its about 200-270 miles and 4-5 hours of scenic driving time from Denver to Crested Butte. Be sure to add it to your list of places to visit in Colorado! We loved our time visiting this winter wonderland it truly is a mountain paradise.
Here is my Crested Butte winter travel guide, complete with things to do, where to stay, and place to eat.
Getting to Crested Butte in the Winter
One thing I loved is how far away Crested Butte feels from the city and bigger ski areas. Its tucked away in the beautiful mountains but its not hard to get there even in the winter. Getting there in the winter is easy by car or plane.
If youre considering flying, several airlines offer direct flights from Denver into the Gunnison Airport with shuttle services from the airport into Crested Butte.
If you plan to drive to Crested Butte, there are three main routes:
US 285 from Denver to Poncha Springs
US 50 over Monarch Pass and through Gunnison (usually open in winter)
SR 135 from Gunnison to Crested Butte (usually open in winter)
Its important to note that one or two of these routes may close throughout the winter, so be sure to checkroad conditions with theColorado Department of Transportation.
We drove 50 West over Monarch Pass from Salida. Depending on the forecast, I might recommend 4WD or a good pair of snow tires for added security. Its a curvy mountain road with some drop-offs. The 50 East coming from Montrose could be a better option if its super snowy. Its at a lower elevation and not as mountainous but its a further route if youre coming from Denver. The 135 North up to Crested Butte is well maintained, fairly straight, and no steep drop-offs.
The open roads are plowed and salted regularly, so its not always necessary to have 4WD or chains, but if you have chains bring them just in case. Usually, roadways will display signs if chains are required. In this case, youll want to pull over and put them on or turn around if you dont have them. If you dont have 4WD and/or snow tires and chains, its best not to make the drive until the weather clears.
No matter which route you take, it will be a scenic drive so youll want to drive slowly and take in the views.
Photo Source: Google Map
Getting Around in Crested Butte
Another great thing about the town is that you dont need a car! Its easy to get around without a car, so if you plan to fly into town skip the rental and utilize the local shuttle services instead. Alpine Express offers door-to-door shuttle services between Gunnison Airport and Crested Butte, as well as Montrose Airport. Then, once youre in town theres a free Mountain Express bus service that will drive you between the ski area, downtown, and many of the lodges. Basically, you can take the free bus anywhere you want to go in town and Mount Crested Butte. Plus, you wont need to worry about scraping snow off your windows or parking on alternate sides of the street.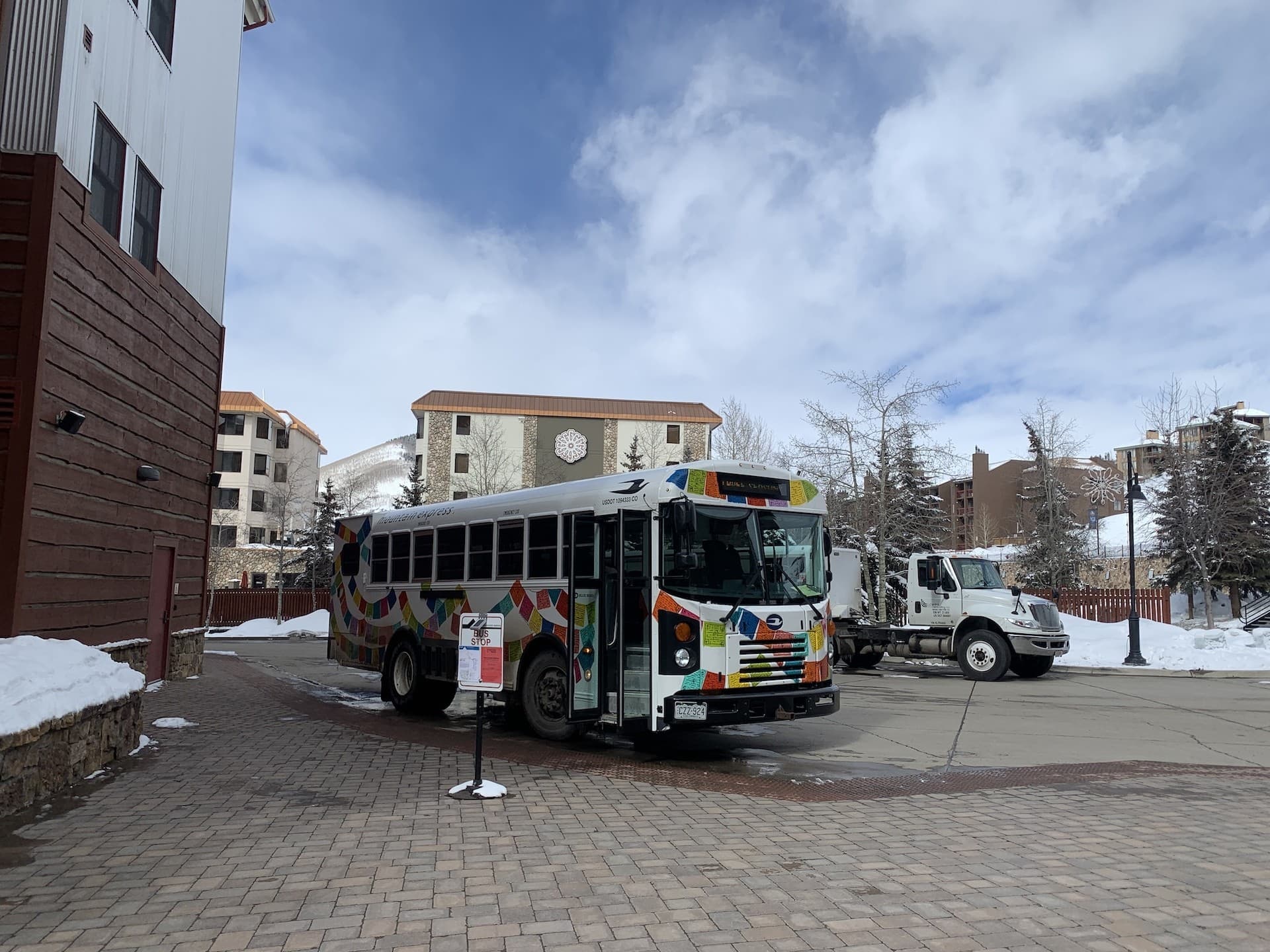 Crested Butte Weather in Winter
If youre looking for snow, the best time to visit Crested Butte in the winter is in late winter, early spring. Crested Butte Mountain Resort has a ton of steep, rocky terrain, so later in winter youll have the best chance of thorough coverage, and temperatures will be a little warmer. The average amount of snowfall is 234 inches a year in Crested Butte. It gets pretty cold with average temperatures ranging between -4F and 31F from December through February. We had a couple of super cold days when we were there in mid-February, but theres plenty of fun to be had when you dont want to be outside. Because of this, the town isnt as crowded as it is during the warmer months.
Things to Do in Winter in Crested Butte
Explore the Crested Butte Winter Trail System
From beginners to experts, there are many opportunities to get outside for all levels of outdoor enthusiasts. Some popular activities in the area include nordic skiing, snowshoeing, and fat biking. If you love hiking, youll probably love snowshoeing and cross-country skiing too. For a complete list of trails, check out the winter hiking page.Here are a few trails I suggest you add to your list:
Slate River Trail
This beginner-friendly trail leads you through a beautiful valley along a snow-covered Slate River with views of Mineral Point. Its 8 miles long and mostly flat but feel free to cut the trip shorter to make it as long as you want.
Best for hiking, snowshoeing, backcountry skiing, nordic skiing, and fat biking
Level: beginner
Distance: 8 miles
Elevation Gain: 500 feet
Starting Elevation: 9,000 feet
Distance from Town: 5 minutes
Ungroomed user compacted
Dog-friendly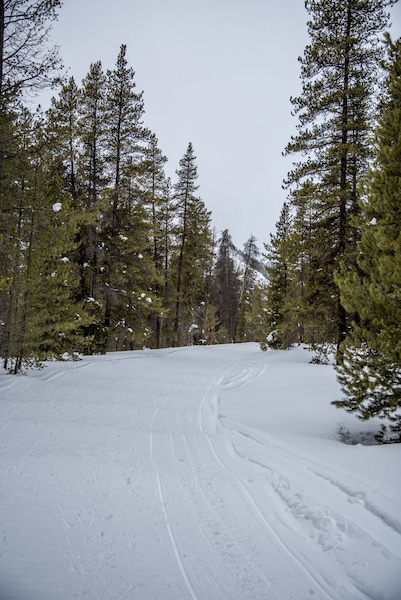 Photo Source: Travel Crested Butte
Gothic Trail
This moderate trail offers stunning mountain views all the way to the abandoned winter town of Gothic. There are some sections with deep snow but not much elevation gain.
Best for snowshoeing, backcountry skiing, nordic skiing, and fat biking
Level: intermediate
Distance: 6 miles (round trip)
Elevation Gain: 112 feet
Starting Elevation: 9,612 feet
Distance from Town: 10 minutes
Ungroomed user compacted
Dog-friendly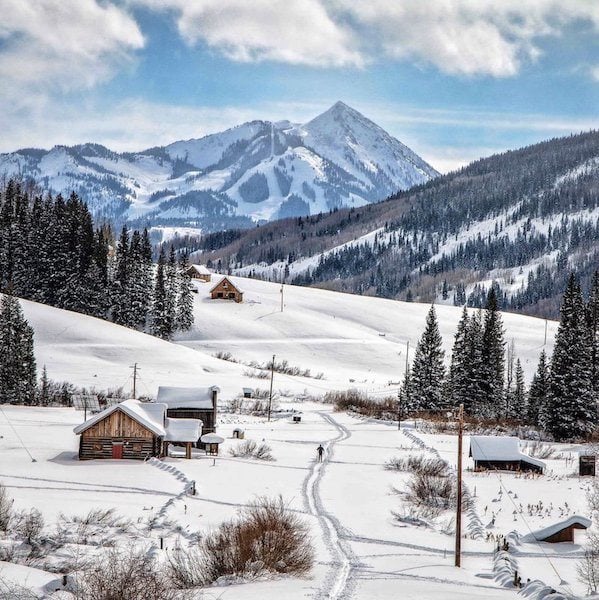 Photo Source: Travel Crested Butte
Snodgrass Road Trail
Snodgrass Trail is an out-and-back trail that offers a mellow climb 1,500 feet up to the top of the road and descents back down to the parking lot. Its dog-friendly and less than 10 minutes from town.
Best for snowshoeing, backcountry skiing, nordic skiing, and fat biking
Level: intermediate
Distance: 2.8 miles (round trip)
Elevation Gain: 1,500 feet
Starting Elevation: 9,600 feet
Distance from Town: 7 minutes
Groomed
Dog-friendly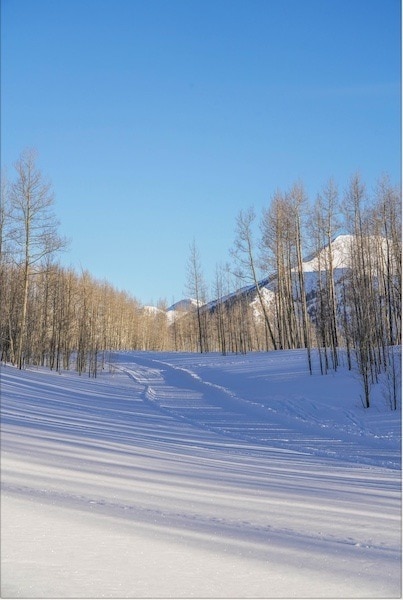 Photo Source: Travel Crested Butte
Go Nordic Skiing
If youre looking for nordic skiing (aka cross-country skiing), youre in luck. Crested Butte is known for having world-class nordic skiing and offers over 30 miles of well-groomed nordic tracks plus over 60 miles of groomed ski trails. You can ski in and ski out right from town from some trails.Cross-country skiing is a great workout that allows you to enjoy the scenery along the way. Its fun for the whole family, too!
Need to rent some gear or interested in taking lessons? Crested Butte Nordichas rental equipment, ski lessons, and backcountry tours. Adult rentals and day passes are $20/day each. Discounts are available formulti-day passes as well as adults over 65 and children 17 and under. Be sure to check out Crested Butte Nordic and Travel Crested Butte for more information theyll set you up with everything you need.
Here are three cross-country skiing trails worth checking out while youre there:
Poochs Paradise
Poochs Paradise is a dog-friendly cross-country skiing trail thats nearly 2 miles long. Youll need a nordic ski trail pass, as well as a dog pass if you plan to take your pup. The trail starts in town and continues past Peanut Lake to Magic Meadows and Mikes Mile.
Best for nordic skiing
Level: green
Distance: 1.9 miles (3k)
Elevation Gain: 100 feet
Starting Elevation: 8,900 feet
Distance from Town: 1 minute
Groomed
Dogs allowed with dog pass
Red Lady Loop
The Red Lady Loop is a slightly more difficult nordic trail that traverses rolling hills through aspen and spruce forests.
Best for nordic skiing
Level: blue
Distance: 2-mile loop (3.3k)
Elevation Gain: 100 feet
Starting Elevation: 8,900 feet
Distance from Town: 1 minute
Groomed
Dogs are NOT allowed
Magic Meadows
Magic Meadows is a mostly level trail that weaves through an evergreen forest all the way to the Magic Meadows backcountry Yurt where you can enjoy Sunday brunch or a 5-course dinner. Otherwise,keep skiing to the north end of this trail to meet up with some more challenging hills.
Best for nordic skiing
Level: green
Distance: 2.25 miles round trip (4.6k)
Distance from Town: 5 minutes
Groomed
Dogs are NOT allowed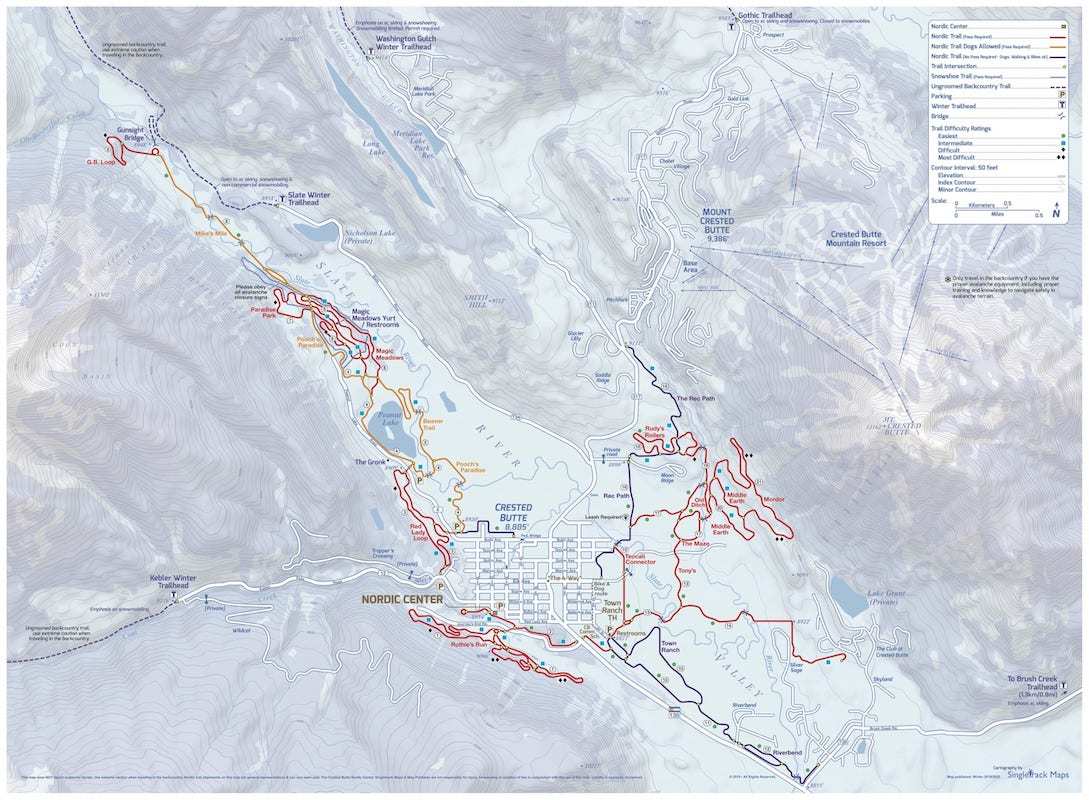 Crested Butte Trail Map Source: Crested Butte Nordic
Take a Fat Biking Ride
Have you been fat biking yet? A fat bike is an off-road bike with oversized tires (hence the name: fat bike). Its designed for stability on snow and uneven terrain and its a lot of fun. You can really cover some ground on snow when you want to get outside but dont feel like walking or skiing.
Bikes are available to rent in town from Big Als Bicycle Heaven, a full-service bike shop that rents, repairs, and sells bikes. Fat bike rentals start at $45 for 2 hours, $85 for 5-8 hours, and $115 for 8-24 hours. If youre renting for a large group or multiple days, ask about discounts.Theyre the biking experts in this area so be sure to pick their brains for beta on trail information!
For a fun fat biking trip, park at the Gothic trailhead (mentioned above) and ride 3 miles to the abandoned ghost town of Gothic. You cant go wrong with the trails here, take your pick from any of theuser-compacted or groomed trails and youll have an enjoyable, scenic ride.
Stay up to date with trail information with the Crested Butte Mountain Biking Association.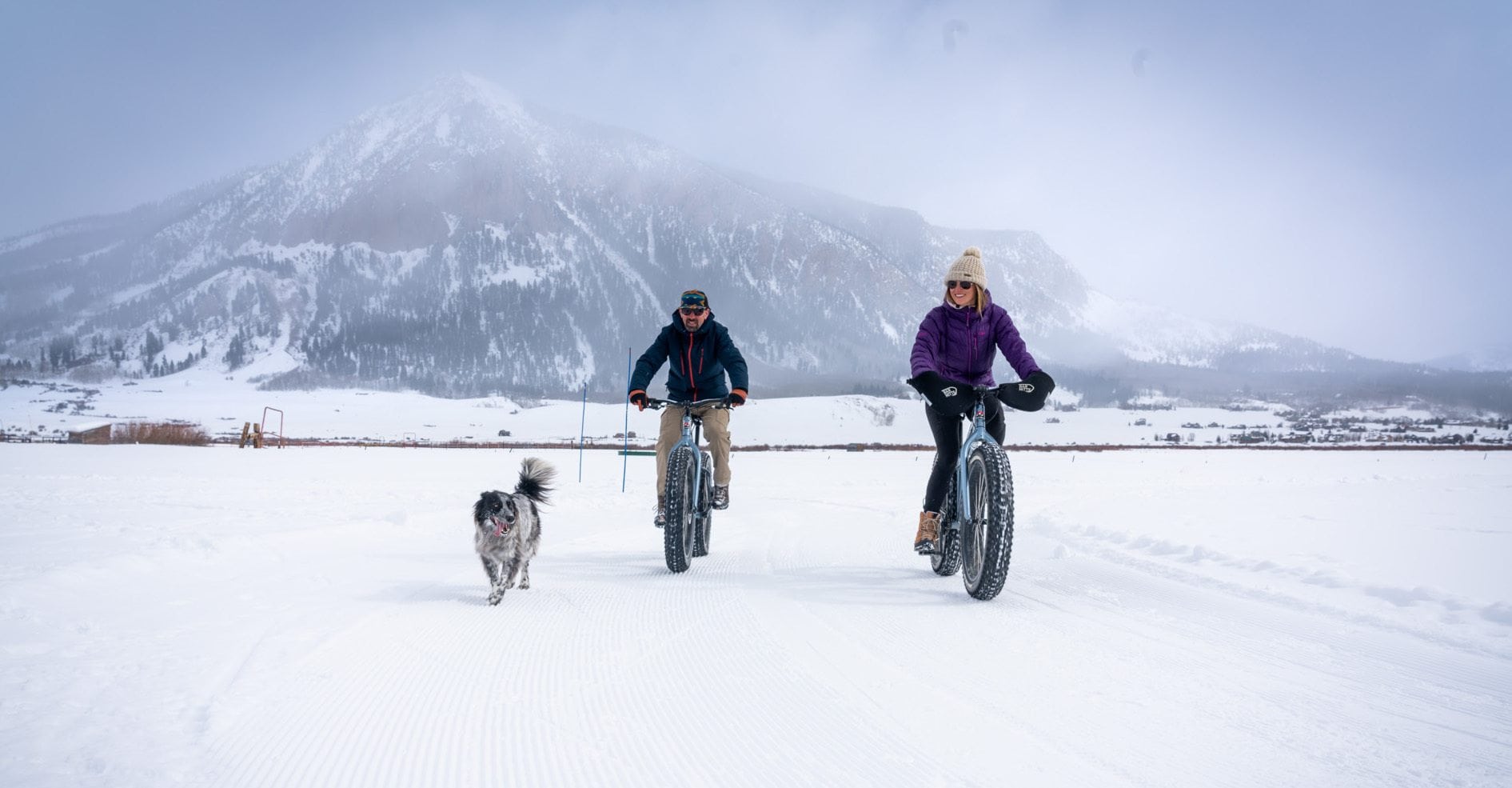 Exploring the Crested Butte Town Trail System via Fat Bike
Ski Crested Butte Mountain Resort
The base of Mount Crested Butte sits at 9,375 feet elevation and the summit is 12,162 feet.Ski Crested Butte Mountain Resort has15 lifts and 121 trails so theres plenty to do on the1,547 acres of skiable terrain.Its owned by Vail Mountain Resort so you can use your Epic pass and ski in the small town, local vibe without the crowds. When we were there, we experienced zero lift lines and uncrowded slopes.
My partner, Ryan is an advanced skier while Ive been working to hone my skills and increase my confidence over the last few years. So I appreciatedthe variety of terrain because theres something for everyone from smooth, roaming groomers to steep, expert drops. The mountain isevenly divided into about 20-30% of runs for beginners, intermediate, advanced, and expert level skiers. Whether it will be your first day on the slopes or youve been skiing for years, youll get some great runs in on yourCrested Butte ski trip.
If youre looking to uplevel your skills, check out the ski and snowboard clinics available for foundational skills all the way to expert-level. They host a womens clinic, which sounds like a great way to meet other like-minded women.
If youre an expert-level skier, I suggest hiring a CB Steep Guide that will guide you into more extreme terrain and give you beta on where to go based on the conditions.
Enjoy the Center for the Arts
The Center for the Arts has a variety of classes and events in visual arts, performing arts, and culinary arts like wheel throwing, wine tastings, writing workshops, and watercolor classes. While we were there, the town hosted a fun art walk so keep an eye out for that while youre in town. And, since youre in Colorado where marijuana is legal, the Center for the Arts occasionally offers a Cooking with Marijuana class.
Take a Yoga Class
Need a stretch after all those activities? Thrive Yoga Crested Butte has a full schedule of classes including slow flow, restorative, heated vinyasa, Iyengar, kundalini, and meditation. So, depending on how much energy you have left or what mood youre in, youll enjoy a good yoga class here. They offer multi-class passes and unlimited weekly passes if you want to go frequently while youre in town.
Dine in a Backcountry Yurt Under the Stars
The Magic Meadows Yurt is a ski-in ski-out dining experience accessible only by snowshoe or ski.Come for brunch or dinner and enjoy a cozy, remote fine dining experience.The yurt dinner package costs $135/person and includes your nordic pass, rental equipment, a 5-course meal, beverages, live music, gratuity, and transportation to and from the trailhead.
Maybe youd rather ski out to the yurt on Sunday morning for a backcountry bistro brunch of organic and gluten-free pastries, soup, treats, tea, coffee, and pie. Or, sip on a warm beverage before you head back to the trailhead.The 1-mile trail is mostly level with a few rolling hills and takes about 15-40 minutes depending on the person.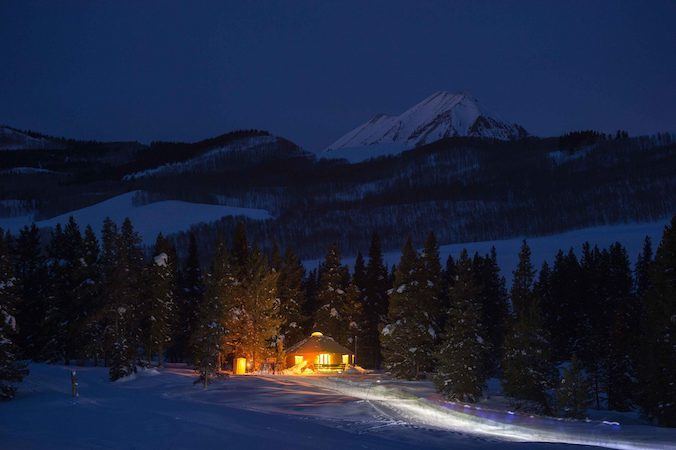 Photo Source: Crested Butte Nordic
Go Snowcat Skiing
We got to go cat skiing with Irwin Guides while we were there and it was an incredible experience with epic views. Its a splurge, but for die-hard skiers, you wont regret it. Youll leave from town in a cat, ride 45 minutes to Irwin Lodge off of Kebler Pass, where youll find 1000 acres of untouched powder to explore. Irwin gets about 2-3 times as much snow as the town does, and its considered to be the mecca for powder. We went right after a storm and had prime conditions! I skied 5 runs before lunch and another 5 after, and it ended up being one of the best days of skiing of my life.Theres plenty of low angle terrain but this is best experienced for intermediate to advanced skiers who are comfortable in steep, varied terrain.
The staff includes super friendly, knowledgeable, and professional guides plus their own avalanche safety team that educated us about avalanche preparedness beforehand. We each carried an avalanche beacon while we were skiing. If youre interested in upping your backcountry education, Irwin Guides also offers a number of clinics from avalanche education to wilderness medicine throughout the year and I cant imagine a better place to do it.
Price per person is $650, which includes three guides, skis, a hot lunch, and apres beverages. As I said, its a splurge, but it will be an adventure of a lifetime if its within your budget.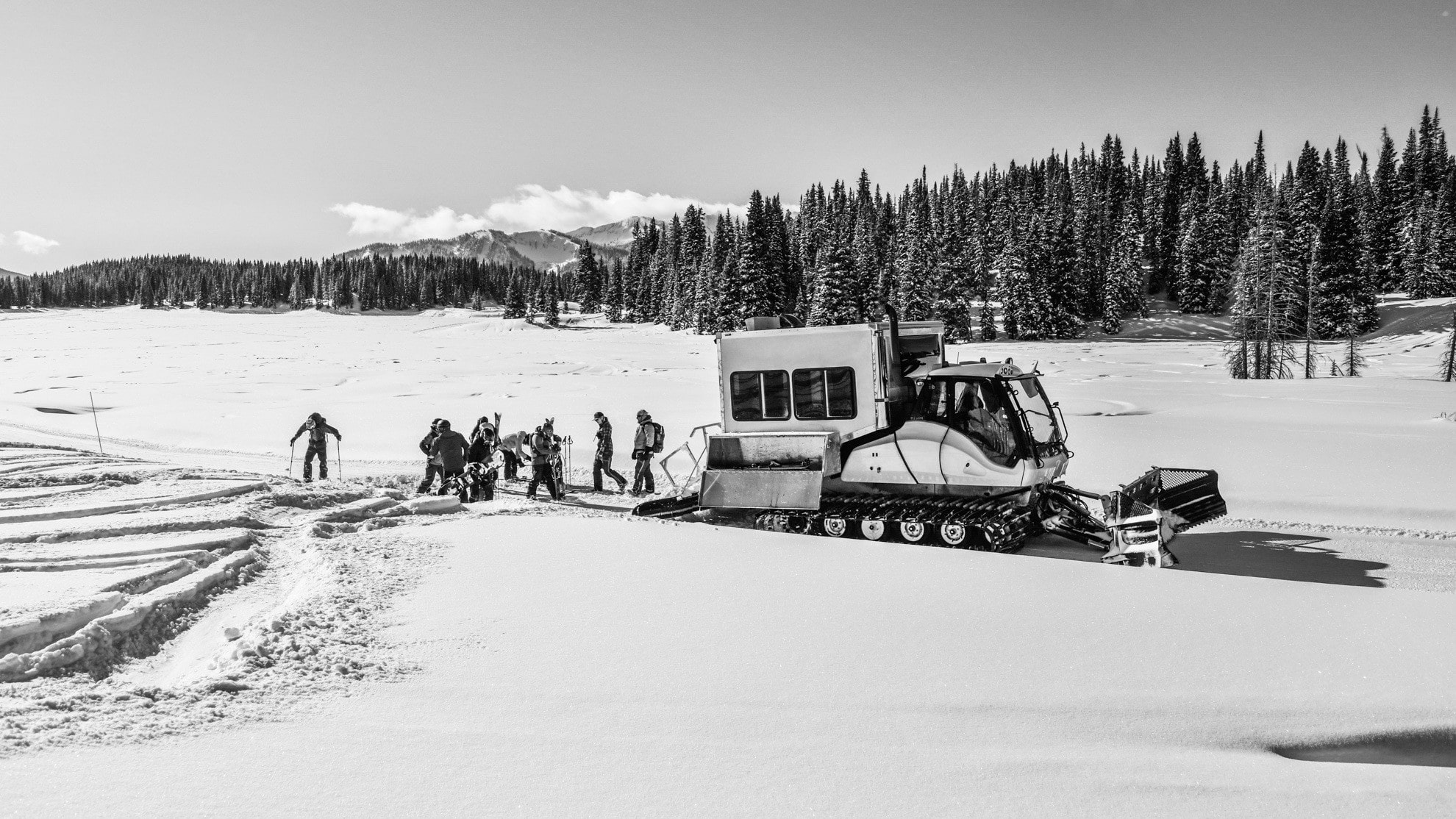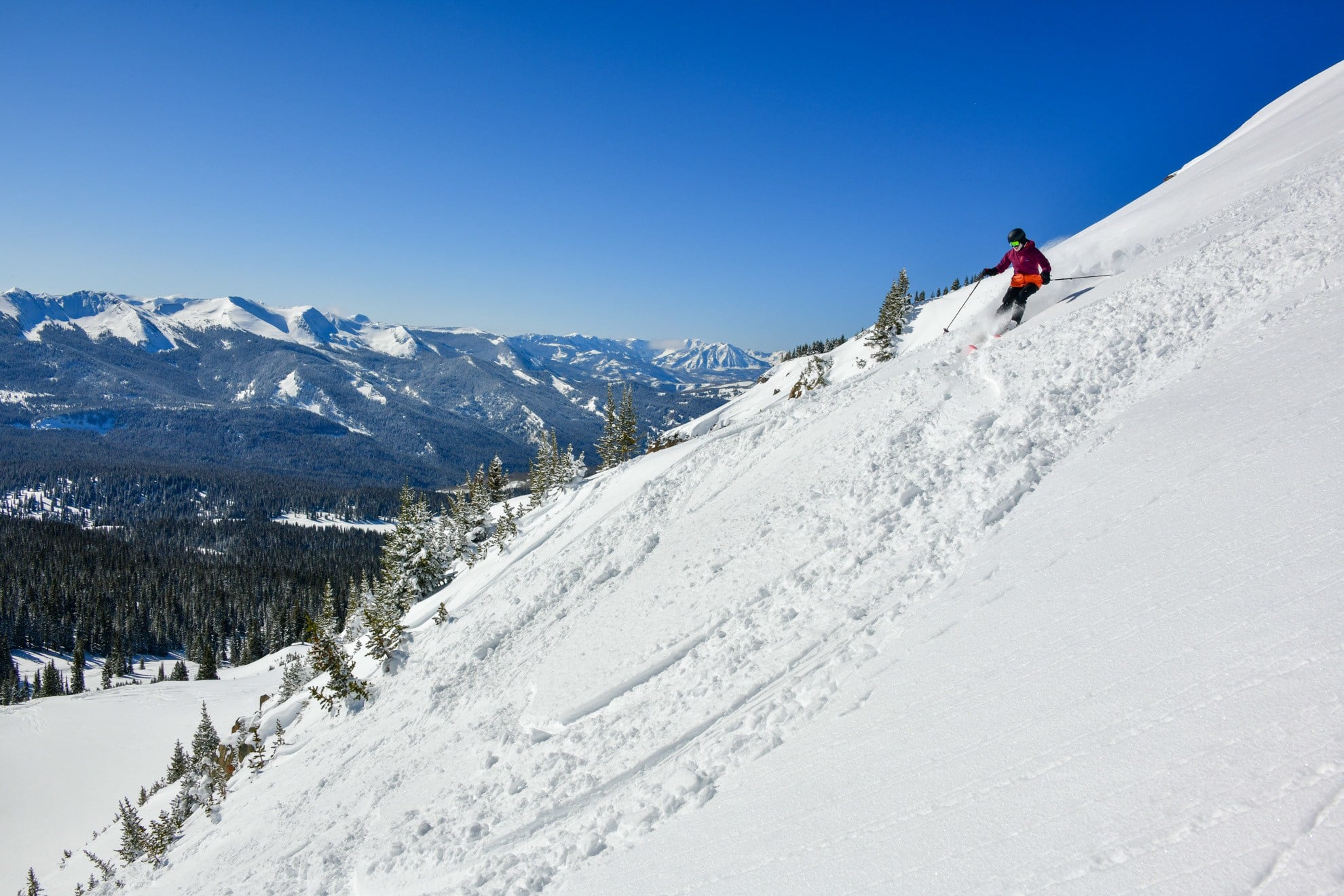 Take a Stroll on Elk Street
Elk Street is the main drag through town. All of the businesses are locally owned and operated so there are no chain stores, which preserves the historic charm. Youll find some cute shops, eateries, bookstores, music stores, and outdoor gear stores. Townie Books is a good one for books; Grit has music and mountain-inspired clothing for women and men; Favor the Kind is a boutique with home decor, gifts, and womens clothing. Youll also find a couple of outdoor gear stores as you stroll, including Chopwood Mercantile.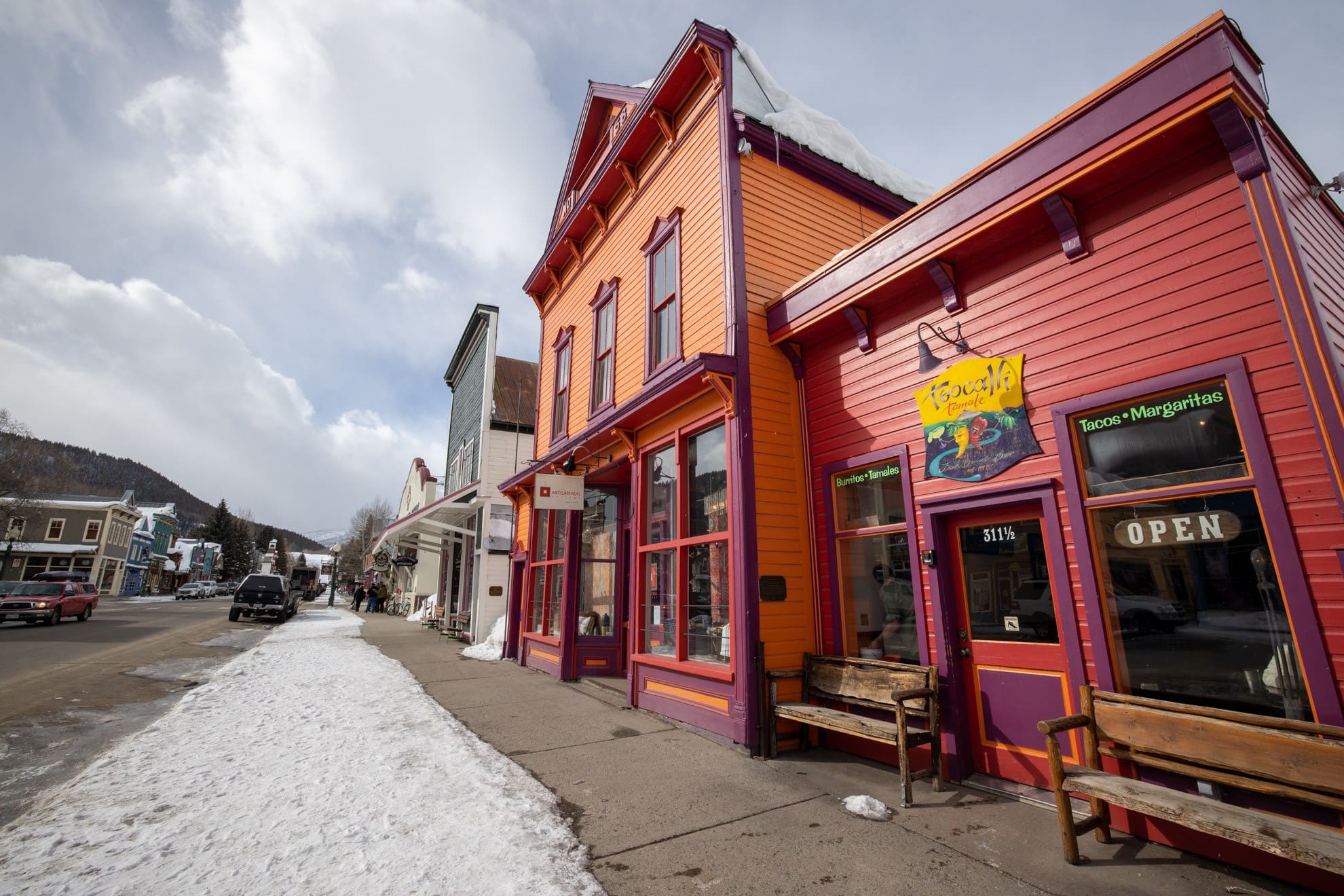 Where to Stay in Crested Butte
We stayed ina cute and affordable hotel called theNordic Inn B&BandI recommend it for a few reasons. First, its pet-friendly, so it a relief to find a pet-friendly hotel right by the mountain. Plus, the views from our window were gorgeous and the mountain was right across the way. The chairlift is literally a 5 minute walk from the hotel, which also offers free parking during your stay. We loved it, so if youre looking for Crested Butte lodging add the Nordic Inn to your itinerary.
Nightly rates vary by season starting at $150/night and include continental breakfast and complimentary transportation between the mountain and the town.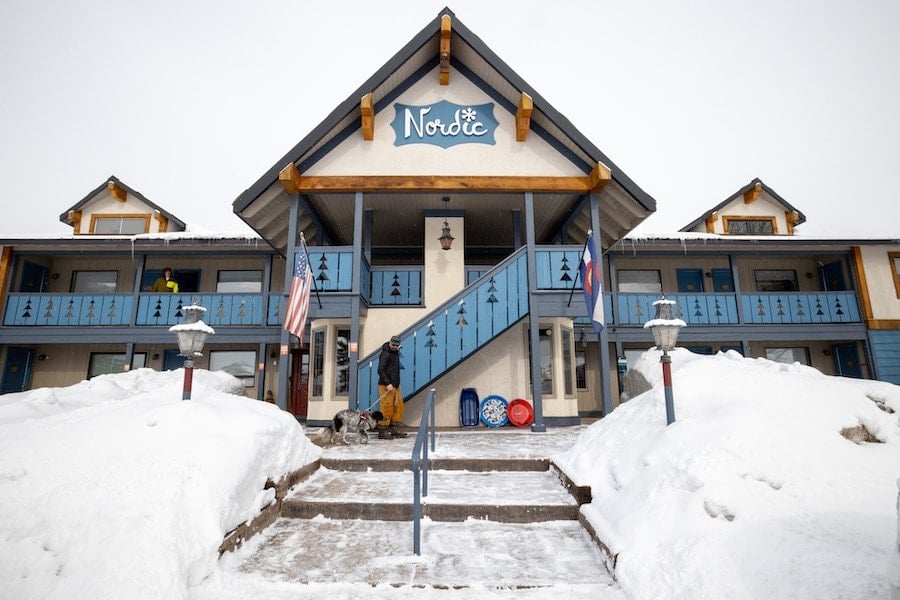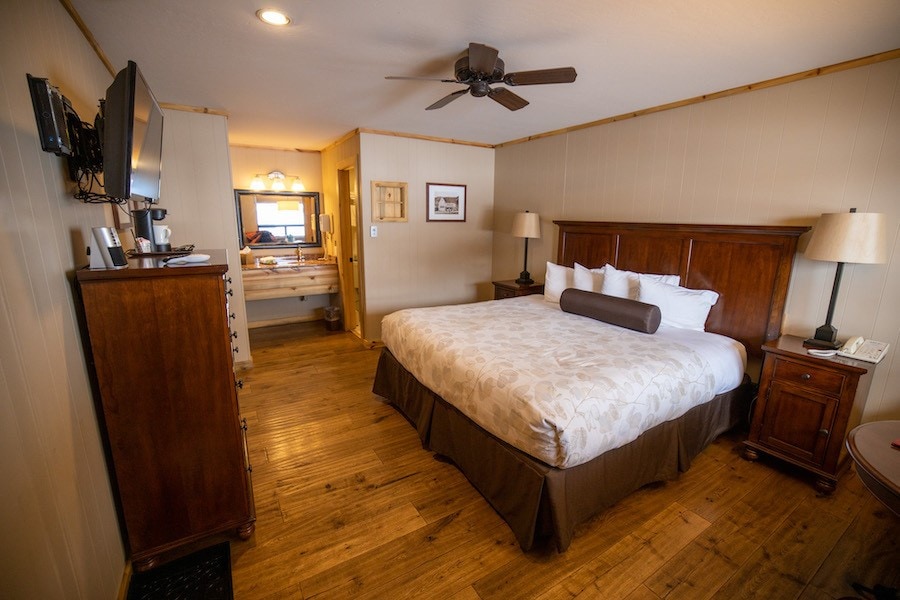 Where to Eat in Crested Butte
Considering its a very small town of about 1,000 year-round residents, we were really impressed by the number of great restaurants. Here are some of the best restaurants in Crested Butte that we ate at, all of which served up healthy and hearty vegetarian options.
Sherpa Cafe
The Sherpa Cafe serves authentic Himalayan cuisine from India, Nepal, and Tibet. They have two locations in Gunnison and Crested Butte and the menu is fair-priced and affordable. The owners opened this restaurant because the surrounding mountains remind them of their home, so the cafe is a way to bring a little piece of home right here in this little mountain town.
The Last Steep
Named after the owners favorite ski run, The Last Steep is a bar and grille with standard American pub fare, salads and sandwiches, teriyaki bowls, seafood, and more. The black bean sweet potato vegetarian tacos were good I recommend them.
Secret Stash Pizza
Secret Stash Pizza is the go-to pizza spot in town that serves delicious pizzas, salads, and appetizers. If youre looking for pizza you wont be disappointed.
Paradise Cafe
If youre looking for great breakfast food to fuel your big day, Paradise Cafe is the place to go. Its across the street from the main bus station, so you can hop right onto the bus on your way out.
Montanya Distillery
Are you a rum drinker? Go tour theMontanya Distillery and enjoy a free tasting without a reservation before 5pm. This female-founded, female-owned business is worth checking out whether you drink alcohol or not, plus their food menu was absolutely delicious, with a variety of options no matter your dietary restrictions. They even have a mocktail menu with zero proof cocktails. Montanya is a Certified B Corporation, which means they give part of their profit to the planet. All of their facilities are 100% wind powered and they offset their carbon production. I recommend stopping in and saying hi, tasting the rum or mocktails, and enjoying seasonally inspired food items.
Health Tips for High Altitude
The town of Crested Butte sits at about 8,880 feet, and Mount Crested Buttes base is 9,375 feet in elevation. These are considered moderately high elevations. Most people will not be adversely affected by elevation below 10,000 feet, but its important to be familiar with ways to stay healthy and safe in high country.
Once your body reaches an altitude near 10,000 feet or higher it needs to go through a process called acclimatization. At this elevation, the body has a hard time producing enough oxygen to saturate your blood as it normally does. So, in order to adapt to the stress of the changing environment, the body needs time to produce more red blood cells. Typically, acclimatization happens within 24-72 hours.
Acute Mountain Sickness (AMS) or Altitude Sickness is a condition that refers to the symptoms you feel when your body has not acclimatized to the higher elevation. Shortness of breath, fatigue, nausea, light-headedness, decreased appetite, and difficulty sleeping are some of the common symptoms of AMS. Usually, these symptoms show up on the first day or two of your arrival. Again, this will likely not be an issue for the majority of people visiting Crested Butte. But, if you begin to feel any of the above symptoms, follow thesesimple self-care suggestions and youll be ready to have fun in no time.
Take it easy the first day keep activity light to moderate
Stay hydrated drink A LOT of water and avoid alcohol
Move slowly
As soon as you start to feel sick, go down to a lower altitude
For more information on Altitude Sickness and how to prevent it, check out this blog post once youre done here.
I hope this Crested Butte winter travel guide was helpful in your trip planning! Have you been there yet? Share your favorite things to do in the comments below.
The post Crested Butte Winter Travel Guide appeared first on Bearfoot Theory.