Hey friends! Another Monday is upon us and I hope you're entering the week feeling rested and rejuvenated. We had a full weekend but it was relatively relaxed, all things considered. We kicked things off with a night in on Friday. We spent most of the day on Friday with friends and by the evening we were ready for pajamas, puzzles and semi-early bed times.
Saturday
Saturday morning was fairly low key. Ever since Chase began elementary school and we've had to rush out the door on weekday mornings to get him to school on time, we value a more relaxed start to the day so much more. Chase, Ryder and Rhett seem to love free play time for a couple of hours after they wake up on the weekends and so we kicked off our Saturday with play time, board games and a little birthday card crafting.
Our main plans for the morning took us over to our friends' house for a birthday party for their son Luke. It was a spy-themed party and included adorable homemade touches and a giant bounce house the boys loved.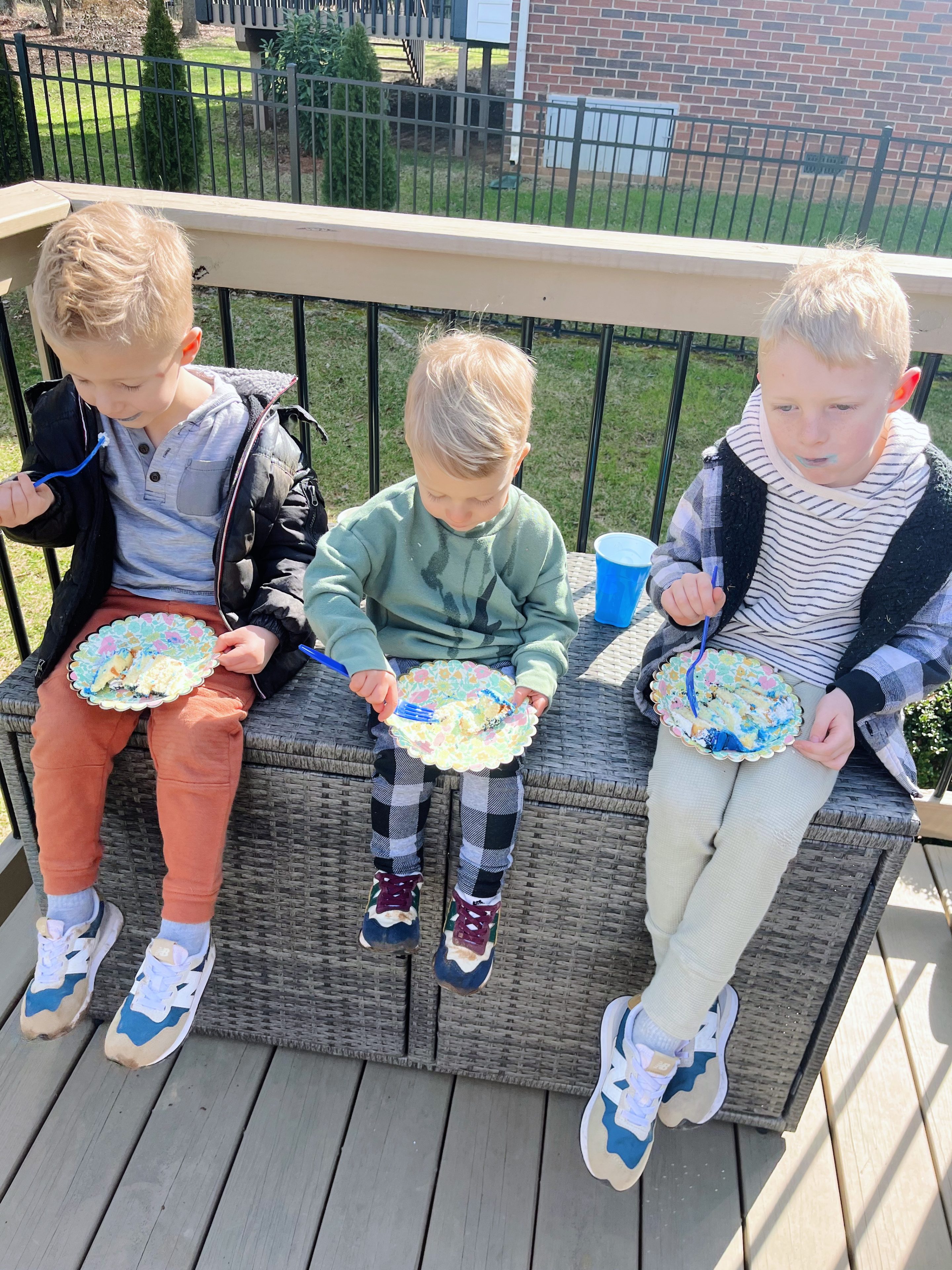 Luke's birthday party guests were mostly kids who are the sons and daughters of our adult friends which made it all the more fun for me and Ryan, too!  The birthday party took up most of our morning and early afternoon and before we knew it, we had to high-tail it home so I could drop off Ryan and Rhett and head into the city with the big kids.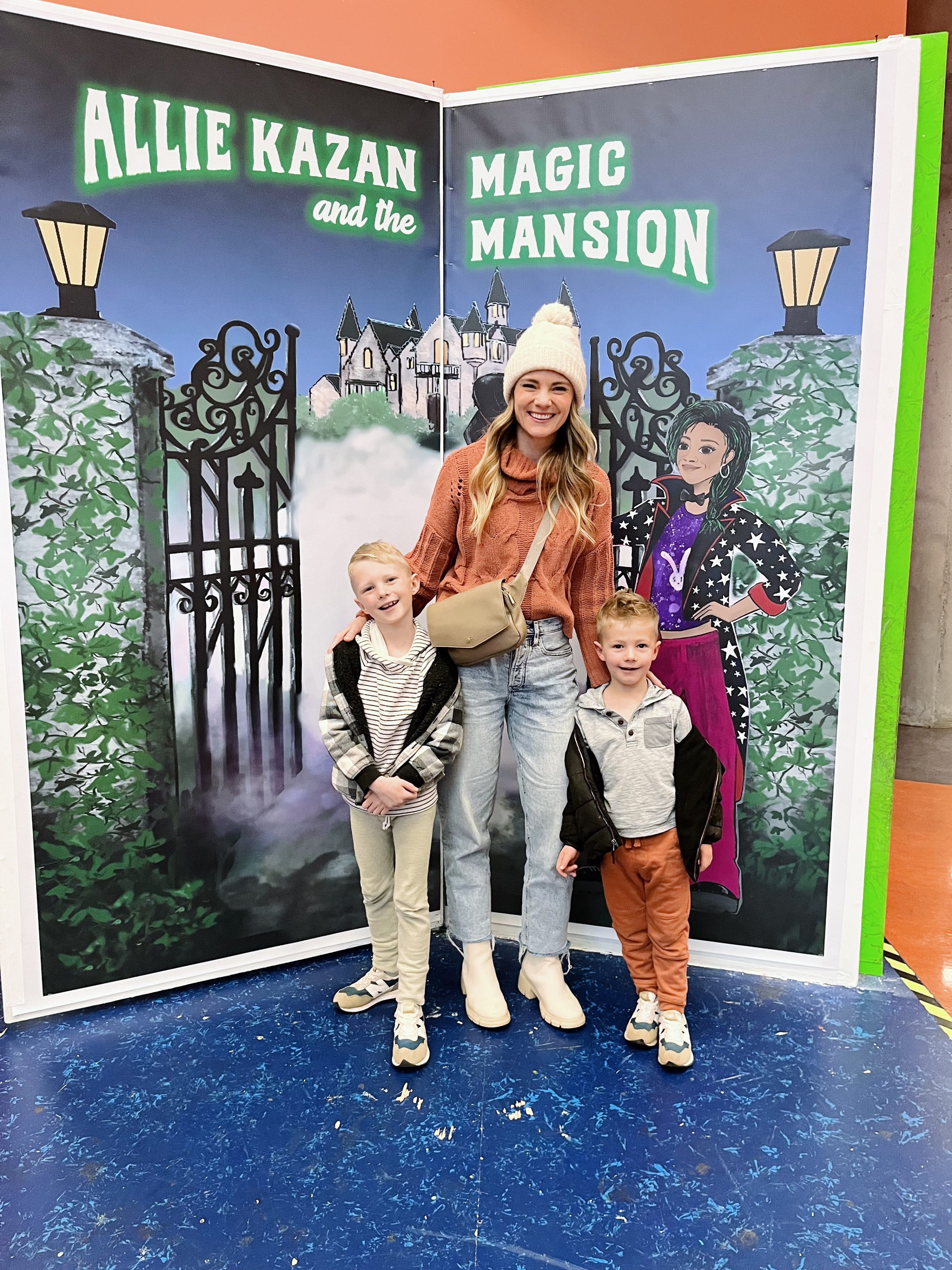 While Rhett napped and Ryan handled the nap trap, I took Chase and Ryder to the Children's Theatre of Charlotte for their original musical, Allie Kazan and the Magical Mansion.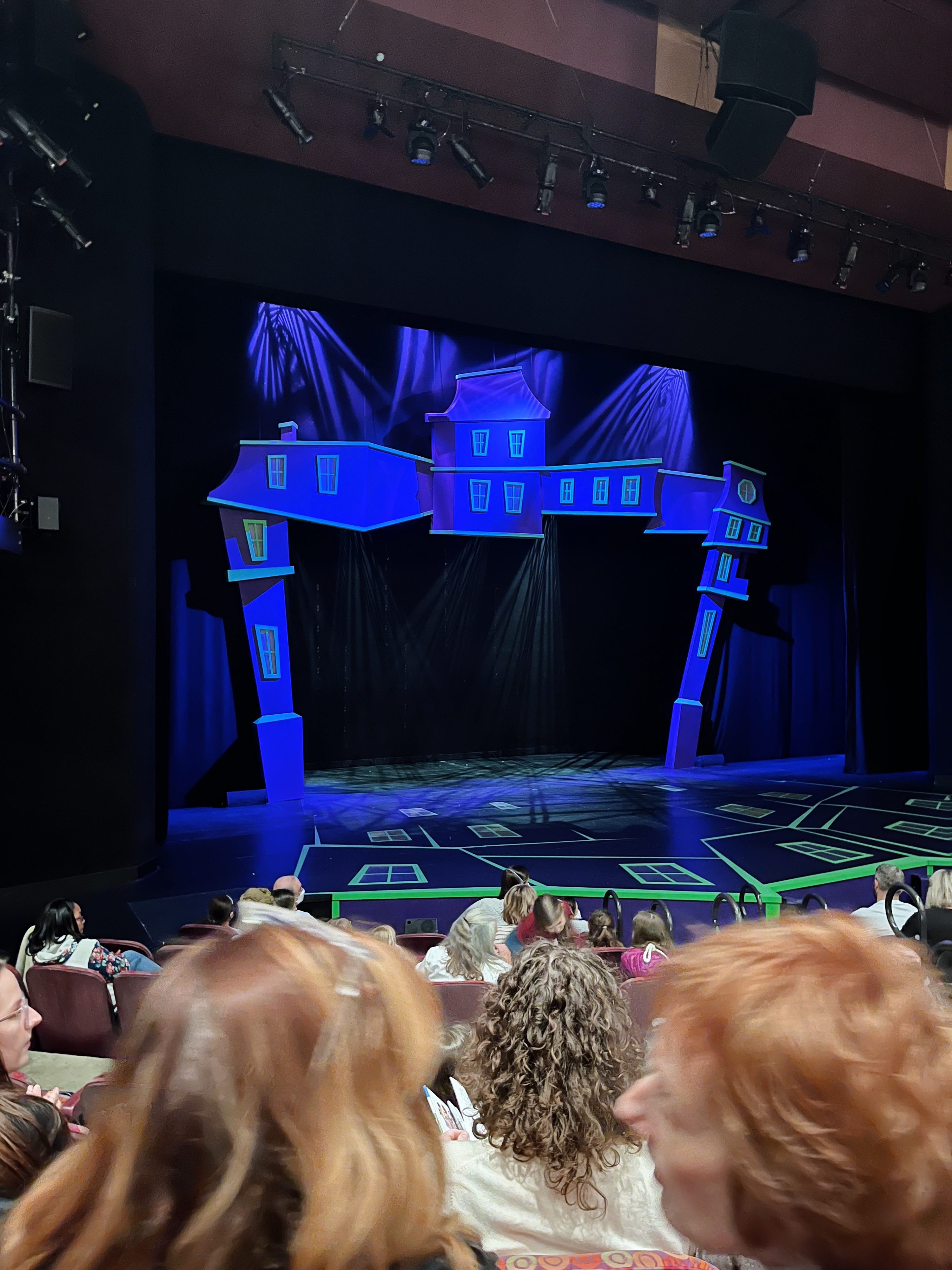 The show centered around a magic competition and the magical illusions were a big part of the reason Chase and Ryder enjoyed the show so much! The magic tricks weren't anything too crazy but they were enough to inspire the boys to continue to put on magic shows for me and Ryan for the rest of the weekend. (Worth noting for any local friends, the show had some unexpected spookier moments centering mostly around a creepy bad guy and some haunting music. Chase and Ryder handled them okay but it was definitely a good choice to leave Rhett at home.)
The show was around 60 minutes and we left singing the song about the magical mansion all the way out to the parking garage! I checked in with Ryan who told me Rhett was still sleeping, so we picked up some pizza for dinner on our way back home.
We spent the rest of our evening doing "magic" (aka making things disappear in random ways), eating pizza and cuddling up on the couch for movie night. We tried out a show called "The Aquarium" based on your recommendations and it was a huge hit!! It provides a behind-the-scenes look into what it takes to run the Georgia Aquarium and care for the animals which was right up our animal-loving boys' alley. Thank you for this wonderful recommendation!
Sunday
Sunday began with church! My father-in-law joined us for the morning service and after church we all made our way to a local antique mall because I wanted to check out a dresser I saw posted on Facebook Marketplace. The dresser didn't end up working out — it was beautiful but the drawers were not as smooth and functional as I'd like for daily use — but we still enjoyed exploring the antique mall.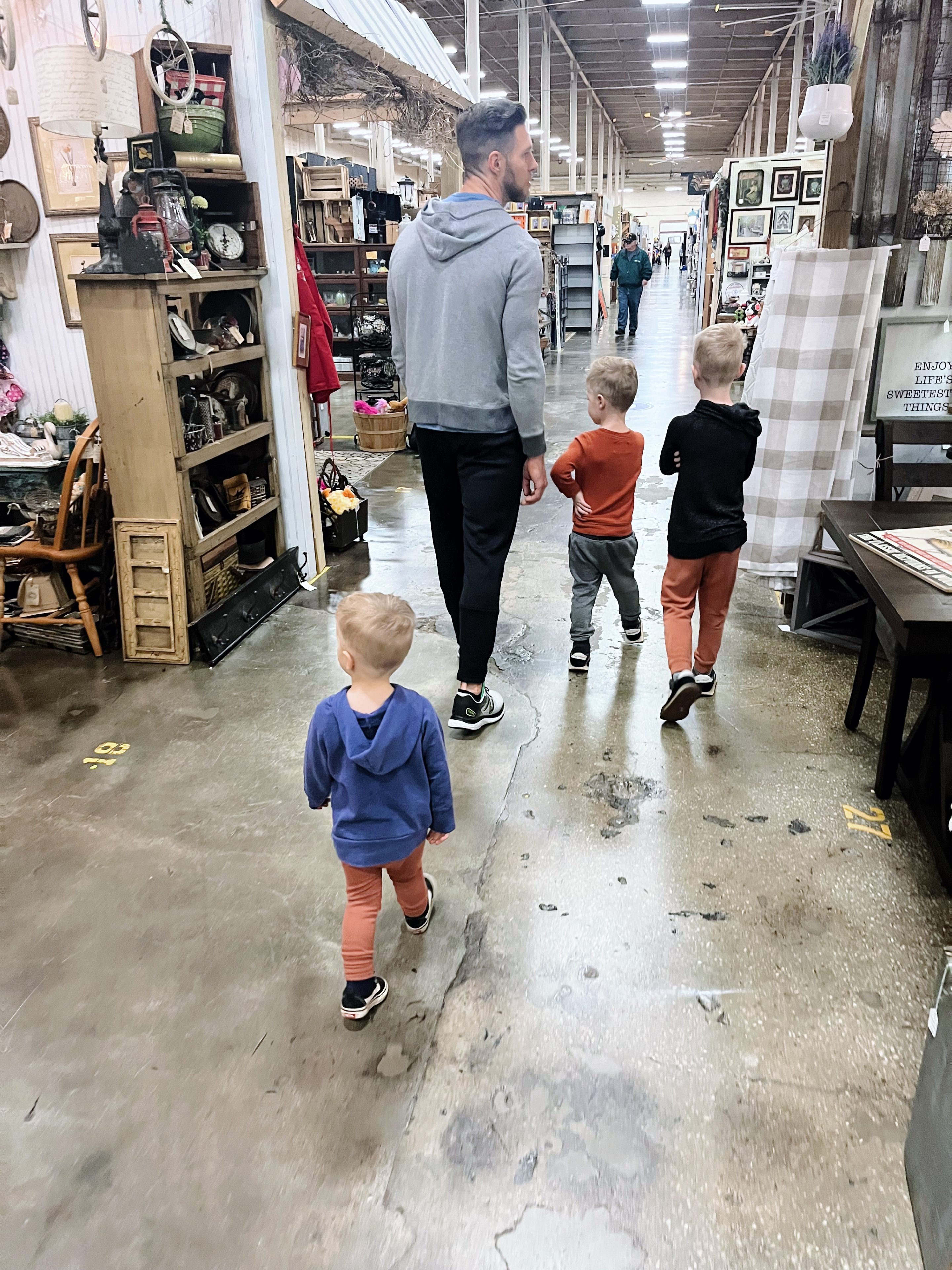 The antique mall is located right next to two of our favorite kid-friendly restaurants in the area (Alino's and Barcelona) and when our boys jumped at the idea for burgers for lunch, we popped into Barcelona. Truth be told, Ryan and I do not find dining out with our kids very enjoyable but family-friendly places like Barcelona make a world of difference.
Ryan pointed out that 90 percent of the people dining at Barcelona had kids so clearly word has spread that their huge cafeteria-like atmosphere and friendly staff who seem to genuinely like kids is very family-friendly.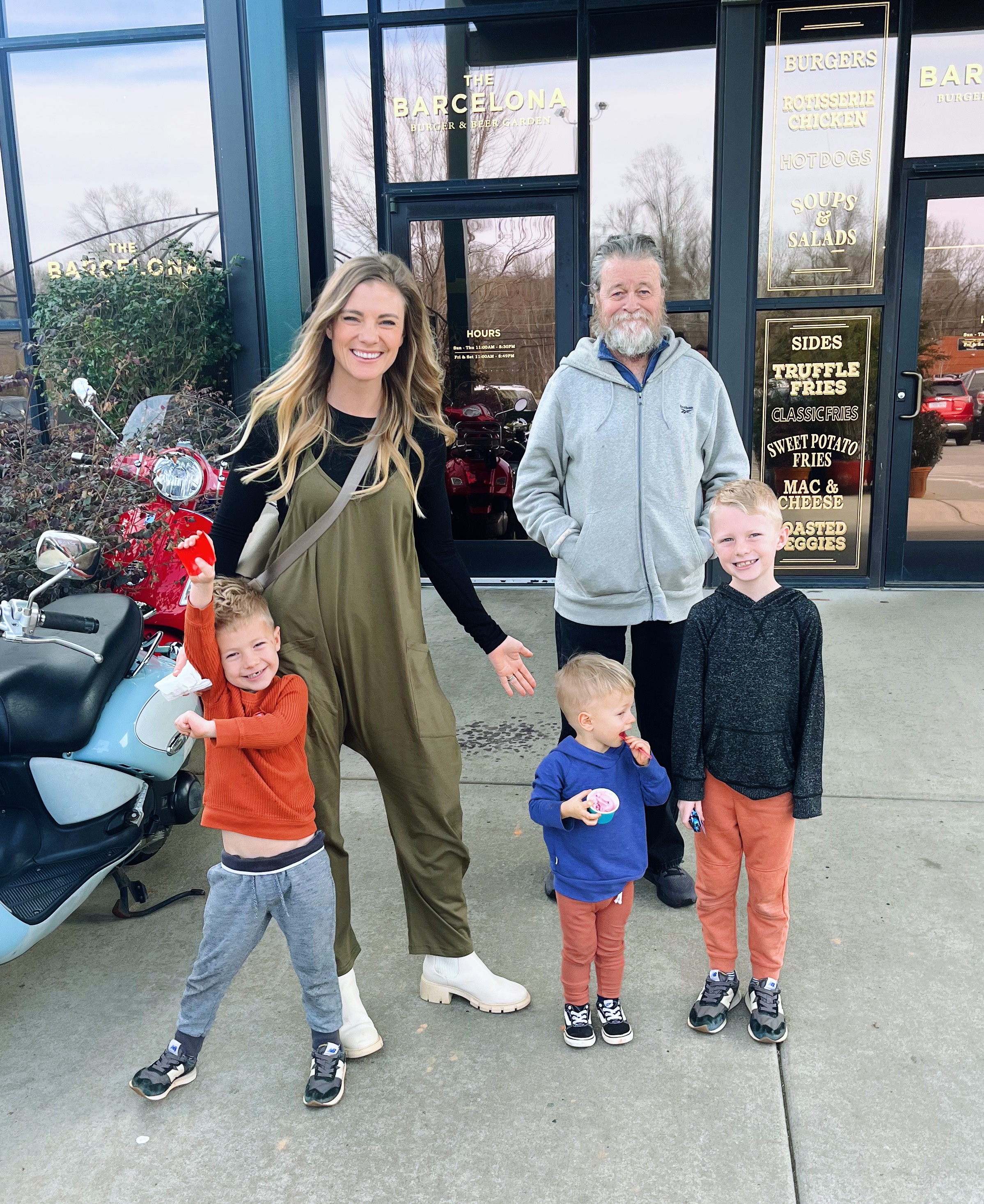 As we were getting ready to leave, a kind woman came out with little cups of gelato for our crew and cemented in our minds, yet again, how much we love this spot!
Eventually we made it home, said goodbye to Granddad and then put Rhett down for his nap. While Rhett slept, Ryan and the big kids went on a bike ride and I stayed back to work and bake cookies for the teachers at Chase's school for a teacher lunch taking place on Tuesday.
The rest of our Sunday passed by in a blur of bath time, dinner, making homemade ice cream, reading stories and early bed times. Aaand now it's time to get this Monday rocking! I hope you all have a great week ahead!
The post Birthday Parties, Musicals and More appeared first on Peanut Butter Fingers.