Turkey is a beautiful country with a lot to offer for travellers – from its stunning beaches and ancient monuments to its vibrant cities and warm hospitality. Here, you'll find the perfect place to stay, no matter what kind of luxury experience you're looking for. Whether you're looking for a five-star resort with all the amenities or a chic boutique hotel with a relaxed atmosphere, we've got you covered. Read on to discover our top picks for the best luxury hotels in Turkey!
Ankara
JW Marriott Hotel Ankara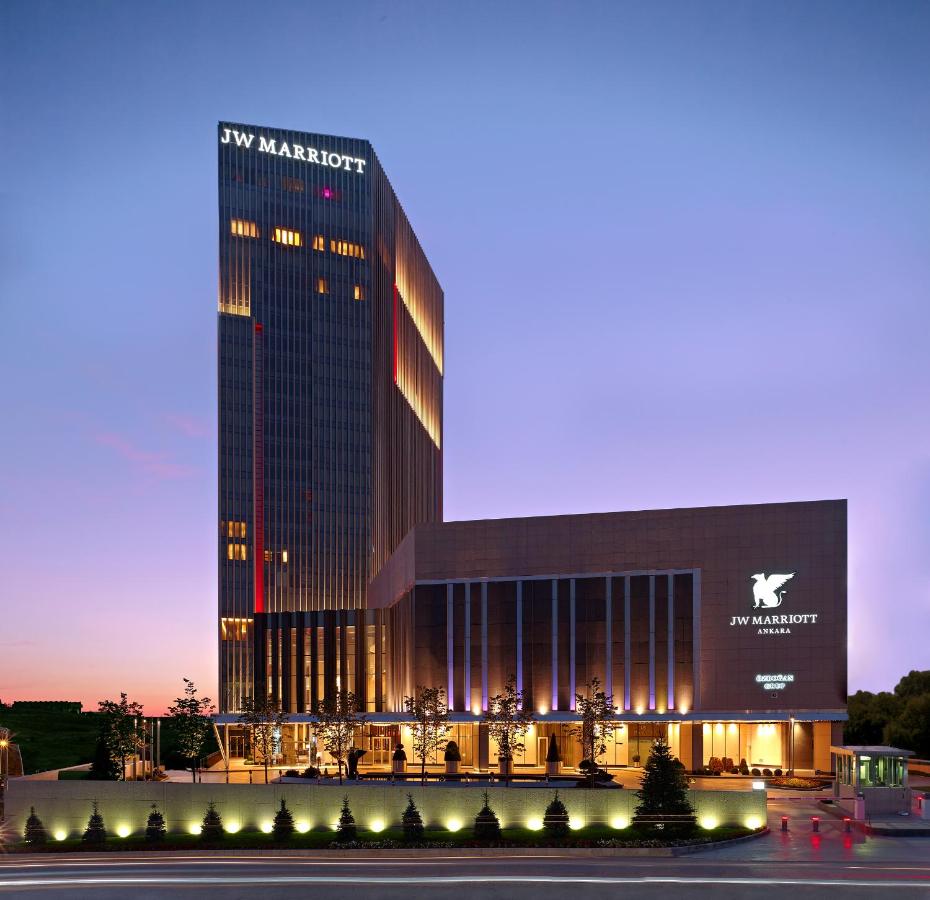 Boasting the largest ballroom in the capital, the JW Marriott in Ankara is a five-star sanctuary. Here, Turkish tradition is blended with European facilities. It accommodates the Karma Spa Wellness and Fitness with indoor and outdoor pools and 17 meeting rooms. 413 suites and guest rooms have soundproofing, USB sockets, iPod docks, robes, slippers, light-up make-up mirrors, marble bathrooms and floor-to-ceiling windows. Enjoy a meal in the Fires and Flavours all-day dining venue with its open kitchen, in the JW Steakhouse (do try the cheesecake, it's legendary), in the spa cafe and with epic views at the Skye Vue Cocktail Bar and Terrace. The elegant JW Lounge serves a traditional afternoon tea.
Lugal, a Luxury Collection Hotel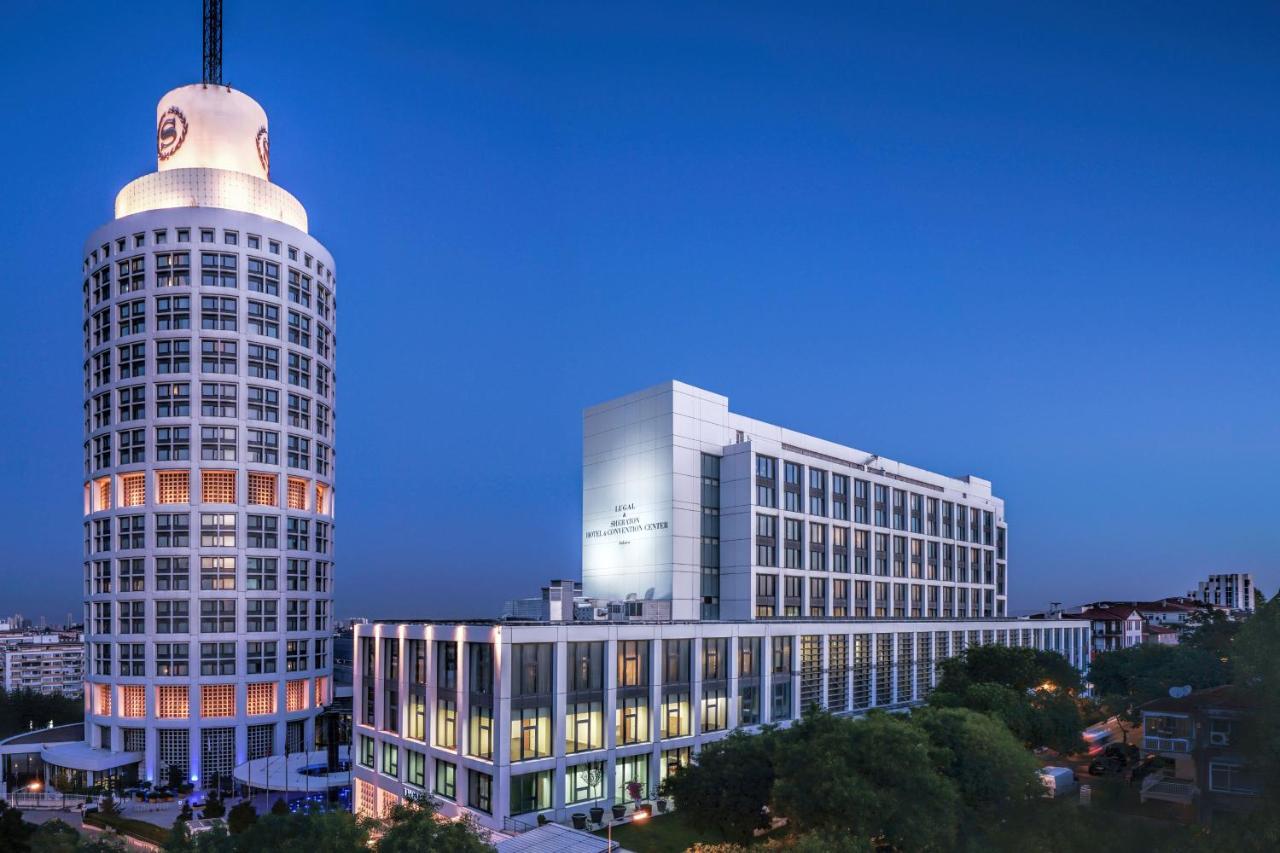 Found in Kavaklidere, Lugal has 90 bedrooms and suites with great views, state-of-the-art technology and butler service. The on-site restaurant, Aruni, serves indigenous a la carte dishes, allowing international guests to experience a taste of Turkey in-house. And a room service menu caters to those of all ages, with a selection, especially for kids. Those staying here have access to the health club in the Sheraton Ankara Hotel (access is via a private lift and tunnel) which offers a roof-top tennis court, a large gym and massage services). Lugal is Green Key certified and committed to sustainability within the hotel industry.
Antalya
Kempinski The Dome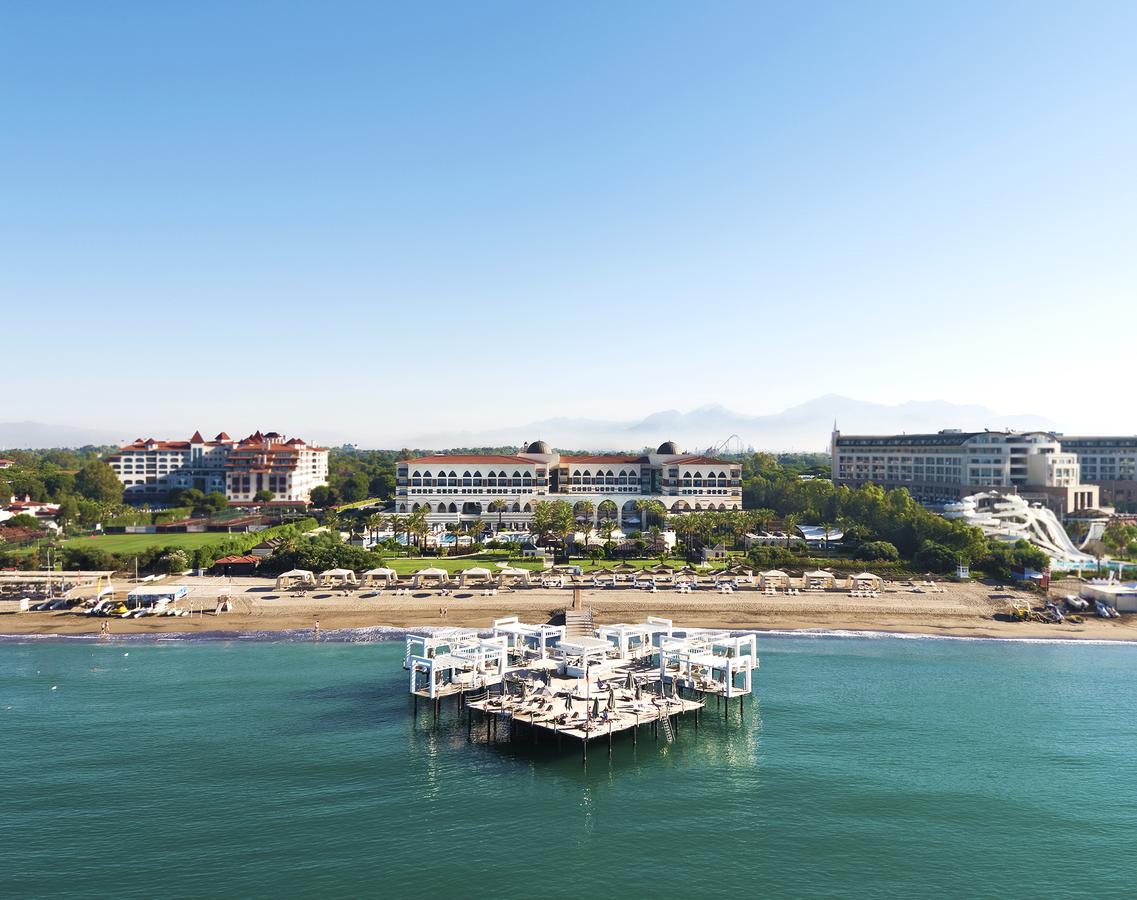 Kempinski The Dome features unique architecture and exotic Seljuk-style design along with unobstructed beachfront vistas. Found in the Belek area of Antalya, this region is gathering international renown in the golf community, withThe Pasha and PGA Sultan 18-hole-Championship Golf Courses on the doorstep. The hotel has 158 rooms, five villas, several pools, a jacuzzi, water-sports, three tennis courts, a huge Thalasso Spa with an indoor pool and a kids club. It's all-inclusive with a host of dining options: a Trader's Spice Restaurant, the Palm Pavilion Bar & Grill, Lale restaurant, Cilantro restaurant, cafe, patisserie and two upmarket bars.
Rixos Premium Belek
Just along the oceanfront from Kempinski The Dome, and 50km from the city centre, is Rixos Premium Belek, occupying the largest section of private beach in the area. A great choice for families, there's a kids club, playground, several massive pools, two-bedroomed suites, inter-connecting rooms and free entry to the nearby Land of Legends theme and water park. All part of the all-inclusive deal. Couples can enjoy the adult-only areas for a more peaceful stay and the privacy of a deluxe swim-up suite. Meals can be taken buffet-style in one of two eateries, or in a choice of three a la carte steak house, Italian and Turkish restaurants. In addition, the resort has eight bars and a full programme of activities excursions and classes.
Titanic Mardan Palace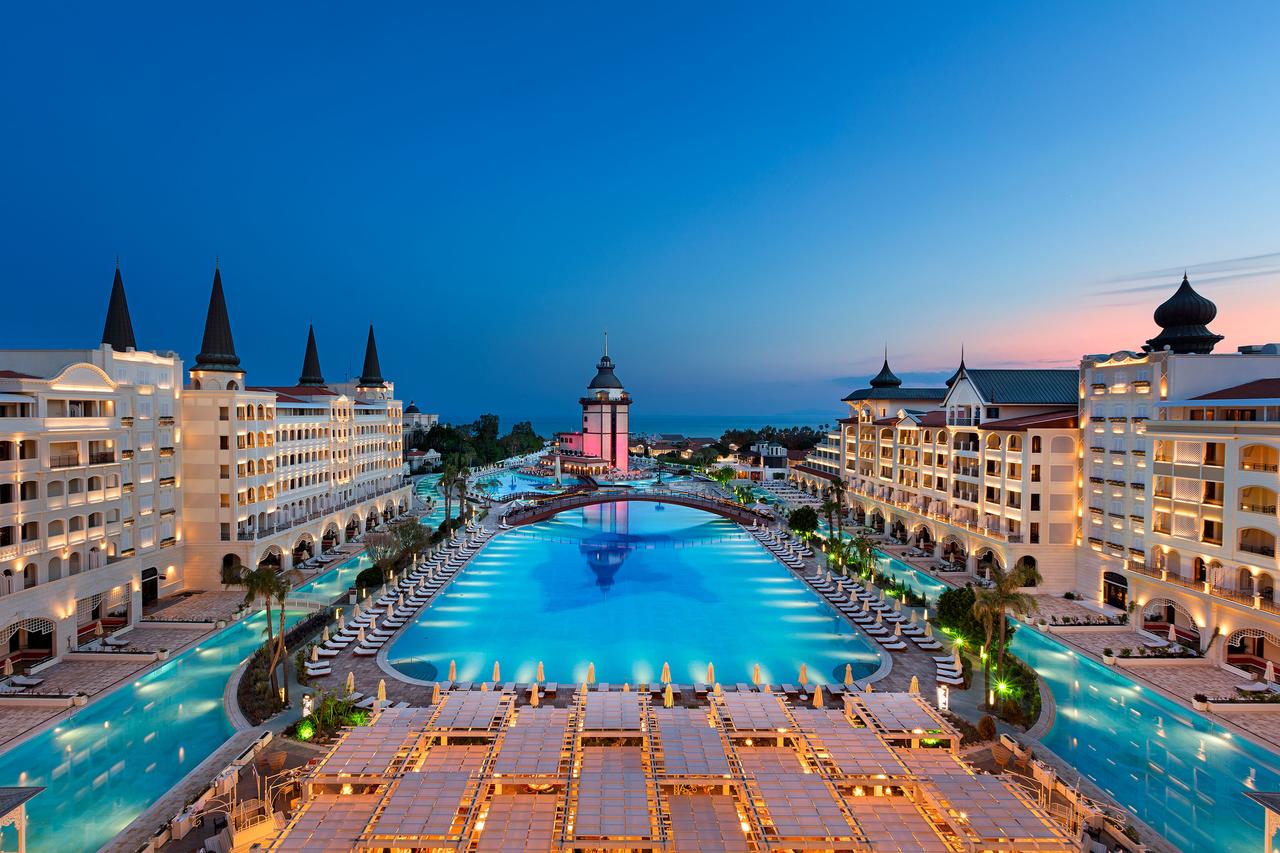 Fairytale turrets evoking the ancient Ottoman Empire, a village-like atmosphere and a wealth of five-star amenities set the Titanic Mardan Palace apart. If you like your resorts big and starry, then this is the place for you. The hotel has 560 stunning rooms, 35 places to eat and drink, a giant kids' club (including its own splash park), a spa retreat, tennis court, golf club, and enormous wraparound pool with a sunken aquarium containing over 2000 fish. Food is available 24 hours a day, and guests are treated to special touches, such as champagne and strawberries on arrival. Built by Azerbaijani businessman Telman Ismailov and designed with regal splendour, its opening was attended by the likes of Mariah Carey, Kendall Jenner, Sharon Stone, Richard Gere, Monica Bellucci, Paris Hilton, Seal and Tom Jones. Not only is this one of the finest places to stay in Antalya, but it's also among the best hotels in the Mediterranean, reserved for travellers with a luxury budget.
Gloria Serenity Resort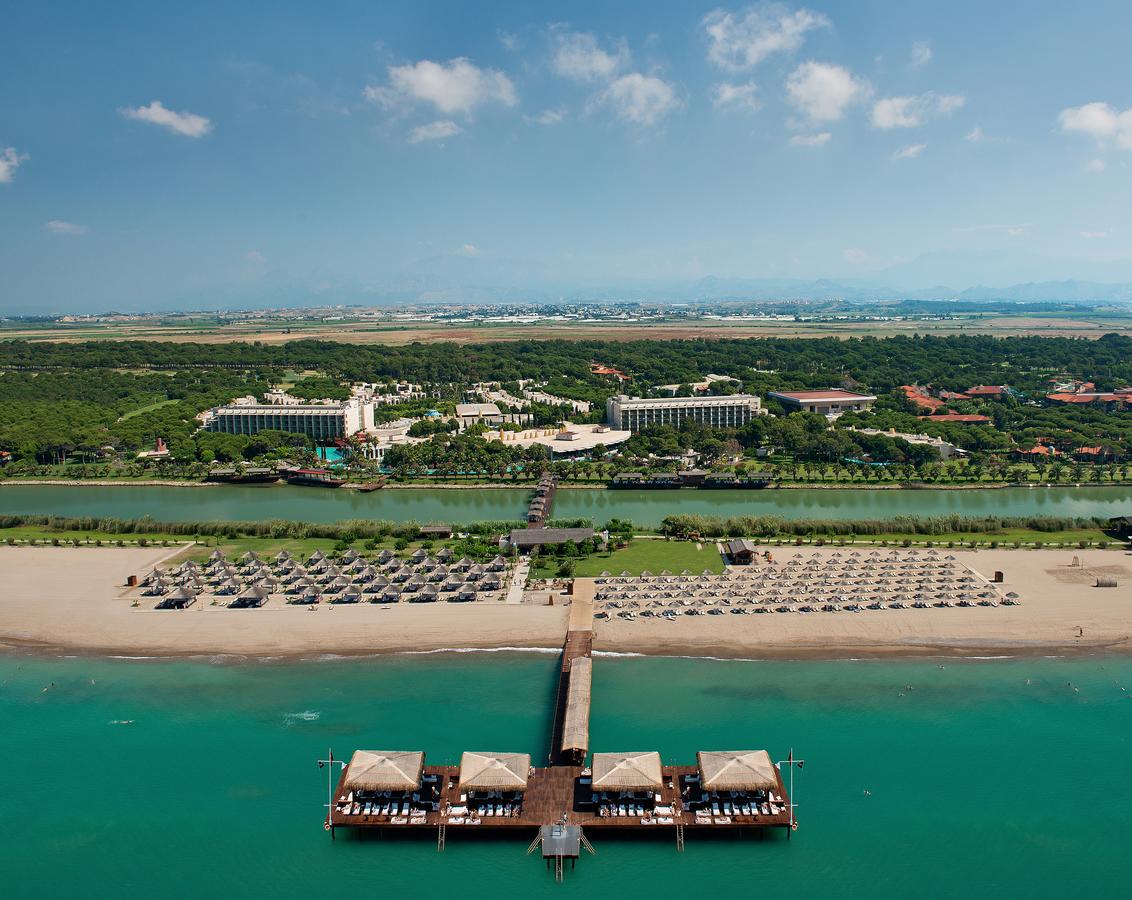 Surrounded by fragrant pine forests of Belek and beside a private beach, a stay at the Gloria Serenity Resort promises relaxation and glamour in equal quantities. Highlights include an ozone-treated seawater wraparound pool spanning the length of the property, access to three top golf courses, a selection of floodlit clay tennis courts, a chic spa, high-quality live entertainment and free entry to a charming local zoo. The 369 rooms are separated into eight different accommodation types, while the resort's kitchens provide an international range of cuisines served buffet-style and a la carte. Gloria Serenity's on-site convention centre and spacious meeting rooms make it popular for those travelling on business, as well as pleasure.
Bodrum
Voyage Torba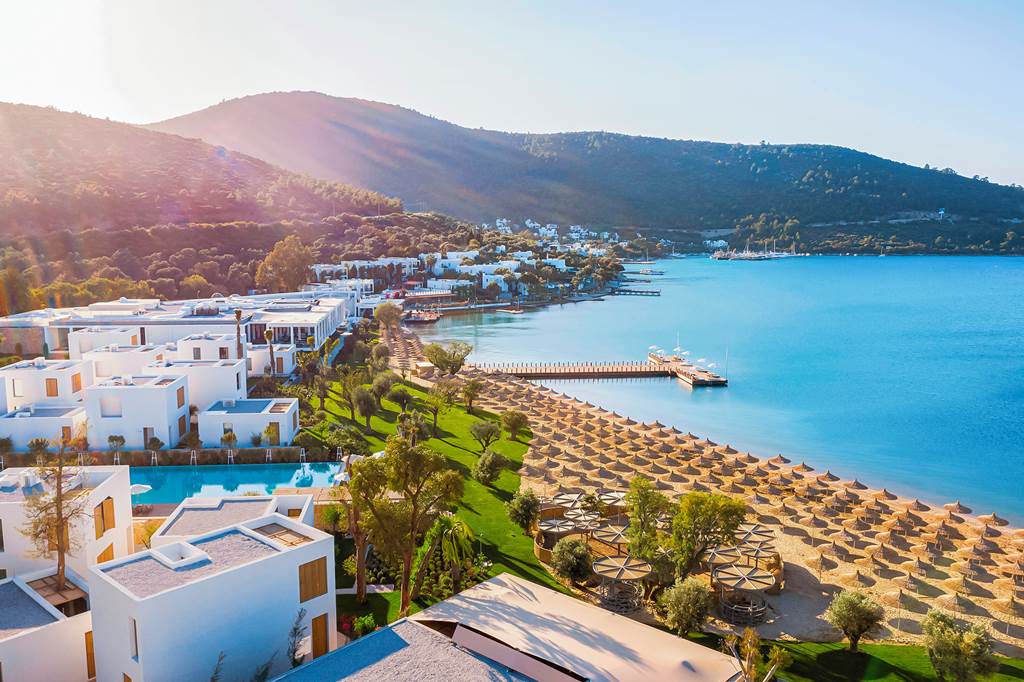 This beautiful beachfront resort is located in the picturesque village of Torba, with views across the sparkling Aegean Sea and a mountainous backdrop it's difficult to believe that bustling Bodrum is just 6km away. The hotel boasts superb facilities for family fun including designated kids' pools, sports activities and evening entertainment, however the sophisticated adult-only areas offer a quieter pace for those preferring a more mature holiday. Experienced and talented Chef's create culinary delights at the eight al carte restaurants, whilst the open buffet is rich and plentiful in its offering. The resort is home to twelve concept bars for innovative drinks and musical entertainment. The 495-room resort offers a range of room options; from standard garden and sea view through to executive and private deluxe lagoon. For those wishing to enjoy a VIP experience, the Voyage Assistant is on hand to arrange the finest of details to make your holiday simply perfect.
Casa dell'Arte Bodrum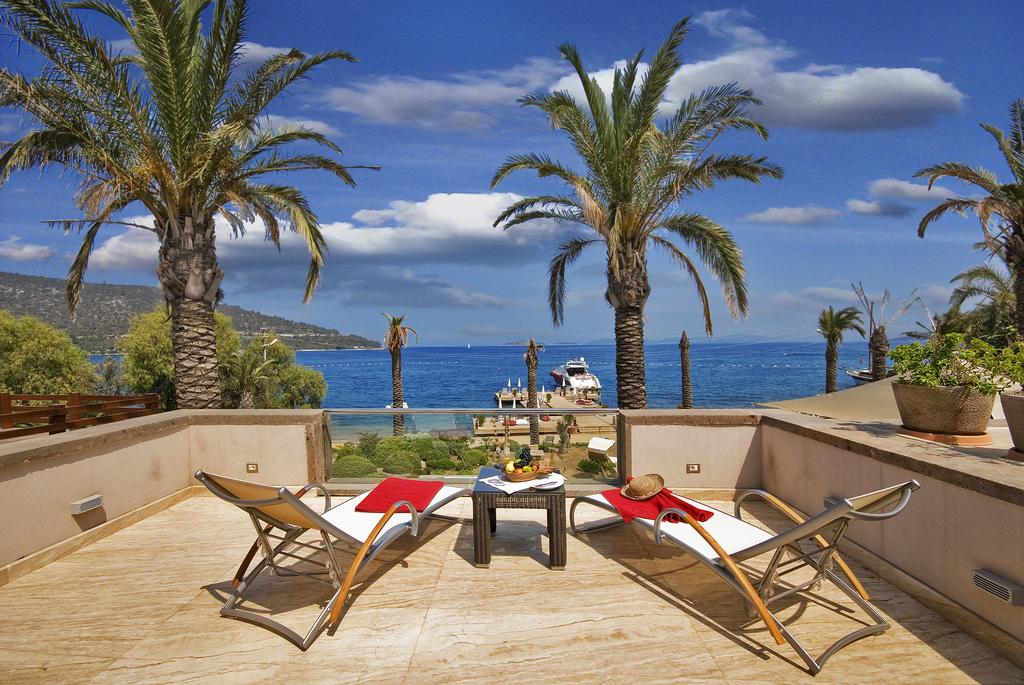 The magical fishing village of Torba is home to the stunning and super stylish Casa dell'Arte. Specialist art collections adorn the walls at this boutique hotel that comprises of just twelve rooms and suites, each named after a sign of the zodiac. Choose from panoramic sea-view suites to duplex or dome suites – all of which are elegantly appointed with a contemporary design. Guests can make use of the private pool and private jetty for a refreshing dip or indulge in some pampering with massage and spa facilities. Yoga and tennis can also be arranged whilst for seafaring types, there is a private yacht for hire complete with expert crew and again decorated with a private and impressive art collection.nDining here is an exquisite experience as head Chef at the hotel's renowned restaurant creates beautifully presented dishes and mouth-watering flavours all inspired by the unique geography of Bodrum. Buffet breakfast presents fresh and local ingredients that can be enjoyed in the well-manicured gardens or in the beautifully appointed and intimate dining room and drinks and snacks are served throughout the day and can be enjoyed at any of the hotel's private and luxurious spaces. This is a place that will make you feel very special.
Amanruya Torba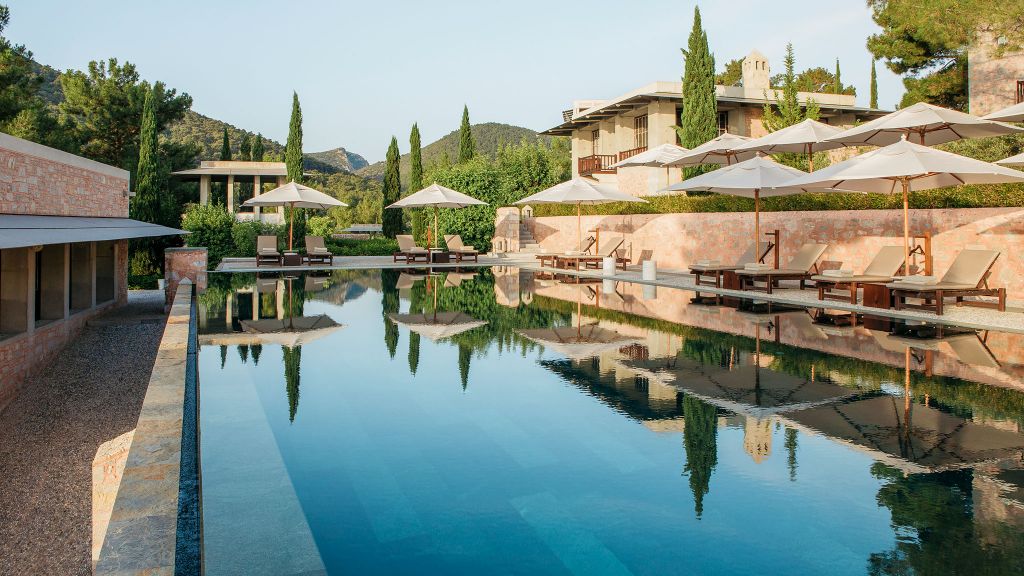 Tucked away in an ancient pine forest and just a few minute's walk from the Aegean Sea sits the Amanruya hotel. Inspired by traditional Turkish architecture and design the resort is understated but hugely handsome and offers guests an abundance of space and privacy. The hotel comprises of X rooms which take the form of refined bungalows all of which offer stunning sea views and have their own private pool. Guests can enjoy the use of a first-class spa, infinity pool and a private beach. For those seeking a more active experience there is a gym, yoga studios, a tennis court and the private jetty is the perfect place to launch a paddleboard or other water-sports activities. With an array of dining options and menus created from fresh, local and seasonal produce there is something to suite every appetite and occasion. From relaxed and causal snacks served poolside, beach club or on the terrace to the exquisite cuisine served high on the hillside at the Anatolian Dining Pavilion. Private dining options can also be arranged at many of the beautiful locations throughout the hotel. The privacy and secluded spots around this hotel make it the perfect getaway for a romantic retreat or ideal for those who desire some real down-time.
Mandarin Oriental, Bodrum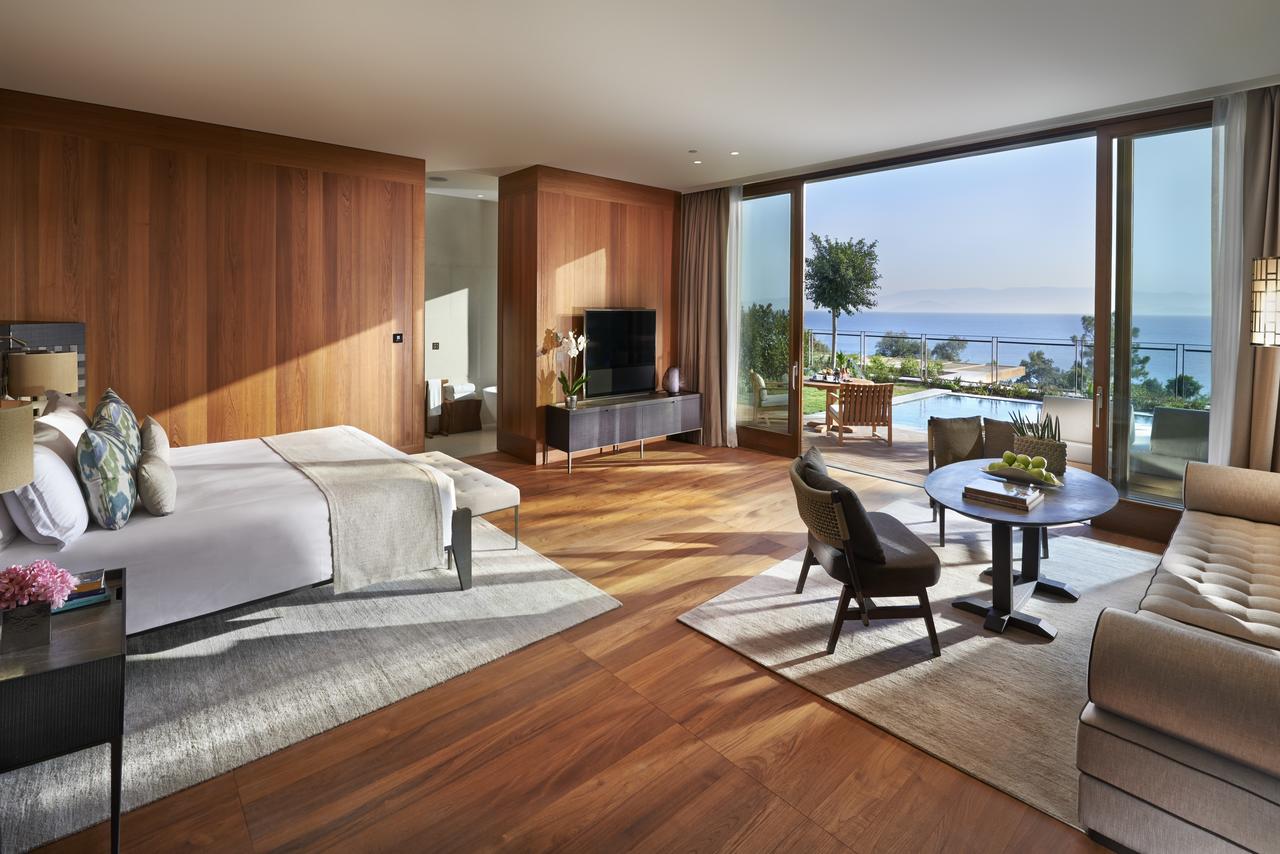 Set in a stunning location overlooking the emerald blue Aegean Sea, the Mandarin Oriental offers extreme comfort and class over 59 guest rooms, 29 suites and 36 apartments, each designed with an impeccable eye for contemporary Turkish and Oriental fusion styled furnishings. With 2 private beaches, a sumptuous spa and a wide-ranging variety of cuisines to choose from, you're guaranteed to feel relaxed and inspired in this opulent beachfront resort. The Mandarin Oriental lives up to its name in this palatial five-star resort, where guests can indulge in lavish services and facilities which include everything from yoga to designer shopping.
The Bodrum EDITION
Perched on a hill just 3km from the gorgeous Yalikavak Marina, The Bodrum EDITION offers enthralling coastal views of the turquoise coast with its terraces, promenades and seaside pools and spa. Sleek, sharp and stylish, this hotel offers luxuriant food, both casual and refined, as well as two sensational bars for a romantic Mediterranean inspired evening. With spacious rooms, suites and bungalows on offer, you can expect polished stone floors, marble baths and bright, light decor for ultimate relaxation. The service is kingly at this majestic five-star resort.
Caresse Bodrum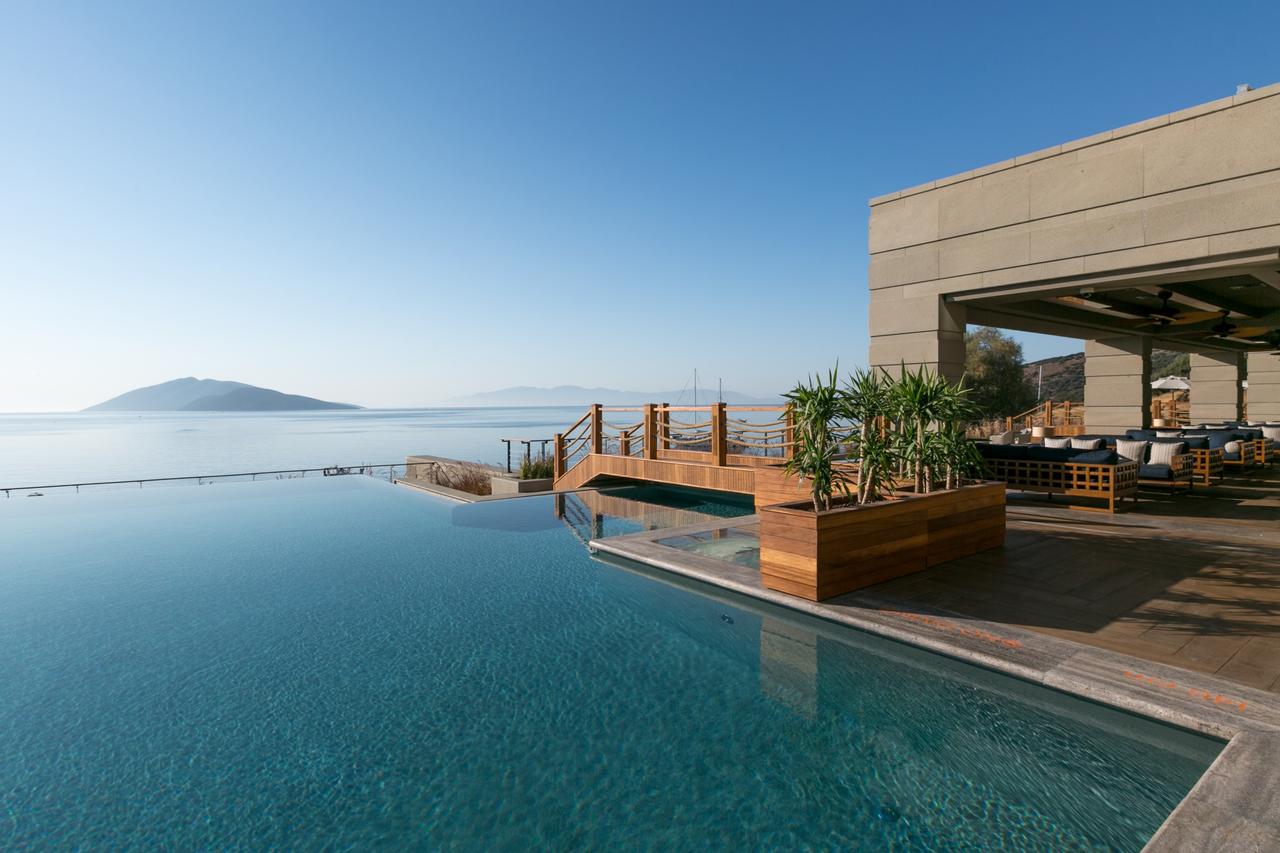 This luxury resort is set on a spectacular section of Bodrum's coastline, with stunning beaches, seaside pools and terraces. Its 75 airy rooms and 9 suites are decorated with modern furnishings complimented by a Turkish twist, enticing such esteemed visitors as the Saudi royal family. Its 4 restaurants feature everything from both contemporary and traditional Aegean cuisine to sushi, making best use of locally caught fish and rarer global options. The hotel's own boats are available to hire for coastal excursions, including a luxury yacht features in James Bond's Casino Royale. Take advantage of the dazzling and well-stocked seafront bar on the evening, watching the lights bounce off the sea water.
LUX* Bodrum Resort & Residences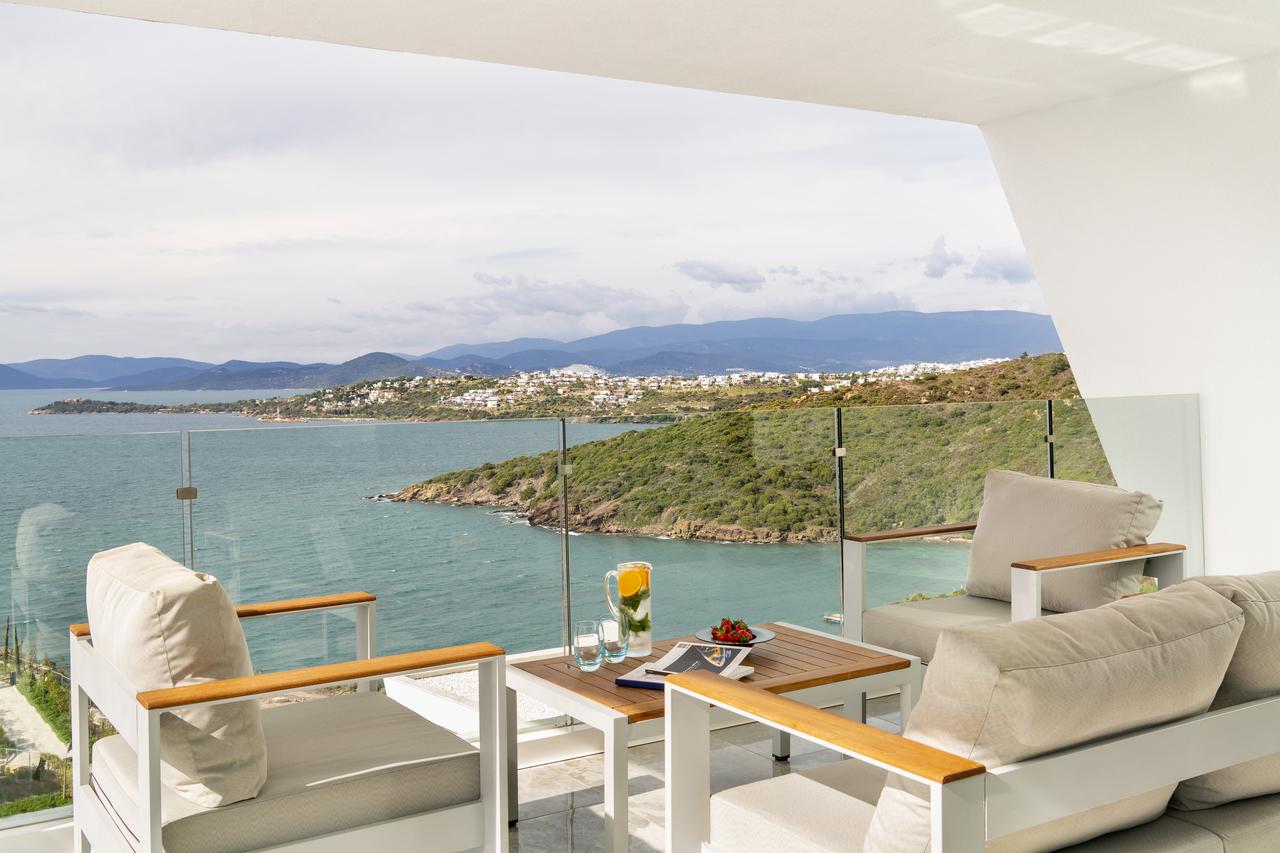 LUX Resort's Bodrum location is a refined coastal retreat, remotely set on a peaceful peninsula with panoramic views across the Aegean Sea. This contemporary steel and glass built hotel — decorated with modern and chic furnishings — staggers over a hillside setting of palatial palm trees and olive gardens, leaving guests with breathtaking seafront vistas over sandy beaches amid an intimate environment. Complete with impeccable services and facilities, the 91 rooms each feature a sea view with contemporary amenities. The hotel's 3 restaurants offer a fine variety of international cuisines, and the bars are ideally placed with access to the sea for romantic coastal drinks. This is an outstanding resort for those seeking a fine mixture or relaxation and splendour.
Kempinski Hotel Barbaros Bay Bodrum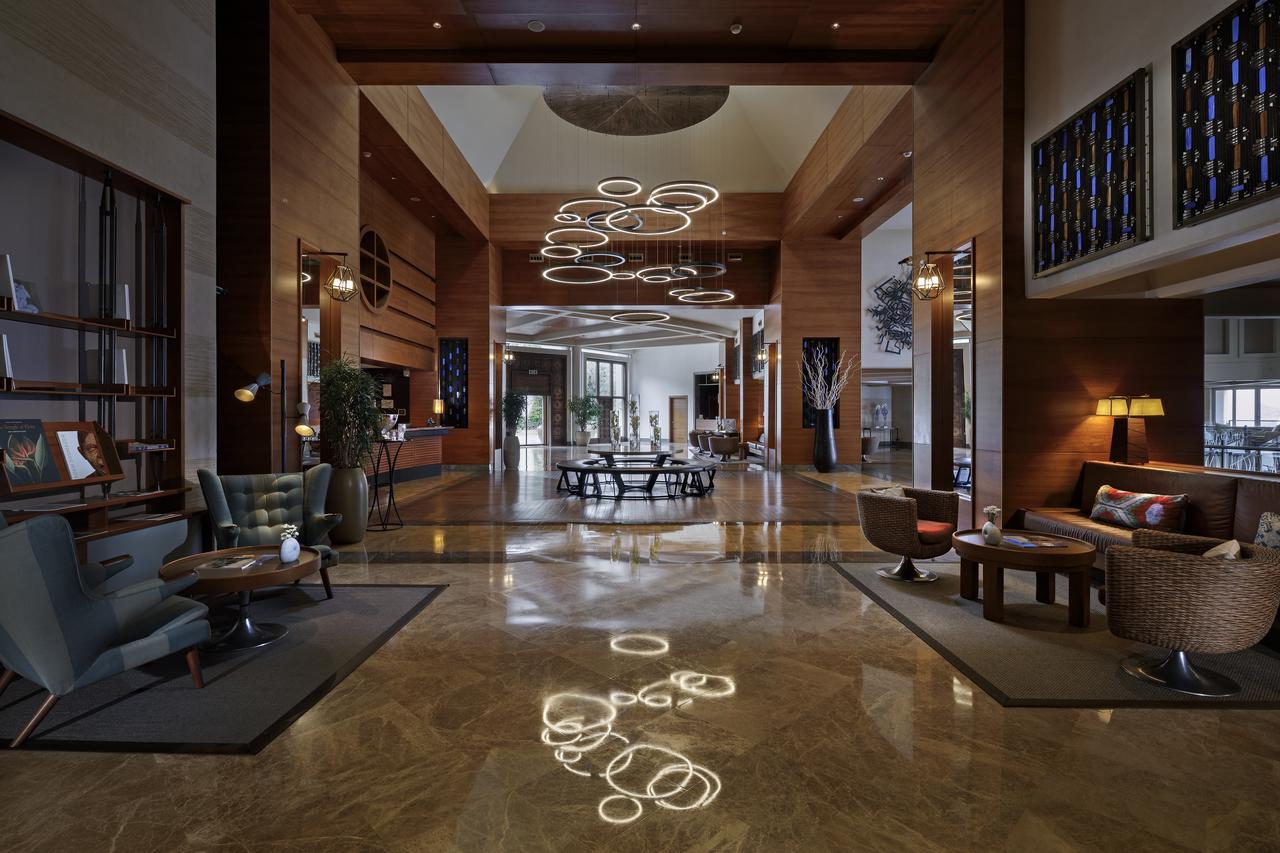 Hidden upon a cliff-top which overlooks the spectacular Barbaros Bay and its unspoilt landscape, this Kempinski owned resort is ideal for those looking for seafront style and natural grandeur. Classically decorated with high ceilings, traditional Turkish architecture, drapes and opulent furnishings, guests have access to private beaches lusciously kitted out with wicker beds and shielded, green vegetation. The service is friendly and the facilities top notch, with a choice of 3 restaurants on-site: Italian, Aegean and Vietnamese. A Turkish themed beach bar offers poolside lunches and evening drinks on a spectacular seafront patio.
Divan Bodrum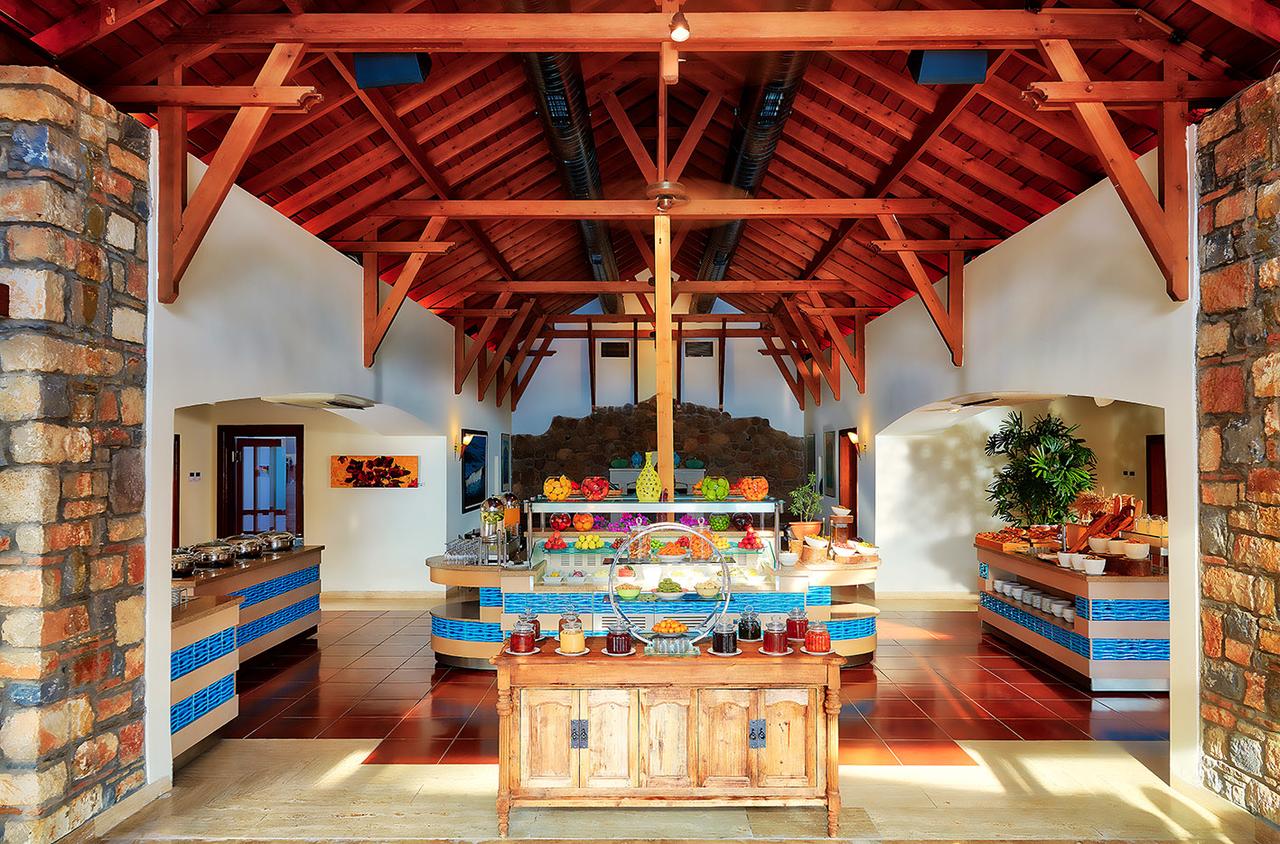 A boutiquey hotel within a secluded and serene setting, the Divan Bodrum offers exquisite access to the Aegean Sea with its sandy beaches and seaborne excursions. Described as one of the most excellent choices on the Mediterranean by the famed publisher Condé Nast, guests can expect both luxury and relaxation in this traditional stone-built resort. The hotel features 60 rooms from standard guest rooms to deluxe suites, with a simple, traditional style consisting of colourful furnishings, large windows and airy, spacious rooms. Its restaurant specialises in local Aegean and Mediterranean cuisine, with stunning seafood, meats and vegetable which draw on the region's multicultural culinary landscape. We recommend sipping on an inspired cocktail in the waterfront bar, relaxing in one of the hammocks as the sun sets over the Aegean Sea.
Nikki Beach Resort & Spa Bodrum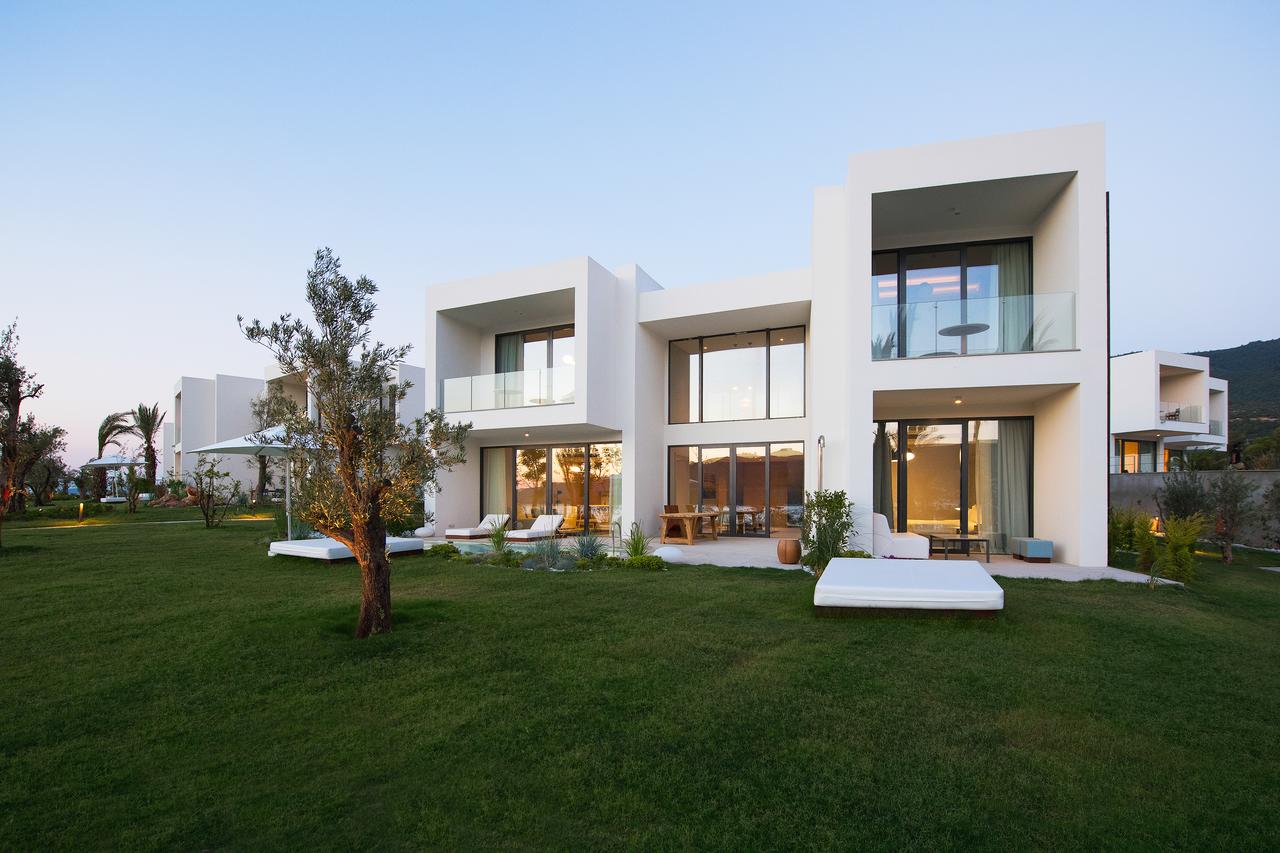 Styled as a fashionable lifestyle hotel, this coastal gem exudes natural pomp with its sheltered beach setting and rugged rock terrain. Consisting of 76 rooms kitted out with timbered balconies, stone patios and private terraces, each unit blends seamlessly with the natural surroundings, producing a truly intimate guest experience. With a restaurant, café and lounge each brushing next to the glorious coastal waters, the focus is on healthy, free-range cuisine and freshly caught seafood, be it through sumptuous sushi or inspired Aegean tradition. Services and facilities include live music and evening entertainment, yoga parties and relaxing spa treatments, and a multitude of seaborne activities including water sports and fishing.
Macakizi Bodrum
Maçakizi hotel is named after the Queen of Spades, known for her intelligence and beauty and the hotel certainly lives up to its namesake. Stylish and sophisticated with a cool laid-back vibe it's easy to see why this is a popular choice for the cool crowd in Bodrum, with celebrities such as Mick Jagger named on the guest book. The hotel is conveniently located and comprises of 74 rooms including 21 suites – for the utmost in privacy choose the Upper Deck suite which is hidden away on the hillside. Guests can take a quick dip in the small hotel pool or head to the seafront deck for the full Aegean aquatic experience. For those wanting something less strenuous guests can indulge in a treatment in the open-plan Nuxe spa treatment rooms. Dinner here is a glamorous affair in terms of ambience and cuisine with a wonderful menu ranging from fresh Mediterranean dishes to traditional Turkish cuisine. Each dish is a work of art and dining here truly is gastronomic experience. The Maçakizi family is expanding with the recent additions to its portfolio including Villa Maçakizi for the ultimate in a private getaway and the Maçakizi Halas 71 the sophisticated yacht which is available for charter and features the unique and high class dining experience the hotel name has become famous for.
Cappadocia
Kayakapi Premium Caves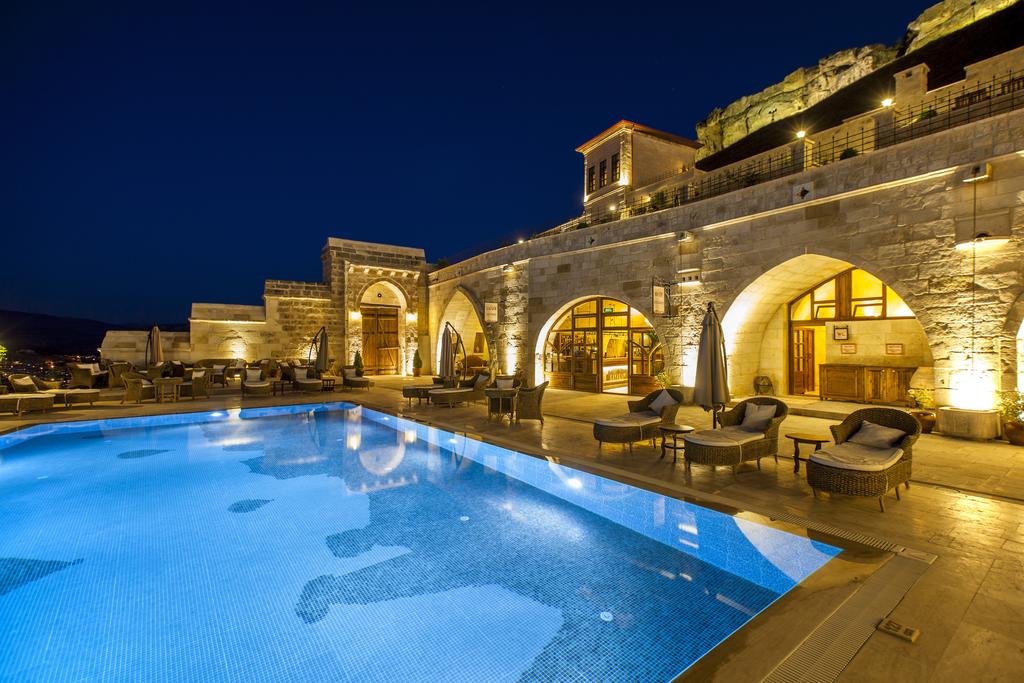 This carefully UNESCO-supported renovated historical building near Urgup offers the perfect romantic getaway, special family occasion or an educational adventure. The boutique hotel boasts spacious rooms, each with unique features like fireplaces, natural stone bathtubs, or personal hammam sauna, courtyard or terrace. All cavernous, softly lit rooms feature underfloor heating and are peacefully neutral in décor. The hotel boasts a lovely swimming pool for respite from the summer heat, whilst the onsite spa offers a range of massage and beauty treatments. The hotel has two dining options but is also just a five-minute walk from Urgup town centre within Goreme National Park.
Ariana Sustainable Luxury Lodge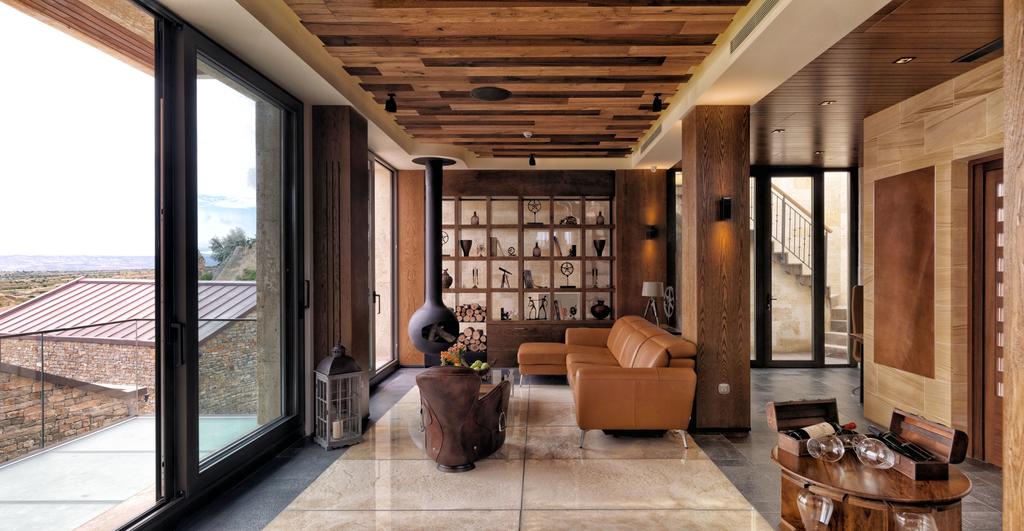 Enjoy living sustainably whilst also living the life of luxury at the Ariana Luxury Lodge. Breathtaking views over the Uchisar Valley, a deluxe concierge with private guided tours, plus and American-diner style restaurant and beautiful grounds, make this lodge a great option to call home whilst visiting the area.  The hotel itself is a stunning feat of architecture, managing to stand out and blend in with the surrounding landscape. Named after an ancient sun goddess, Ariana Lodge is a contemporary hotel with stunning grounds and sun terraces atop the hillside, ideal areas for a spot of yoga or an alfresco massage. The hotel is a light-filled, modern space adorned with bold artworks, ancient mosaics and vaulted ceilings. Rooms are contemporary with feature lighting, designer furniture and marble bathrooms.
Seraphim Cave Hotel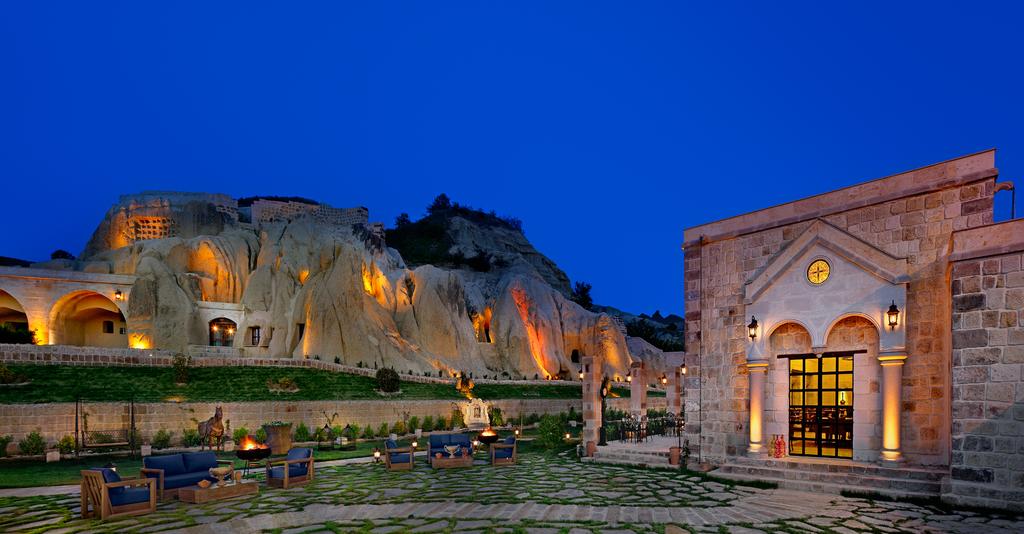 For an exceptional and authentic Cappadocia experience with top quality service and the luxury facilities expected of a 5-star resort, the Seraphim Cave Hotel is the place to stay. Housed in a historic mansion built in 1853, protected on the historic register, the hotel has lots of charming public spaces including a stunning terrace bar ideal for taking in the  famous sunsets and the serene courtyard is the perfect place to spend a relaxed evening. Each of the 21 rooms are unique with dark antique-style furniture and opulent textiles, creating individual indulgent cave-like hideaways. Guests at the a la carte Tasula Restaurant can enjoy the finest authentic local cuisine. For relaxation, the hotel boasts a wellness area with an indoor heated pool, sauna, massage rooms and Turkish bath.
Hanedan Cappadocia Suites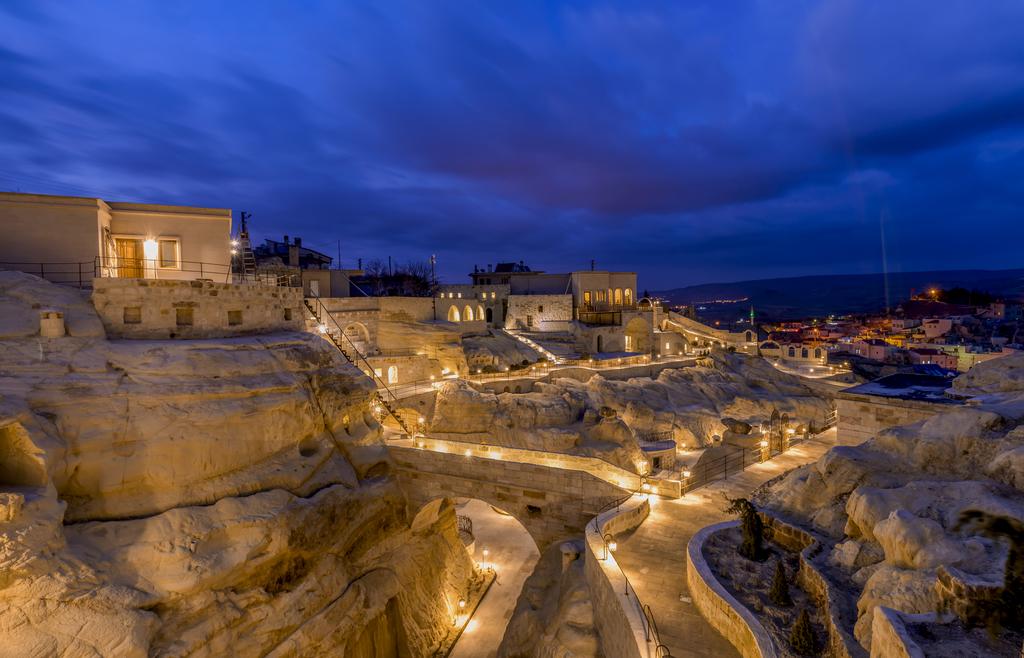 History and modernity beautifully comes together in this majestic luxury hotel. The hotel is located in Mustafapaşa  which offers beautiful panoramas of the incredible natural landscape as well as the town itself. Away from the commercial centre of Cappadocia, the hotel enjoys peace and tranquillity. Rooms are opulent and regal with sumptuous soft furnishings, Turkish patterned rugs and metal decorative beds, giving a homely touch to the cavern-like rooms. Some rooms and suites boast incredible vistas too. The hotel can organise a range of activities for guests including the Cappadocia Hot Air Balloon Tour, ATV quad bike rides, jeep safaris and horseback riding – all great ways to explore the beautiful natural landscape.
Cappadocia Cave Suites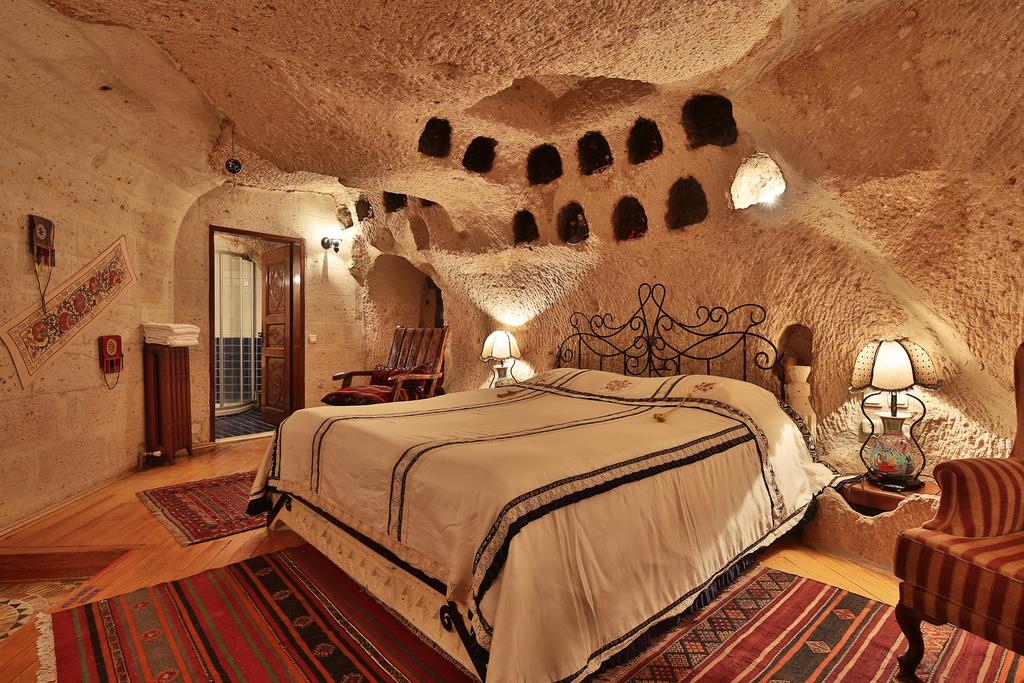 Located in the city of Goreme, at the heart of one of the most stunning locales in the Cappadocia region, Cappadocia Cave Suites combine the charm of an original cave dwelling with the benefits of a luxury hotel. All the rooms in this hotel are carved from rock resulting in  unique shapes and sizes. The quirky but elegant rooms combine antiques, wrought-iron beds, and fold-art textiles with all the modern luxuries such as flat-screen TVs and in most rooms, Jacuzzis. Larger suites boast fireplaces and several rooms have charming inside fairy chimneys. Patios are dotted around the hotel meaning guests can sit back in wicker chairs and enjoy the views whilst the hotel has plenty of inviting and intimate public spaces, giving you a real sense of privacy. The hotel includes a restaurant serving cuisine that reflects local ingredients and traditions.
Dalaman
Hilton Dalaman Sarigerme Resort and Spa
The all-inclusive luxury beach resort boasts an enviable location sitting on the edge of the Dalaman River and Mediterranean Sea offering guests stunning views from almost every angle. The super-stylish resort offers guests a choice of spacious upscale rooms and suites some of which include private pools and saunas but all of which present the highest standards of comfort. With a 23 restaurants and bars on side there is an excellent choice when it comes to dining, from the elegant oyster and champagne bar and adult only roof top bar through to the relaxed Citrus Patisserie and everything in between. Guests who enjoy the active life can take advantage of the fully equipped gym, Pilates studios, tennis courts, water sports and ten outdoor pools. For family fun, the kids club offers a comprehensive programme of activities and evening entertainment. Just a short stroll from the town centre and with easy access to local attractions guests can conveniently explore and soak up the local culture and atmosphere.
Rixos Premium Göcek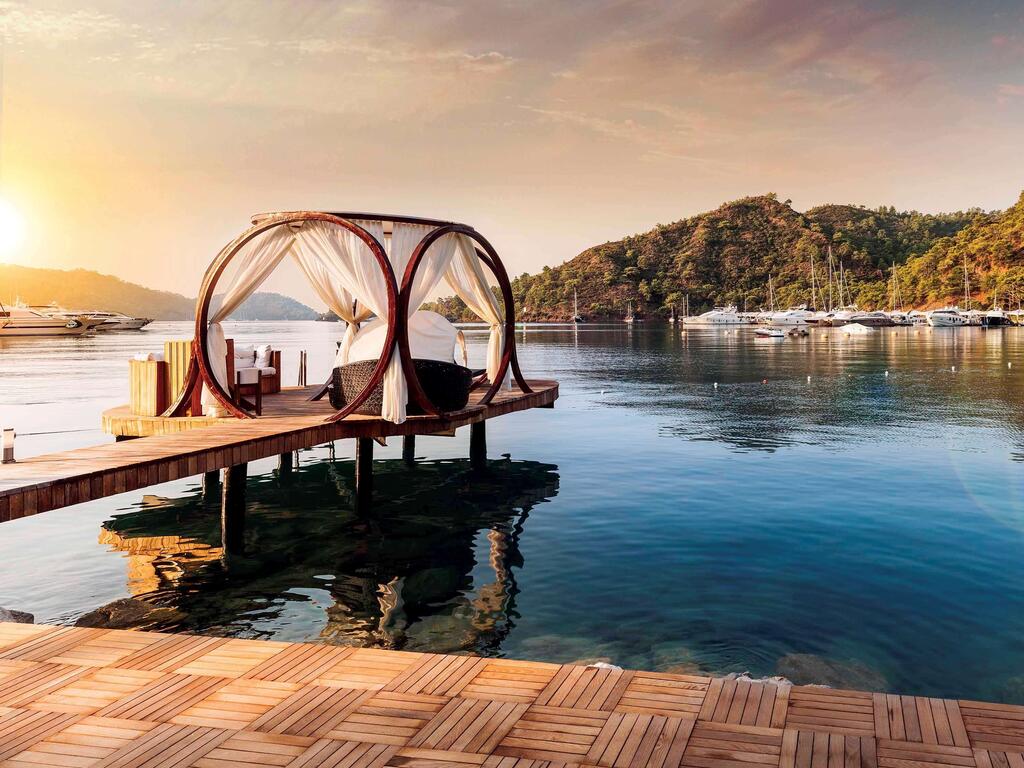 Nestled between two marinas amidst the natural beauty of pine forests, this adult only all-inclusive resort is the perfect place to escape to enjoy tranquillity and unforgettable moments. Accommodation is presented in the form of a suite or private villa. The villas are the perfect choice for a romantic retreat and are located and can be reached in five minutes by speedboat from the resort. Both accommodation options are beautifully appointed and offer easy access to the resort's secluded private beach and other facilities. The four exceptional restaurants and six unique bars, each boasting their own concept and style, offer guests a choice for every occasion from casual and fun to elegant and sophisticated.Rejuvenate your body and mind at the traditional spa or opt for something more energetic at swimming pools, tennis courts, fitness centre, aqua gymnastics and a whole host of water sports on the stunning coastline.
D-Resort Göcek
With its natural coves and wonderful beaches, D-Resort Göcek is a hidden treasure which seamlessly blends nature and luxury to offer guests an enriching experience. Rooms and suites combine contemporary architectural design with beautiful finishes to present a superb selection of accommodation options. The three onsite restaurants boast absolute individual style, ambience and menus with all three presenting dishes creatively prepared using the freshest of locally sourced ingredients. There are plenty of activities for the more energetic guests including a state of the art fitness centre and gym along with studio classes and variety of water sports. And when all you want to do is kick back and relax the extensive spa welcomes guest to relax in the Zen Garden, enjoy a Jacuzzi, Hamman, sauna, steam room, ice fountain, vitality pool or perhaps indulge in an award-winning skincare treatment by ERICSON LABORATOIRE.
Istanbul
Hagia Sofia Mansions Istanbul, Curio Collection by Hilton
Located literally within touching distance of Istanbul's UNESCO architectural and cultural wonders, the Hagia Sofia Mansions, Curio Collection by Hilton, offers a quintessentially luxurious guest experience. A collection of restored, historic mansion houses have been reimagined as beautiful, Ottoman style palatial suites, with access to fine dining, relaxed sun-kissed courtyard cafés, bars and restaurants, and a unique spa housed in one of Istanbul's ancient underground former cisterns. The UNESCO old city, the Sultanahmet Archaeological Park, on the European side is probably the most visited, and here one finds the Hagia Sofia Mansions Istanbul, Curio Collection by Hilton close to Istanbul's Basilica Cistern, steps to the Hagia Sofia Grand Mosque and beside the Hürrem Sultan Hamam, and the former sultan's Topkapı Palace. Yet despite being at the heart of this popular area, this Curio Collection by Hilton property has wonderfully authentic and tranquil areas including a beautiful dining courtyard with views to the Hagia Sofia museum and mosque and another charming restaurant with views to the historic sites.
St. Regis Istanbul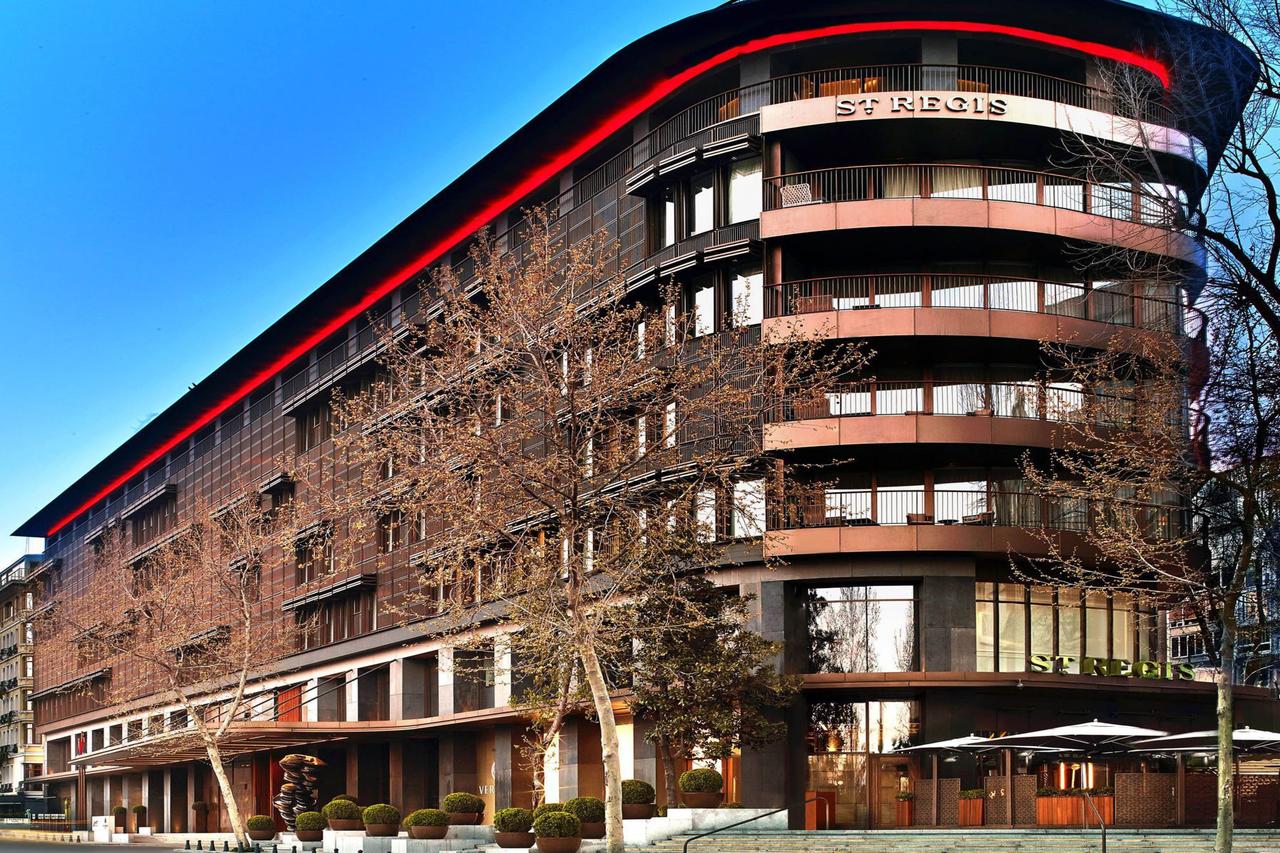 This hotel is located in the Nisantasi district and thus lies in the European side of Istanbul. The bedrooms in this hotel have a warm feeling and are decorated with copper and aluminium Art Decos. All rooms have a butler service. The hotel has a top-level restaurant and bar, but visitors can also choose to visit the many dining areas in the surrounding places. St. Regis Istanbul has seven floors, all of which are creatively designed with natural materials and excellent art. In the basement is an Iridium spa with seven massage rooms and a hammam.
10 Karakoy
TLE discovered that if you want to get the inside track on the vibrant metropolis of Istanbul then stay in the über-cool Karaköy district. And the best address to call home? Well that's '10 Karaköy', a Morgans Original Hotel. Found in a landmark, renovated neo-classical building, transformed by award-winning architect Sinan Kafada, this luxury boutique property, with signature Rudolf restaurant by Rudolf van Nunen, is filled with art, and striking design. Expect style, glamour and luxury at this 71-room hotel.
Four Seasons Hotel Istanbul at the Bosphorus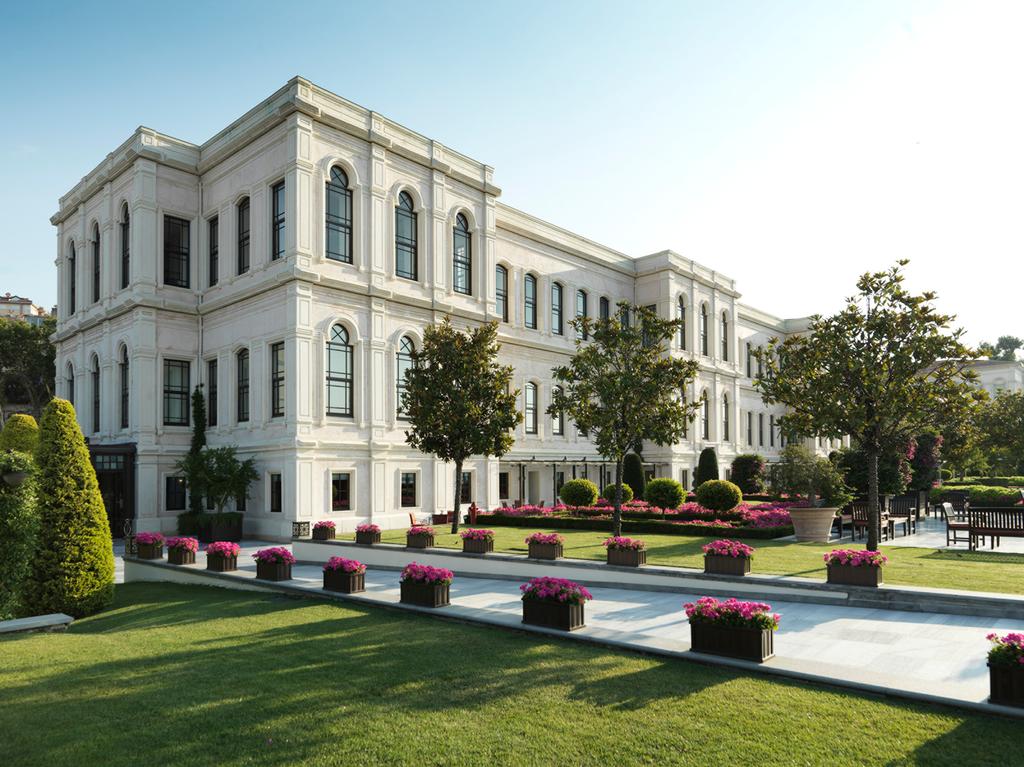 This hotel was transformed from a 19th-century palace to one of the most luxurious places you can stay when vacationing in Istanbul. It is located in Bosphorus, one of the best neighbourhoods in the city. This location allows visitors to watch the romantic sunset from a waterfront position. The hotel has 170 guest rooms, and these include 25 suites. The entire building features ancient Ottoman architecture, and the decorations are also inspired by contemporary designs. Visitors can also enjoy spending time in the large outdoor swimming pool that overlooks the Bosphorus Strait. Alternatively, they can spend time in the well-lit underground swimming pool. This one also features underwater music.
Park Hyatt Istanbul – Macka Palas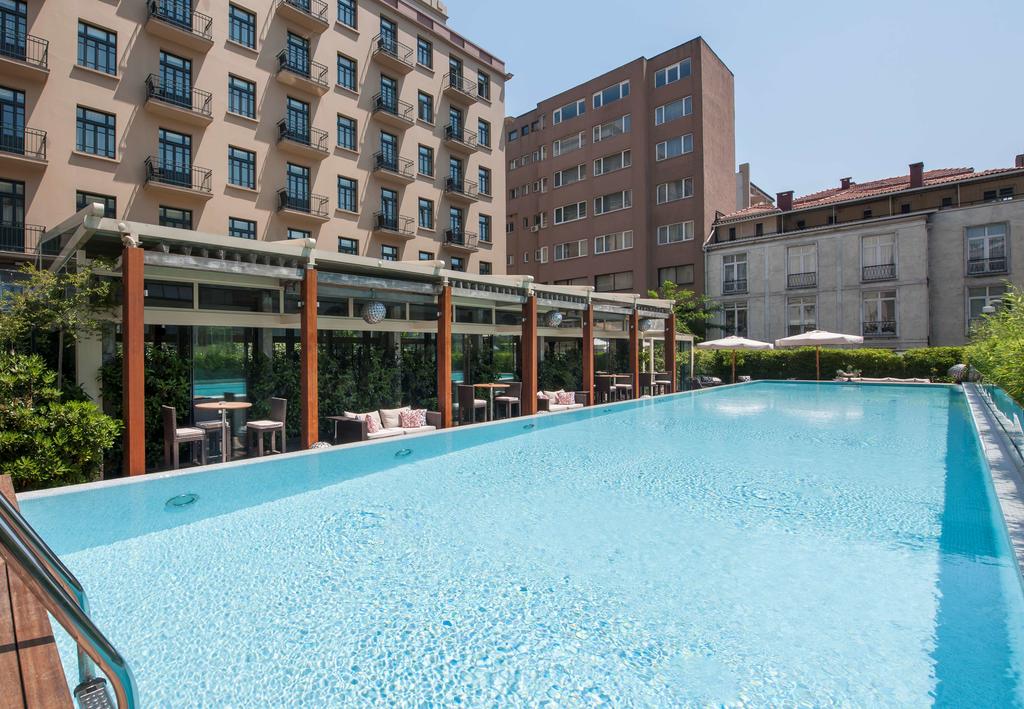 This hotel is set in the Nisantasi neighbourhood, and this place has been noted to be one of the best shopping centres in the city. The hotel is housed in a historic building that was constructed in 1922. It has, however, been redesigned to match modern levels of luxury and convenience, especially with regard to the showers and tubs. One of the highlights of this hotel is the wine bar that serves 70 varieties. It also has a fitness centre, free Wi-Fi, two meeting rooms and a spa.
W Istanbul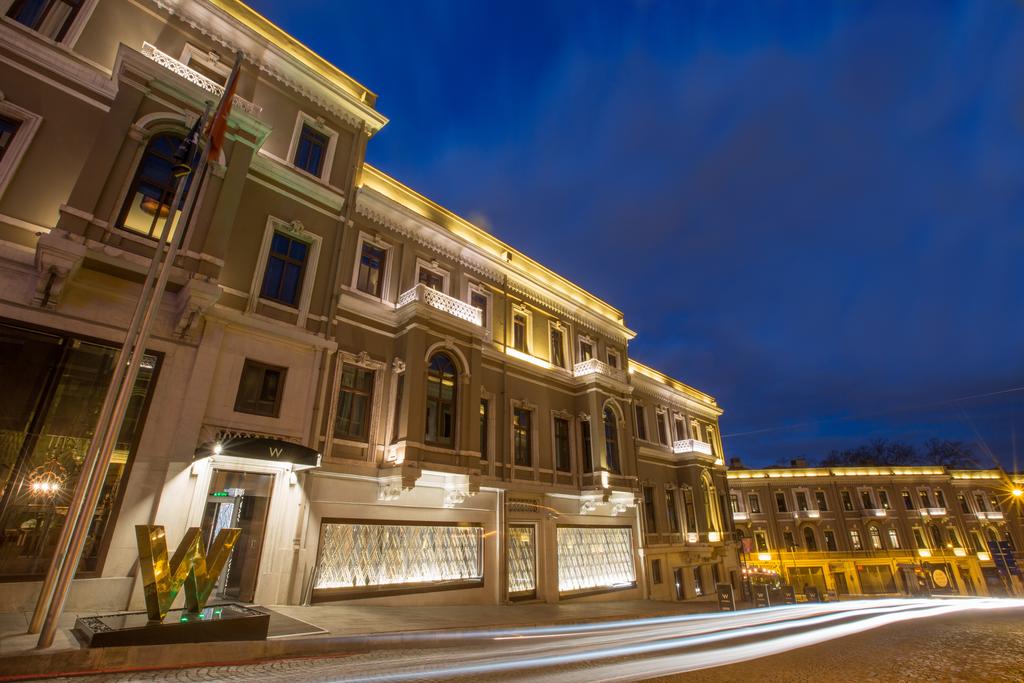 This hotel is located in the central part of Istanbul. The Nisantasi shopping centre is just about 15 minutes away from the hotel. The construction and design of this building have generally transformed the surrounding areas since it features classy modern architecture. That being said, some aspects of traditional Islamic architecture have been retained as references to the history of the place. The hotel has many useful amenities, including a spa and free Wi-Fi. It is important to note that Wi-Fi is only free in the public spaces of the hotel.
The Ritz Carlton Istanbul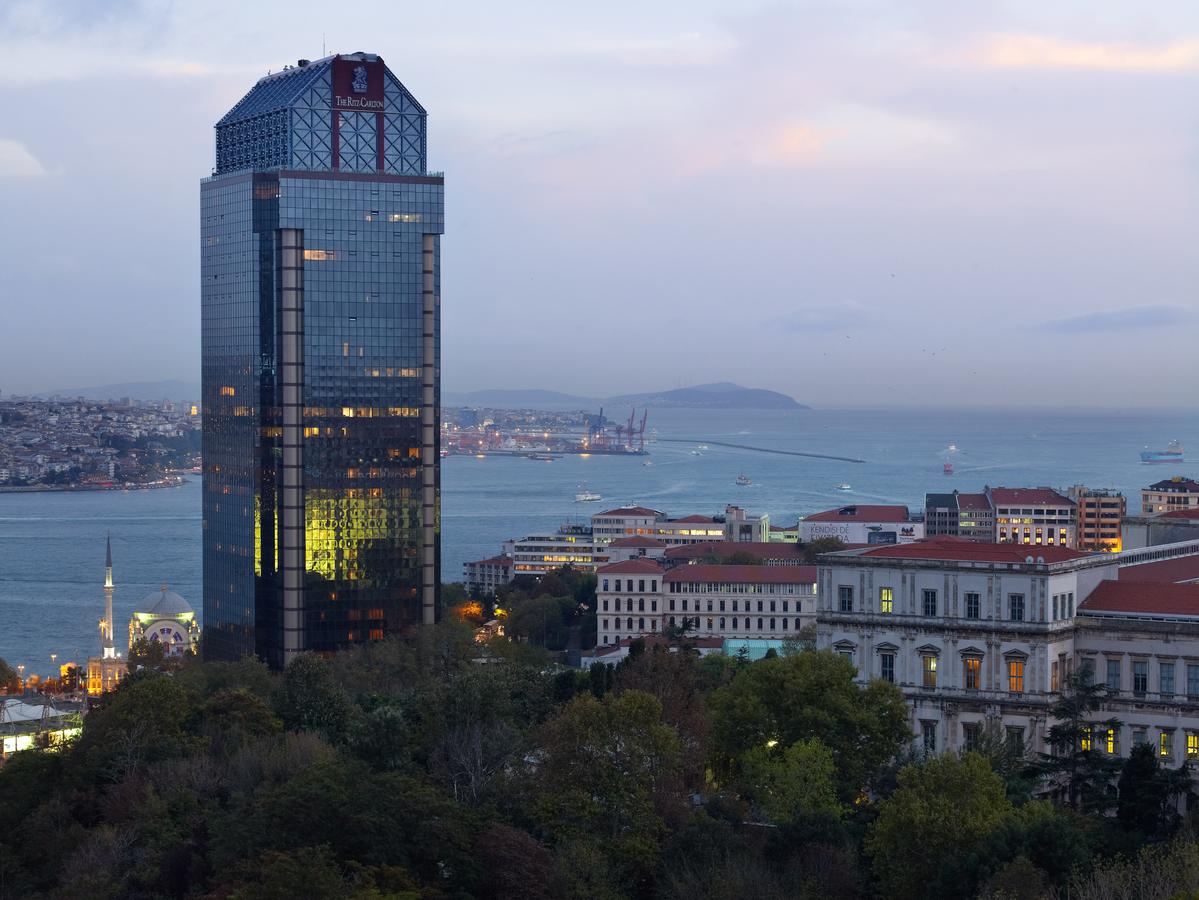 This hotel is set near Taksim Square, which puts visitors within walking distance of many tourist attractions in the city. A notable advantage of this hotel is the east-facing rooms that give you a perfect view of the beautiful Bosphorus. This is the best place to stay in if you enjoy watching the sunset as you enjoy a glass of wine. The rooms in this hotel are spacious, and they all reflect some forms of Ottoman designs.
Raffles Istanbul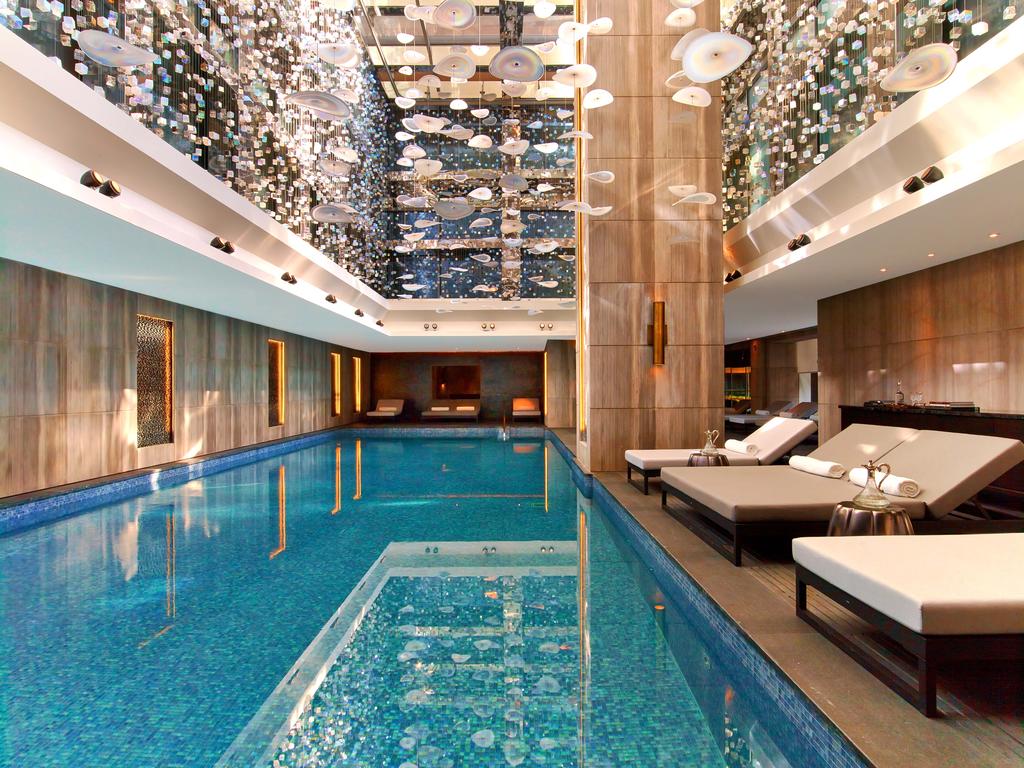 Raffles is part of the award-winning Zorlu Centre. Unlike many of the surrounding hotels, it is designed with a modern Turkish look. It doesn't feature any Ottoman references. The public spaces outside the hotel are adorned with Turkish and international art. The hotel has many essential services. These include a kids' club, bar, restaurant, sauna, steam room, fitness centre, pool, laundry and room service. They also have free Wi-Fi. The rooms are beautifully designed with works of art that are inspired by the Blue Mosque. They also have Nespresso machines and tablet computers for guests. Raffles has two restaurants: Arola and Lavinia. The first one focuses on Spanish cuisine while the second one specialises in contemporary Turkish maze.
Shangri-La Bosphorus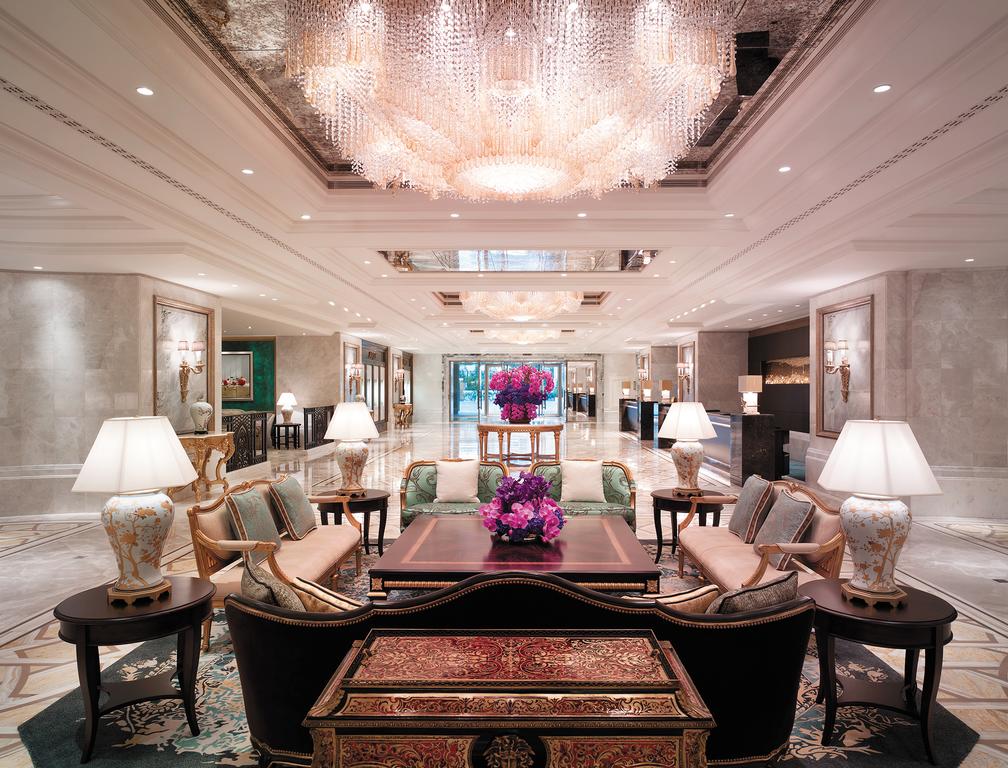 This hotel is part of a Hong-Kong group. It is located in Besiktas district on the European banks of the Bosphorus Strait. The hotel has a classic design, with a lot of marble being part of the construction. To complete the look, the hotel employs Turkish and Asian staff. Service in the hotel is personalised and swift. Some available amenities in the hotel include a bar, laundry, pool, room service, hammam, fitness centre, parking and a restaurant. The hotel has 186 rooms, and these have been noted to be some of the most spacious in the entire city.
Ciragan Palace Kempinski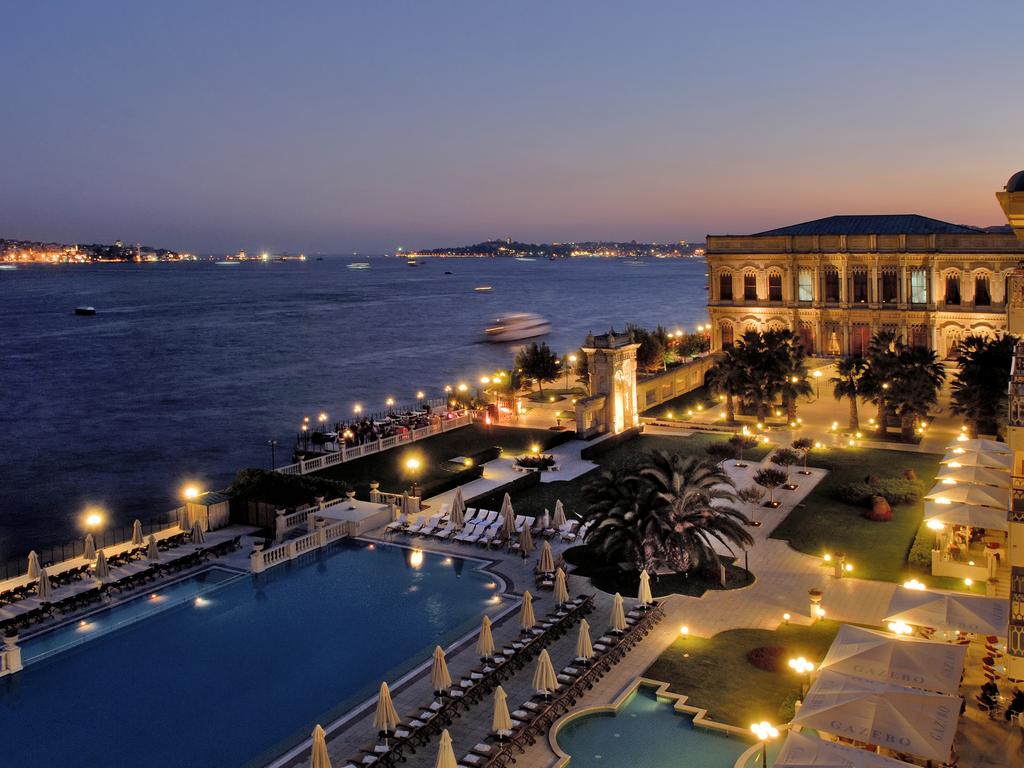 This hotel is located in the convenient Besiktas district on the European side of Bosphorus. It originally served as a palace for Turkish sultans. Many heads of state have stayed in this hotel, and this has only served to continue its tradition of serving royalty. The hotel has three restaurants, one of which is Tugra. This dining area provides classic Turkish cuisine and is well-known in Istanbul for its high quality. Visitors to the hotel enjoy 24-hour butler service, a luxury lounge, and a private entrance.
Grand Hyatt Istanbul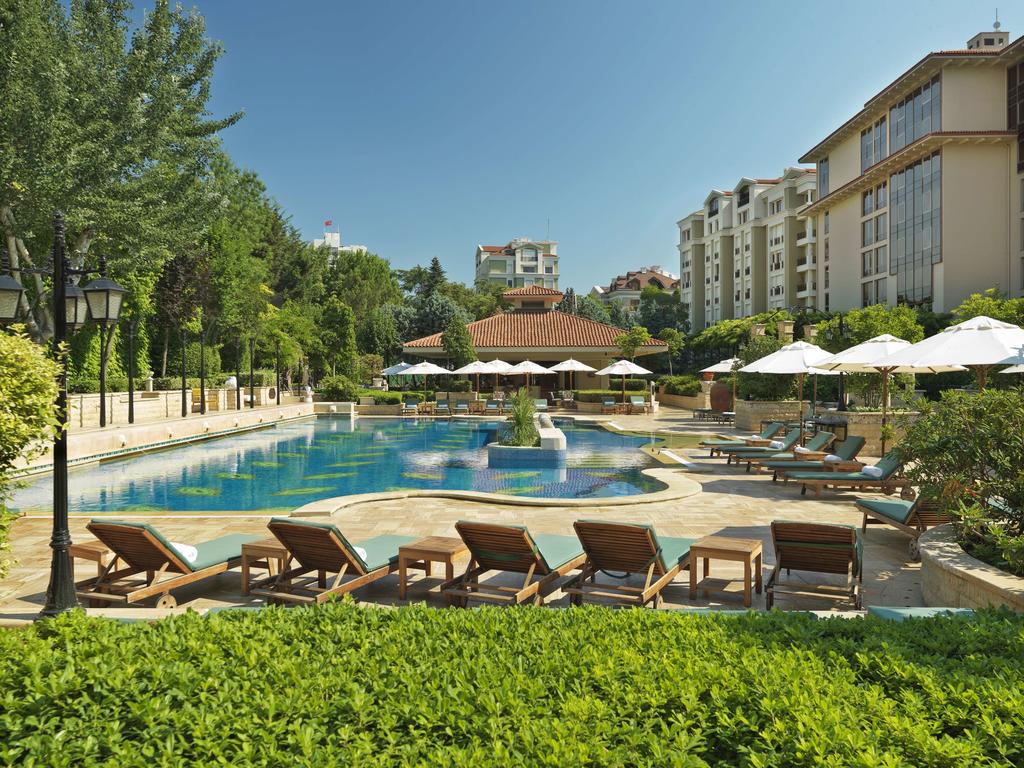 This hotel is located in Taksim Square, a central position in the city. This location allows visitors to visit many places in the city using public transport. The hotel has four different types of rooms: standard rooms, deluxe rooms, grand club rooms, and suites. Standard rooms are on the lower floors. Visitors can enjoy using the climate-controlled fitness centre. It is supplied with water, towels, weights, and machines. The rooms have LCD televisions, a desk and work area, a dining table, a minibar, and a Nespresso coffee maker. The minibar is fully stocked with beer, juices, and snacks.
Izmir
Izmir Marriott Hotel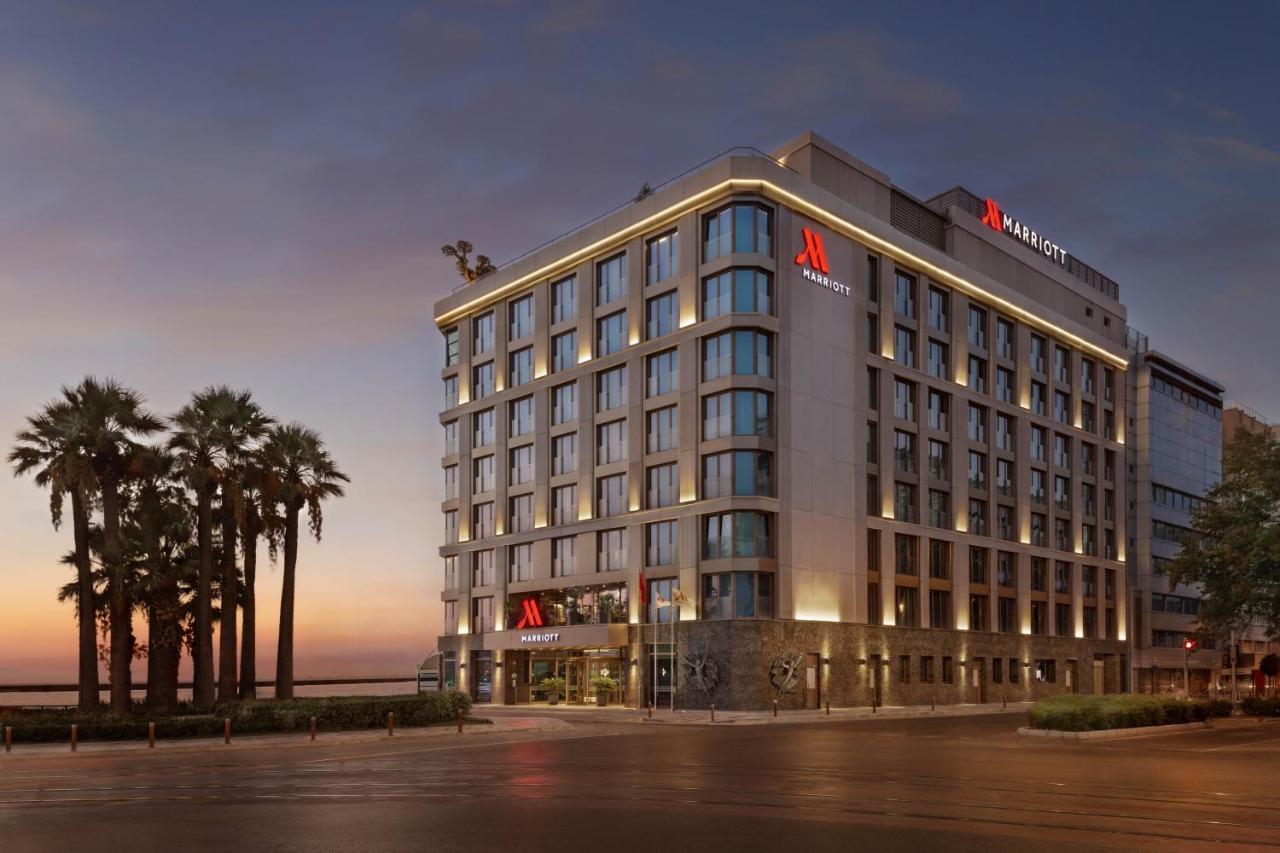 Stay right beside the sea, in the first Marriott property to arrive in the city. The 149-bedroom five-star hotel is a great choice if you want direct beach access. Its sea views are panoramic, not least from its rooftop bar and infinity pool. There's also an indoor pool and a full-service spa, a fitness suite, a lobby bar and an all-day restaurant. And those in premium suites can access the M Club Lounge. All of the rooms offer views of either the ocean or the city, with calming, contemporary decor and you can bring your furry friend along for the journey.
Wyndham Grand Izmir Ozdilek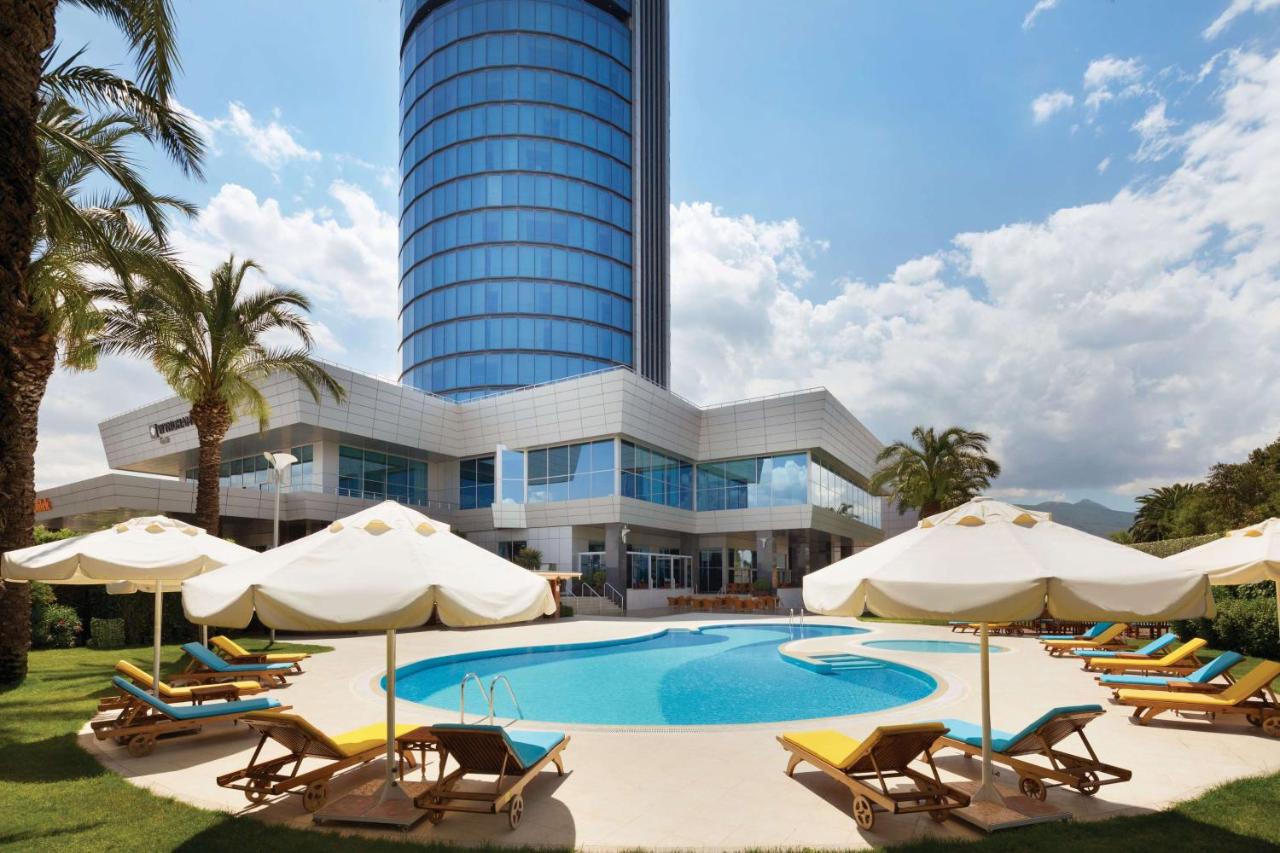 A sophisticated, glass-walled circular skyscraper, the Wyndham Grand Izmir Ozdilek is a glamorous and spectacular sight on the Anatolian Coast. With 219 bedrooms (all with floor-to-ceiling views), ten event spaces and seven restaurants, it provides plenty of choices for both the business and leisure traveller. Swim in indoor and outdoor pools, follow the thermal journey and take a Turkish bath at its Qualitas Spa; work out in its fitness suite; do a spot of souvenir shopping at the gift boutique; and have a flutter at the casino. The Wyndham Grand Izmir Ozdilek is very family-friendly providing a playground, children's activities and babysitting services.
The post Best Luxury Hotels In Turkey appeared first on .