This may be one of the smallest countries in South America, but it boasts one of the greatest and most significant wildlife attractions on the planet — the Galápagos Islands — where Charles Darwin formed the basis of the Origin of Species. Ecuador is also famed for its coffee, chocolate, links to the ancient Inca tribes, pyramids (one of which is said to be the closest earth gets to the sun) and the planet's very first Unesco World Heritage Sites. You'll hear 10 different indigenous languages spoken across Ecuador and may encounter as many as 4000 species of orchid.
Casa Gangotena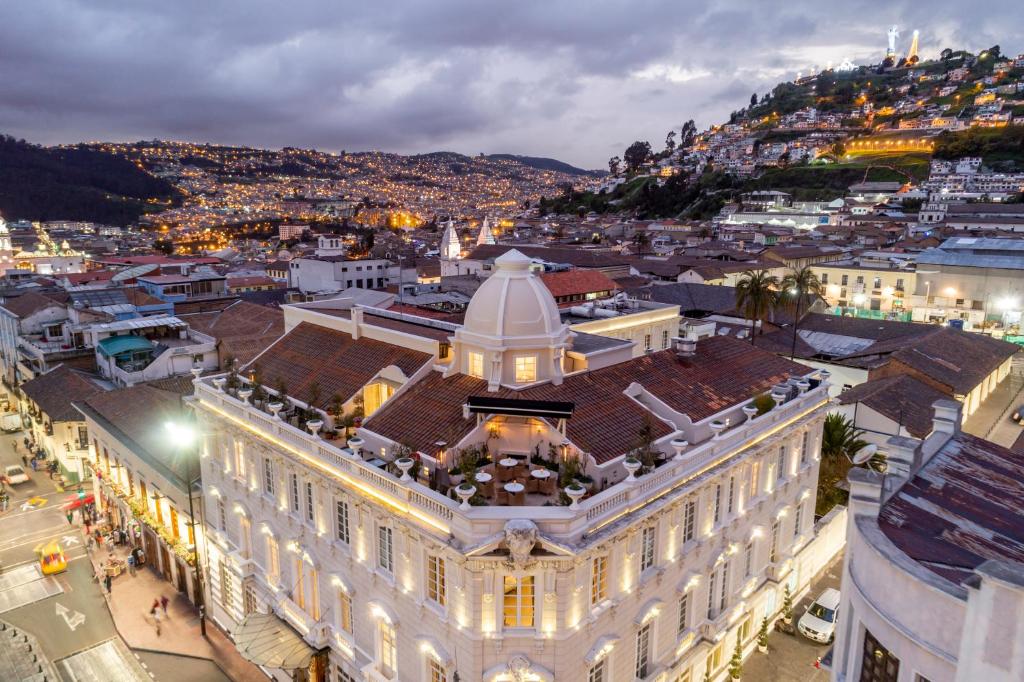 A former family home, this 18th-century mansion house is found on Plaza San Francisco in Quito. High-ceilinged period public spaces have a palatial look and feel, thanks to liveried doormen, an attentive concierge, original frescoes, heavy carved doors, a grand sweeping staircase and dark wooden panelling, while bedrooms (31 of them set across two floors) have received a lighter decorative touch. There's a lounge with a glass-atrium roof for coffee or a Quinteñan High Tea taken from the comfort of a sofa, a bar and Cedrón restaurant for all meals (breakfast is served buffet-style).
Mashpi Lodge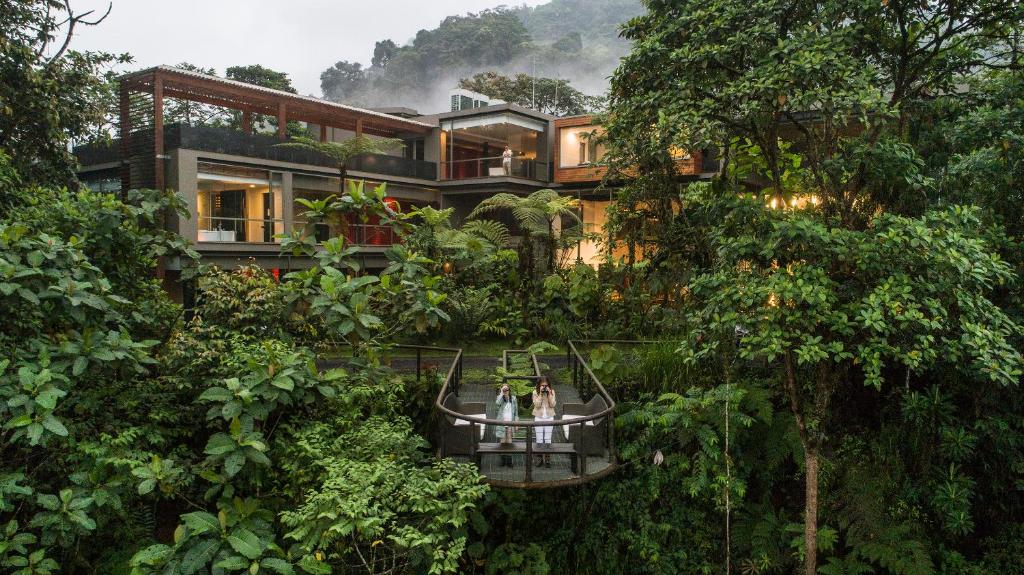 Nestled within around 3000 acres of a nature reserve in the Chocó-Andean Cloud Forest, this glass and steel construction was considerately embedded into its surroundings, so as not to disturb a single tree. A high wooden walkway leads to a platform perfect for bird spotting, and there's a hot tub so you can get closer to nature in spa luxury. Onsite, guests can explore the butterfly breeding and hummingbird gardens, many hiking trails and ride the Sky Bike and The Dragonfly cable car (stretching over a mile). Meals are served buffet-style in the restaurant and there are 24 bedrooms with full-length windows on at least one side.
Luna Volcán, Adventure SPA
High above the town of Baños, on the lower slopes of the (active, but safe) Tungurahua Volcano, lies this romantic, rustic-luxe 28-bedroom resort. It's a gateway to the Amazon Rainforest, and with 25 birdwatching and wildlife programmes provided in-house within the surrounding Andean forest, offers ample opportunity to discover Ecuadorian nature. Four pools are tiered, set into the volcano; the spa has a menu of 25 volcano-inspired treatments; and the hydromassage tub is filled with hot volcanic water. Guests can dine in the Runtun Restaurant and Café del Cielo with mesmerising views across Llanganates National Park.
Hotel Plaza Grande Quito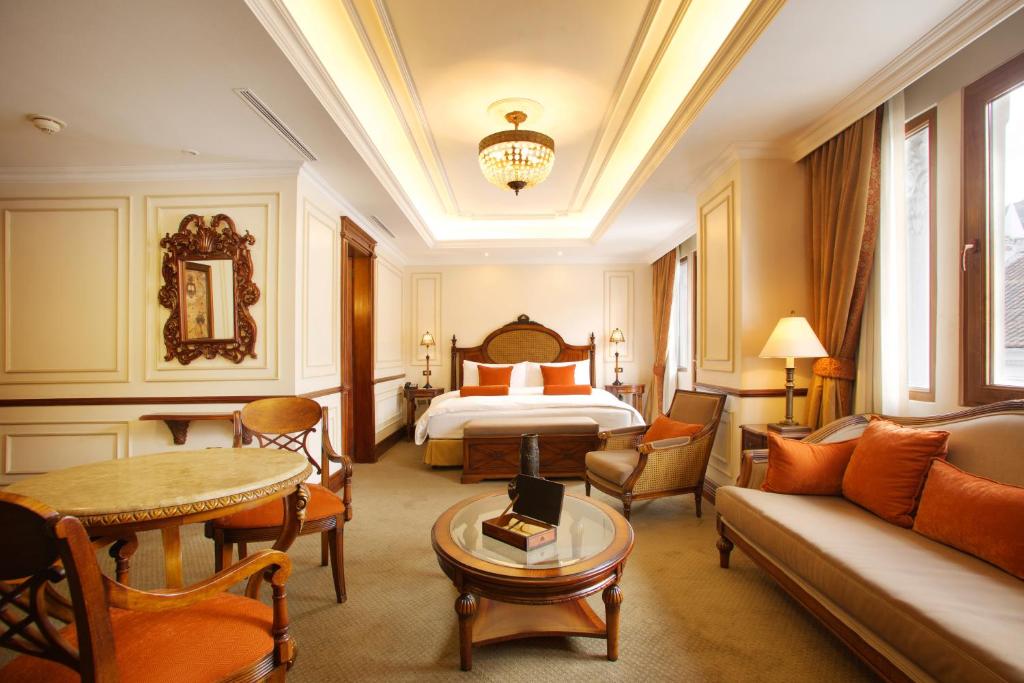 Found on Plaza de la Independencia in the Old Town, this building's colonial architecture is very much in keeping with the neighbourhood (which is best seen via one of the Hotel Plaza Grande's moonlight horse-drawn carriage tours). 15 suites with sitting areas are decorated in classic Ecuadorian style; dark wood furnishings, heavy drapes with period pelmets and marble bathrooms (plus the more modern addition of hydromassage tubs). The hotel has three restaurants; La Belle Epoque where gourmet meals are accompanied by operatic serenades;, Café Plaza Grande for traditional Ecuadorian cuisine to the sounds of live guitar; and El Caustro wine cellar with Flamenco music and shows.
JW Marriott Hotel Quito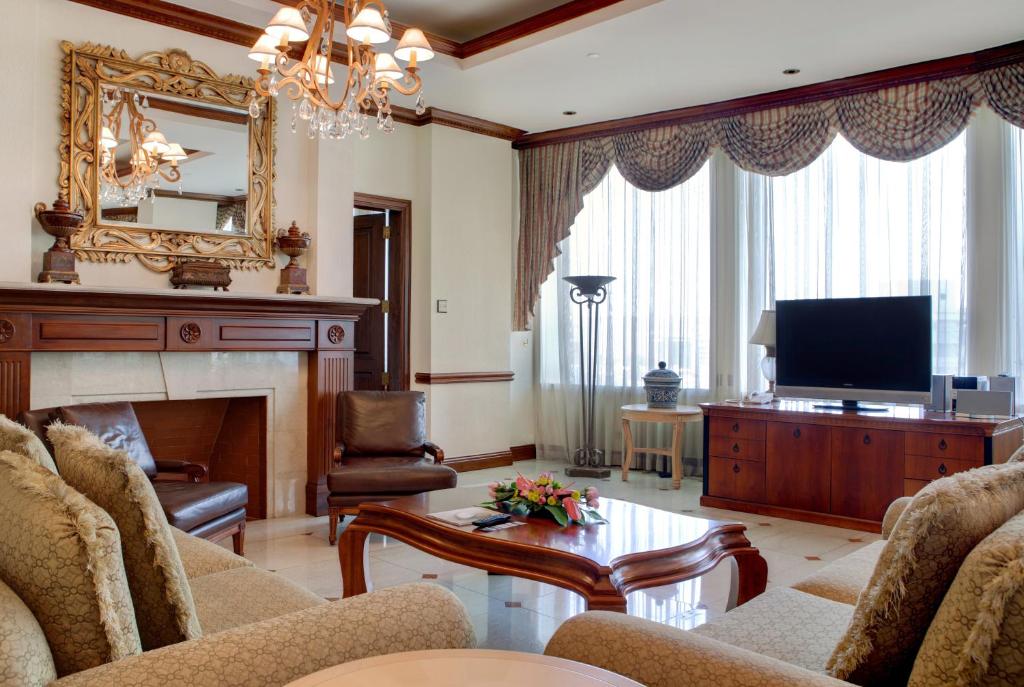 Stay in the city's La Mariscal district, within walking distance of shops and restaurants, and a short cab ride away from the Old Town attractions. The Marriott has a large-scale, international atmosphere, making it popular with business travellers. Onsite, you'll find boutiques, three pools (including one for kids), a large gym, a spa that incorporates a water circuit and fitness studios with a busy programme of classes. When it comes to wining and dining, you have the choice of the Exchange Lobby Bar & Sushi Bar, Café Gourmet for light lunches, Bistro Latino serving South American dishes and La Hacienda, specialising in Argentinean steaks.
The post Best Luxury Hotels In Ecuador appeared first on .