We evaluate several different options for transporting bicycles, and come up with one clear winner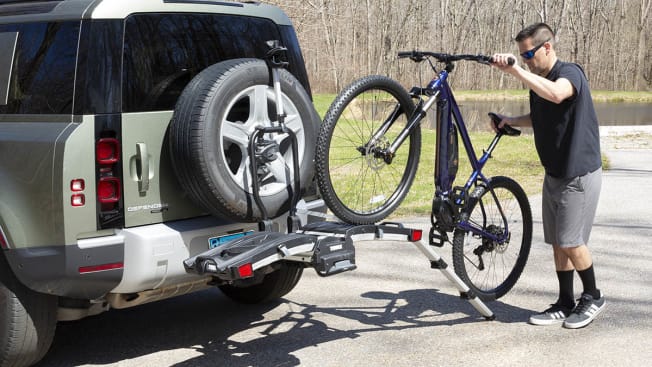 The Thule EasyFold XT rack makes it easy to load heavy bikes.
By Mike Monticello
Just as with bicycles, the landscape for bike racks has changed considerably in recent years. There are now many choices available in roof-, trunk-, and hitch-mounted racks, with models spanning from low-priced to premium. And pickup truck owners have the option of utilizing what's known as a tailgate pad. With so many options, it can be difficult to determine which is best for your bikes, vehicle, and budget. 
Because we have several cycling enthusiasts at the Consumer Reports Auto Test Center, we decided to take a deep dive into bike racks and carriers by purchasing several different models to evaluate. We researched the market, spoke to bike-store owners and riders, and gleaned information from major retailers and industry analysts.
We decided on a sampling of hitch-mounted platform racks, including a low-priced option; one designed with heavy electric bikes in mind; and another intended for serious cyclists who use their bike rack on a regular basis. We also evaluated low- and high-priced hitch-mounted hanging racks, and we tried two different-sized pickup truck tailgate pads to see what all the fuss is about with this rather ingenious setup just for trucks. 
We ordered the racks and tailgate pads online, assembled them in the ATC main garage, and tried loading all manner of bicycles. A few colleagues and I hit the road to our favorite trails and riding locations to see which racks kept the bikes the most secure while traveling and were the easiest to live with on a daily basis. So yes, we did a whole bunch of bike riding in the name of "science." 
Below, we go through the basic details, and with what we like and don't like, to help you choose the right type of bike rack or tailgate pad for you. Based on the ones we evaluated, our team favored the Küat NV 2.0 as our Editor's Choice. Yes, it's expensive, but it's well constructed, easy to load bikes onto, and did a great job of keeping the bikes safe and secure.
The prices below are what we paid for the racks. The weights listed below are based on CR's measurements.
Editor's Choice: Küat NV 2.0 and NV 2.0 Add-On Hitch Rack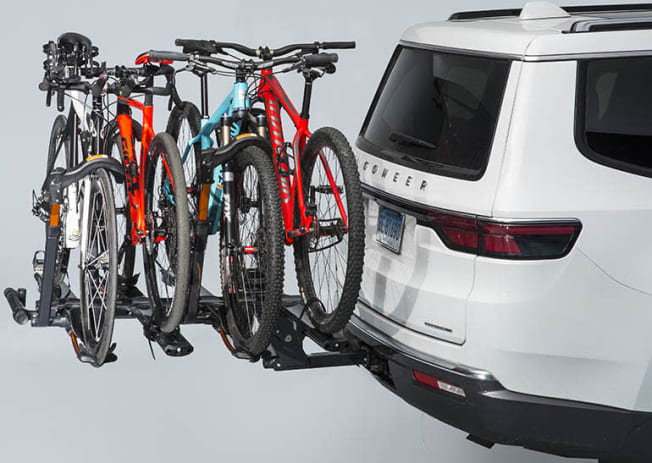 Küat NV 2.0 platform hitch rack with the NV 2.0 Add-On extension.
Photo: John Powers/Consumer Reports
Price: $849 for NV 2.0, plus $598 for NV 2.0 Add-On extension
Bike Capacity: 2 to 4
Where to Buy: Amazon, Backcountry, REI
Weight limit: 60 lb. per bike for NV 2.0; 40 lb. per bike when using NV 2.0 Add-On
Rack weight: 58 lb. for NV 2.0; 38 lb. for NV 2.0 Add-On
Assembly time: 30-60 minutes, easy assembly
People required to install: 1 to 2, due to the rack's size and weight
This high-end, well-made, and thoughtfully engineered platform hitch rack impressed the heck out of our evaluators. Küat, which has only been around since 2008, may be a relative newcomer to the bike-rack game compared with the more established Thule and Yakima, but they've obviously figured out what matters to hardcore cycling enthusiasts: A simple yet super-secure way to install and carry bikes on a hitch-mounted platform rack. Whether using the standard two-bike NV 2.0 or the optional NV 2.0 Add-On extension (for a total of 4 bikes), the Küat is hard to beat. 
We also appreciated that the entire rack can be tilted down so you can access your vehicle's cargo area, and that it includes a feature that allows you to use the rack as a bicycle work stand if you need to make a quick repair in the parking lot before your ride. There's an included cable lock for all four bikes, along with a locking hitch pin to prevent the rack from being stolen off the vehicle. And, because the NV 2.0 Add-On extension can be removed from the main rack, you don't need to always have a giant, four-bike rack hanging off the tail end of your vehicle unless you actually need the extra capacity. 
The biggest problem with the Küat is that it's just so darn expensive; at $849 for the two-bike version, plus another $598 for the two-bike add-on, we were out nearly $1,500. Still, those with pricier bikes might feel the sturdiness, security, and ease of use of the NV 2.0 is worth the peace of mind that comes from a rack that doesn't exhibit any of the scary shaking and bouncing that some racks exhibit. Its snazzy styling, thanks to anodized orange bits, is just icing on an already delicious cake. The Küat seemed a perfect complement to the large and luxurious Jeep Wagoneer that we installed it on for this evaluation.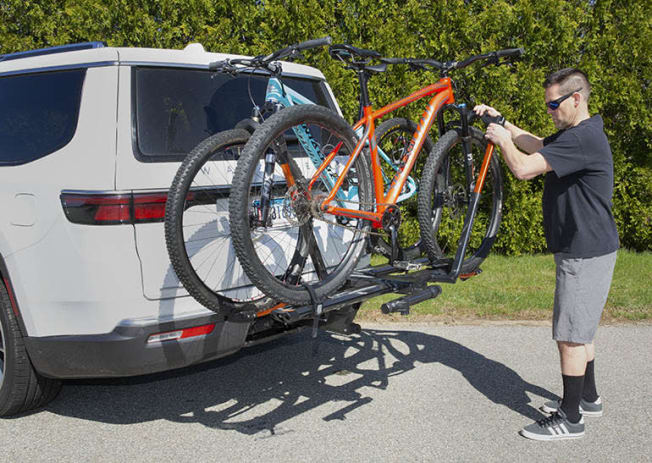 Loading the Kuat NV 2.0 platform bike rack.
Photo: John Powers/Consumer Reports
One of the big benefits of a platform rack over a hanging rack model is that the bike's weight rests on the tires, rather than sitting on the rack by way of the bike's top tube. I can tell you that I tensed up anytime I put my Santa Cruz Highball hardtail mountain bike on one of the hanging racks we evaluated, for fear its beautiful turquoise paint (I nicknamed it "the Miami Device") might get scratched. 
There's no chance of that happening with the NV 2.0, because no part of the rack touches a painted bike surface. The rack's adjustable front cradle locks down onto the front tire, while the rear wheel is secured with a simple-to-use ratchet mechanism. And, it proved super-solid out on the road, regardless of whether we were using mountain, road, or triathlon bikes. Glance in the rearview mirror when you encounter bumps in the road and you won't see the bikes shaking or bouncing around with the NV 2.0 as we did with some of the other racks we evaluated.
Not that everything is perfect with this nearly perfect rack. Even though the NV 2.0 affords more space between the bikes than many racks, giving less concern about expensive bike parts touching each other, we found that the extra-wide handlebars on today's mountain bikes can still cause the ends of the bars to be pushed into the opposing bike's seat. And with the NV 2.0 Add-On extension, the rack sticks extremely far off the back of the vehicle, making the whole setup quite long. In spite of this extra length, the Küat doesn't have reflectors on the back like some racks do.
Finally, the NV 2.0 is really heavy. This makes it cumbersome and awkward for one person to try to install the extension on their own, and it requires two people to install or remove the four-bike setup, because together they weigh 96 pounds. Also, while we appreciate that the rack can be tilted down to give access to your vehicle's cargo area, the lever to do so is poorly located. It works best as a two-person operation, with one person pressing the lever while the other supports the rack, especially if it's loaded with four bikes.
Ideal for E-Bikes: Thule EasyFold XT Platform Hitch Rack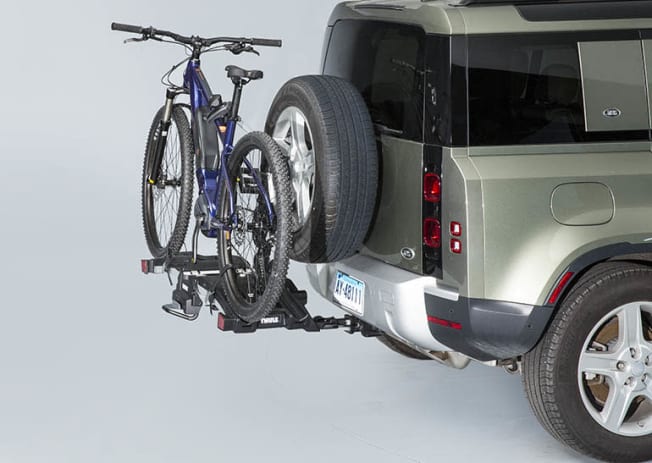 Thule EasyFold XT platform hitch rack.
Photo: John Powers/Consumer Reports
Price: $884
Bike capacity: 2
Where to buy: Amazon, Campmor, REI, Thule
Weight limit: 130 lb., or 65 lb. max per bike
Rack weight: 43 lb.
Assembly time: Under 30 minutes, easy assembly
People required to install: 1
The Thule EasyFold XT is a sturdy, compact hitch-mounted platform rack that includes a ramp to reduce the effort needed to load a bike. This is an especially handy feature for electric-assist bikes (known as "e-bikes"), which typically weigh 50 pounds or more. The ramp can make loading any bike onto the rack less back-wrenching, a boon for older cyclists or people who are shorter in stature. We also found that the rack design—which extends farther out behind the vehicle than some—works well on SUVs that have a full-sized spare tire mounted on the liftgate, such as the Land Rover Defender that we used for this evaluation.
Although we like that the EasyFold XT comes with a ramp, we found it both narrow and short. This narrowness means it takes precision to keep the bike's tires centered on the ramp, especially for bikes with wider tires. The ramp's rather short length results in a steep loading and unloading angle on vehicles that sit high off the ground—such as larger SUVs and pickup trucks. The ramp stores neatly inside of the rack, but it's difficult to access it when two bikes are mounted.
Thule made it easy to attach the bikes to the rack, thanks to simple-yet-effective ratchet straps that latch onto both wheels, giving confidence that you've cinched them down securely. But I wasn't a fan of the rubberized-plastic clamp that fastens to the bike's downtube to hold the bike in place; the way it pressed so tightly against "the Miami Device" made me cringe. Also, plan on some major overlapping of bike parts, such as handlebar grips or brake levers jamming into the other bike's seat, particularly for mountain bikes with their wide bars. But once everything was cinched down, the bikes proved very secure on the rack while driving.
It's helpful that the rack can be dropped down and out of the way to make it possible to access your vehicle's cargo area even when you have bikes on it. Plus, the EasyFold XT not only folds up easily when you don't have bikes on it (just like the name says) but also can be rolled around on its wheels when you take the rack off your vehicle, like a piece of carry-on luggage—neat! Because the rack completely blocks the rear license plate, Thule includes a license-plate adapter so that you can relocate your vehicle's license plate. We also appreciate that it has two big red reflectors on the back of the rack.
Low-Priced Platform: Bell Right Up 350 Platform Hitch Rack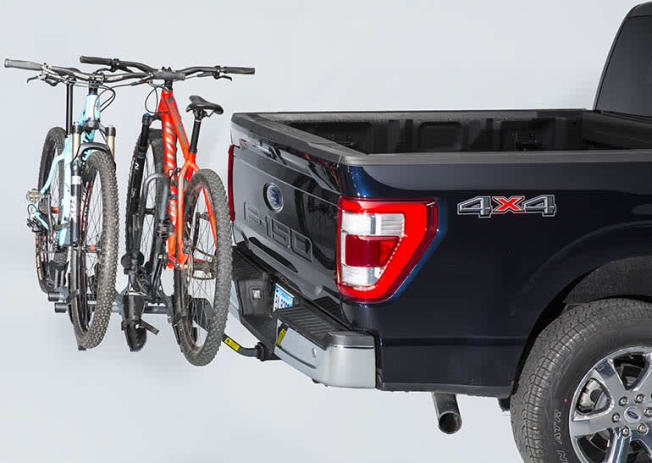 Bell Right Up 350 platform hitch rack.
Photo: John Powers/Consumer Reports
Price: $160
Bike capacity: 3
Where to buy: Amazon, Walmart
Weight limit: 105 lb. total, 35 lb. max per bike
Rack weight: 25 lb.
Assembly time: 45 minutes. Rack came completely disassembled, with many parts, but the instructions were detailed and the rack was easy to put together
People required to install: 1
The Bell Right Up 350 is one of the least-expensive hitch-mounted platform racks available. It's also very light, at just 25 pounds according to our scale, which makes it easy for one person to put it on and take it off a vehicle. 
But you get what you pay for here: The Right Up 350 feels rickety and a bit cheaply made, and the bikes shake disconcertingly back and forth over any bumps in the road. 
"I was so worried about my two bikes on this rack during my drive home," says Jon Linkov, one of our evaluators who is an avid road- and gravel-rider, and a known terror on local group rides. "The whole rack, and the bikes, were shaking so much over any bump in the road that I swear I spent almost as much time looking in my rearview mirror to check on them as I did at the road ahead." 
I noticed the same thing. The rack, and the three mountain bikes I had on it, shook so violently over a particularly big bump right near our office that I immediately pulled off to the side of the road to re-check that the rack was properly hooked up to our Ford F-150's receiver, and that each bike was secure on the rack. I was somehow both relieved and thoroughly disappointed that everything was hooked up properly. 
When I went for an afternoon mountain bike ride at a nearby park in Hebron, Conn., I brought only my Highball hardtail. With just one fairly lightweight bike on it, both the rack and the bike only shook minimally when I encountered bumps, which made for a much less stressful drive.
If you can get past the fear factor of how much your bikes are going to bounce around every time you go over a bump, there are some upsides to the Right Up 350. First, as a platform rack, it's easier to load bikes onto it vs. the tall lift required with a roof rack. We like that the plastic platforms that the bike tires sit on slide back and forth so that you can easily adjust the rack to work with different-sized bikes. 
We also like that, even when bikes are on the rack, it doesn't hang all that far off the back of the vehicle, and it folds up nicely out of the way when you aren't carrying bikes. It has two small reflectors when the rack is in its down position. 
But remember what we just said about the rack not extending all that far off the back of your vehicle? The downside is that the bikes sit very close together on the rack. I found that it's a tight fit to try to haul three mountain bikes, with brake levers rubbing against the seat rails of other bikes, shifter mechanisms and brake levers rubbing against the seat itself, and shifters rubbing against other bikes' bar grips. This can be a particular concern with more premium bikes. And if your bike has platform pedals, as opposed to the more streamlined clipless pedals, they will likely be really close—or possibly touching—spokes or wheels of the other bikes.
We also realized that you can inadvertently scrape the bike's downtube against the rack's metal stanchions (which are there to help secure each bike) when you're putting bikes on the rack. The stanchion's rubber piece that secures the bike to the bar doesn't stay up and in place, so you have to remember to pull the rubber element up each time before you lean the bike against the stanchion.
It's fairly easy to secure the bike's wheels to the rack with the velcro straps, but they don't feel as sturdy or secure as a ratcheting mechanism that some racks use, and we wonder if the velcro might lose its grippiness over time as it ages and collects road grime. 
Further, we also found that it's easy to scratch the rack's paint as you're adjusting the metal downtube stanchions within their three available positions. It requires a slightly awkward process of squeezing two thin levers together to move them from one set of holes to another, and you might scrape the rack's paint while doing so. 
 And finally, the rack doesn't have the ability to tilt out of the way in order to open an SUV's liftgate or a sedan's trunk. You also need to keep a tool with you in order to remove the rack from your vehicle's hitch receiver, as it isn't a "tool-less" hitch design as with some.
 With these faults in mind, the Right Up 350 is best for occasional use, such as vacations, or if you have a small car rather than a larger SUV. But we'd suggest opting for something more rigid that holds bikes more securely if you plan on using your rack often.
Pickup Truck Perfection: Race Face T2 Tailgate Pad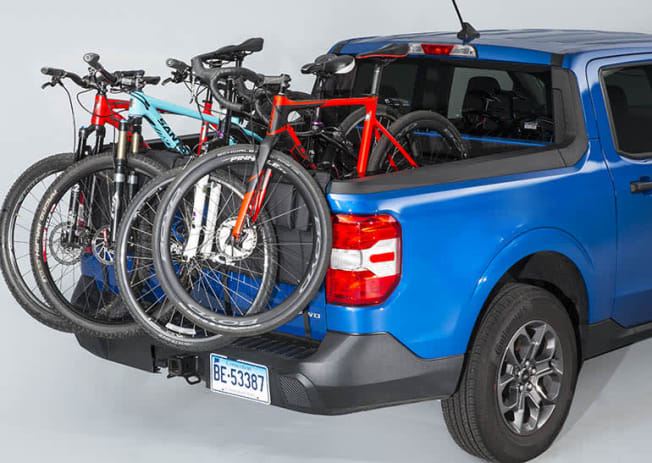 Race Face T2 pickup truck Tailgate Pad.
Photo: John Powers/Consumer Reports
Price: $189-$199
Bike capacity: 5 to 6
Where to buy: Amazon, Backcountry, Race Face
Weight limit: Not available
Rack weight: 5 to 7 lb.
Assembly time: Under 30 minutes, easy assembly 
People required to install: 1 to 2
To the uninitiated, Race Face's T2 Tailgate Pad may seem like little more than an overstuffed blanket thrown over a pickup truck's tailgate. And, in reality, there isn't all that much more to it than that. But as we found, tailgate pads such as this Race Face are simply the easiest and least-expensive way to carry up to 6 bikes without having to take any of the bicycle wheels off. From the ease with which the bikes get secured to the tailgate to the utter sturdiness of the setup, the T2 Tailgate Pad is tough to beat. The one caveat: You need to own a pickup truck.
Jake Fisher, one of our evaluators and a competitive triathlete, says that no other form of bike rack or carrier is as simple and effective as a tailgate pad. He brought his mountain bike to a local trail after work using the Race Face fitted to CR's Ford Maverick. "It's so easy to use that I was on my bike and riding within about 30 seconds after parking," Jake says. "People who were unloading their bikes when I showed up were still unloading them as I headed out to the trail." 
Race Face's T2 Tailgate Pad comes in two sizes: A larger version for full-sized pickups like the Chevrolet Silverado 1500, Ford F-150, and Ram 1500 that can handle up to six bikes (we paid $199 for ours); and a smaller one for small and midsized pickups such as the Ford Maverick and Ranger, Honda Ridgeline, and Toyota Tacoma that can accommodate up to five bikes (we paid $189). For this evaluation, we used the larger Race Face on a Ford F-150 and the smaller version on a Ford Maverick. (Of note: Race Face lists the Maverick as one of the trucks that fits the "Mid Size" version, but we found the pad just a skosh too wide for the mini Mav, which made opening and closing the tailgate a bit cumbersome.)
Beyond the chore of having to lift each bike up and over the pickup's tailgate—which can be awkward with heavy bikes, especially on full-sized pickups which sit fairly high off the ground—there's little about the T2 Tailgate Pad that is difficult. There's a slot for each bike's downtube on the inside portion of the pad to help hold it in place, and securing each bike is as simple as cinching down one strap around the bike's downtube. That's it.
The pad weighs only a few pounds, and installation on the truck's tailgate is pretty straightforward. Although it can be installed by just one person, we did find that it was easier with two people on the larger F-150 vs. the smaller Maverick because of the way the straps need to get fed underneath the tailgate from one side to the other. 
One of the simple beauties of the tailgate pad is that carrying multiple bikes actually adds to the rigidity of the setup. Although using only one bike works fine and is still secure, adding a second, third, or fourth bike adds stability because of the way each bike's front tire rests against the tire or fork of the bike next to it. The tailgate pad seems like it was designed with the beefier tires and forks of mountain bikes in mind, since it's the fashion in which each front tire rests against the bike next to it that lends this setup much of its rigidity. As such, mountain bikes proved exceptionally stable and secure, no matter how large a bump in the road we bounded over in the F-150 or the Maverick. The slimmer forks and tires of road bikes and gravel bikes don't form as solid a fit, though they still work fine. 
You do need to be a bit careful when loading bikes into the truck bed, because the rear of the bikes sit close together, with a potential for parts to get scratched. Cutting up some pool noodles or pipe insulation as protection wouldn't be a bad idea. Also, depending on the size of the bike and how wide the handlebars are, certain parts on the front of the bikes—such as mountain bike brake levers or gravel-bike handlebars—could be very close to touching the top tube of the bike next to it. The tailgate pad's setup means there won't be much room left over in your truck's bed for hauling gear bags, especially in smaller pickups like the Maverick or Ridgeline. 
The Race Face pad has a section that can be removed so you can access the tailgate release, and to allow the backup camera to still function. But it's quite possible that even with this cutout removed, the pad will block a big portion of the backup camera's view. In our case, we found that the F-150's backup camera wasn't blocked at all, but—no matter how we adjusted the pad—the backup camera view in the Maverick was mostly blocked. Depending on how many and what types of bikes you're carrying, the backup camera view could be largely filled with the bike tires that are hanging off the back of the tailgate anyway.
There also isn't a way to lock the pad onto the pickup, which means it would be easy for someone to steal the whole pad right off the truck. And there isn't an easy way to lock the bikes to the truck—you'll definitely want to invest in some cable locks.
For Recreational Families: Yakima FullSwing Hanging Hitch Rack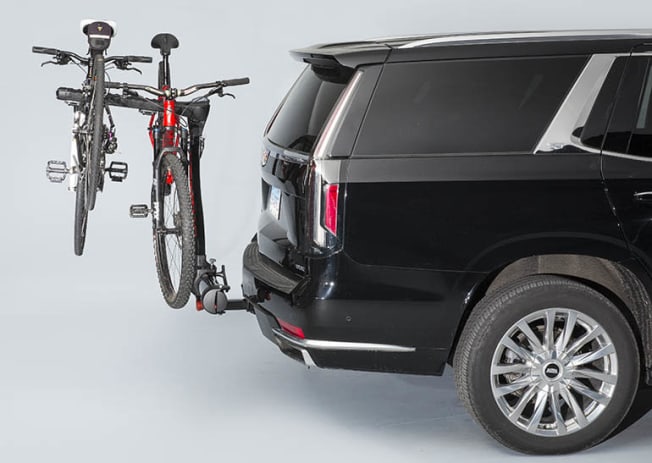 Yakima FullSwing hanging hitch rack.
Photo: John Powers/Consumer Reports
Price: $649
Bike capacity: 4
Where to buy: Amazon, REI, Yakima
Weight limit: 150 lb. max; 40 lb. max per bike
Rack weight: 55 lb.
Assembly time: 30-60 minutes. This rack was a bit more difficult to assemble than most, due to the picture-only directions and its hefty weight. Assembly is best done by two people
People required to install: 2
Yakima's FullSwing is one of the more expensive hitch-mounted hanging racks. Our evaluators appreciated its solid build quality and the handy way it can swing out to the side of the vehicle (hence the name: "FullSwing") to allow you to access your cargo area when bikes are on the rack. It also comes with a cable lock for all four bicycles.
The FullSwing offers flexible bike spacing because you can adjust the location of the U-shaped fasteners that secure the bikes to the rack—Yakima calls them "ZipStrips." This allows you to make more or less room, depending on the size and type of each bike you're loading. But even though the FullSwing offers three of these fastening points per bike (typically two for the top tube and one for the seat tube), our evaluators weren't impressed with the way they worked. 
"This is the most simplistic, low-rent way of securing bikes," said Jon. "The plastic fasteners come across as cheap, and seem completely at odds with the high-quality feel of the rest of the rack." 
Be prepared to lift the bikes up pretty high to load them onto the rack, especially if you're using a rather tall SUV like were—the Cadillac Escalade. This height adds to the difficulty of putting them into position on the rack without rubbing parts of the bike frame on the rack elements as you thread the bike through and into its position. 
As with a lot of hanging racks, you're also almost guaranteed that some bike parts are going to rub against each other. There simply isn't all that much real estate for the bikes. You'll need to get creative to fit four full-sized bikes, and some full-suspension mountain bikes with heavily angled top tubes might not fit (as I found out with my Santa Cruz Tallboy) without getting Yakima's optional TubeTop frame adapter. 
Regardless of how many bikes you're able to fit, you'll want to use bungee cords to fully secure the bikes to the rack. Even with the three fasteners cinched down on the bike frame, the bikes can still swing back and forth. Bungee cords will also keep the handlebars from flopping around and the wheels from spinning while you're driving; allowing the rear wheel to spin freely could lead to the pedal of one bike damaging the spokes of another bike's wheel, or scraping against the frame of another bike. 
You'll also want to have some padding at the ready, because it's highly likely that parts of the bicycles will be touching each other if you have more than two bikes on there. All of this said, the bikes and the rack proved to be a fairly sturdy setup after I secured the front and rear wheels with bungee cords.
Lightweight and Priced Right: Allen Sports Deluxe 4-Bike Hanging Hitch Rack.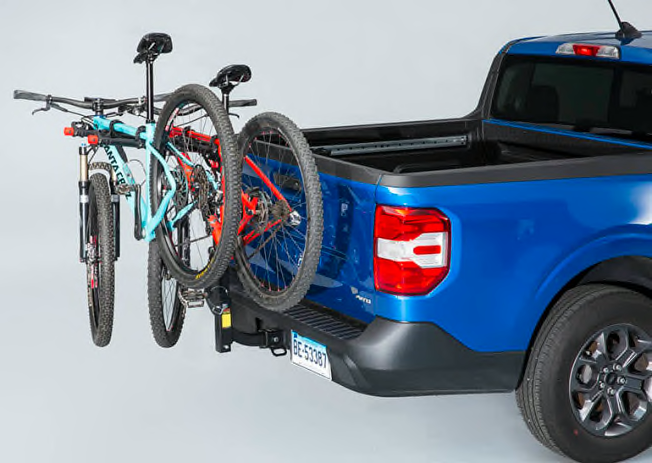 Allen Sports Deluxe 4-Bike hanging hitch rack.
Photo: John Powers/Consumer Reports
Price: $106
Bike capacity: 4
Where to buy: Allen Sports, Amazon, Target, Walmart
Weight limit: 140 lb.
Rack weight: 20 lb.
Assembly time: Under 30 minutes, easy assembly
People required to install: 1
There's no question that Allen Sports' Deluxe 4-Bike hitch-mounted hanging rack is priced right—we only paid $106 for ours. At just 20 pounds, it's also pretty light, making it easy for one person to take the rack on and off a vehicle. We like that the rack can handily tilt down and out of the way so you can access your vehicle's cargo area, and the straps that secure the bikes to the rack are easy to use. The "hanging" portion of the rack that holds the bicycles can also be flipped down so that the rack barely sticks off the back of your vehicle when you're not carrying bikes.
But for all of its good points—and let's face it, that price is a great point—in the end this is still a hanging rack, with many of the foibles and loading puzzles that come with this genre. As such, this isn't a rack you'd want to use on a regular basis if you don't care to take a chance on your bicycles getting scratched while en route to your ride. Due to the close proximity of the bicycles to each other if you're carrying more than two bikes, parts are going to rub. 
In fact, I found out that it's not just bikes rubbing against bikes, but there's a good chance that the bike you load first onto the rack (closest to your vehicle) will rub its downtube against the rack if the bike swings back and forth slightly while you're driving. So it was by sheer dumb luck that I loaded my retro (read: old and crappy—circa 1993) Trek 8500 hardtail mountain bike onto the rack first while I was doing my evaluation. Turns out that the old Trek's plastic water bottle cage served as the perfect buffer between the bike's downtube and the rack. Of note, although Allen recommends mounting bikes facing opposite directions, we found that certain bike combinations puzzled together best when facing the same direction.
Andrew Balise, a former BMX racer-turned-mountain-biker, and another one of our evaluators, found out when he met me for a Saturday morning ride that, a) he should have had a water bottle cage on his Salsa Timberjack hardtail, instead of trying to ride 2 hours without drinking any water (he's young and hardcore—I, of course, had my 100-oz. hydration pack), or b) he should have used some padding to keep his bike's downtube from rubbing against the rack's support piece. 
When I, kinda all-knowingly-like, said to him, "Yeah, Allen's own directions say to add padding between bicycle contact points if necessary," Andrew asked, "If they know that, then why don't they include padding for you? Or why didn't they design the rack so that the inner bike doesn't rub against the rack?"
Fair questions. He calmed down a little after I told him about the Allen's low price point. 
As with some other hanging hitch racks, step-through bikes, kids' bikes, bikes without a top tube, and some full-suspension mountain bikes might need an optional adaptor bar in order to hang properly on the rack. Interestingly, my full-suspension Santa Cruz Tallboy—even with its heavily angled top tube and high-mount rear shock assembly—fit fairly easily. 
You have to lift the bikes fairly high off the ground to put them onto the rack, and it's easy to bump the bike frame against the rack elements in the process, making for potential scratches. 
Bungee cords are a definite "must'' to keep the bikes stable and secure on the rack, and to prevent a rear wheel from spinning, which could cause a pedal to hit another bike's frame, fork, or wheel spokes. Count on some bike parts touching, such as tires rubbing against brake levers or rear derailleurs. Even if secured with bungees, the bike parts will likely still rub, but they'll be more solid instead of banging into each other as you encounter bumps. Again, padding will be key if you don't want your bikes to get scratched up. When properly secured, the bikes stayed pretty solid even over some of the nasty road ruts near our track.
This product evaluation is part of Consumer Reports' Outside the Labs reviews program, which is separate from our laboratory testing and ratings. Our Outside the Labs reviews are performed at home and in other native settings by individuals, including our journalists, with specialized subject matter experience or familiarity and are designed to offer another important perspective for consumers as they shop. While the products or services mentioned in this article might not currently be in CR's ratings, they could eventually be tested in our laboratories and rated according to an objective, scientific protocol.
Like all CR evaluations of products and services, our Outside the Labs reviews are independent and free from advertising. If you'd like to learn more about the criteria for our lab testing, please go to the CR's Research & Testing page.
Consumer Reports is an independent, nonprofit organization that works side by side with consumers to create a fairer, safer, and healthier world. CR does not endorse products or services, and does not accept advertising. Copyright © 2022, Consumer Reports, Inc.