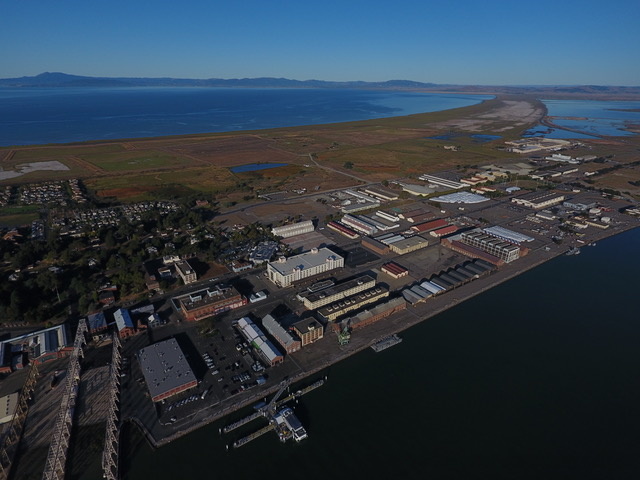 Bay Area residents need not book a flight to the tropics to enjoy an island experience. While Alcatraz gets all the exposure, there are more than 15 islands right here in the San Francisco Bay.
Some of them are picturesque habitats open for visiting, others are destinations for maker culture and day drinking, and some simply meant to be admired from afar. Their unique histories and current uses say a lot about our region's past, present, and future. Dive into the diverse islands that surround us.
---
Mare Island: Maker Culture on a Former Naval Base
Ever since the Navy shipped out, Mare Island has been struggling to find its place in the world. But now this naturally beautiful former base is finding its footing, and the community that's forming here is ready to celebrate the resilience of the Vallejo-adjacent isle.
If you haven't yet heard of The Wet Mile, it's time to get in the know. Sometime back, a collective of makers on Mare Island got together and decided it would be a good idea to promote their attractions. In November 2019, that same handful of businesses launched Wander the Wet Mile Sundays, offering visitors tastings, tours, gallery exhibits, and entertainment. Still in its nascent stages, development of the Wet Mile will eventually fill its historic waterfront buildings with such artisan businesses as kombucha makers, bakers, olive oil producers, and coffee roasters, and ambitious plans for improving the waterfront promenade include new benches, lights, paving, artist kiosks, and more. But for now, the scene has enough going on to warrant a day trip.
Start your journey into the heart of Mare Island with a stop at Savage and Cooke Distillery, where the hour-long tasting ($40) kicks off with a tour before a leisurely sampling of their bourbons and whiskeys, including a couple of special reserve spirits. Once abandoned, the restored space itself is something to behold, with a Duchampian ambiance, exquisite African art works, and other cultural artifacts collected from winemaker and entrepreneur Dave Phinney's travels.
Wine lovers won't want to miss Vino Godfather, an airy officer's mansion that's been transformed into a tasting room with clubby appeal—the wines hail from Suisun Valley. Beers are also on offer at Mare Island Brewing Co.'s Coal Shed Brewery, where founder Kent Fortner aims to capture and re-package the history of the Mare Island Naval Shipyard. Fortner also sits on the board of Mare Island Museum; Mare Island Art Studios are also open here on Sundays.
Speaking of culture, sightseers who tour St. Peter's Chapel, the oldest naval chapel in the U.S., will be treated to the its collection of Tiffany stained-glass windows.
// Mare Island is accessible via an hour-long ferry from San Francisco, with several departures on weekdays and three daily departures on weekends; view the schedule at sfferryriders.com.
The Fearsome Farallones: Sharks! And Other Sea Life
The fog-shrouded Farallones (Spanish for "sea cliff") rise out of the Pacific Ocean some 30 miles west of the Golden Gate Bridge. Off limits to people except for an outpost for conservation researchers, the Farallon Islands are their own National Wildlife Refuge; the choppy waters that surround them are protected as part of the Greater Farallones National Marine Sanctuary. Why so fearsome? These islands are also known to seafarers as the Devil's Teeth Islands, thanks to the craggy underwater shoals that ring the area. Not to mention the sharks.
February through October is prime time for spotting sea life—whales, dolphins, sea lions, seals, and the largest sea bird colony in the U.S. outside of Alaska and Hawaii—via boat tours. Anglers can cast a line for halibut, rock cod, and other bounty aboard deep sea fishing excursions. Aquatic adrenaline junkies can get up close and personal with an apex predator on shark diving expeditions during peak season, September through November.
// Book a whale watching tour at San Francisco Whale Tours, sanfranciscowhaletours.com; or go shark cage diving with Great White Adventures, greatwhiteadventures.com.
The Brothers Islands: An Active Lighthouse and a Tranquil Stay
Seeking a retreat from the frenetic pace of the city? Need to brood over your unfinished novel in an isolated yet ruggedly beautiful setting? Look no further than The Brothers Islands, perched in the strait that separates San Francisco and San Pablo Bays.
While West Brother island is starkly barren, East Brother Island is home to a lively historic lighthouse and Victorian bed and breakfast with 360-degree views of the SF skyline, Mount Tamalpais, and the Marin coastline. East Brother Light Station has been active since 1873; the Inn began operations in 1979 to support the upkeep of the restored lighthouse and its facilities. Today, guests are conveyed to the island via a 10-minute boat ride from Richmond four nights per week and, upon arrival, are greeted with Champagne and hors d'oeuvres. The culinary adventure continues with a multi-course dinner featuring ingredients from the chef's garden and served at a community table. Breakfast and a tour of the island and lighthouse are also part of the package.
Another, more affordable and karma-boosting way to experience the island is to volunteer. There is need for all sorts of "wickies," which is the nickname for lighthouse keepers who used to trim the wicks that lit the way for sea craft.
// Book your stay (starting at $345/night) at ebls.org; volunteers may register online at ebls.org/volunteer-registration.
Bair Island: Former Salt Ponds Turned Birders Paradise
For Silicon Valley denizens eager to unplug from the grid and reconnect with nature, Bair Island is a perfectly picturesque mini-retreat. It's actually composed of three islands: Inner, Middle and Outer, totaling approximately 3,000 acres of former salt ponds once owned by Cargill.
Reclaimed from its industrial past as salt ponds and saved from a fate of future development, a large portion of the islands have been restored to tidal wetlands. Now, the wildlife preserve is a great place to break up road trips along the 101.
A flat loop of a little more than a mile guides visitors along to multiple observation decks overlooking the wetlands. Birdwatchers flock to these outposts along the trail, ideal for spotting migratory birds and thriving local populations of herons, egrets, falcons, and Alameda song sparrows that flit in and out of the brush and dive for delicacies in the tide.
// The ecological reserve is closed to the public each year from February 15th through May 22nd. Information about wildlife viewing, fishing, hunting can be found at wildlife.ca.gov.
Angel Island: Ellis Island of the West
This oasis of natural beauty is often overshadowed by its famous neighbor, Alcatraz, but Angel Island is the largest of the islands in the San Francisco Bay and is also a key historic military site. Home to the former Immigration Station at China Cove, Angel Island stands in testimony of the Bay Area's shameful anti-Chinese past, its facilities a former detention center for immigrants who were flowing into the country after the Chinese Exclusion Act of 1882. At the visitor center, you can watch short films that tell the story of the island's part in U.S. immigration history.
Of course, Angel Island is also a stunning day trip destination, popular among picnickers and sunbathers who enjoy the breathtaking views from its coves and beaches. Go fishing, hike wooded trails, explore the five-mile Perimeter Road by bike, or take a Segway or tram tour. Want to immerse yourself a little more? Camp out overnight beneath the stars and take in the lights of the city.
// Access Angel Island via the Angel Island - Tiburon Ferry or the Blue & Gold Fleet; to plan your visit, go to angelisland.org.
Treasure Island: Where Wine and Art Meet Stellar Views
The man-made Treasure Island made its first splash back in 1939, when it opened for the Golden Gate International Exposition. Its location, which provided never-before-seen views of the still new Golden Gate Bridge (1937) and San Francisco-Oakland Bay Bridge (1936), drew more than 17 million visitors to that expo. Afterward, the island was leased to the U.S. government and became an active Naval base until 1996; since the '80s, its unused hangars have served as sound stages for countless films (What Dreams May Come, The Matrix, and Rent among them).
These days, though, Treasure Island is becoming a Bay Area cultural gem. While some of its signature major events have now moved on (so long, Treasure Island Music Festival and the annual TreasureFest flea), the island remains a go-to for view finders and history buffs and has also emerged as a bona fide destination for wine lovers, with a crop of urban wineries offering tastings, tours, and vino-themed events. Foodies can also get a taste of the maritime surroundings at the restaurant Mersea, which serves ceviche and fish and chips alongside waterfront views and mini golf. For beers, tap into the microbrew scene at Woods Island Club; or, commit to the brunch lifestyle at Aracely Cafe, which offers the decadent repast seven days a week.
With views of the city, Marin, and the East Bay, Treasure Island is a shutterbug's dream—the panorama from Avenue of the Palms is Instagram gold. While you're there, be sure to check out artist Tom Loughlin's 2019 installation, Signal, made with 36 tons of steel salvaged from the OG Bay Bridge.
Yerba Buena Island: New Luxury Residences Await
Treasure Island is showier, but the oft-overlooked Yerba Buena Island is undergoing a transformation too, thanks to a multi-billion-dollar redevelopment project over both islands that is bringing 266 luxury condos, flats, and townhomes to the location named for a good herb (aka mint). Among the amenities, the new homes here will have access to a 14,000-square-foot club and wellness center; a park designed by 2019 MacArthur Genius Grant recipient Walter Hood; and five miles of hiking and biking paths that promise killer views of SF and the East Bay.
Sales of some condos kick off this spring, with move-ins expected to begin mid-2021. Homes will start around $800,000 for a studio and range all the way to $3 million for a three-bedroom. A portion of the new construction has been allocated to affordable housing.
// For more information and leasing, go to yerbabuenaislandsf.com.
Alameda: Craft Beer and Spirits, Urban Wineries, and Antiques
With glorious fog-free summers, elegant Queen Anne homes, and a burgeoning day-drinking and nightlife scene, Alameda has long been the cherished secret of lucky locals. More and more, the rest of the Bay Area is discovering what they were missing while simply making the mad dash in and out of the popular monthly Alameda Point Antiques Faire.
The island, just across a thin estuary from Oakland, was originally home to a group of Miwok Indians, but by the time the Gold Rush swept through and transformed the region, Alameda had become a moneyed destination for recreation and sporting events, where resorts along the coast provided giant amusement centers, swimming, ballrooms, and saloons.
High times are here again with with the rise of Alameda Point's Spirits Alley, which buzzes with distilleries, wine tasting rooms, and eclectic eateries. Tour and taste at Rock Wall Wine Company, Faction Brewing, Almanac Beer Co., Admiral Maltings, The Rake, Hangar 1, St. George Spirits, Building 43 Winery, Alameda Point Craft Soda, and Brix Beverage. Then, weave your way over to the historic Bay Station Shopping District to sip tiki cocktails concocted with the local liquor at Forbidden Island.
If you care to dive into Alameda's naval past, board the USS Hornet, which hosts a variety of events, from escape room adventures to "history mystery" sleepovers.
Crab Cove Visitor Center and Aquarium, at Crown Memorial State Beach, is a fun kid-friendly spot.
// For the ferry schedule to Alameda, go to sanfranciscobayferry.com; for more on where to eat and play in Alameda, check out 7x7's modern guide.
Hog Island: The world is your oyster.
Just five miles south of the entrance to Tomales Bay in Marin County, Hog Island is roughly two acres in size. The porcine-inspired moniker reportedly came from a bizarre 1870s incident when a barge carrying a load of pigs caught fire and was grounded on the island to avoid sinking.
Today the island lends its name to the Hog Island Oyster Company, famous for its briny delicacies can be enjoyed on the patio overlooking the beautiful waters in which the oysters are cultivated. For a closer encounter with the island, rent a boat with Blue Waters Kayaking in nearby Marshall.
Hog Island is open for day use only, and the eastern half of the island is off limits to protect its sensitive wildlife habitat. It is, along with the adjacent smaller Duck Island, part of Point Reyes National Seashore.
Belvedere Island: Rarefied Heirs in Marin
In Marin, Belvedere is perhaps the wealthiest of all the islands in San Francisco Bay. The only social scene in town is the members only Belvedere Yacht Club, which entertains a pretty insular crew of locals—ahem, it's invite only. Accessible by bridge from Tiburon, the exclusive enclave has several charming small parks that don't require a membership card.
Once you've explored this tiny town, nearby Tiburon's bars and restaurants await, and there are a couple of lovely lodging options for those who want to stay the night: Waters Edge Hotel has a deck overlooking the SF skyline, Angel Island, the Corinthian Yacht Club, and the beautiful homes of Belvedere Island; The Lodge at Tiburon is a only steps away from the ferry docks, cafes, boutiques, and galleries. We recommend bring your bike.
// Get the ferry schedule from San Francisco at blueandgoldfleet.com.
Brooks Island: A Pastoral Retreat in the East Bay
Perched just off the Richmond Inner Harbor, this 373-acre island preserve in San Francisco Bay serves up sublime views from its 160-foot rocky peak.
Ohlone Indians made their home here for thousands of years, but by the early 19th century, the island became part of Rancho San Pablo. With the advent of European settlers, it was used for sheep and cattle grazing, oyster-raising, and extensive quarrying. These days, Brooks Island is part of the East Bay Regional Parks District, and hosts migrant birds, wetlands, and walking paths.
// Brooks Island is accessibly exclusively through a scheduled naturalist tour with the East Bay Regional Park District. To check the schedule and register for a tour, go to ebparks.org.
Bay Area Islands to Love From Afar
The San Francisco Bay is absolutely dotted with islands, many of them destinations for nature and culture. But there are other less accessible yet equally fascinating islands in the bay, each with unique histories that reveal a treasure trove of insights into how the Bay Area became what it is today. Some of the outcroppings serve as stopovers for migratory birds, while others host local wildlife.
Red Rock, East and West Sisters, and Castro Rocks
Red Rock Island, on the western side of the Richmond Bridge, is the only privately owned island in the San Francisco Bay. But the fact that it technically lies in three counties makes development there a challenge. Also in the western shadow of the Richmond Bridge, the East and West Sisters are uninhabited aside from seabirds and other winged visitors. Rumored to be named after a 19th century rancher, Castro Rocks protrudes from the waters between Castro Point and Red Rock Island, and is home to many harbor seals, which you can often glimpse soaking up some sun. The rocks are the largest harbor seal rookery in the northern San Francisco Bay. Sea lions have also been known to sunbathe on these rocky outcrops.
Marin Islands
Just south of the Sisters Islands and directly off the coast of San Rafael Bay, these two rocky formations were once a private retreat for a Bay Area family, but now make up the Marin Island National Wildlife Refuge. offering a retreat for migratory and resident birds.
Station Island
Within Fremont city limits, Station Island is the site of Drawbridge, the Bay Area's only ghost town. While it boasts a colorful past, nowadays there are only remains of decaying cabins from Drawbridge's 1920s heyday.
Ballena Bay and Coast Guard Islands
Adjacent to Alameda, members-only Ballena Bay Island draws a tony boating crowd while Coast Guard Island, as its name implies, is home to several major United States Coast Guard commands and cutters, including the Coast Guard Pacific Area. It is one of the largest Coast Guard bases on the West Coast.
Greco Island
This wetland in Redwood City is part of the larger Don Edwards San Francisco Bay National Wildlife Refuge. Named after a longtime resident, the island once belonged to the Leslie Salt Company before it was restored to its scenic natural state.