It's easy to go back to the same favorite trails, campgrounds, and lakes year after year, but there's nothing quite like experiencing a new place for the first time.
We asked some of our friends in the Inland NW outdoors community to share their go-to adventures in hopes that others will find some inspiration to get out there and explore someplace new this summer.
Here are 34 ideas, recommended by 15 notable outdoor enthusiasts in the Spokane region, to inspire new outdoor adventures. (OTO)
Recommended by Paul Knowles, Spokane County Parks Special Projects Manager
Cube Iron Roadless Area
Take a hike through hemlock-cloaked mountains and up to alpine pocket lakes. Located north of Thompson Falls, Mont., a few hours from the Spokane area, the trails in the Cube Iron benefit from more active trail maintenance than other areas due to the Cube Iron Cataract Coalition and its volunteers.
Hiking into Cabin Lake is great for those transitioning from day hiking to backpacking for the first time.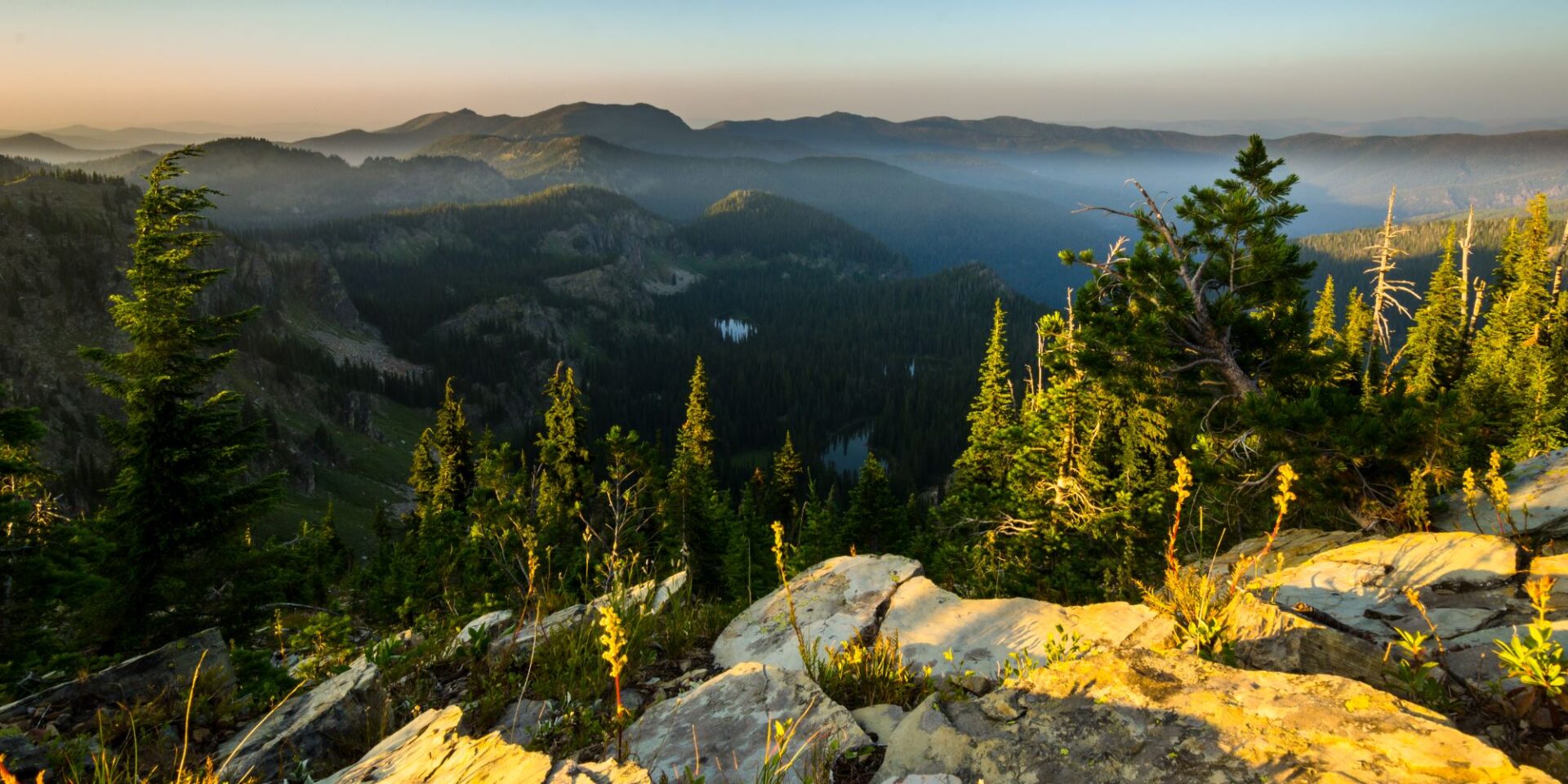 Recommended by Katie Wiseman, Outdoor Programs at REI
Hike some of the lesser-travelled old roads for some solitude or stick to the popular hike or mountain bike ride to Towell Falls.
The Backcountry Horsemen and BLM have significantly improved the trailhead and parking area, which now sports toilets, water for horses, corrals, and over 13,000 acres of shrub-steppe and hiking on old, gated ranch roads.
This time of year wildflowers are in full bloom and Towell Falls is at its peak. Keep a look out for ticks and rattlesnakes, and make sure to bring water, sunscreen, and a hat as there is very little shade.
Escura Ranch (left); trail running at Antione Peak Conservation Area; Blossom Lake (lower right). // Photos: Shallan Knowles
Recommended by Lindsay Chutas, Mountaineer and Local Conservationist
Glacier Peak, Chair Peak and the Tatoosh Traverse
Accessed from the east Cascades, this backcountry route offers climbing variety and is "more adventurous than slogging up Adams or St. Helens," adds Chutas.
Tatoosh offers beautiful views of Mt. Rainier while still being more removed from crowds of visitors. Chair Peak is an alpine climb that gives you the flavor of bigger climbs, yet it's not too far from the road.
Because of a long hike in, Glacier Peak quickly limits the number of users to this wild and remote place.
Recommended by Alana Livingston, Wander Spokane
Mary Jane's Farm (Moscow, Idaho)
Livingston owns Wander Spokane, a Spokane-based tour company that takes guests on food, wine, beer, and other tours covering local history, art, architecture, geology, and even medicinal plants, and when she explores, she asks the locals for their favorite hidden gems, the quirky, weird places that not everyone visits.
One of her favorites is Mary Jane's Farm, where thoughtful, hand-made backpacking meals by the same name come from.
You can also tour the farm and starting in 2022, book a glamping site at the bed and breakfast. This destination has been featured in National Geographic and the New York Times for its whimsical, back-to-the-earth experience, and it's right in our back yard.
Recommended by Mary Kate & Ryan Griffith, Spokane Outdoor Family
Deep Creek Canyon
A family favorite through ancient volcanic rocks and riverbed, kids can scramble over logs and rocks on a fun exploratory adventure and maybe even see a rock climber scaling the walls.
This hike is best after early spring when water in the creek has dropped, and you can explore the creek bed.
Kayaking Plese Fats to 9 Mile
Another great family adventure that's best paddled July-September, this scenic section of flatwater on the Spokane River offers an excellent intro to paddling for kiddos.
Floating along Riverside State Park you have the possibility of seeing, osprey, deer, moose, and other forest creatures.
Turnbull National Wildlife Refuge
A hike or scenic drive around Turnbull offers a glimpse back in time to the Ice Age Floods that swept through our area and carved out this unique landscape. Take your binoculars and keep an eye out for all sorts of birds and wildlife while you tour the forests, grasslands, and wetlands.
Hiking McKenzie Conservation Area
Managed by the Spokane County Parks, Recreation and Golf Department, this forested getaway has several trails, including a short walk on an old road to Turtle Rock, with views of Newman Lake and Mount Spokane.
Camping at Mount Spokane's Bald Knob Campground
This easy weekend getaway at Mount Spokane State Park features hiking, sunsets, and late-season huckleberry picking. The nearby trails are also popular with mountain bikers and equestrians with the cooler temperatures in the summer.
Camping at Swan Lake
Activities close to camp at the three campgrounds around the lake on Northeast Washington's Colville National Forest include fishing, paddling, swimming, road and mountain biking, and hiking.
(Left-Right) Bridge at confluence of Deep Creek and the Spokane River; Kayaking the Spokane River. // Photo: Aaron Theisen; Bird watching at Turnbull National Wildlife Refuge. // Photo: Crystal Atamian.
Recommended by Ken Carmichael, Ponderosa Back Country Horsemen
Riverside State Park
While Carmichael is an avid equestrian, his local recommendations for summer adventure have trails for hikers and mountain bikers as well as horses and their riders. With over 9,000 acres of public land only five minutes from downtown Spokane, Riverside State Park is top on his list.
For horses, it features an equestrian campground, arena, round pen, obstacle course and 80 miles of trails. There are seven trailheads to accommodate trailers and even more for those hoping to hike, mountain bike, or just catch beautiful views of the Spokane River.
Fishtrap Recreation Area
This Bureau of Land Management-managed slice of sagebrush, grasses, and ponderosa pine provides easy access for day outings west of Spokane at I-90 exit 154.  Multiple trails and lakeshore access make this place popular for hiking, fishing, mountain biking, kayaking, and horseback riding.
Riverside State Park // Photos: Shallan Knowles
Recommended by Dave Dutro, Trail Maniacs Race Director
Post Falls Community Forest
Explore this well-developed system of signed trails for human-powered recreation, including several crags for beginning to intermediate climbers as well. This is also a great spot for a short or long trail run, a family hike, or just enjoying nature and relaxing.
Independence Creek/Coeur d'Alene River Trail
For a fun multi-day, multi-sport adventure, Dutro suggests packing your trail shoes and mountain bike and heading to Independence Creek in the Coeur d'Alene River area. The Independence Trail is a perfect summertime run, with multiple creek crossings for the chance to cool down, and several options for loops that combine trails and road running.
The next day, pedal your heart out on the Coeur d'Alene River Trail. There are excellent fishing holes and beautiful views so plan ahead to maximize this adventure.
Blossom Lakes
Near the Idaho Centennial Trail and Thompson Pass, the trail to the lake is a beautiful trail run by day and beginner backpacking adventure by night. The subalpine lakes are a beautiful summertime treat for those who make the trek.
Palouse Divide Trail System
These multi-use trails are great for mountain biking and running but are also open to ATVs on the double-track. While trail use is varied, it is also low. There is good camping nearby so you can make a weekend of it.
Clark Fork River Trail
A great trail tip for anyone headed to Quinn's Hot Springs Resort, include a run, hike, or mountain bike ride on the Clark Fork River Trail near St. Regis. What better way to earn that end of the day soak then by breaking a sweat on the trail? The trail provides beautiful views and makes a great day outing any time of year.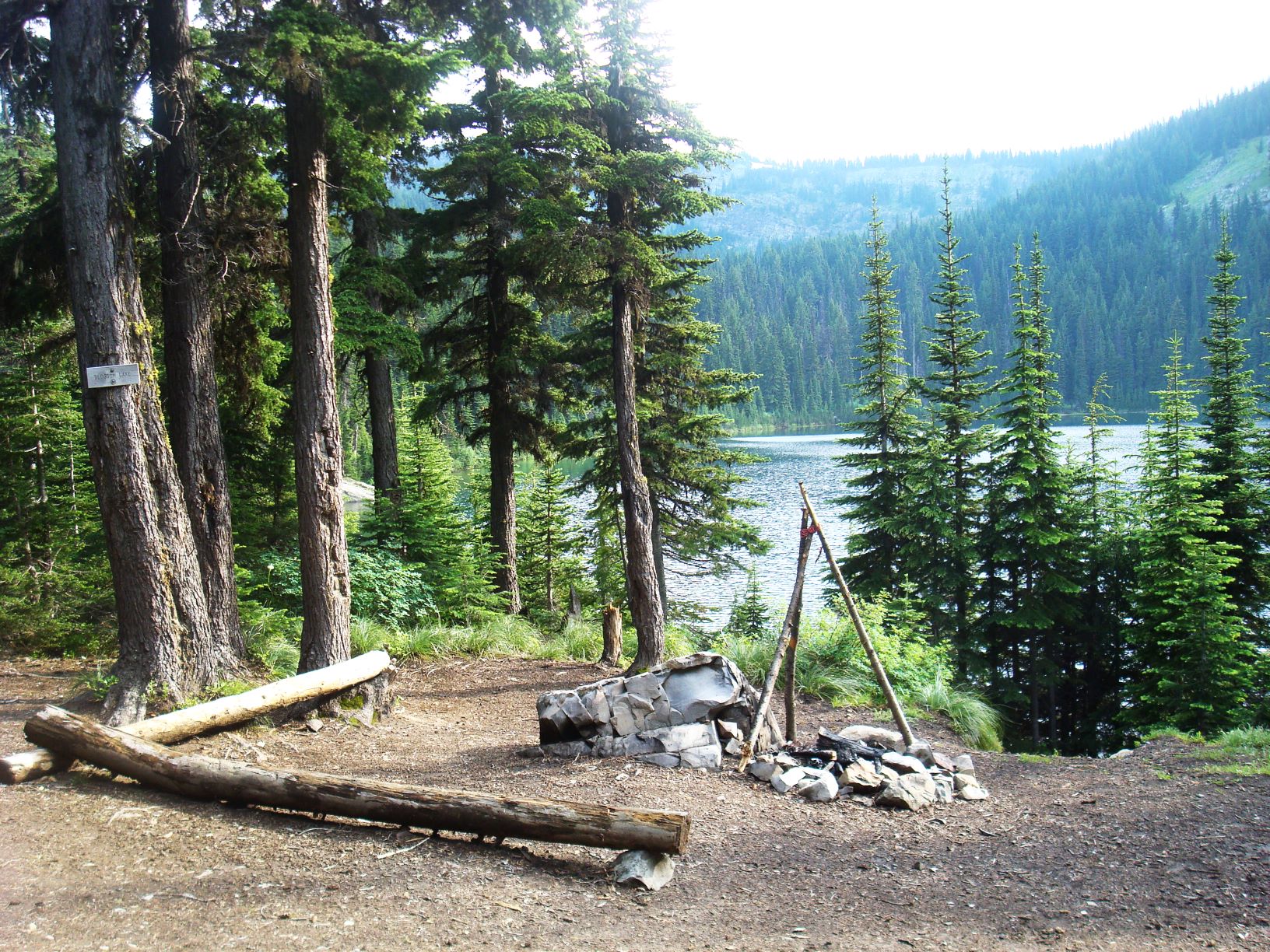 Recommended by Niki Sibley, Ultramarathon Runner and Outdoor Lifestyle Advocate
Front Door Forays
"Leave the car in the driveway for this adventure. It's easy to forget that some of the best running to be had is out your very own front door," says Niki Sibley. "So turn your abode into an aid station and start cranking out those miles! And who knows, you just might inspire the whole neighborhood to get moving."
Bike downtown, with your kids (Photo: Derrick Knowles, middle), and anywhere near where you live (Photo, right: Jon Jonckers).
Chris Conley, Evergreen East Mountain Bike Alliance President
Trail #257 Coeur d' Alene Mountain
A short drive from Spokane near Beauty Bay with an easy, mostly paved 3.5-mile road climb, this mountain bike trail is easily accessible to most intermediate riders.
Drop in for a fast, fun, and flowy 3-mile descent through old growth forest on well-maintained single-track trail. There is some exposure towards the bottom, but the trail is wide and could easily be walked if necessary.
Abercrombie Mountain
Near Metaline Falls two hours north of Spokane, this epic out-and-back backcountry ride can't be beat (it's also an excellent hike). The 7.6-mile, 4,300′ climb can be intense, but the view from the top makes it all worth it. Pack plenty of food, water, and a jacket for the summit, even in the summer.
After taking in the views, enjoy the full descent back to the car. "With loose, technical rocks at the top to fast and flowy loam at the bottom, it's one of my all-time favorite rides," Conley says.
Jungle Hill Loop
Three hours from Spokane with lots of awesome camping spots, the Kettle Crest offers miles of rugged single-track trails, and this loop is a favorite of many riders. "I prefer to camp at the Jungle Hill campground and ride clockwise to Sherman Pass and finish with the Jungle Hill descent," says Conley.
This is a big ride with plenty of punchy climbs and long, flowy descents with some of the best views around.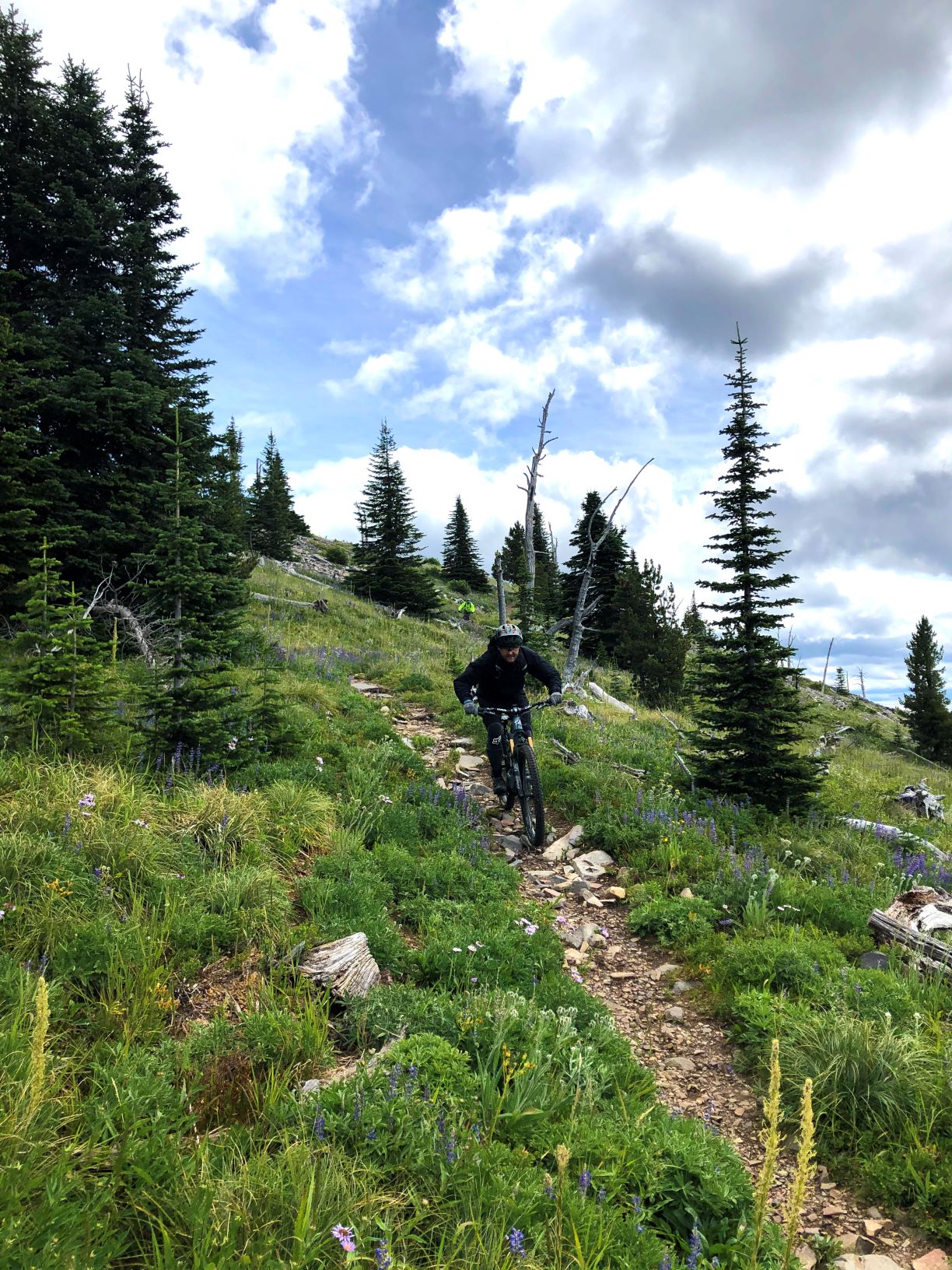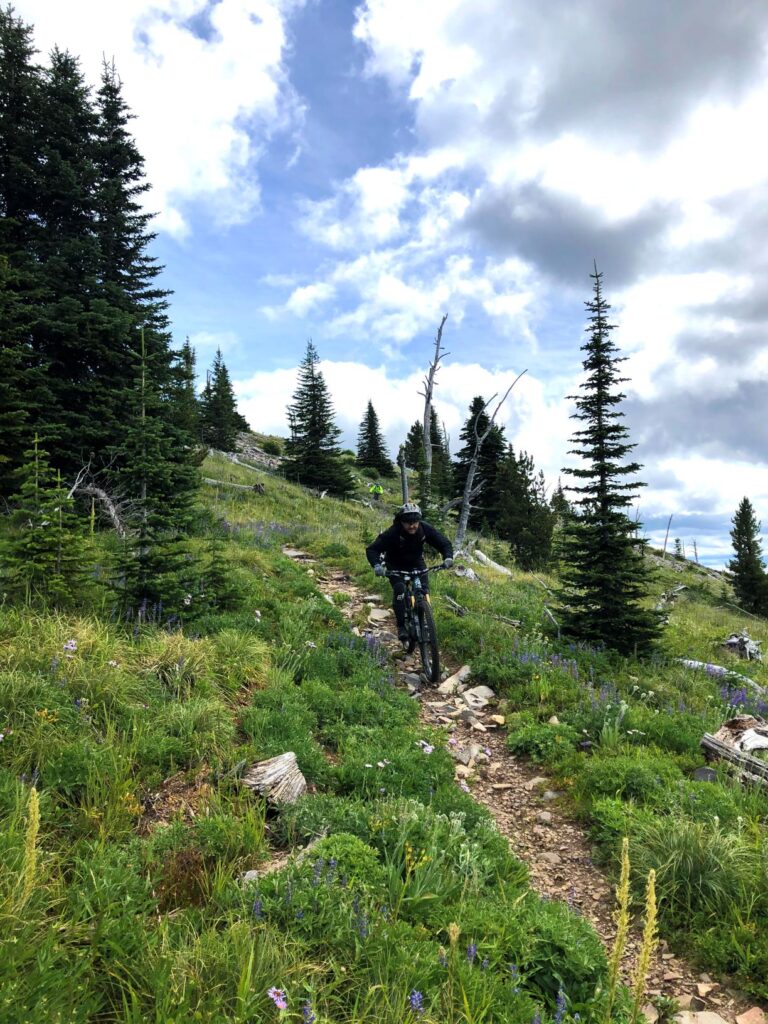 Recommended by Melinda DuPree, Evergreen East Board Member
Mount Hope Cemetery Road Ride
Twenty miles south of Spokane on the corner of Valley Chapel Rd. and North Kentuck Trails Rd., this picturesque country cemetery in the small community of Mt. Hope makes for a scenic road ride destination. The ride out Valley Chapel Road includes a few crossings and views along Latah Creek. The north end of the road is a stretched-out climb/descent from the valley while the southern climb/descent is steeper and includes broad views in the Palouse.
Hayden Lake Loop Ride
This 27-mile road ride departs from Honeysuckle Beach on North Idaho's Hayden Lake for a loop around the lake on Hayden Lake Rd., English Point Rd., and Lakeview Dr. The road rolls up and down for 2,000' of overall climbing with views of North Idaho that will give you lake-cabin envy.
Recommended by Jim O'Hare, Spokane Bicycle Club
Spokane Area Road & Paved Path Rides
Check out the SpokeFest loops choosing from the 9, 21, or 47-mile distances on the Spokane Bicycle Club's website (Popular Rides tab).
The Fish Lake, Centennial, Children of the Sun, and Appleway trails are other great Spokane-area rides that are paved with low-to-moderate elevation gain and are mostly free of motorized traffic.
Greats views while biking along Spokane's Centennial Trail. // Photos: Jon Jonckers
Recommended by Jane Patten, Local Artist and Mountain Biking Influencer
Glenrose to Phillips Creek Trail
This great out-and-back adventure offers views of Spokane to the west and east, including Mica Peak. This trail system offers fun, flowy single-track through meadows and pine groves and just enough elevation to get the heart pumping. An added bonus—Winescape Winery is a few blocks from the Thierman Trailhead for après ride hydration.
Recommended by Wayne Jordan, Fly Fishing & Fly-Tying Instructor
St. Joe River
Test your fly-fishing skills in this blue-ribbon cutthroat stream that flows through the scenic Idaho Panhandle National Forest. If you are looking for a little extra adventure, take the back road route via St. Regis, Mont.
Lower Grande Ronde River
Located near the tiny community of Rogersburg south of Asotin, Wash., anglers of all ages and skill levels can expect to catch smallmouth bass on the Grande Ronde River while enjoying the scenic beauty of Hells Canyon.
South Skookum Lake
This lake located in the Colville National Forest near Usk, Wash., is perfect for families looking to catch a few trout while escaping the commotion of the city for the day.
Columbia National Wildlife Refuge
Dozens of lakes and multiple species of fish are waiting for you in this Eastern Washington high desert oasis. Located just north of Othello, these waters provide a great angling day trip or multi-day adventure for the whole family.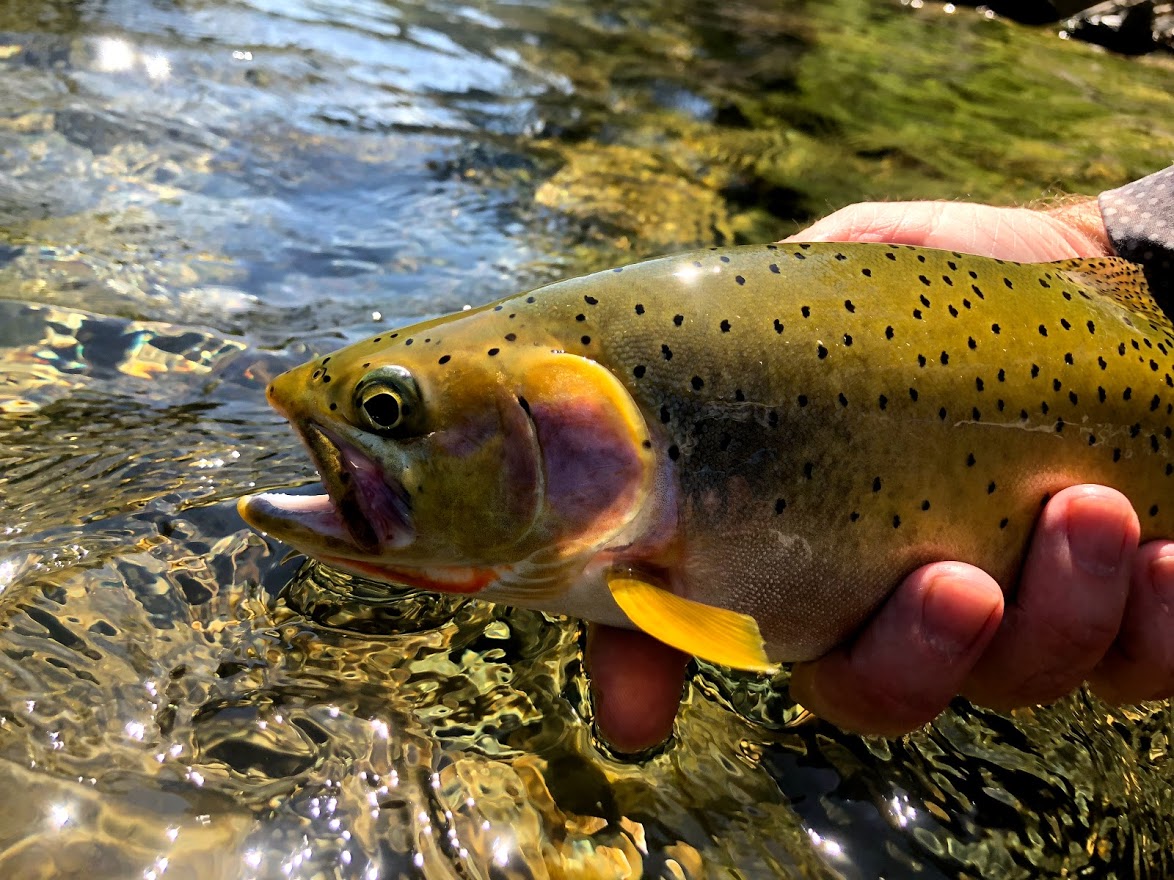 Recommended by Dan Webber, Spokane REI Bike Technician
Themed Rides
Webber recommends making your ride more interesting with a theme. "Morning coffee crawls are a great way to support local businesses and experience new neighborhoods," he says. "My favorite stops include Atticus, Rockwood, Rocket, and The Shop." All of these have patio seating for sunny chats and an ability to keep an eye on your precious steed.
Some other themes could include ice cream (The Scoop, Doyle's, and Sweet Peaks), bridges (13 of them in Spokane that cross the River), public art (murals, electrical boxes, sculptures), or, for the truly hardcore, the Spokane Stairs Ride, where you get to carry your bike up all the outdoor urban staircases!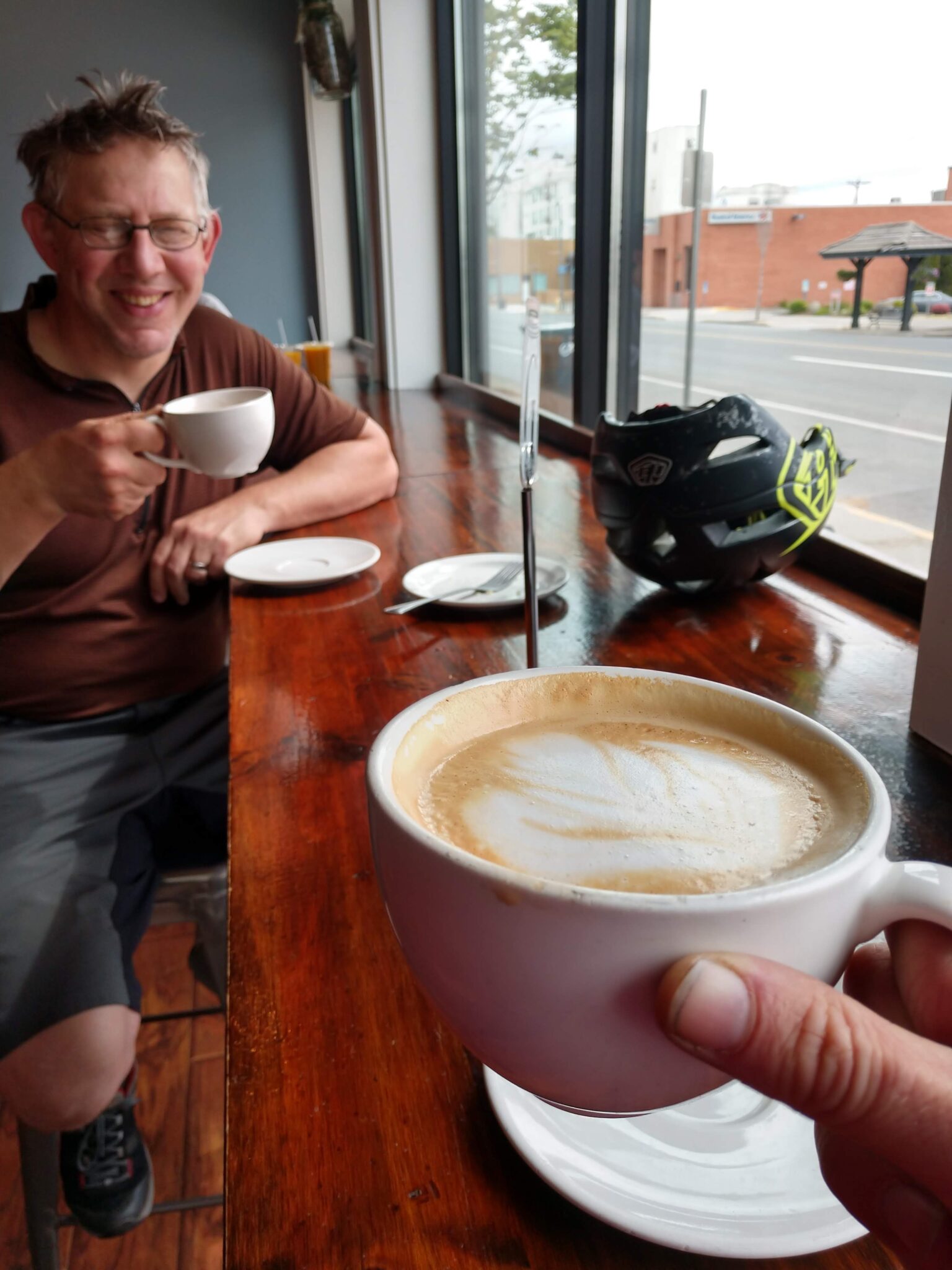 Recommended by Mark Schneider, Rambleraven Gear Trader
Northrup Canyon
An awesome early-season hiking trip near Banks Lake, this 1.5 mile trail leads to an old homestead and another few miles takes you to Northrup Lake, a great overnight backpacking trip to shake the cobwebs off your gear for the year.
Harrison Peak Climbing
This Selkirk Mountain peak is well known for technical climbing, but you can also scramble up the east face without gear for an amazing view.
Lion's Head
This prominent set of two Selkirk Mountain summits above Priest Lake is known for its rock-climbing routes, and Priest Lake is also beautiful.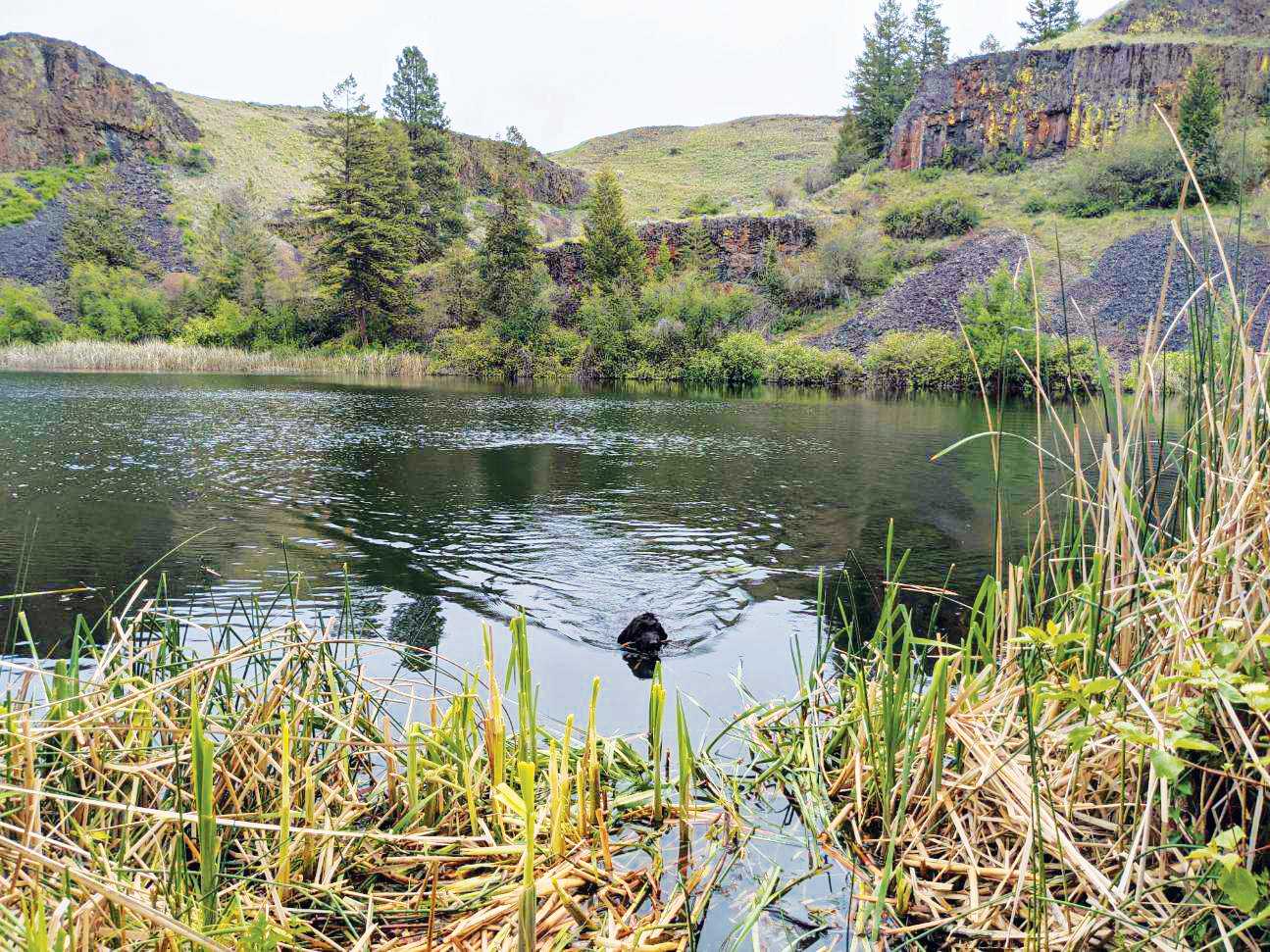 [Feature photo by Aaron Theisen – Cube Iron Roadless Area.]
The post Adventure Inspiration: 34 Summer Trip Ideas appeared first on Out There Outdoors.