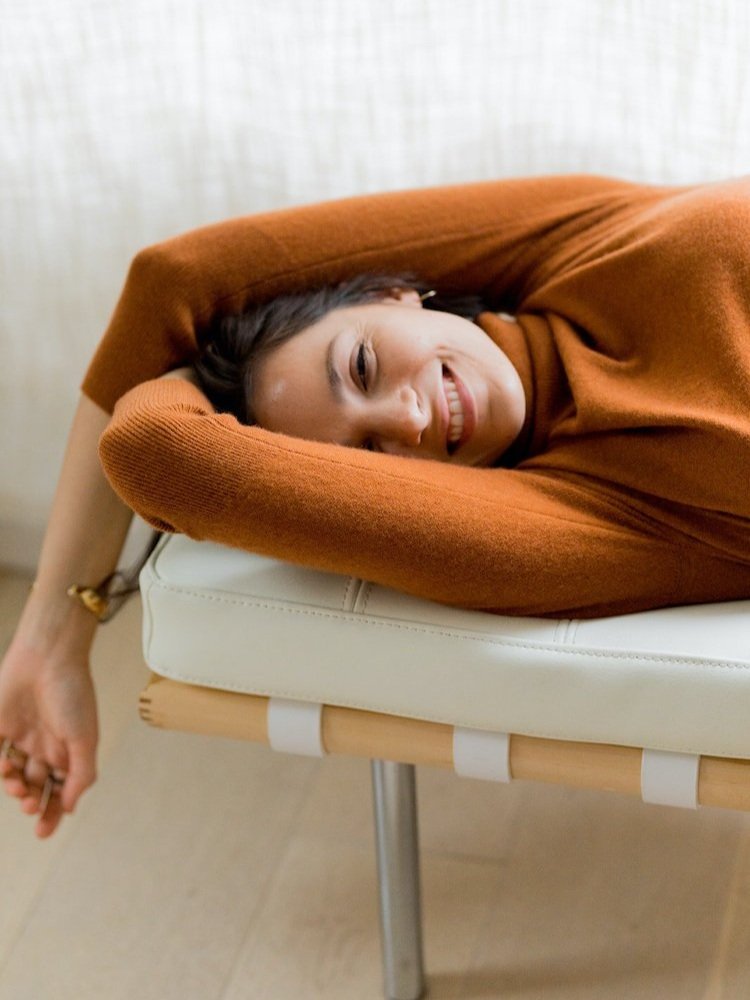 Need To Go Dry For A Sec (Or Forever)?
Everywhere I turn, there's a virtual cocktail hour. Or, an innocuous "let's grab a drink" text with a friend I haven't seen in years. And of course, there's the third space that has become so beautiful and rare in this pandemic period. (My own third space has been the open-air brewery four blocks from my home.) Many of our third spaces do include drinking, and that's difficult—physically, mentally, financially. 
Alcohol is a tricky bag to unpack for me, and for others that I know and love. Some days and weeks, I don't care a lick for it; others, I care a lot of licks. It's easier than most of us will admit to default to a glass of wine or a beer out of habit. Soon, we're reaching for another glass or can.
Others among us are evaluating their consumption carefully; it doesn't matter the reason, and it doesn't matter the duration. Some people will be sober their whole lives (or the rest of their lives), and some may dabble in sobriety throughout various seasons. 
To start building a better relationship with ourselves, we can try to be more intentional about how and when we drink—or don't. I know I am trying to after this hellscape of a year. Wherever you are on the spectrum of sobriety, know that you're not alone. Now, especially, is a difficult moment. No matter your reason (pregnancy, mental health, don't like the taste, or otherwise!), I hope you understand that your experiences are valid.
Here are some of my favorite ways to connect and unwind—with 0 percent ABV.
Psst! For a mindful way to start your day, subscribe to The Daily Good, a 30-second read delivered to your inbox each morning with sustainable recipes, podcasts, artists, articles, and more.🌿
---
Beyond habits, alcohol addiction is serious and has severe consequences for the communities it impacts. If you or someone you love is struggling, using alcohol to numb feelings regularly, or is regularly and negatively affected by drinking, seek out a local support group or call a hotline to find the best ways to help.
---
1. Establish a daily meditation or mindfulness habit—you can schedule it for moments when you are particularly craving a cold one.
2. Get good at crafting mocktails. You can make simple syrups (here are seven unique ones), use your SodaStream, and add beautiful garnishes for the full treatment. Here are some fun recipes to start with.
3. Go on a photo walk and see your neighborhood through a new lens. Bring a pal along and make it a social call.
4. Participate in a community cleanup and meet your neighbors. Here is a resource for our Los Angeles friends, but here is a handy guide to planning a cleanup no matter where you're at.
5. Go camping, even if it's only in your backyard (or on your patio, if it's safe to do so). Hey—who says you can't cook s'mores over a candle? 
6. Kick back and read a collection of poetry, and allow yourself to read slowly and reflect on the experience and meaning of each poem.
7. Or if you're feeling inspired, give writing your own poetry a try. It doesn't have to be good—just try putting pen to paper and see what you discover!
8. Drop some eucalyptus oil in the diffuser, and give yourself a professional-grade facial at home (here's how).
9. If you are out and about and find yourself at a bar, ask the bartender for soda water with lime. You'll have an inconspicuous drink to sip on through the evening!
10. Go to your temple, church, or mosque. Or spend the evening at home in prayer. This does not have to be connected to a particular religious practice—quiet reflection and gratitude are universal. Learn more about creating a spiritual practice even if you aren't religious.
11. Plan a trip, or make a moodboard for your dream vacation.
12. Break out an old game, book, or activity you enjoyed as a child (Pokémon or mini-golf, anyone?).
13. Give yourself the gift of having an event to look forward to, by browsing sites like Groupon. Schedule a spa day, class, or outing based on what deals you can find.
14. Start a Substack newsletter about a topic you're passionate about. Spend your free time learning more about it so that you can share even more info!
15. Become a volunteer or a mentor for youths. (Psst—you can even volunteer online).
16. Sip on some of these non-alcoholic beverage alternatives instead.
17. Go to breakfast; if you can, snag takeout from your favorite local diner and set up a brunch picnic in the nearest park. This'll have you awake and walking first thing—just not the "walk of shame." 😂
18. Or, host brunch at your home with elaborate fixings. You can make a waffle bar, offer fresh-squeezed orange juice, and finally break out that good coffee you've been holding on to (better to share with friends, no?).
19. Or, skip the food altogether and host a coffee or tea cupping. Invite your guests to bring their favorites and discuss the experience together.
20. Do a mental health check in. How are you, really? Write it out or talk it out with a friend (or your voice memos app).
21. Go to a playground and rediscover your favorite youthful pastimes like swinging and hanging on the monkey bars (just don't steal the slide from the kiddos, okay?).
22. Keep a basket for garments that could use a little TLC. Instead of sipping on a boozy beverage while you watch your favorite show, give them a new life by darning them.
23. Or, make something new by picking up a stress-relieving fiber-based art—whether that's sewing your own clothes, crocheting, embroidery or otherwise.
24. Make body butter or other zero waste toiletries.
25. Spend time pampering yourself in private. (These sex toys are a fun addition!)
26. Pack some hot cocoa (and a sweater since it's getting chilly) and catch a sunset at the highest point in town.
27. Explore your family tree by contacting your family members to preserve their stories or via Ancestry.com.
28. Get inspired to live minimally by joining me in my love for the Never Too Small channel on YouTube.
29. Start a scrapbook and enjoy the walk down memory lane.
30. Have a bonfire (make sure it's contained properly and check current fire regulations for your area first). Spend time with your loved ones—or just have a quiet evening alone.
31. Start learning a new language with one of these apps.
32. Go through your clothes and have a fashion show for yourself—what still fits? Which pieces suit your lifestyle? Only keep the pieces you love and resell or donate the garments that still have life left.
33. Set up a still life or find a beautiful location for inspiration, and dive into watercolor painting. 
34. Need a little metaphor for picking up scattered pieces right now? Give puzzles a go.
35. Brush up on your basic survival skills and create preparedness plans for any emergencies in your area.
36. Get to those home repairs and projects that have been on your list for a while. (I'm looking at you, half-assembled TV stand.)
37. Follow a makeup tutorial online. (Seriously, someone please teach me how to use eyeliner.)
38. Take archery lessons and head to an archery range to practice what you've learned.
39. Get on a bike! It makes everyday local errands much more fun and fruitful, plus it'll cut down on your gas usage.
40. Call your parent or grandparent, cousin, aunt, nephew—you get it. Get in touch with your family (chosen family works too!), and ask them how they're feeling right now.
41. Or, write a letter to a dear friend who hasn't heard from you in a while.
42. If you're forgoing the price of drinks, why not order yourself an appetizer with your next takeout? Or better yet, get dessert. 🍰
43. Host a craft night. This is something you can do solo or with friends (even virtually!), and what you make is up to you. Giving yourself something to do with your hands is a helpful deterrent for habitual sipping.
44. Have you misplaced the hot glue gun, or just plain not into crafting? Grab some supplies for an at-home manicure and pamper yourself a bit.
45. Have a music sharing party. Ask for contributions to a Spotify playlist and spend an evening listening and sharing what's on your heavy rotation.
46. Attend a sound bath, or listen to one virtually.
47. Set yourself up for an evening of reaching out to your elected officials, signing petitions, and advocating with others in your community (remember those high school classes that could have been improved? Reach out to your former principal!).
48. You can always write gratitude notes to your local officials as well. (Yes, even to that same former principal!)
49. Light a candle, then make your own candles! Repeat indefinitely. 🕯️
50. Explore a new area of town and meet folks through Meetup's sober activities in your city.
51. Take up gardening, whether it's in a little window herb planter or a full-on indoor vertical garden. 
52. DIY a little punch-needle rug for your bathroom, bedroom, or kitchen—tutorial here.
53. Explore your surroundings in a surprising new way by going geocaching or becoming a Randonaut.
54. Clear out your inbox. Delete what you don't need, file what you do, and unsubscribe to everything you're not finding useful. While it may not sound fun, it has mental wellness benefits. 
55. Do an exercise outside of your usual movement routine; try out yoga, dance in the kitchen, or do slow and steady hill repeats. 
56. Take an afternoon nap! Bonus points if you have a person, pet, or cozy blanket to snuggle up with.
57. Video chat with someone in a different time zone than you. Have a friend or family member overseas? Stay up late or plan to wake up super early to chat with them and catch up.
58. Get your game face on and host a board game night. Don't be afraid to try a new game. (These are some of my favorites, and Catan is always a winner, too!)
59. Do yourself a favor by prepping the chopping, marinating, and pureeing for all of the meals you will eat next week. Pop some dry beans into the crockpot while you're at it—you'll thank yourself later!
60. Or, cull down your food waste and toss your veggie scraps and ends into the freezer, then make a stock! Let 'er simmer all day long and enjoy the aromas that come with it.
61. Play trivia with your friends or family—or just listen to a podcast like Triviality for casual and less competitive trivia.
62. Take a creative writing workshop, or organize a writing group of your own. Communicating about each other's work and facilitating feedback are excellent skills to practice. If you're not sure where to start, check out these writing prompts.
63. Plan a date night around cooking a new dish together. It can be as elaborate as you'd like—just put on your favorite playlist and enjoy doing something tactile with the person you love.
64. If you're not feeling date night, bake yourself a loaf of bread. There's nothing more satisfying than hand-kneading a gooey dough, smelling the yeast as it rises, and eating a slice of bread you made from scratch.
65. Take your sweet tooth to the next level by making candy at home. Toffee, truffles, and fudge, oh my!
66. Go to the library and browse for something new. If your local branches don't stay open into the evenings, snag a book you've been meaning to read and head to a café or park with ample seating. 
67. Or, support a local bookstore and peruse the aisles. Be sure to ask the staff for their favorites!
68. Take in some art and wander the halls of the closest art museum. Museums may be open into the evenings, or you may be able to find virtual versions of interesting exhibits.
69. Share an evening of massages with your partner. If you're flying solo, you can always do a self-massage! 
70. When it's safe for you to do so, go bowling. It's a stimulating, challenging, and competitive way to spend a weekend night. You can even join a league for a social outlet. Not your style? Maybe lace up and go roller skating instead.
71. Create a vision board. How often does a social night out get in the way of your grounding routines? If you're an introvert like me, spending a couple of hours alone can help recharge and reset you on the path towards your goals.
72. Go down the YouTube rabbit hole. Catch up on late-night comedy, follow along with someone's daily life, or even get involved as a vlogger. Why not?
73. Host a clothing swap. Here are some tips on how to do it.
74. Host your own painting night. Have everyone chip in a few bucks and snag some canvases and paints from a local craft store. Snacks and non-alcoholic drinks top it all off.
75. Whether it's old-school Nintendo or you've somehow secured a PS5, break out the controller and get gaming. This is a great hobby to do solo, or hop online and connect with friends and new people! Here are some game suggestions for mindful play.
76. Take yourself to dinner and a movie, and enjoy your own company for an evening. (It's more fun than it sounds.)
77. Catch a game from a local sports team, whether it's a high school team, college athletes, or an intramural league. You might even end up joining them next season!
78. Or craft an elaborate snacking spread full of your favorite fruits and cheeses (if that's your thing) and watch a game at home with your friends.
79. Look for jazz cafés, open mic nights, or community bands playing. Many cities and towns will have live music in public spaces, especially during the warmer months.
80. Go to a late-night yoga or fitness class, or take one virtually. It can be a pain when all you want to do is veg out on the couch, but you'll sleep soundly and wake up feeling refreshed.
81. Borrow a shelter pup for the afternoon and take them on a walk. (Ask your local shelter if they do this.) Or if you have the time, space, and energy, foster a pet in need.
82.  Have some spare shipping boxes that haven't gone out to recycling yet? Make a castle for your pets, or just have fun improvising a cardboard creation.
83. Dye your hair or try cutting it at home. (It's not so scary, I promise—but it's also great to trust a professional!)
84. Create care packages to send to seniors or folks in need in your community.
85. Put together a playlist, turn on a disco light, and grab your dancing shoes. Yep—it's a dance party at home! You can even take dance classes online.
86. Try your hand at tie-dyeing or freshen up an old t-shirt with this guide to DIY natural dyes. 
87. Give birdwatching a go. 🐦 👀
88. Extend your to-read list using this website or by exploring glowing reviews on Goodreads. You can even sign up for a book subscription service and let someone else curate your list for you.
89. Then start a book club, whether in-person or virtually and discuss your favorites with a group of your peers.
90. Find a local chapter of Toastmasters and confront your fear of public speaking (or fine-tune your already-fabulous skill!).
91. Paint a room in your home a color you've always been nervous to try out—if it doesn't work, you can paint it back. (Or try one of these peel-and-stick wallpapers instead.)
92. Take a factory tour of a local production business. (Strangely, touring a pickle factory has been one of my favorite adventures with my family.)
93. Have a pizza-making party. Let your friends and family each toss their own crust and add their toppings of choice. You can also make the dough from scratch, though we don't have to be overachievers. 😉
94. Read and subscribe to a magazine in your field of interest—you may even be able to find 'zines made by members from your community at the local bookstore.
95. Lace up your hiking boots, whether you're going with a group or for a solo hike, and find scenic trails near you for a good ol' afternoon hike.
96. Then learn how to forage safely, sustainably, and successfully. Teach others to do it as well! 
97. Join a sober group on Reddit or Facebook, if that's your jam. This may take some careful vetting to find one that works best for you.
98. Whether it's a guitar, piano, or that old recorder you had in fourth grade, pick up a musical instrument and a beginners book. (You can find lots of instruments secondhand online.) You may be bad at first, but you'll get better. Toot, toot! 
99. Go. To. Bed. Early. Tuck yourself in earlier than normal and wake up feeling fresh and being fully rested at your own pace. If you want extra motivation to get to sleep, plan an early morning meetup with a friend.
Do you have a favorite sober go-to activity? Share in the comments below! 
---
Emily Torres is the Editorial Director at The Good Trade. Born and raised in Indiana, she studied Creative Writing and Business at Indiana University. You can usually find her in her colorful Los Angeles apartment journaling, caring for her rabbits, or gaming.
---
RELATED READING