There are a lot of good things happening here: 1) Your first two dates went well, 2) you both want to see each other again, and 3) your first-date jitters have, for the most part, subsided by now. You've probably already gone out for a meal together and/or met up for drinks, talked about your careers, where you're from, and all the general get-to-know-you topics, and so far, no red or beige flags have made either of you run for the hills. I don't know if you know this, but getting to the third date is practically considered a milestone in the dating renaissance we're living in now! These days, the third date is a turning point—you no longer have to make small talk and hope you enjoy each other's company and you can plan something that is more playful, romantic, and low-pressure. But what the heck do you do on a third date? Well, we've got some thoughts. The third date ideas we are sharing are so good, you'll be planning a fourth before you know it.
1. Do something active
Get positive endorphins flowing on your third date by doing something active together. Opt for something low-intensity like walking around a park, or take things up a notch by going rock climbing, hiking, or bike riding. You can even book a yoga, spin, or strength workout class together. If you opt for walking, maybe grab some coffee to enjoy along the way together, and if you decide to do something a little bit more involved, go for smoothies afterward. This is the perfect date to fit in if you have a busy schedule and want to see each other again soon, or it can be something that you decide to do often together going forward. A long walk on a Saturday morning with a coffee in hand and a cute date? AND you can bring your dog? Love that for you.
2. Listen to live music
Whether you enjoy the same type of music or your taste is drastically different than your dates, heading out to hear live music is always enjoyable. And you don't have to get concert tickets to do it. Live music schedules are easy to find any night of the week at restaurants, bars, or even some community events. Since you've probably already gone out to dinner or drinks and talked the night away, heading to a place with live music allows you to chat without feeling like you need to do it the entire night. Simply enjoy each other's company and the music. But if you're feeling bold and want to take things up a notch, look for karaoke instead!
3. Attend a sports game
No matter the time of year, you can get tickets to a sporting event—basketball in the spring, baseball in the summer, football in the fall, and hockey in the winter. This is a good opportunity to bond over a sport or team you both enjoy or learn from one another the ins and outs of the game if you're not familiar with it. If you're not interested in the game itself, the positive atmosphere, concession foods, and outfit opportunities are reason enough to attend a game with your date.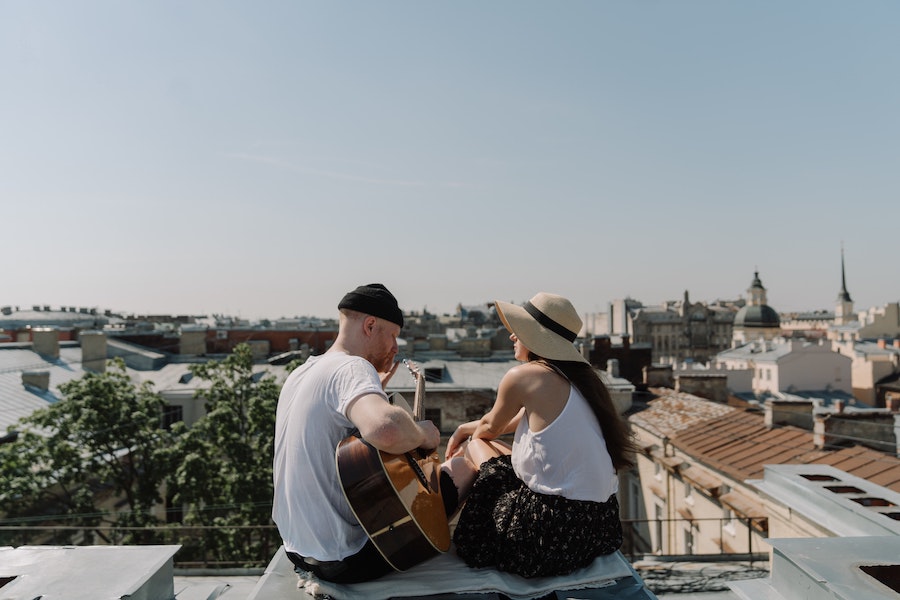 Source: Pexels | @cottonbro
4. Do something that's new to you both
On your previous dates, did you talk about your bucket lists? Did someone mention something they've always wanted to do? Is there a new cocktail bar or restaurant you have both had on your list to check out? Think back to these conversations and plan your third date to be something that both of you have never done or gone to before! Having this shared experience allows you to get out of your comfort zone and bond with your date over something that is new territory for both of you. Who knows—you might end up starting a new hobby together or discovering your new favorite place for date night.
5. Head to the farmer's market
Is there anything better than waking up on a sunny weekend morning, throwing on a matching athleisure set, walking the farmers market, and picking up fresh produce? The quick answer is no. But it could be even more fun to do together. Meet your date at the farmers market and take your time visiting each of the different vendors, introducing each other to different items you like to buy, chatting about your weekend plans, and walking around. After that, maybe head to grab coffee or lunch. It's giving "easy like a Sunday morning."
6. Do something competitive
Head to trivia night, play pool or darts at a bar, challenge each other to a game of mini golf, go bowling—the competitive opportunities are endless and the best part about them is that you don't have to be any good at them to enjoy the date. A little friendly competition can bring out the flirty, teasing fun we all know and love. But fair warning: You might find out that they take lighthearted games a little too seriously—which you'll want to learn about someone sooner rather than later.
The post 6 Third Date Ideas That Will Make You Want to Plan a Fourth appeared first on The Everygirl.