Colorado is one of the few RV destinations in our country that instantly conjures up images of breathtaking snow-capped peaks, abundant wildlife, and wildflower-carpeted meadows. Summer RV camping at Rocky Mountain National Park is one of the best ways to experience all of it in one trip. For that reason alone, it's one of the busiest parks in the system, but with careful planning, you can have that bucket list trip you've been dreaming about. Here's how to make it happen.
It's Worth the Effort to Plan for Your Trip
Few national parks define the collective vision of a U.S. state the way that Rocky Mountain National Park does. When combined with pleasant summer temperatures and awesome RV camping, "Rocky," as the locals call it, has all the features necessary for an unforgettable vacation. The sheer number of people who want to experience it (over 4.3 million in 2022) is why the National Park Service has made some critical changes to the park experience. New rules are affecting when, how, and sometimes if we experience the park at all, so pay attention.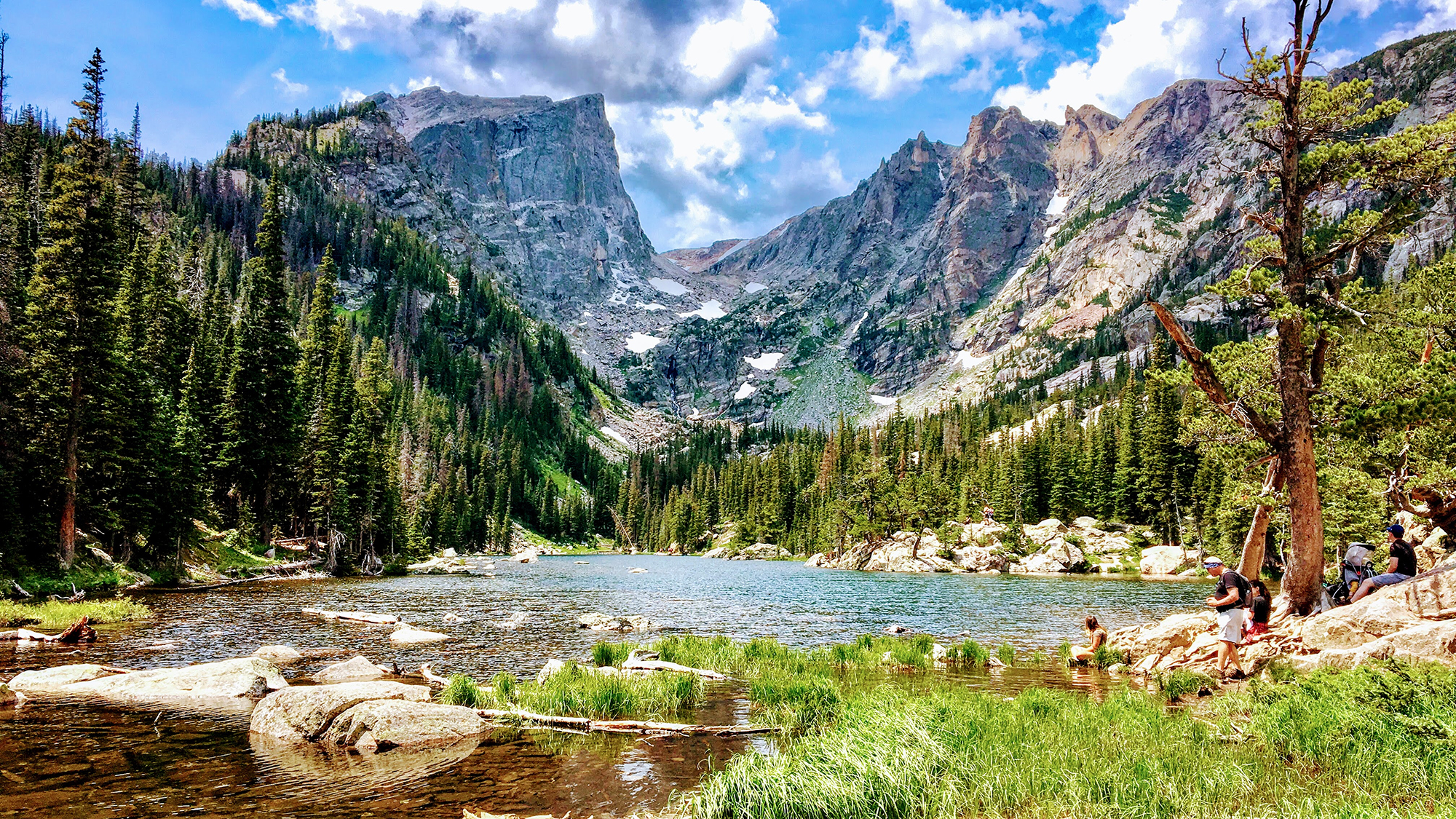 What to Expect at Rocky Mountain National Park
The biggest changes at Rocky involve trying to resolve guest overcrowding issues and beefing up campsite infrastructure. As an example, reservations are now required just to get into the park as a day-use visitor. Reservations are also needed to take park shuttles that run outside and inside the park. And finally, a major campground closure inside the park will also impact your plans whether you stay outside the park or not. Understanding all of these changes is critical when you're RV camping near Rocky Mountain National Park. Let's look at them in detail.
1) Plan for the Timed Entry Permit Reservation Requirement
In 2021, Rocky was the first location in our national park system to place restrictions on when visitors can enter the park. Between Memorial Day through early October, a "timed entry permit reservation" booking is required for all day-use visitors who want to get into the park. Plan for this, by booking your park entry slot at Recreation.gov. Your pass allows you to enter the park on a certain day, within a two-hour window. You'll also need a park entrance pass (also reservable at Recreation.gov) before arriving at the gate. Take care of this detail while making your park reservation and you'll be set for adventure when you check in. Don't wait until you get there. Your desired entry day and time will probably be booked.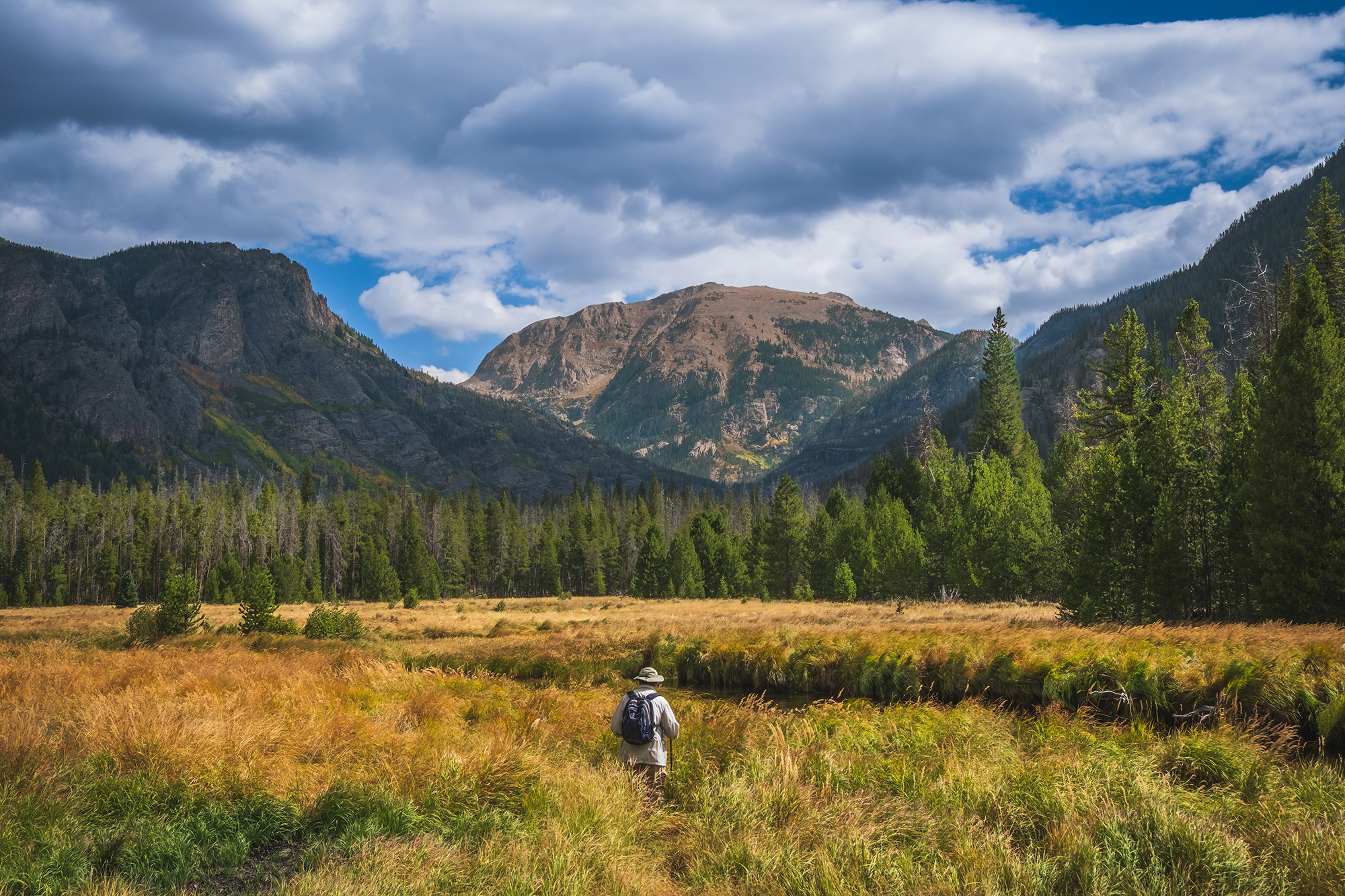 Did you book a campsite inside of the park? If you're lucky enough to already have a spot inside any of the park's RV-friendly campgrounds (Aspenglen, Glacier Basin, Timber Creek, and Moraine are the RV-friendly ones), you don't need a timed entry reservation during your stay. However, you can't get into the park until 1 pm on the first day of your reservation.
2) Prepare to Use a Hiker Shuttle
Experiencing Rocky Mountain National Park's amazing destinations like Bear Lake is a must-do on your agenda. If you are staying near the park's most popular entrance near Estes Park, you'll want to leave your vehicle in town and hop on a free park shuttle to get into the park. Designated in-park shuttles can take you everywhere you need to go. However, the park's external and internal shuttle system is now requiring guest reservations. So instead of standing in line for as much as two hours to board a shuttle, your booking allows instant boarding on your preferred day and time. Shuttle scheduling can get a little tricky, but the park's Shuttle Buses information page can help you plan after you book a campsite. Keep in mind that if you're camping near the park's western entrance, there are no shuttles going into the park. However, you still need an advance in-park Shuttle Bus reservation if you want to easily go anywhere without your vehicle.
A Major Campground Closure Is Impacting Nearby RV Parks and Campgrounds
The biggest RV-friendly campground at Rocky Mountain National Park is closed from May 2023 through June 2024. Aging and weather-beaten water, wastewater, and electrical distribution systems inside the campground are getting revamped, and ADA access will also be improved. The best part is that an additional 60 campsites are getting electrical hookups. Unfortunately, this means that Moraine's 244 RV-friendly campsites are closed for the next year. The lack of campsites is creating a domino effect at nearby private RV parks, so count on extra difficulty getting the exact dates you want to visit.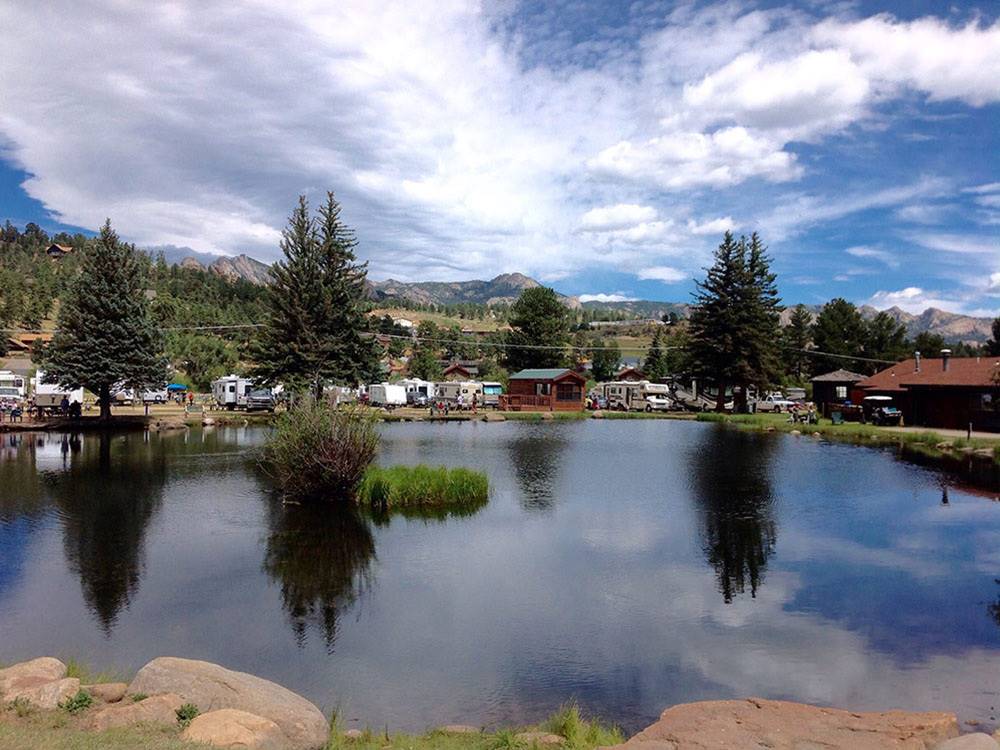 3) Make Your Camping Reservations, the Earlier the Better
If you are thinking about RV camping near Rocky Mountain National Park this year, start looking for a campsite as soon as you know your potential dates. By this time of year, you probably won't be lucky enough to score an open slot at a campground inside of the park itself. But thankfully, you have lots of private RV campgrounds nearby to choose from. Just be flexible with your desired dates and consider a weekday visit for the best chances of landing a spot.
Where to RV Camp Outside of Rocky Mountain National Park
The park has two main entrances: the eastern entrance near Estes Park, and the western entrance near Grand Lake. Since Estes is an easy drive from Denver, it's by far the most popular destination for visitors to Rocky. Camping reservations are more competitive on this side, which means you might have a better chance of scoring a reservation by focusing your getaway near the western entrance.
Estes Park: Spruce Lake RV Resort
This top-rated Rocky Mountain National Park destination for RVers is convenient to Rocky and Estes Park. Located less than 10 minutes from the park's eastern entrance, you can even bike into the park from your campsite. However, you still need a reservation to get inside. Spruce Lake RV Resort is not inexpensive, but guests enjoy plenty of conveniences in exchange. It's the best location to set up camp and walk to the heart of Estes' dining and shopping district. A small grocery store with everything you need for comfort is right around the corner. The only downside is that the resort is limited to RVs up to 40 feet long. For the rest of us, Spruce Lake offers fast access to a park experience.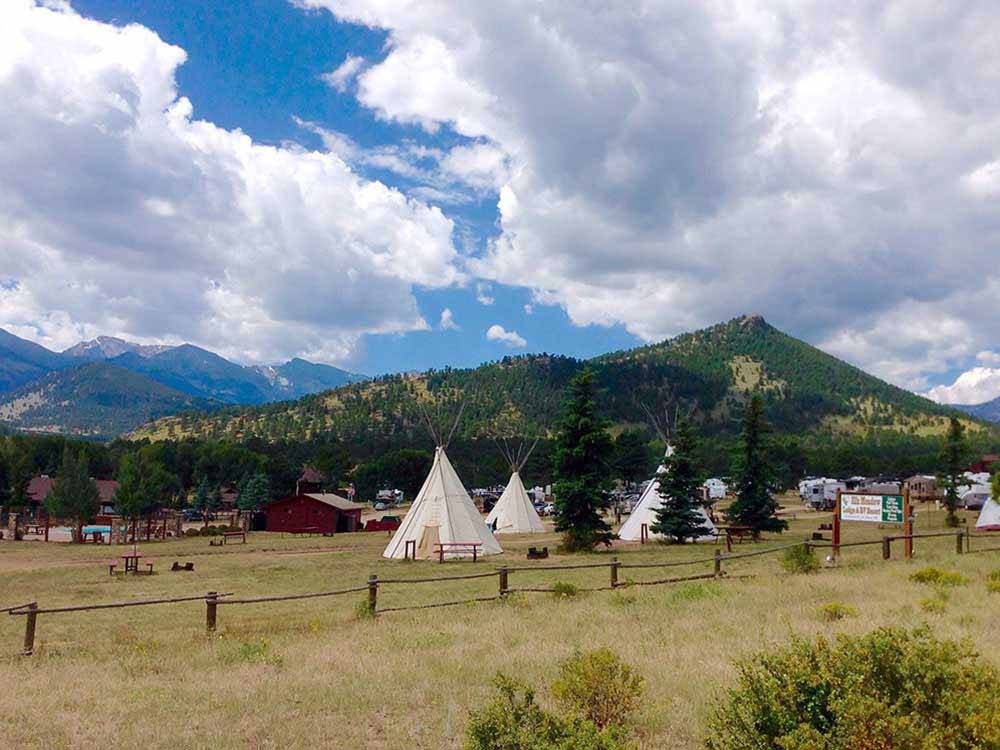 Estes Park: Elk Meadow Lodge and RV Resort
If you're staying on the eastern side of Rocky, you can't get any closer to camping inside the park than Elk Meadow Lodge and RV Resort. Located one mile from Estes Park and next door to the park's eastern entrance, the stunning scenery surrounding this 30-acre historic property with full hookups gives you the sense that you're inside the park itself. One of the biggest draws of Elk Meadow is that it's the closest big-rig-friendly camping near Rocky, perfect for RVs up to 70 feet long. And as the name implies, even the local wildlife love this spot. You'll be visited daily by elk, deer, and other park animals who inhabit the terrain.
Grand Lake: Winding River Resort
Like the other Estes Park RV campgrounds near Rocky, Winding River Resort is literally within walking distance of the park's western entrance. Located just north of scenic Grand Lake, this popular destination can accommodate RVs up to 60 feet long. The historic ambiance and proximity to hiking trails make it a popular choice. Campsites only have water and electric hookups, but two dump stations inside the resort make up for this tiny inconvenience.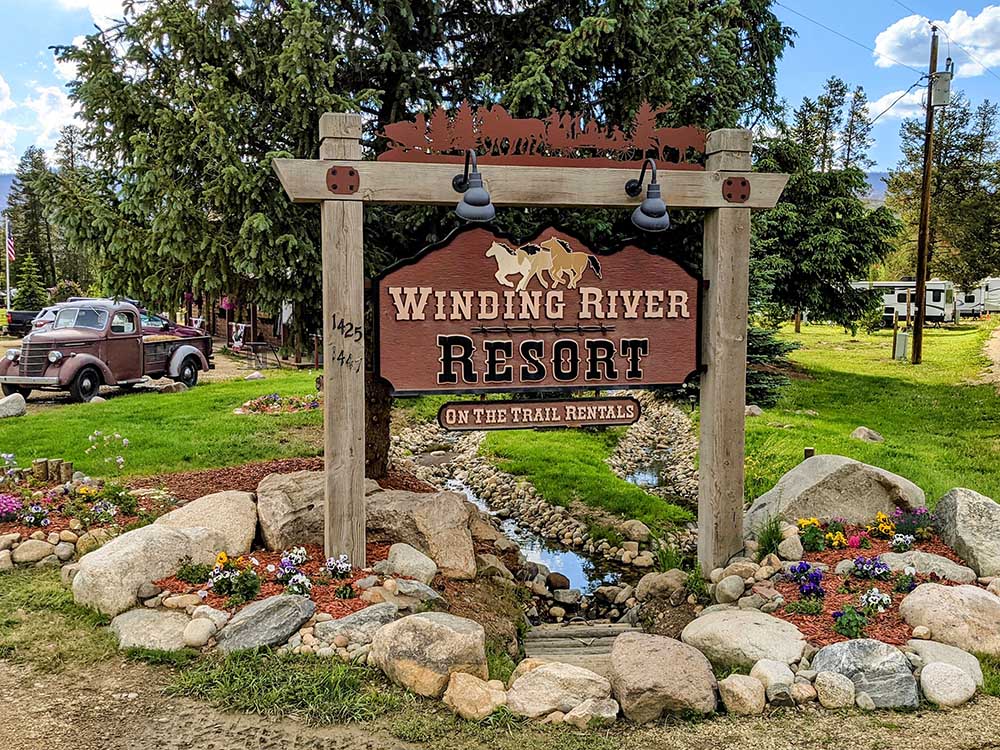 Even though Rocky saw a slight decline in visitation last year, it's still a popular place. Wherever you set up your RV near Rocky Mountain National Park, expect company and prime-time pricing for activities, food, fuel, and of course, campsites. But if you book an RV site now and take advantage of the new reservations system at the park, you'll be as adventure-ready as it gets for one of the world's most epic outdoor experiences.
The post 3 Tips for Navigating Rocky Mountain National Park Like a Pro appeared first on Good Sam Camping Blog.