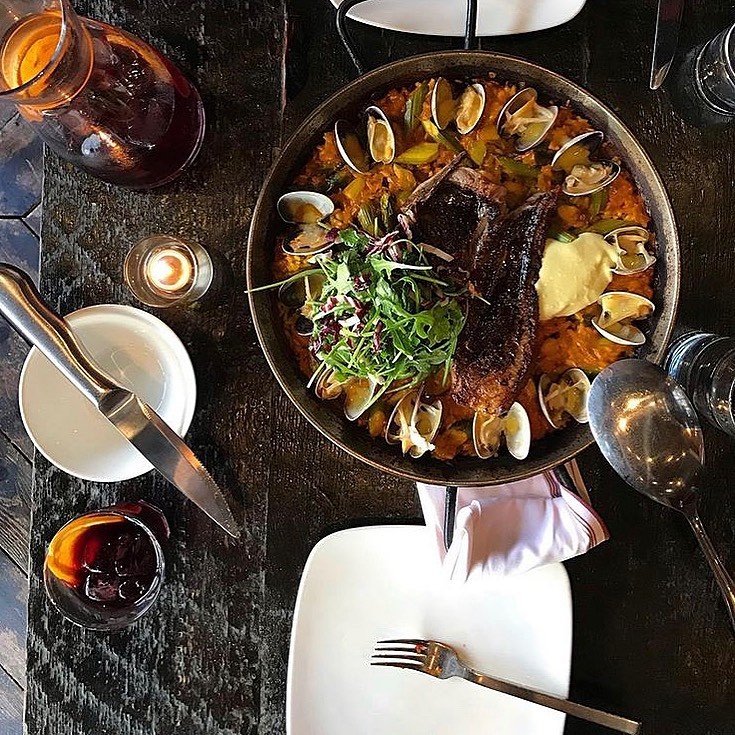 It's the first full work week of the new decade, but there are plenty activities to keep you moving, creative, and well fed.
Take a salsa class or learn some Bollywood moves at Non Stop Bhangra's 15th anniversary party; join the Hot Chocolate 15k run or a 55-mile bike ride through Marin; learn to craft your own cocktails at Elixir; and get Chinese-American eats delivered to your door from Brandon Jew's new Mamahuhu. Have a good one!
Monday, January 6th
Salsa Class
6:30pm
Neck of the Woods, 406 Clement St. (Inner Richmond), neckofthewoodssf.com
Learn to salsa in this four-week course. Things kick off tonight; then weekly progressive classes will build on what you've learned. No partner is necessary to take the class. // Tickets ($60) available via Eventbrite.
F**k, Now There Are Two of You
7:30pm
The Sydney Goldstein Theater, 275 Hayes St. (Civic Center), cityarts.net
#1 New York Times bestselling author Adam Mansbach (Go the F**k to Sleep) sits down with Bay Areabased comic star W. Kamau Bell for a sure-to-be-hilarious discussion about what it's like to have kidsand then more kids: Mansbach's latest book is titled, F**k, Now There Are Two of You. Expect it to be smart, profane, and 100 percent real. // Tickets ($29) can be purchased at cityboxoffice.com.
A New Steakhouse
4pm to 11pm, daily
Mastro's Steakhouse, 399 Geary St. (Union Square), mastros.com
Steakit's what's for dinner. At Mastro's, you can design your own seafood tower, and then indulge in Alaskan king crab black truffle gnocchi; petite filet; a 40-ounce Wagyu tomahawk chop; and A5 Kobe beef from Tajima cattle. Start with a glass of wine from their stellar list.
Tuesday, January 7th
An Evening With George Cole
7:30pm
Yoshi's Oakland, 510 Embarcadero West (Oakland), yoshis.com
Acoustic guitar player George Cole plays Yoshi's tonight with a nine-piece orchestra. It's a guaranteed groovy, good time. //
Tickets ($24) available via
Eventbrite
.
Grow Your Life & Work Without the Hustle
12:30pm to 1:45pm
The Hivery, Fort Mason Building D, 2 Marina Blvd. (Marina), thehivery.com
Not quite sure how to achieve your goals in 2020? Head to The Hivery for a BYO brown-bag lunch chat with author, speaker, and success coach Dr. Sweta Chawla. You'll be introduced to the ReSourced Path to Success and stress free ways to flowinstead of pushtowards your goals. // Register (free for members or $30 for non-members) on thehivery.com.
$39 Three-Course Dinner
Daily through February
1760 Restaurant, 1760 Polk St. (Nob Hill), 1760sf.com
Enjoy a gourmet three course meal without breaking the bank at Acquerello's sister restaurant, 1760! The new Tuscan $39 prix-fixe menuon offer through the end of Februaryis replacing the a la carte menu, and includes a ribollita stew, pork chop with chestnut pure, and cantuccini for desert with the option to add on a fourth papardelle and lamb rag pasta course for just $10. // Reservations ($39 for the three course meal, with option wine pairings and pasta course) can be made on 1760sf.com.
Wednesday, January 8th
Frances' 10th Anniversary
Reservations from 5pm to 10pm
Frances, 3870 17th St. (Mission)
Chef/owner Melissa Perello is celebrating 10 years of Frances with a series of dinner collaborations with a few of her women chef friends. Tonight, go for a Champagne reception and dinner by Anita Lo and wine pairings by sommelier Belinda Chang. Sales from each dinner will also support a charity. //
Tickets ($250/person) can be purchased at frances-sf.com.
Trivia Night
7:30pm to 10pm
Little Creatures Mission Bay, 1000a 3rd St. (Mission Bay), littlecreatures.com
Gather your geeks and bring your A-game for trivia night at this new locale of the Australian-based brewery. Bonus, all pints are $2 off for the night. // Free to attend, details via Eventbrite.
Mamahuhu Delivery
Tonight from 5:45 to 9:30pm
Delivery in SF via Caviar
Mister Jiu's proprietor Brandon Jew is launching a new casual Chinese-American concept, Mamahuhu. While the restaurant isn't quite open just yet, San Franciscans can get a taste via Caviar delivery on select nights this week. Order elevated takeout classicsthink jade fried rice, sweet and sour chicken, and wonton soupor build a bowl with a house special, jasmine rice, and Chinese greens for just $15. The best part? While prices at Mister Jiu's can be steep, everything at Mamahuhu is under $20. // Book a delivery via trycaviar.com.
10k Bootcamp Run
7:15pm to 9:30pm
Babes of Monte Carlo, 582 Washington St. (Jackson Square), babesmontecarlo.com
Burn off holiday calories at this free evening run and bootcamp workout with the San Francisco Midnight Runners. Run as a group along to an epic running playlist, with five interval stops for bodyweight exercises. Stick around after for a beer with fellow runners. // More info and free registration, go to facebook.com.
Thursday, January 9th
SF SketchFest
Through January 26th
Various locations
Laugh your pants off at SketchFest's various comedy events including came shows, improv, sketch comedy, stand-up, storytelling, podcasts and more. Tonight kicks off with the world premiere of the Netflix original series Medical Police, as well as stand up with Maria Bamford (Lady Dynamite). // Browse the full schedule and grab tickets on sfsketchfest2020.sched.com.
Chicken Pho
11am to 2pm, Thursday through Sunday
BanhMi-Ni (Inside of Copper Spoon), 4031 Broadway (Oakland), eatbanhmini.com
Top Chef contestant Tu David Phu already has a rad pop-up focused on banh mi sandwiches. But for the month of January, he'll also be adding chicken pho to the mix. Stop by for steaming bowls of goodness.
Oakland Restaurant Week
January 9-20
Restaurants throughout Oakland
Celebrate the East Bay's culinary scene at participating spots restaurants including Chop Bar, Hopscotch, Mua, and more, where there will be special prix fixe menus at both lunch and dinner, ranging from $10 to $80. // Browse the options on visitoakland.com.
Friday, January 10th
Flashback Friday Ice Skate
6pm to 7:30pm; 8pm to 9:30pm
Holiday Ice Rink at Union Square, 333 Post St.
IHeart80s radio personalities from 103.7FM will be on deck spinning the best '80s beats for a night of retro ice skating. Grab your best scrunchies, crimp your hair, and don your neon unitards to get groovy at the rink. // Tickets ($18) via unionsquareicerink.com.
Mortified
7:30pm to 9:30pm
DNA Lounge, 375 Eleventh St. (SoMa), dnalounge.com
Start of 2020 with a little bit of laughter courtesy of several performers reading their real, live journal entries written by their teenage selves. // Tickets ($20) are available at dnalounge.com.
Mixology Class
7pm to 10pm
Elixir, 3200 16th St. (Mission), elixirsf.com
Elixir's bar masters are offering a hands-on cocktail class. Learn the basics while you make four classic recipes with the best, correct techniques. // Tickets ($75) are available on Eventbrite.

Yoga Sound Bath
7:30pm to 9:30pm
The Center SF, 548 Fillmore St. (Lower Haight), thecentersf.com
Get zen with a candlelit yoga sound bath. You'll practice a "breath-centered" flow sequence with soothing sounds of didgeridoo, drum, chanting, and flute music to help you achieve new poses. // Tickets ($30) are available at Eventbrite.
Litquake Presents "My First Time"
10pm
PianoFight, 144 Taylor St. (Tenderloin) pianofight.com
Litquake is readying the laugh-o-meter for a comedy show themed around firststhink loves, apartments, drugs, cars, and moreas part of SF SketchFest. Former Groundlings performers Mary Jo Smith and Colleen Smith will lead the night. // Tickets ($25) can be purchased at litquakeyearround2020.sched.com.
Saturday, January 11th
National Hot Toddy Day
6pm to 10pm
Humphry Slocombe Oakland, 2335 Broadway (Oakland), humphryslocombe.com
Tis still the season for toddies. Try Humphry Slocombe's ice cream-y versions at their Oakland shop, made with Glenlivet whiskeyinfused ice cream. Also grab discounted pints of the boozy ice cream to go. // RSVP required at Eventbrite, 21+ only.
Non Stop Bhangra's 15th Anniversary
9am to 2am
Public Works, 161 Erie St. (Mission), publicsf.com
Get your dance on at Non Stop Bhangra's 15th anniversary party celebrating Bollywood-style dance moves and upbeat Punjabi folk music. Anyone and everyone is inviteddon't be intimidated if you don't dance bhangra, you'll pick it up over the course of the night. // Tickets ($20) available via Eventbrite.

A New Art Gallery
5pm to 9pm
2675 Mission St. (Mission), drawingroomsf.com
Just around the corner the artsy workshop space The Drawing Room, The Annex is a hybrid gallery/event/studio space featuring large works of art. Peruse the pieces and chat with the artists.
"Throwing Shade"
7pm to 10pm
Swedish American Music Hall, 2174 Market St. (Upper Market), swedishamericanhall.com
Erin Gibson and Bryan Safi of the podcast and TV show "Throwing Shade" are bringing their iconic take on pop culture and politics to SketchFest. According to Fast Company, "there has never been a raunchier or funnier current affairs program." // Tickets ($30) can be purchased at Eventbrite.
Sunday, January 12th
Hot Chocolate 15K/5K Run
The 5K race starts at 7:20am, and the 15K at 8:10am (times subject to change)
Golden Gate Music Concourse (Golden Gate Park)
Make your weekend run a little more rewarding with a dose of chocolate treats in this 5K or 15K race. Participants will start in Golden Gate Park, hit a few sweet treat pit stops, and finally finish the race to enjoy chocolate fondue and hot chocolate. //
Tickets ($54 /5K, $74/15K) are available at hotchocolate15k.com.
19th Annual No Pants BART Ride
1:50pm to 4:50pm
Meetup at Civic Center/UN Plaza Station
Flaunt your favorite undies on BART at this zany flash mob-esque eventbrownie points for acting totally normal. Post-ride, head to a TBA after-party with all your new pants-free friends. // Free to attend, plus the cost of your BART ticket fee. Keep up with event details on Facebook.

Officially Serious Bike Ride
7am to 7pm
Above Category, 42 Caledonia St. (Sausalito), abovecategorycycling.com
Venture across the GGB to Above Category's new clubhouse for a long day of biking across Marin's best gravelhills and views includedto benefit the Marin County Bicycle Coalition's efforts to create more bike-friendly trails. Fuel up with Equator pastries and coffee first, test out a new bike, and reward yourself for riding 55 miles with dinner from Paella Del Reyes and brews from Hyland Brewing. // Tickets ($70) can be purchased on Eventbrite.
All-You-Can-Eat Brunch
11am to 3pm
Trademark & Copyright, 1123 Folsom St. (SoMa), trademarksfc.com
Swing by this SoMa bar for a late-morning feast featuring Puerto Rican dishes by Borinquen Soul WEPA. The menu will include a spread of 12 dishes like empanadas, chicharonne de pollo, arroz con gandules, tostones, maduros and more. Bottomless mimosas will be sold separately. // Tickets ($20 and up) available via Eventbrite.
Take10 Free Cardio Fitness
9:30 to 10:30am
Decathlon, 2300 16th St. (Mission)
Keep your fitness resolution and head to Decathlon for a free strength-training class taught by a certified trainer. Stick around post-sweat for refreshments, and take another free class any Sunday in January. // Register (free) on Eventbrite.