If you call Western Australia home, it's pretty likely you've done a road trip or ten in your lifetime. As the chilly days seem to have no end in sight (ok we know it's really only a couple of months in Perth,) the idea of jumping in the car and heading out of the city seems like the perfect hug of warmth we all need. 
Whether you're looking to embrace the winter and get cosy around a fire, or just thinking you need to escape it all together, here's our top ten getaways you need to get around this winter.
Karijini National Park
This one has to be on every West Aussie's bucket list. Scrap that, it needs to be on every person who walks this earth's bucket list. The road trip from Perth to Karijini National Park is no small feat, but we guarantee it's worth every hour. From Perth you head inland for about fifteen hours before arriving in Meekatharra and then out to Karijini. Don't worry, there's plenty of places to stop for a sleep on the way. The crystal clear turquoise waterholes, epic gorges and thundering waterfalls are something you need to see at least once in your lifetime. Make sure you spend a few days here as you won't want to miss a thing. True adventurers can roll out a swag and sleep under the stars, or if you're feeling a little more glam, the Karijini Eco Resort is where it's at.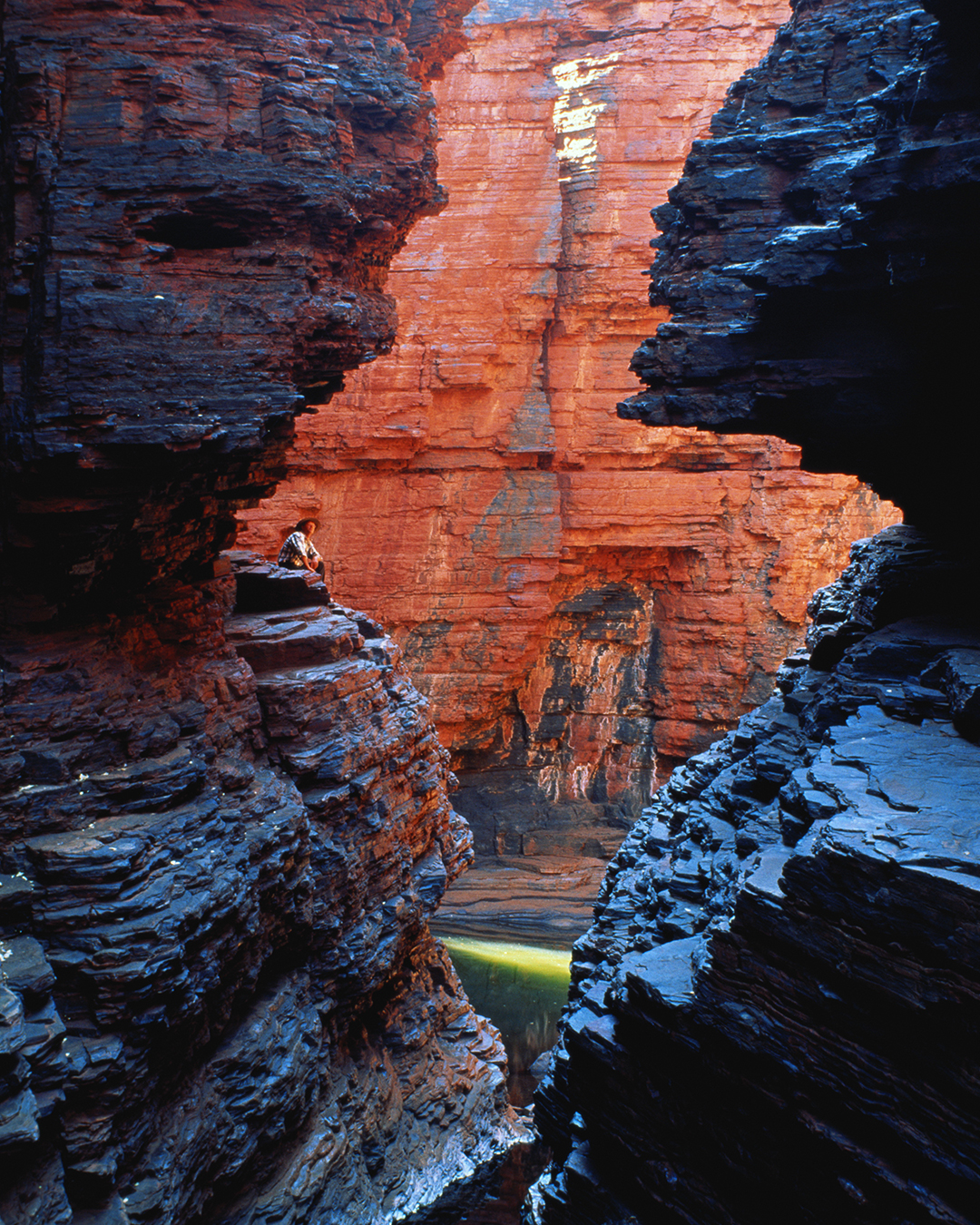 Margaret River and Dunsborough
Red wine and winter? It's a no brainer. While a trip down South is usually a regular on a Perthie's itinerary, there's a reason why. Hop in the car and in a few hours time you'll be shacking up next to jaw-dropping beaches and an insanely good food and wine scene. When the colder days hit in P-town, we can't think of anything much better than curling up with a good glass of red around a fire. Take your weekend away to a whole other level by setting up camp in Mile End Glamping's light filled domes complete with a spa bath, or scope out more of our favourite stays. Sounds like heaven to us.
Coral Bay
Skip winter and commit to a long drive up the Coral Coast Highway to find yourself at some of the world's best beaches you've ever laid eyes on. On the way up to the oh-so relaxed town of Coral Bay you can take a detour into Monkey Mia to say g'day to the resident dolphins or camp under the stars in Francois Peron National Park where you can soak up the spectacular sight of red cliffs and stunning blue waters. Arrive in Coral Bay and all of your dreams will come true. The town gets its name for a reason—no matter where you stay, you'll be able to walk on to incredible white sand beaches, stick your head under water and see some of the most pristine coral you could have ever imagined. Heading up during Winter also means you'll be able to swim with the most beautiful giants of the sea. Nope, we're not talking about whale sharks. From the end of June through till October you'll get the chance to see humpback whales making their annual migration through Coral Bay up towards Broome, and if conditions fit the bill, you'll be able to jump in the water and get a ridiculously special sight of these magnificent creatures. While you're up there, do yourself a favour and sample as many of the bakery's pies as you can possibly fit in. You can thank us later. 
Northam
Just over an hour from Perth in the heart of the Avon Valley lies Northam, a town full of historical architecture and culture that's well worth a visit. Our favourite time of year to get out to the valley is around late August, when the canola fields start to turn that crazy shade of yellow that almost makes you reach for your sunnies and the rain has made sure everything else is greener than Nana's thumb. The best way to see it all is to get up at 4am (we promise it's worth it) and tick off a bucket list experience in the form of hot air ballooning. The views are breathtaking and the serenity is worth ten days at the spa. Finish your morning with a champagne brekky and you can't help but feel like you've been on cloud nine. 
Manjimup
If serenity is your thing, look no further than an escape to Manjimup. 80% of the entire region is made up of forest and national parks, so you're sure to get some much needed R&R whilst getting cosy with a cup of tea and good book around the wood fire. Get settled in at Clover Country Retreat and you can lay back in a hammock with views over the lake or get steamy in a private spa bath before settling in with a platter of Manjimup's finest. With incredibly rich soils, Manjimup is home to some of the State's best food, not to mention a truck-load of truffles this time of year. Get out and experience a truffle hunt with some of the cutest dogs going round, or head out on a wine trail. You won't be disappointed. 
Dwellingup
With stunning bushwalks and beautiful campgrounds, Dwellingup is the place to go when you want to take it slow and admire everything Mother Nature has to offer. It's also the perfect place to shack up around a campfire and spend your winter evenings gazing up at the stars. Lane Poole Reserve is where you'll want to pitch a tent and if you're bringing your furry friend, we recommend Stringers, Tony's Bend and Chuditch—just remember to keep them on their lead. The region is also home to some seriously great wineries and cosy cafes. Stop in at community-owned hotel The Dwelly Pub for a pint and a parmi before you head home. 
Katanning
If you're looking for something a little under the radar, yet equally as glam, a weekend away at Katanning's Premier Mill Hotel should be high on your list. Drive south-east from Perth and in around three hours you'll arrive in Katanning, a town full of history and the ideal place to explore the Wheatbelt. The hotel is a restored 128-year-old flour mill which has been converted into a 22-room guesthouse, basement bar and cafe, and every corner of the hotel oozes style and sophistication. It's going to be hard to move away from the lush king beds, but this area has so much to see. Get out and snap public art, get your history nerd on, or if you're feeling all sorts of energetic after the best sleep of your life, Bluff Knoll awaits. 
Albany 
There's nothing quite like rugging up and exploring the awe-inspiring coastal landscapes of Albany in winter. Make your way through charming country towns like Kojonup and Mount Barker  (a stop at the bakery is essential) and wind through the Porongurup National Park before settling into a B&B like Dunmoylen House. Spend your days roaming around the gorgeous town of Albany, soaking up the history and culture, and exploring a great food and beverage scene. Must-do scenic sights like The Gap need to be on your itinerary and if you manage to find some free time you can make your way to Denmark to get all cosy amongst the Karri trees. 
Nannup
Nestled in the Blackwood River Valley, Nannup is where to go when you're ready to relax and recharge by getting up close and personal to nature. Spend your days strolling through tearooms and gift stores, or get out and sample local produce like wine, cheese and chestnuts. There's heaps of beautiful drives to get out and explore, or if you're feeling like you need to burn off some of that Nannup goodness, hire a bike and try your hand at the Munda Biddi Trail.
Collie
While some people seek a whiskey to warm up, we're told others like to try their hand at exercise. If this is you, pack your bags and head two hours south of Perth to the Shire of Collie. Home to picturesque lakes and a tonne of hiking trails, there's no shortage of jaw-dropping sights to fill your Insta stories. Must-see spots include Black Diamond Lake or Stockton Lake, where you can also pitch a tent on the water's edge if you score a weekend of no rain. For those with a sense of adventure, Wellington National Park has a variety of walks and trails to suss out. Once you've packed up, swing by Harris River Estate Winery and enjoy a long lunch before heading home. With all that hiking done, you deserve it.
If you don't have time to go far, work through these top day trips to take in Perth.
Image credit: Tourism WA, Oliver Strewe, Windward Balloon Adventures, Premier Mill Hotel