Bernard de la Harpe, a Frenchman leading an exploration expedition up the Arkansas River, first discovered the town now called Little Rock. He noted a change in the terrain as he came to a spot in the river and called it "La Petite Roche." Quapaw Indians initially inhabited these lands that transferred "ownership" through the Louisiana Purchase.
As community establishment continued, Arkansas became known for its river access and easy crossing spot into the new territory. The first steamboat arrived in 1822, and Little Rock gained a reputation as an economic center of Arkansas. Over time Little Rock grew by annexing smaller communities around it and continues expanding influence through innovation, economic development and cultural significance.
When was the last time you took a play day in Little Rock? It might just be time to update your Arkansas Bucket List with some of the items on this list!

Daytrips in Little Rock
Little Rock Zoo
1 Zoo Drive | website
Special Features: Over the Jumps Carousel, Penguin Point, Arkansas Heritage Farm, Cafe Africa, train ride
This location is the only zoo in the state and is excellent for families with small children with top animal picks like bears, rhinos, tigers, lions, cheetahs and gorillas. The zoo is easy to meander for family and very self-paced for a few hours of enjoyment.

MacArthur Museum of Arkansas Military History
503 E. Ninth Street | website
Special Features: history of the building, collection of unpublished WWII photos, military weapons, vehicles and uniforms.
Located at the Little Rock Arsenal and named for General Douglas MacArthur, born in the barracks in the late 1800s. Exhibits focus on women in the military, Medal of Honor recipients, a unique photographic story of the Vietnam conflict and political cartooning. The museum is free and includes a self-guided audio tour.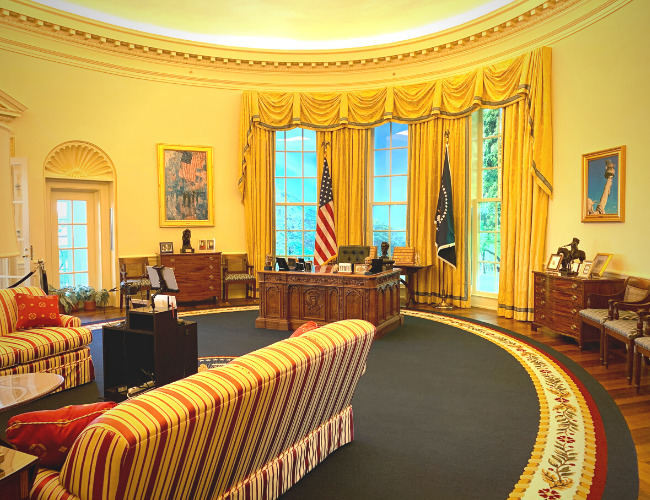 Clinton Presidential Library and Museum
1200 President Clinton Ave. | website
Special Features: replica Oval Office and Cabinet Room, interactive timeline, inauguration gown, Presidential china, Clinton School of Public Service
While Bill Clinton, the 42nd U.S. President, is often a controversial figure, his political roles as Governor and then President drew much attention for Arkansas. His library overlooks the Arkansas River and is a unique experience to view national artifacts of our country's heritage.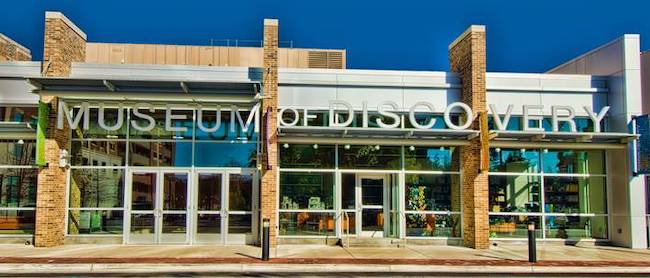 Museum of Discovery
500 President Clinton Ave. | website
Special Features: 90 interactive experiences including Tesla coil, Lego car, heart dissection, bubbles, caves, slime
Founded in 1927, this museum stop is delightful for families with children. A premier science and technology learning space, they are driven by a mission to "mission to ignite and fuel a passion for science, technology, engineering, arts and math through dynamic, interactive experiences."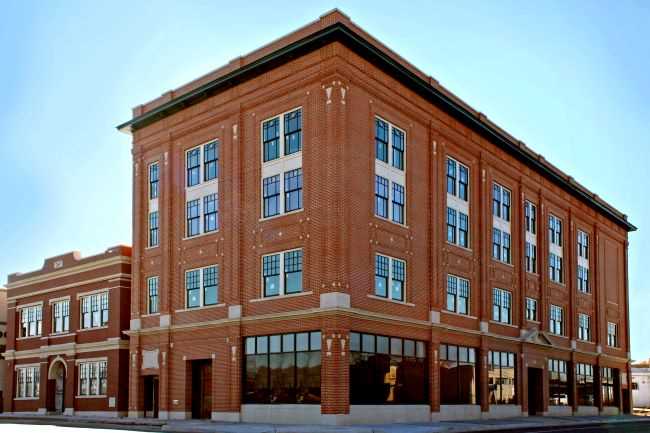 Mosaic Templars Cultural Center
501 W Ninth Street | website
Special Features: history of the fraternal organization, integration experiences and African American entrepreneurs
The Mosaic Templars Cultural Center displays the African-American history of Arkansas through a heritage preservation museum. Recently, they hosted a unique The Negro Motorist Green Book exhibit, shared by the Smithsonian Institution, highlighting the cultural significance of helping black motorists navigate the country with safety and dignity. The book highlighted many of the buildings around the Cultural Center as havens for citizens during the Jim Crow era.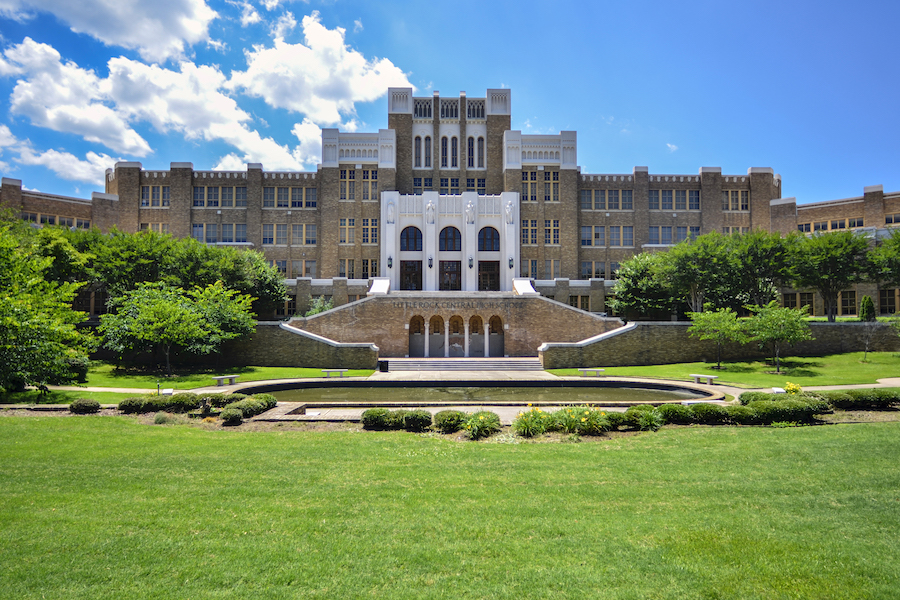 Central High National Historic Site
2120 W Daisy L Gatson Bates Drive | website
Special Features: National Park headquarters, Little Rock High School steps, Elizabeth Eckford bus bench, Magnolia Mobil Gas Station and the commemorative gardens
Located on the grounds of an active high school, these hallowed steps were an integral part of school desegregation in 1957. The museum and tour tell the story of the sacrifice and struggle of the Little Rock Nine on September 4, 1957, and the days that followed.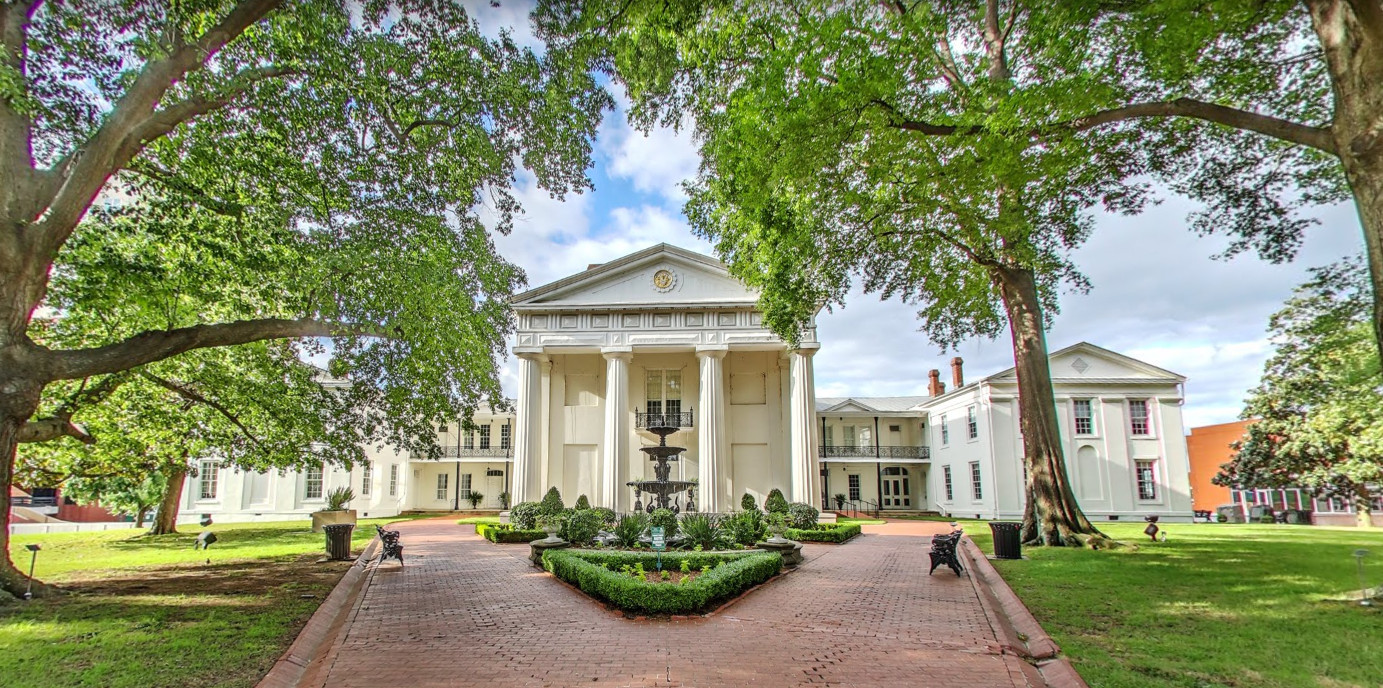 Old State House Museum and Historic Arkansas Museum
200 and 300 W Markham Street | website
Special Features: The museum is free and tells the story of Arkansas from its statehood to the present day.
The Old State House Museum, located inside the original state capitol building built in 1883, stands as the oldest state building west of the Mississippi River. Just down the road, visitors can experience the heritage of Arkansas as she became a state through the Historic Arkansas Museum, a city block depicting the life of Indigenous Arkansans, early craftwork and an 1850s farmstead.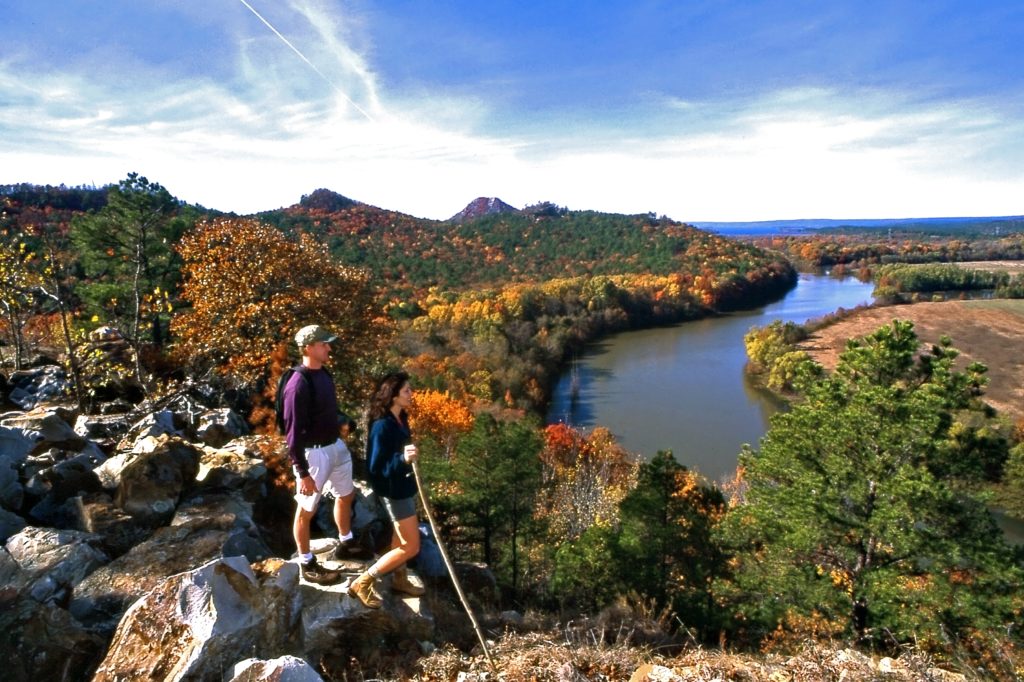 Pinnacle Mountain State Park
11901 Pinnacle Valley Road | website
Special Features: 22 miles of foot trails, 14 challenging bike trails, Trail of Tears path, and a hike on the 1.5-mile trail to the top
Minutes away from downtown office buildings, Pinnacle Mountain stands as a centerpiece to the diverse terrain of the Natural State. Sunrise at Pinnacle is an Arkansas Bucket List for many.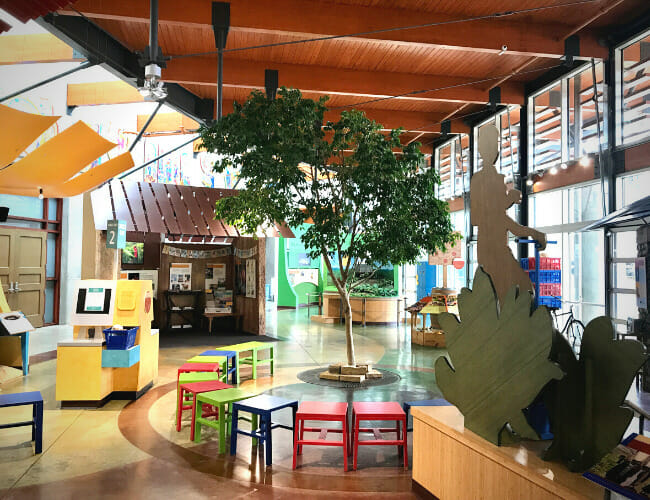 Heifer Village & Urban Farm
1 World Ave. | website
Special Features: interactive displays where children and adults can learn more about the global impact of Heifer's projects
The Village is a unique museum experience within the World Headquarters of Heifer International, focusing on consumption, sustainability through the nearby wetland environment, green spaces and green energy construction. An on-site restaurant brings a unique farm-to-table menu where produce and products come from the Urban Farm setting behind the Village.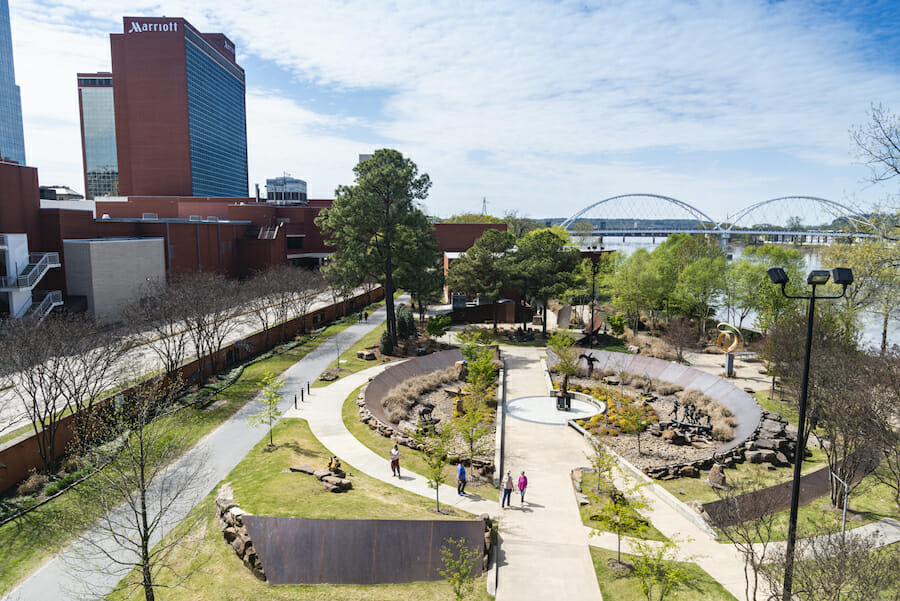 400 President Clinton Ave. | website
Special Features: sculpture garden, bike trails, Civil War markers, splash pad and Nature Center
Getting outside in the winter months is hard, but three parks in the heart of the city provide easy access to trails and outdoor experiences along the Arkansas River. The parks provide access to walking trails and adventurous bike paths, as well as kayak tours.
Where are your favorite places to explore in "The Rock?"
Photos courtesy of Arkansas Parks & Tourism
Via Only In Arkansas.